Amid much propaganda surrounding Geno Smith trade discussions, the New York Jets look like they'll appropriately hold onto their backup QB.
I
t's Saturday, Dec. 17. The
New York Jets
carry an 8-5 record into this special Saturday night nationally televised game at MetLife Stadium against the Miami Dolphins.
In a highly contested, hard-hitting 10-10 game in the 4th-quarter at MetLife Stadium, Ryan Fitzpatrick stays down after one of his familiar no-fear scrambles.
It's apparent as the entire state of New Jersey gasps. He injured his right elbow and he's not OK. More depressingly, it looks as if it could be a season-ender.
New York is now forced to play the only remaining option, the other active quarterback on this particular Sunday, Bryce Petty. The Jets will now have to fight for their playoff lives with a man who's never taken an NFL snap. Even worse, his immediate backup, Christian Hackenberg, a kid who'd be in the NFL's feeder program (if one existed), is one play away from assuming the most important position in all of professional sports during a critical time for the franchise.
The reason for these unfortunate circumstances boils down to a preseason move. Feeling the oats of wealth at the position, general manager Mike Maccagnan traded fourth-year Geno Smith to the quarterback-starved Minnesota Vikings for a conditional late round draft pick.
Instead of having a veteran QB to step in when Fitz went down, Mikey Mac has a seventh-round pick in 2017.
Obviously, this scenario is a major problem.
Also, obviously, this isn't reality and we should all thank the football gods this story is fictional.
Geno is still a Jet and it's the right football move all the way around.
By now, you know the drawn-out story. Geno was the starter heading into 2015. He lost the job due to questionable off-field leadership abilities. Fitz capitalized on his misfortunes to the sweet sound of a Jets single-season record of 31 TDs.
Geno, again, was the offseason starter leading up to 2016 thanks to the highly publicized contract bout between Fitzpatrick and the Jets front office. Becuase Fitz arrived shortly before real camp began, Geno was forced down the depth chart, again, though no fault of his own (this time).
Not only has Geno had to deal with the Fitz homecoming, he's had to fend off backup competition noise due to a solid August from teammate Bryce Petty who threw for 32-of-56 for 481 yards, three touchdowns and one interception.
Through it all, Todd Bowles and the organization has stuck by Geno. On Friday, Super Bowles confirmed Smith as the Jets No. 2 guy.
Bowles: "Would be fair to say" that Geno Smith has solidified the No. 2 QB spot.

— New York Jets (@nyjets) September 2, 2016
Whether or not the Jets (nevermind you) like Geno as a potential starting quarterback isn't the issue here. In fact, how they feel about the West Virginia product was evident the moment they brought back the Harvard guy on the one-year deal they proclaimed they'd never back down from.
What's important is that this very veteran-laced squad be covered at the most important position in sports, and with only Petty and Hackenberg behind Fitz, they simply wouldn't be covered.
First and foremost, remember one thing: Fitz isn't a model of health.
In 11 seasons, out of a potential 176 regular season games, Fitzpatrick has only participated in 113. Granted, many of these missed opportunities came via the backup role, but many also came by way of injury.
In 2014 with the Houston Texans, Fitz fractured his tibia and missed time. In 2011 with the Buffalo Bills, it was revealed after the season that he was playing with broken ribs. The very same fearlessness the guy plays with that has Jets fans adore him is the very same thing that gets him into trouble.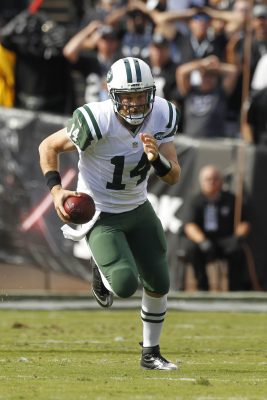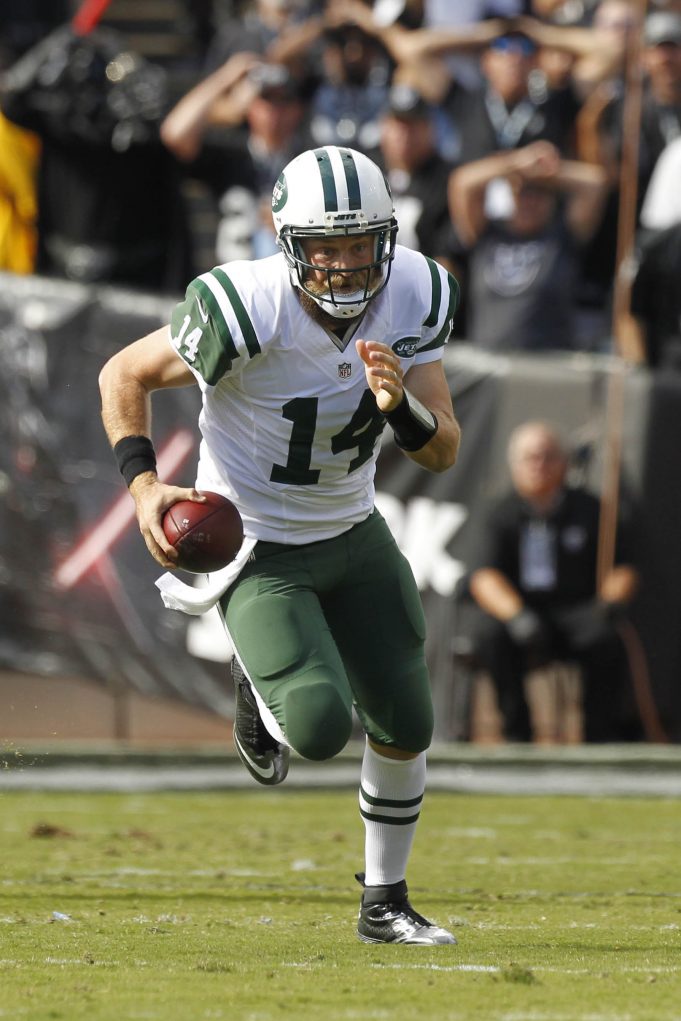 There's more than just Fitz's injury concerns. What about catching lightning in a bottle?
Geno Smith wasn't a second-round pick for nothing. Despite John Idzik's personnel choices equating to nothing more than the substance level of a Madden dynasty player, Smith's raw physical tools are there.
Should Fitzpatrick miss any time due to injury, having that option of Geno is a positive, not a negative. Maccagnan, Bowles, and the rest of the Jets fanbase for that matter, has no idea how a seemingly more mature and seasoned Smith would handle the role with a genuine cast of talented characters (Brandon Marshall, Eric Decker, Matt Forte, etc.).
In 2013 and 2014, when Geno was innapropriately thrown into the fire, there wasn't much surrounding him. Instead, Idzik left piles of money on the table instead of equipping his QB with toys. The sheer minute possibility that Smith takes a golden opportunity and runs to daylight with it is worthy of holding onto.
This is especially the case for a squad who, by all accounts, is loaded in terms of depth up and down the roster.
So, when thinking about how much disdain you truly have for Geno Smith – thanks to certain incidents such as sulking on draft day, missing a meeting with the excuse of west coast time, and, of course, getting into it with a teammate over a mere $600 – don't think this disdain equates a pink slip from the roster.
Just because you didn't believe Geno Smith shouldn't be handed the keys to the car in favor of Ryan Fitzpatrick, doesn't mean the boot from the roster is the right move. Just because Bryce Petty looked leaps and bounds improved as opposed to his rookie season, doesn't mean he instills confidence as the bonafide No. 2 guy.
Furthermore, don't think simply because Petty bruised his shoulder in Philadelphia on Thursday night, that this team wasn't going to carry four quarterbacks. They were and it was the smart football move. They'd have to have their socks knocked off to trade their backup and gamble away the season so carelessly.
Should FitzMagic suffer another one of those reckless injuries in December while Geno resides in another city, you'll have to ask yourself this one question: Was the conditional late-round draft pick worth it?
Chances are, the answer will come back as a big fat, "Not even close."
Considering the factors, a four QB roster was always the best bet.
There's no way in hell a late round pick in 2017 is worth gambling a competitive team's chances away in 2016. This is the NFL, the "Not For Long" league.
One play can change everything.