Here are three late-round or undrafted New York Giants rookies to pay attention to during this year's NFL preseason.
The New York Giants have 23 rookies participating in their training camp this summer. They drafted 10, and also signed 13 undrafted free agents. All have different backstories, but all have that same goal of making the team once the regular season rolls around.
I understand why many want the NFL to change their regular season schedule to 18 games with a two-game preseason. However, the four games in the preseason definitely give these rookies more time to make a name for themselves. In addition, it gives the fans more time to see how these rookies could truly fare on an NFL roster.
When it comes to the Giants, everyone likes to talk about Daniel Jones, Dexter Lawrence and even rookie edge rusher Oshane Ximines. However, there are multiple late-round or undrafted rookies that fans should pay attention to in these upcoming preseason matchups.
That being said, here are three unsung rookies to pay attention to prior to the regular season.
Offensive Tackle George Asafo-Adjei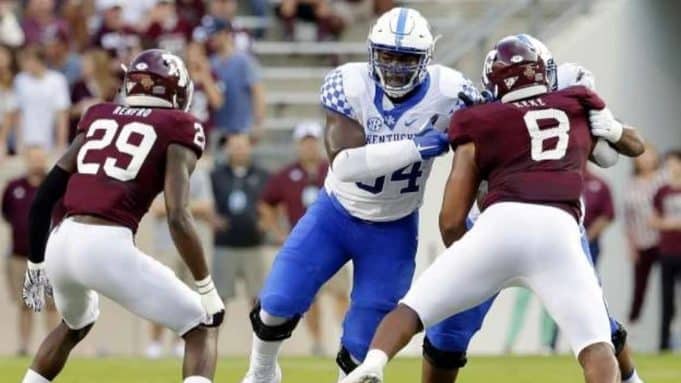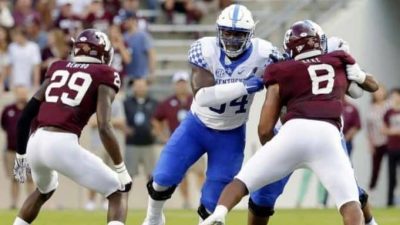 The Giants selected offensive tackle George Asafo-Adjei in the seventh round (No. 232 overall) of this year's draft. He previously showcased his talents for four years at the University of Kentucky. He played in 48 games and started in 23 for the Wildcats. Asafo-Adjei was named the SEC Offensive Lineman of the Week twice in 2018.
At 6-foot-5, 315 pounds, Asafo-Adjei is a lineman with great size, hence his nickname "Big George." He can definitely add depth to the Giants offensive line, which has improved since last season with the additions of guard Kevin Zeitler and tackle Mike Remmers. Not to mention, the Giants brought back center Jon Halapio, who missed 14 games last season with lower leg injuries.
Asafo-Adjei is at a disadvantage when it comes to the starting tackle job in 2019. With Nate Solder most likely retaining his spot at the left tackle position, Remmers and veteran Chad Wheeler will compete for the right tackle spot.
Wheeler was the starting tackle for much of last season, therefore he's experienced in head coach Pat Shurmur's offensive system. Remmers, on the other hand, played the previous two years in Minnesota. Shurmur happened to be his offensive coordinator for the 2017 season. Therefore, he's also experienced in Shurmur's system as well.
Asafo-Adjei has no experience in Shurmur's system at all, nor any NFL system for that matter. However, the Giants won't be looking for "Big George" to start this year. They may not even play him much at all if he ends up making the final 53-man roster.
What the Giants could look towards with Asafo-Adjei is 2020 and beyond. At the right tackle position, Wheeler isn't very reliable at all. He had the lowest Pro Football Focus grade on the entire team last year, posting a score of 47.1. He also had the lowest run-blocking grade in the entire league when it came to the tackle position. In 16 games (14 starts), he ultimately finished with 45 pressures and six sacks allowed. Not great…at all.
The Giants brought Remmers in this offseason and he could be the favorite to win the job at right tackle. However, who knows what his future with Big Blue will hold. He's only on a one-year deal at the moment for $2.5 million ($1 million guaranteed). If he doesn't perform like the Giants hope he will, we could see Remmers making a quick exit from East Rutherford.
Asafo-Adjei, as stated earlier, is a big-bodied individual. He could definitely add a killer instinct to the offensive line with the right coaching. If things don't work out with Wheeler or Remmers at the right tackle position, don't be surprised if Asafo-Adjei climbs up the depth chart. That's why he'll be such an important figure to pay attention to before the regular season.
The only concern with Asafo-Adjei right now is his health. Tom Rock of Newsday reported on Sunday that the Giants had him in concussion protocol.
Also, rookie T George Asafo-Adjei is in the concussion protocol.

— Tom Rock (@TomRock_Newsday) July 28, 2019
"Big George" also took a great number of reps during the first few days of training camp, due to Solder and Remmers' current workload management. Both veterans are fresh off offseason surgeries. That being said, if Asafo-Adjei stays healthy, he could become a reliable option for the Big Blue offensive line in the future.
Running Back Jon Hilliman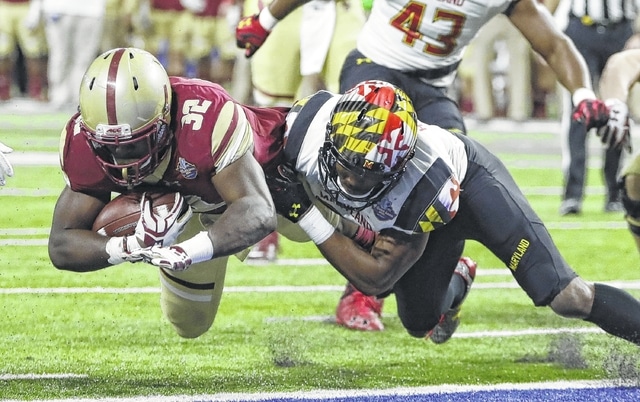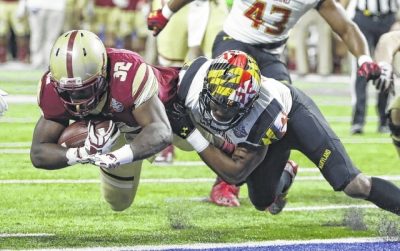 Running back Jon Hilliman is an undrafted free agent out of Rutgers University. Through four years and 40 games in college (the first three with Boston College, the final year with Rutgers), Hilliman had 3.5 yards-per-carry, 1,715 yards, and 19 touchdowns. He also caught 40 balls for 282 yards and two touchdowns.
In 11 games last year for the Scarlet Knights, Hilliman had 4.1 yards-per-carry, 337 yards, and six touchdowns. Additionally, he caught 12 balls for 92 yards through the air.
There's no doubt about who'll lead the charge for the Giants at the running back position. Saquon Barkley is the obvious starter. Many think Barkley even has the chance to win an NFL MVP. However, that'll be tough, especially as a running back in a passing league.
Other backs on the roster include Elijhaa Penny, who will work out at the fullback position, and Rod Smith, another big body who the Giants signed this offseason. The other two, along with Hilliman, are veterans Wayne Gallman and Paul Perkins. Hilliman will most likely be competing with them for a roster spot.
Gallman is likely the favorite to get that roster spot, with Perkins trying to get back into the swing of things with all things football, as he hasn't played in a game since 2017. Perkins is at a disadvantage here.
Whoever wins this roster spot will be a role player. The Giants will want to see who can carry the load on plays where Barkley needs a breather. That was the exact role Gallman was in last year.
If Hilliman can outwork Gallman and Perkins, the Giants could end up seeing something in him that they like, hence giving him a roster spot or practice squad duty for right now.
The Giants will probably only keep four backs, with Barkley, Penny, and Smith being the favorites to land three of those spots. It's up to Hilliman, Gallman, and Perkins to compete for the final one, or else a release prior to the season will be pending.
Wide Receiver Darius Slayton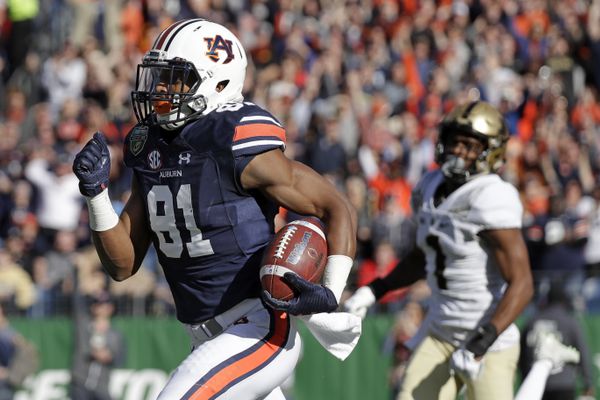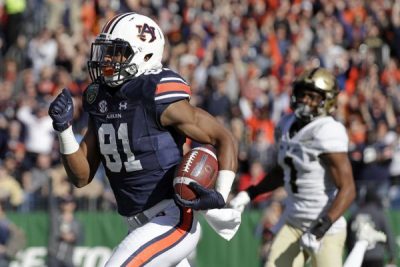 Darius Slayton will be one of the unsung aspects of this Giants offense. Despite the Giants only selecting him in the fifth round (No. 171) of this year's draft, they seem to like what Slayton can bring to table being that he got some first-team reps in OTAs.
In 29 games at wide receiver at Auburn University, Slayton racked up 79 career receptions for 1,605 yards and 11 touchdowns.
Currently, Slayton is dealing with a hamstring injury which has set him back in training camp. However, it shouldn't be that serious, and Pat Shurmur believes Slayton will be back on the field "soon," per Paul Schwartz of the New York Post.
However, when the time comes for Slayton to return, he'll get a ton of reps in the preseason. This is due to the injuries to receivers Sterling Shepard (fractured thumb) and Corey Coleman (ACL tear). The team will evaluate the former on a week-to-week basis but they expect him to be back for Week 1 of the regular season. The latter will be out for the entire year.
Slayton could also get a good amount of reps at the beginning of the regular season and could compete for the No. 2 receiver job behind Shepard. Due to Coleman's injury and Golden Tate's four-game suspension for failing a performance-enhancing drugs test (barring an appeal), Slayton could see a good amount of time on the field early.
With great hands and good speed, Slayton could perform well in the system, regardless if Eli Manning is throwing to him or eventually Daniel Jones. Even though the receiver room isn't in great shape right now for Big Blue, Slayton could definitely become a reliable option for the Giants in the long run.
Follow Ryan on TWITTER