Many have criticized New York Giants general manager Dave Gettleman for this offseason's moves; however, they'll make sense in the long run.
This offseason has seen numerous moves from the New York Giants that have caught the eyes of many fans. And, reasonably speaking, the eyebrows of many of those fans were raised as far north as possible.
There's no reason to really reprimand those who were surprised about the moves, at first. I'm talking about the Olivier Vernon trade, the Odell Beckham Jr. trade, and the non-franchise tag of Landon Collins. At first, you probably said, "Dave Gettleman, what in the world are you doing?"
It definitely makes sense to have that type of reaction. Collins was the metaphorical "quarterback" of the secondary. Beckham was a generational talent at receiver. And Vernon, despite some injuries, was a Pro Bowl linebacker this past year. So, yeah, not bringing all three of them back for the 2019 season surely proved Gettleman is heading in a different direction than what most people prefer.
Again, I understand why fans criticized these moves right away. But as it relates to a rebuilding franchise (such as the Giants), the future is an important priority. All of the decisions that Gettleman has made and is continuing to make is part of the plan to bring wins and championships to this organization.
When you look at it from a long-term standpoint, you begin to realize that these moves make sense.
Let's start with what happened initially: the decision to let Collins walk.
In early March, the Giants officially notified Collins that they wouldn't be applying the franchise tag on him. At the time, the Giants had around $27 million in cap space, with the tag costing them around $11.2 million. Gettleman also made it known he wanted to keep $8-10 million in cap space for the rookies and for in-season emergencies.
With the financial situation Big Blue was in, it was the smarter move to let Collins walk, regardless of if he went to a division rival. Again, Collins was the leader of that secondary, having been named to three-straight Pro Bowls and given First-team All-Pro honors in 2016.
However, is the strong safety position really one you should overpay for?
Say they kept Collins on a franchise tag for the 2019 season. Then what? Are you going to give him a deal in the $80 million range like the Redskins did with him in March? I wouldn't.
Again, think of the future. They're going to need a good deal of money to eventually re-sign Saquon Barkley. If Daniel Jones becomes a star, which they're hoping he will, they're going to need a good deal of money for when they eventually want to give him a new deal.
Therefore, financially speaking, is giving that much money to a strong safety the right move? Most likely no.
Collins also wasn't great in pass coverage, which the Giants desperately need heading into 2019. Big Blue was ranked 23rd in the NFL with 252.8 passing yards allowed per game last year. He's only had two interceptions and 10 passes defended in the past two seasons. Collins isn't the greatest when defending the pass and is more of a safety who will come up and play in the box.
Therefore, not re-signing Collins was the smarter move, given the financial situation and the priorities of the secondary.
But, wait, what about his replacement? Well, that brings me to my next point.
The Giants traded Beckham to the Cleveland Browns in March. In return, they received a first-round pick (defensive lineman Dexter Lawrence at No. 17 overall), a third-round pick (linebacker Oshane Ximines at No. 95 overall) and safety Jabrill Peppers.
Giving up a generational talent like Beckham for that? Why would they do that?
Well, for one, look at Beckham's injury history. He's missed 21 games throughout his five years in the NFL. Statistically speaking, that's 26.25% of his games. Yes, Beckham has missed more than a quarter of his career to injuries. He's not overly-durable, nowhere close, in fact.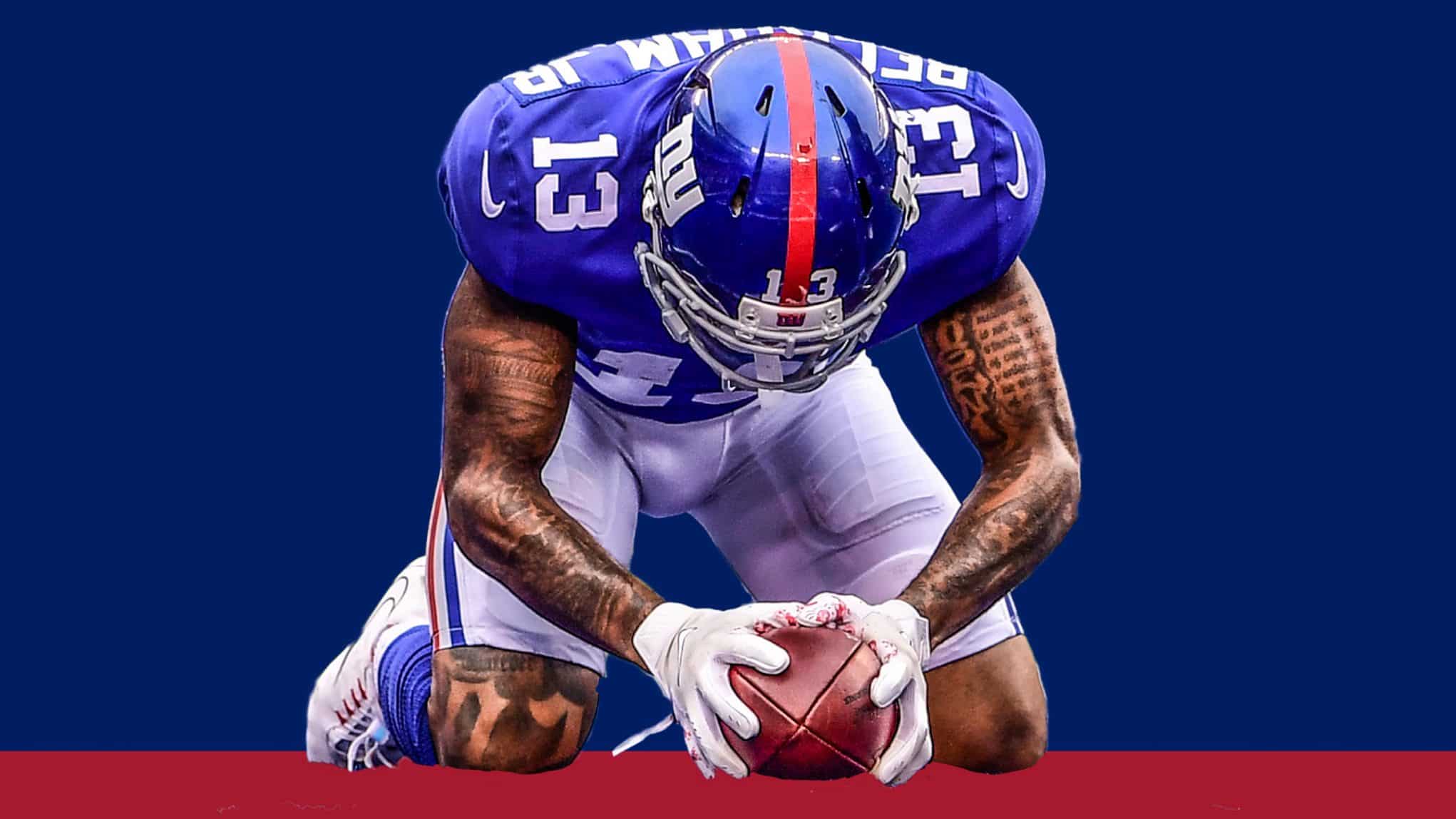 And that's so important when you talk about the value the Giants put him at.
They gave him a five-year, $95 million contract extension prior to the 2018 season. That much money for a guy who's missed a quarter of his games? It's really not worth it when you're talking about, again, the future of this team.
His replacement though? Well, the Giants have a plethora of options. They re-signed receiver Sterling Shepard to a four-year, $41 million deal. They also inked receiver Golden Tate to a four-year, $37 million deal. Them, along with receiver Corey Coleman, Barkley and tight ends Evan Engram and Rhett Ellison will give Eli Manning options.
And that's exactly what Eli needs: options. It seemed Manning would just look right away to Beckham a lot over the past few years. He can't do that anymore, and it'll force him to spread the field.
The Giants, in the final four games of the regular season in which Beckham was sidelined with a quadriceps injury, were actually better offensively.
For the entire year, the Giants averaged 252.9 passing yards per game, 356.1 total yards per game and 23.1 points per game. In those four games, the Giants averaged 259 passing yards per game, 373.8 passing yards per game and 25.5 points per game. Each of those three statistics was improvements from their season averages and proved that the passing game could perform better even without Beckham.
Beckham also had an off-the-field history that wasn't exactly what you'd call "superb."
From the white powder substance that was in the video he assumed a starring role, to the assault-related lawsuit that he and his crew faced, it wasn't all sunshine and rainbows outside of football for Odell. The Giants, deservingly so, became sick of it and ultimately made their decision when they found the value of the return to be worth it.
The value of the return you ask? Lawrence proved to be a talented defensive lineman at the University of Clemson and could fit in with defensive coordinator James Bettcher's 3-4 set. Ximines will also add depth to a pass-rush that needs it. The Giants finished second-to-last in sacks last year with 30.
And then with Peppers, well, that's Collins's replacement. It's a worthwhile replacement, too. Peppers is an athletic, versatile safety who can play all around the field and can be an effective kick/punt returner as well.
Peppers is also younger and is a cheaper option than Collins. He'll work well with veteran defensive backs Antoine Bethea and Janoris Jenkins, and could also work as a mentor for younger guys such as cornerbacks DeAndre Baker and Julian Love.
Therefore, with Beckham's injury history and attitude, paired with what the Giants got via the trade, you can definitely make the argument that dealing Beckham was the smarter choice.
And lastly, we have the Vernon trade. In March, the Giants traded Vernon to the Browns for guard Kevin Zeitler. Why would you trade an edge rusher that just made the Pro Bowl?
First of all, Vernon was incredibly expensive. The Giants signed him prior to the 2016 season to a five-year, $85 million deal. Yes, eighty-five million dollars. That's insane for a linebacker of his caliber. Prior to the signing, Vernon never made a Pro Bowl nor was named to an All-Pro team.
During his time with the Giants, Vernon wasn't all that special either. Yeah, he did make the Pro Bowl this past year, but that was mainly only because Bears edge rusher Khalil Mack was hurt. Vernon, as an edge rusher, only had 22 sacks in his three seasons with the Giants, which isn't all that special when you think about it.
Vernon also has a history of injuries. He missed nine games in the last two seasons, including five games in 2018. All-in-all, Vernon wasn't talented nor reliable enough for a guy getting paid $85 million.
Vernon's replacement will thus be Lorenzo Carter, who's younger, cheaper, and has great potential. Carter had four sacks and 43 combined tackles in his rookie season last year. With the right development and coaching, Carter can be molded into a much more effective edge rusher than Vernon was, and for a much lower price.
And what did the Giants get in return for Vernon? Well, Zeitler is a reliable offensive guard, someone the Giants needed desperately. The Giants offensive line allowed 47 sacks last season, which is the most Manning has ever had to take in a single season.
Zeitler posted an above-average Pro Football Focus grade of 74.5 last season with Cleveland. Him, paired with left guard Will Hernandez should produce a tough, effective interior part of the offensive line.
Overall, the Vernon trade was the correct move. The Giants could eventually Vernon's position with what they already had in Carter, but they couldn't upgrade the offensive line. They needed to go out and get an effective guard, and that's what they did.
This trade thus became a win for the Giants.
Yeah, again, I understand why many eyebrows were raised when the Collins, Beckham and Vernon news all respectively broke. However, when you break it down, each move was the smart decision by Gettleman when you consider the future of this organization.
Follow Ryan on TWITTER