No matter how you spin it, the Brooklyn Nets will make good with what they do this offseason and be contenders in 2019.

Picture this: Sean Marks, lounging in his office, feet on his desk, enjoying the moment. The date is July 7 and the Brooklyn Nets have locked themselves into a promising future.
They are officially the team to beat in New York. Jay Rock's "WIN" is blaring through Marks' Bluetooth speakers. He's singing along ever so quietly, "win, win, win, win, win, f— everything else, win, win, win, win!" Billy King's unsurmountable mountain has been climbed.
Once rumored as a hopeful destination for second-tier free agents, the Nets are now leading the race for the big dogs. Kyrie Irving is more Brooklyn-crazed than a group of hipsters hunting for retro clothes. His good friend Kevin Durant may be joining him to form the greatest 1-2 punch in franchise history.
However, even if the idealistic Durant-Irving union isn't in the cards for Marks, Brooklyn will still be in excellent shape going forward. Let's outline Brooklyn's three winning scenarios.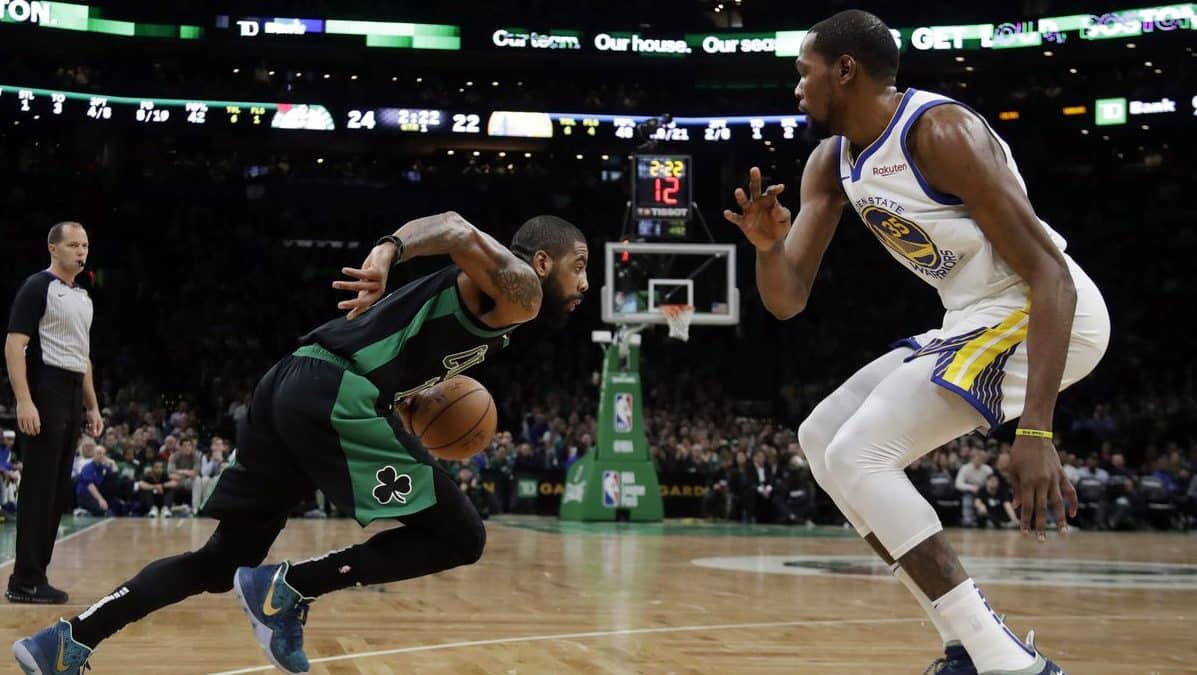 We will delve into Irving in a bit, but let's first take a look at Durant's standing. Per Adrian Wojnarowski, Durant elected to turn down his $31.5 million player option in search of a max deal. Now, based on a handful of reports, multiple teams (including the Nets) are more than happy to provide Durant with max money.
Obviously, given the severity of his recent Achilles tear, this is eyebrow-raising stuff. According to the foot and ankle specialist Dr. Babak Baravarian, Durant may never be the same player.
When discussing Durant's status upon returning, Baravarian hypothesized "You can get back to an elite level but normally you're a half-step slower, maybe slightly less able to jump to the same level you were and you're a little bit less explosive."
However, it's worth noting that Baravarian commented on Durant's superhuman gifts, stating that his build and style of play could certainly mediate the problems found after most Achilles injuries.
"A guy can still be a phenomenal player because he understands the game so well. Kevin Durant's wingspan is ridiculous, his height is ridiculous for his position. I still think he's going to be able to be an elite player but he may not be at that level that he was."
The history of the Achilles rupture is pretty dark. Tim Cato and Mike Prada of SB Nation did a fantastic deep dive of the 13 players who have suffered the injury. For a handful of players, the setback was ultimately career-ending.
Durant stands out from the pack. You could make the case that he's the greatest player in NBA history to tear his Achilles. His propensity upon returning will be the true litmus test for evaluating the severity of this injury. Durant was well on his way to becoming a top-10 player of all-time before going down with the worst injury in sports. This isn't 34-year-old Kobe Bryant we're talking about. It's prime 30-year-old Durant. The injury will certainly sap some of his greatness, but KD has more ground to lose than the average player.
The general consensus is that Durant will be 80%-to-90% of his old self upon returning. Based on what we've seen from guys like Rudy Gay (who put up his most efficient season to date last year; albeit on lower volume) and Wesley Matthews (still trucking along as a solid 3-and-D wing with a repaired Achilles), there should be plenty of hope regarding KD's production. Durant's leg isn't getting freaking amputated; 80% of KD is still a damn good player. Moreover, he's an NBA icon who's attractive to other players and stars. 
If Durant is able to return for 2020-2021 and take the regular season to fully acclimate himself to his surgically repaired body, banking on an all-time great may benefit the Nets at the perfect time. In an ideal world, it all comes together for Durant during the 2021 postseason. Perhaps he can pull a 2011 Dirk Nowitzki and decimate opposing players by simply shooting over them. Dirk's championship season is one of the more overlooked feats in recent NBA history; he single-handily won a title without the use of overwhelming athleticism.
Except instead of playing next to Jason Terry, Durant would have a still-in-his-prime 27-year-old Kyrie Irving as his co-star. With the Warriors dynasty in question, the league is more open than it's been in decades. The Los Angeles Lakers, a team built around Anthony Davis, 34-year-old LeBron James, and Kyle freaking Kuzma, are the title favorite next season.
Now is the time to go all-in. The Nets may never get a better chance to win a title — especially with the team across the pond in such a weakened state.
Championship players are hard to come by. In order to win titles, you have to take risks. A duo of top-12 players is certainly worth the gamble in our star-driven league. Consider this to be the ultimate high-risk, high-reward decision.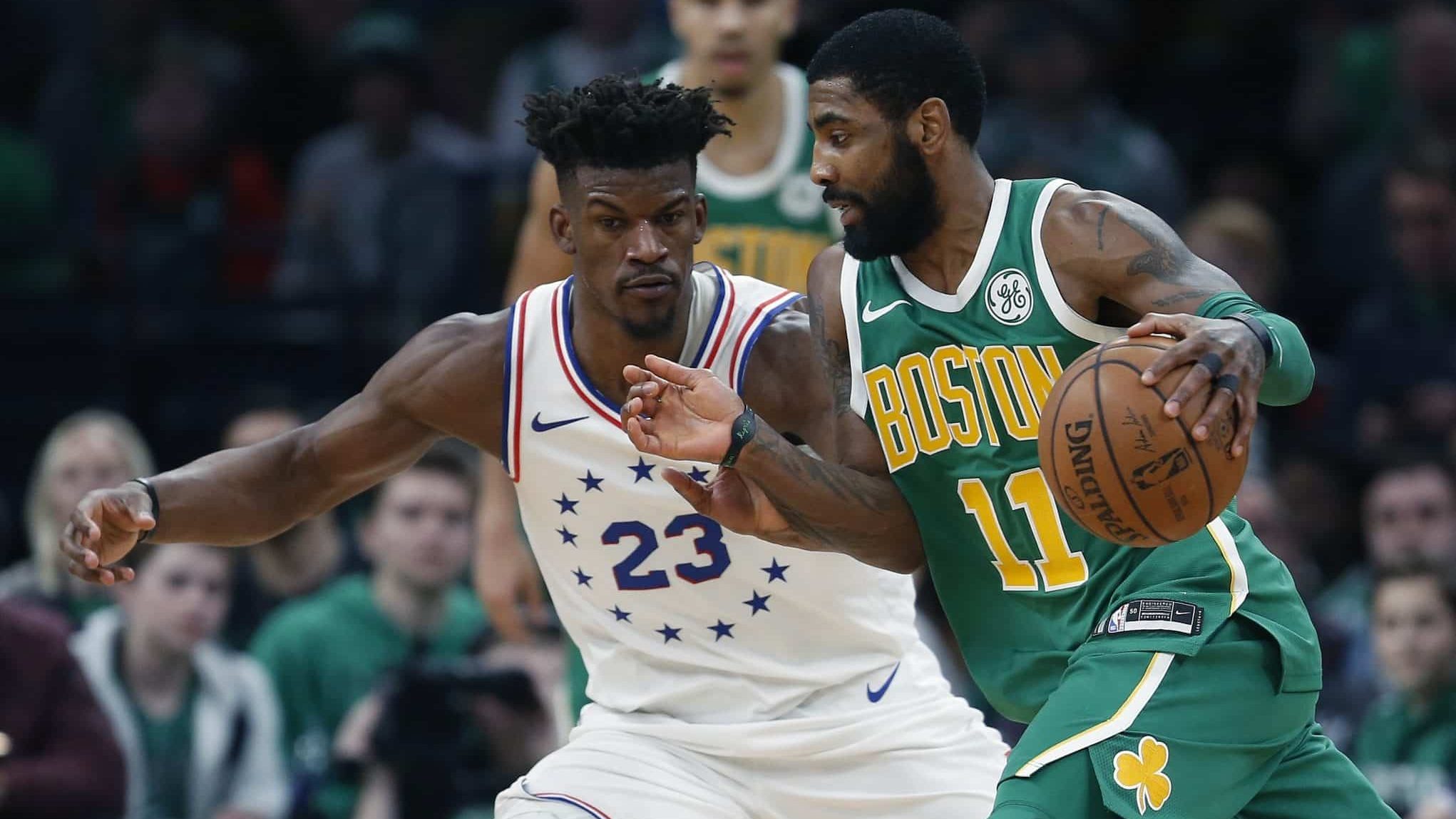 The Nets sign Kyrie Irving to potentially pair him with another top player
Let's talk about Kyrie Irving, shall we? As indicated by SNY's Anthony Puccio in a recent interview, Kyrie to Brooklyn is "as close to a done deal as possible." This would likely come at the expense of Brooklyn's current point guard D'Angelo Russell, who is coincidentally a restricted free agent this summer.
Replacing Brooklyn's one position of All-Star talent is a puzzling decision at first glance. Russell worked hard to refine his game, rehabilitate his image, and become a leader in Brooklyn. By all accounts, he's an outstanding individual.
Irving, on the other hand, well, let's just say he has a tattered history. His troubled past and injury history has fans scratching their heads in response to Brooklyn's pro-Kyrie aggressiveness.
But for as good as Russell was this season, he is lacking in the field where Irving excels. He doesn't have the same notoriety to put Brooklyn on the map.
Like it or not, Irving is a damn good player. He's an NBA champion who hit the biggest shot in Game 7 of an NBA Finals. He's shown that he can be the ace 1B option to a title team. Stars want to play with other stars; especially if said star is willing to share the spotlight in the right situation.
Irving's current status as a top-3 point guard is likely Russell's ceiling. Only two players stand in front of Kyrie in the hierarchy of lead guards: Damian Lillard, who turns 29 this summer, and 31-year-old Stephen Curry. Both are undersized and eventually, this shared trait will fall casualty to cruel Father Time. Fair or not, undersized guards live on a tougher age curve.
I'd even go as far in saying that by 2021, Kyrie Irving could be the best point guard in the association. That means something, especially to some of the available names in the 2021 free agent class: Giannis Antetokounmpo, Bradley Beal, possibly Paul George, Victor Oladipo, Rudy Gobert, Anthony Davis (if things don't go well in Los Angeles during the next two seasons)… the list goes on and on. Kyrie puts Brooklyn on the map in the eyes of these star players.
Also, with Kyrie in the fold, they'll be a plausible destination for the next big name to request a trade. (Could that be Karl-Anthony Towns? James Harden?)
In the meantime, the Nets can continue to push ahead with Irving leading the pack. Unlike the scenario in Boston, Kyrie has the final say in where he goes this offseason. He would be choosing the Nets as his team. Per ESPN's Adrian Wojnarowski, Irving is a fan of Brooklyn because of "the infrastructure that's in place there." Brooklyn could take the Toronto Raptors' approach with Kawhi Leonard and place Irving on a great deal of planned rest (or load management… call it what you want) to appease those problematic knees.
Brooklyn has the pieces to stay afloat. Caris LeVert showcased go-to capabilities as the Nets' best player during the postseason. Spencer Dinwiddie propelled Brooklyn's seemingly forgotten early-December run. Joe Harris' lights-out shooting gave Kenny Atkinson spacing for the drive-and-kick offense. That support should help Irving dive headfirst into what the Nets are building.
If the Nets are concerned with Kyrie floundering as the franchise guy on yet another young team, they have the space to pair him with a second free agent star this summer. ESPN's Wojnarowski offered some insight on who those options might be.
Wojnarowski speculated, "the idea of Kyrie as a solo act is not what this plan has been. It's been about getting that second star; it's about KD. That will be the question about not just will they still take Kyrie Irving without a second star but whether it's Tobias Harris, Jimmy Butler, let's go down the list of free agents. I don't think they want to max any of those players out. Tobias Harris? Perhaps. But could they get those guys at a lower number to keep some salary-cap flexibility?"
I've already expressed my enthusiasm for Jimmy Butler. As an excellent ballhandler in the pick-and-roll, a reliable source of isolation scoring, and a certified guru in the clutch, Butler fits Atkinson's offensive system like a glove. Next to Irving, he could be the perfect counterpart to a bright future — perhaps even shouldering the load as Brooklyn's alpha dog. Now as Wojnarowski indicated, the Rockets may be hot on Butler's trail. Getting Jimmy for less than the max is a bit of a pipe dream, especially when competing with Houston's assertive GM Daryl Morey.
I'm not as high on Tobias Harris at a max contract. According to the Athletic's Shams Charania, the Pelicans, Mavericks, Grizzlies, and Clippers may be interested in Harris should things fall through in Philadelphia. That's a bunch of teams with space to drive up Harris' value. He's an excellent offensive player but projects as the third option on a good team. $36 million annually is a bit rich for that sort of skillset.
At the right price, however, he's worth the bet. Players who can score 20 points per game on a 50/40/85 efficiency don't grow on trees. Harris can cause havoc as an on-ball and off-ball threat, making him a seamless fit next to Kyrie. Give him the keys to the offense, and he can certainly hold his own. Or, he can spot up, let Kyrie work his magic while handling the ball, and nail the wide-open shot.
In order for all of this to work, it starts with Kyrie. He's the marquee guy who takes the Brooklyn Nets to the mainstage.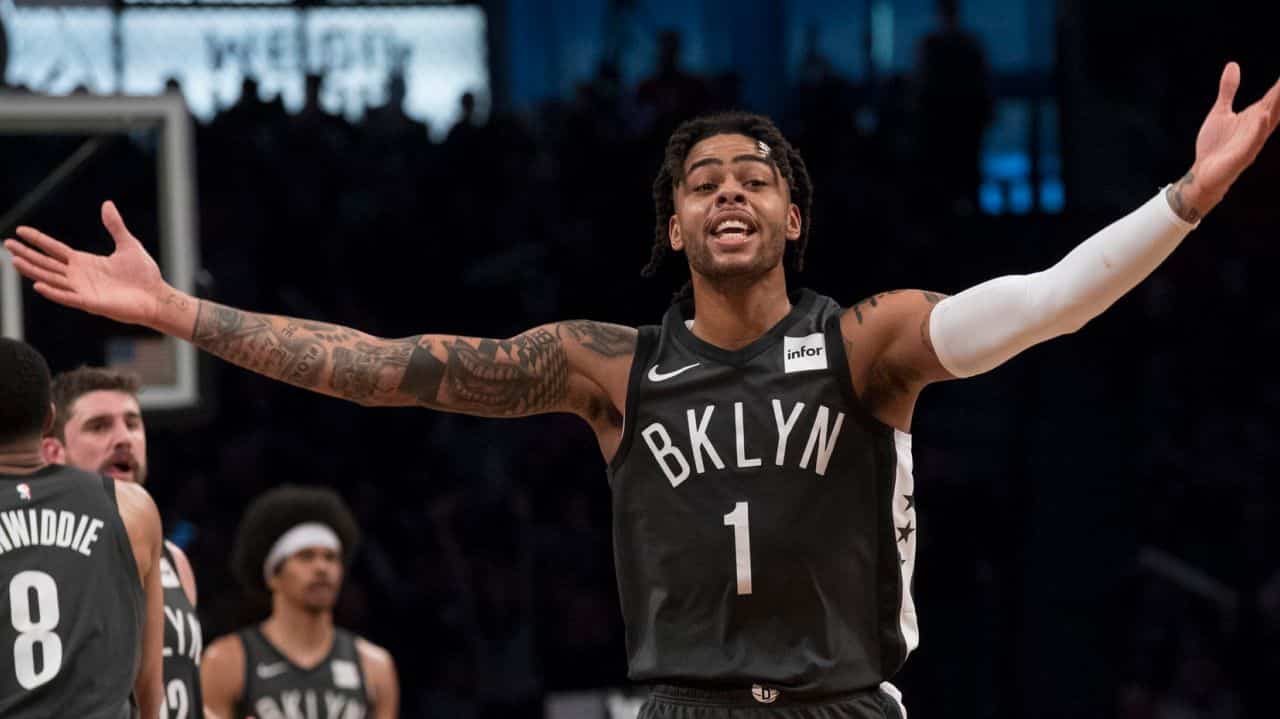 Trust the progress and re-sign D'Angelo Russell
As weird as this feels to write, rolling with the punches and re-signing a 23-year-old point guard is perhaps the safest route available.
Russell comes with no real injury concerns (like, erm, KD) and no red-flags because of an off-kilter personality (hello, Kyrie!). With Russell, you know exactly what you're getting: a guy "who loves this city."
The Nets would build around Russell, LeVert, Dinwiddie, and the rest of the crew in hopes of a dramatic rise in the not-so-distant future. As Russell enters his prime, perhaps the Nets can land a second star — either via free agency or through milking the draft.
Russell obviously has things to work on; namely, increasing his efficiency. Becoming a better source of offense around the rim and working on his right hand would certainly help in those regards.
D-Lo is beloved by the Nets' fanbase, so retaining him would appease many devout followers. On top of this, Russell steers Brooklyn in the right direction of becoming one of the premier franchises over the next half-a-decade. Going all-in on the present with Kyrie Irving and a second-tier star (i.e. Tobias) could feel dramatically dissatisfying — especially if Uncle Drew feels miscast as the franchise hero. For Brooklyn, it may be best to preserve flexibility and retain the level-headed home-grown youngin' on a cheaper contract.
There's no reason to doubt Russell's ability to improve. He's come this far in reshaping his career. Taking the next step and becoming a top-20 guy certainly isn't out of the question. But what will the league's landscape look like by the time Russell hits his prime? Will it be as wide-open as it is today? Will the Nets, a team built around Russell and Caris LeVert, have what it takes to win big? In theory, that inside-out pairing fits snuggly like a two-piece jigsaw puzzle. Both players will need to take major steps forward to enter the association's upper echelon. At ages 23 and 24 respectively, the duo has some time to grow together.
Big decisions ahead in Brooklyn. Regardless of what happens, you can expect playoff basketball at the Barclays Center for years to come. Given all that this franchise has been through, what more can you really ask for?