Jimmy Bulter is an under-the-radar free agent candidate, and he may be the missing piece for the Brooklyn Nets.

With two potential max slots, the Brooklyn Nets have a big summer ahead of them. The possibilities appear to be more endless than originally thought; all three of Kevin Durant, Kawhi Leonard, and Kyrie Irving have been linked to Brooklyn.
One name has gotten swept under the rug. He deserves partial credit for ending Brooklyn's season. And no, I'm not talking about Tobias Harris.
Jimmy Butler is definitely worth a look for Sean Marks and his front office. Let's go through why he's such an intriguing fit.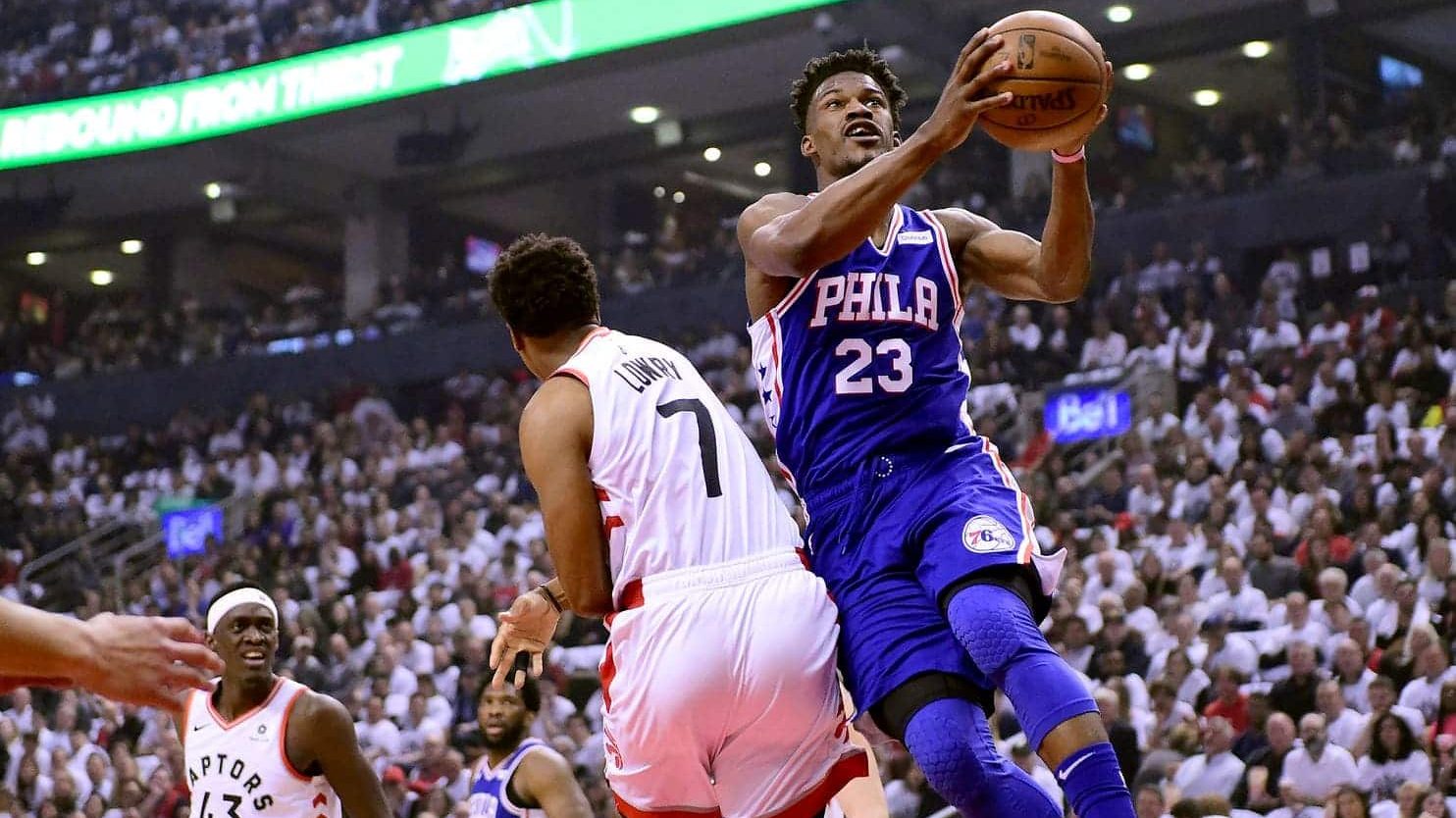 What Jimmy Butler brings to the table.
2018-2019 could certainly be described as a down year for Mr. Buckets. Jimmy Butler missed the All-Star team for the first time since 2013-2014, and he put up his lowest scoring average since his third year in the association. Not to mention, Philadelphia represented Butler's third team in three years; a troubling trend for someone with superstar pedigree.
With that said, his numbers weren't necessarily bad: 18.7 points, 5.3 rebounds, 4.0 assists, 1.9 steals, and a shooting split of 46.2/34.7/85.5. His postseason numbers were even better: 19.4 points, 6.1 rebounds, 5.1 assists (wow!), 1.4 steals, 0.6 blocks, and a 45.1/26.7/87.5 shooting line.
Although he's never been a three-point specialist, Jimmy has turned himself into a credible offensive threat behind the arc. He isn't fantastic off the dribble, but he's a knockdown shooter if given a good look via a teammate's pass. During the playoffs, Butler ranked within the 90th percentile of spot-up shooters. That's exceptional.
Butler is known across the league as one of the better isolation scorers in the game. His numbers back that claim up. In Minnesota, Butler scored 1.10 points per possession as an isolation scorer; which, over a larger sample size, would have been the league's second-best mark behind James Harden. In Philly, those numbers dropped to 0.99 points per possession – still very good.
But remember, Jimmy underwent a tumultuous adjustment period in Philly. He had to cater his skillset to two non-shooting teammates in Joel Embiid and Ben Simmons; both of whom clogged the paint – Jimmy's favorite area to isolate within. In Minnesota, Butler played next to a center with 40 percent three-point capabilities (Karl-Anthony Towns), giving him the required room to torch dudes from the midrange inward. Context matters when it comes to advanced numbers and Philly's incongruent fit could be the biggest reason Butler bolts The City of Brotherly Love.
Word association is a popular form of psychoanalysis, and it's used to trigger the unconscious mind. Per the Cambridge Dictionary, subjects are to "say the first word they think of when a particular word is said." When I hear the name "Jimmy Butler," Stacey King's electrifying voice is the first thing that comes to mind…
"Jimmy G Buckets, the G stands for gets!"
That speaks volumes about Butler's clutch-gene.
From the second Butler landed in Philadelphia, he made his presence known. Unfortunately, this came at the expense of the Brooklyn Nets.
In the last five minutes of regular-season games within 5 points or less, Butler was Philadelphia's second-leading scorer behind Joel Embiid. However, Butler was far more efficient than Embiid during close games, shooting 45.5 percent from the field and 35.3 percent from three.
His playoff numbers only improved. Over the course of the postseason, Jimmy's 4.7 crunchtime points ranked 5th among all players. Although it's a small sample, Butler shot 50 percent from the field during the clutch.
There are plenty of guys in this league who aren't afraid to take end-of-game shots. Butler is in the rare camp of actually being able to make them.
A three-time All-Defensive player, Jimmy Butler regressed ever so slightly this season. Make no mistake, though, the guy is still an outstanding defender.
As mentioned before, Butler averaged 1.9 steals per game; the sixth-best mark in NBA. Perhaps even more telling were his 3 deflections. Even while losing a half-step on defense, Butler can still sneak his lightning-quick hands into passing lanes.
During the regular season, Butler accounted for 0.106 defensive win-shares; the 67th best mark in the league. However, when the postseason rolled around, Jimmy Butler looked like a new man. In 12 games, Butler accounted for a whopping 0.152 defensive win shares; 6th best among the 168 players available. For context, two-way menace Kawhi Leonard is actually behind Butler in defensive win shares with 0.147.
What does this tell us? For better or for worse, Jimmy Butler has the superstar mentality – he preserves himself on defense during the regular season. While it may seem logical to expect consistent two-way effort from a star, what really matters is that Butler can still turn it up a notch during the most important part of the season.
NBA.com's matchup statistics can teach you a lot about a defender. While they may be imperfect by nature, Butler's postseason matchup stats are pretty consistent across the board. Butler guarded a wide variety of players during the 2019 postseason, ranging from Kawhi Leonard; to Spencer Dinwiddie; to even Marc Gasol.
I'll include the full list of Butler's matchups here, but going down the line you'll notice something: Butler fared best when hounding smaller point guards. Jimmy Butler guarded Kyle Lowry for 280 total possessions and held him to 4-of-25 shooting. D'Angelo Russell mustered up a 3-of-12 performance with Butler standing in his way. Fred VanVleet went 0-for-3 in Butler's presence. In fact, the only point guard who did much of anything against Jimmy was the aforementioned Dinwiddie (who shot 4-of-9 during the five-game series).
Butler's measurements (6-foot-8, 232-pounds) suggest he shouldn't be able to defend point guards, but his physicality and ability to sniff out screens make him the ideal pick-and-roll defender against ballhandlers. Regardless of whether the Nets sign D'Angelo Russell, Kyrie Irving, or both to run the offense, Brooklyn's backcourt defense will still be pretty porous. This makes Butler's ability to cover up ground against opposing guards that much more instrumental.
Which brings us to …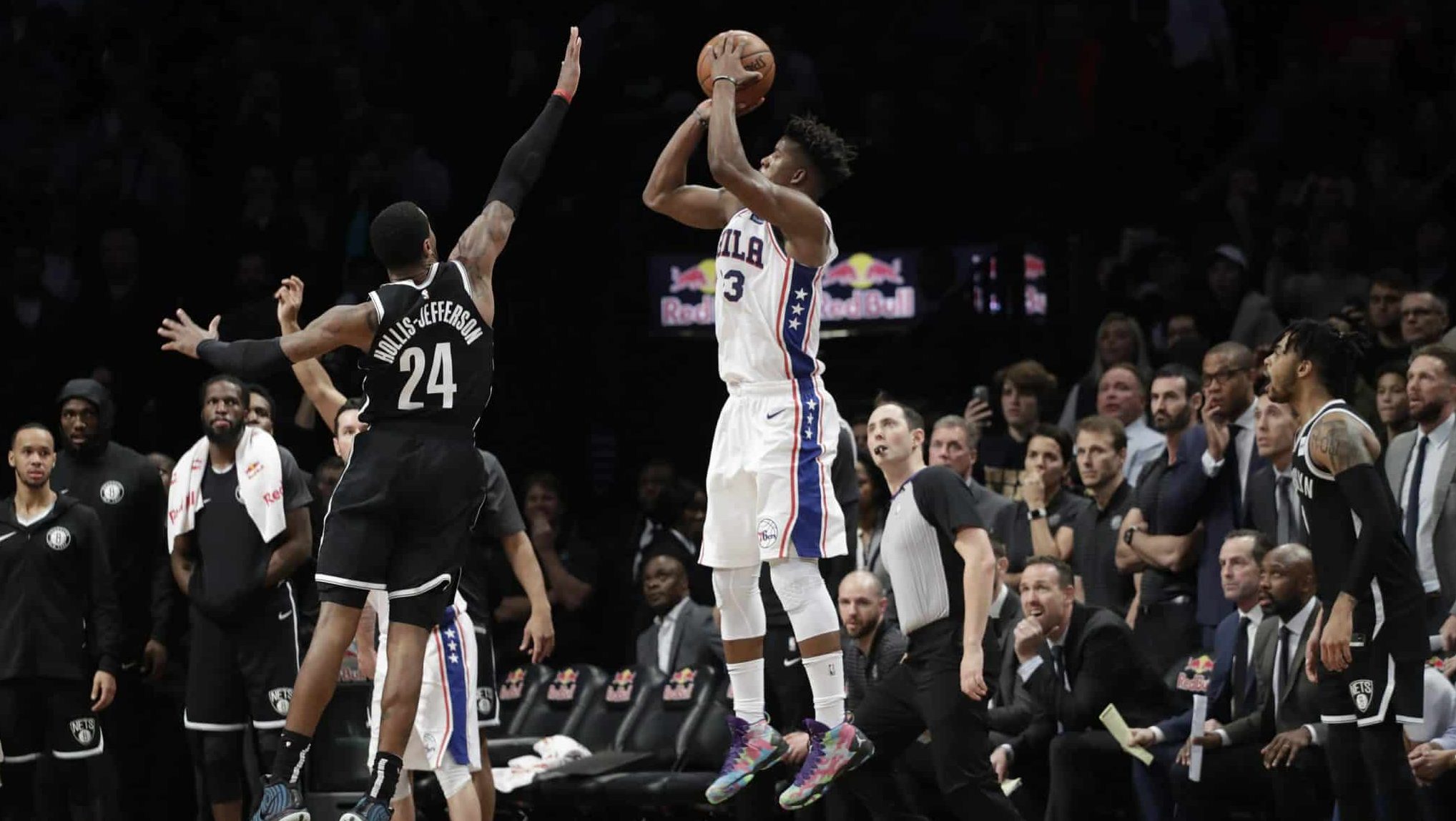 Jimmy Butler is the perfect fit for the Brooklyn Nets.
Rather than waiting, I'm just going to say it now: Jimmy Butler — and not Kyrie Irving — should be Brooklyn's free agent target this summer.
Offensively speaking, Butler fits right into Kenny Atkinson's wheelhouse. Kenny's system is mostly made up of isolation, pick-and-roll, and drive-and-kick.
We've already discussed Butler's ability to isolate. So let's touch on the other two skillsets.
Let's start out with drives. As a team, Brooklyn ranked third in the league with 53.2 drives per game. That number only grew in the postseason; versus the Sixers, the Nets drove the ball a whopping 60.8 times on average. Brooklyn has the bounty of possessing multiple downhill drivers: Spencer Dinwiddie, Caris LeVert, D'Angelo Russell, and to a lesser degree, Joe Harris and DeMarre Carroll.
Jimmy Butler would fit right in. During the postseason, Butler produced on average 11.9 drives per game; the 20th-highest mark among 212 players. Jimmy wasn't just screeching towards the cup aimlessly. Butler produced points (either by scoring or by dishing to teammates) on 62.7 percent of his drives.
With Butler in Brooklyn's lineup, the rich would only get richer. Somewhere, Robin Hood is steaming.
The Philadelphia 76ers' lineup was certainly loaded in terms of star power. But it had its fair share of holes — the biggest being point-guard depth. For most of the regular season, TJ McConnell was Philly's backup PG. Realistically, he's better suited as a 3rd guard. With a lack of depth at the most important position on the floor, Philly needed answers fast. In from stage left came Jimmy G Buckets to save the day.
For the second half of the regular season (and the postseason), the Sixers essentially ran Jimmy Butler as their defacto backup point guard. The experiment worked out nicely. As a lead creator, Butler recorded a very solid 2.82 assist-to-turnover ratio during the playoffs. This was right in line with his regular season average of 2.77 – a top-50 mark in its own right.
Not only did Butler take care of the ball, but he was also a force within the pick-and-roll. Traditionally speaking, someone at Butler's position (forward) would normally be utilized as the screener.
Here's where Jimmy's pick-and-roll work this season was truly unique: for the most part, Philly deployed him as a ballhandler within the PnR. Glancing at his numbers in Philly, you'd say "nothing special": 0.84 points per 100 possession, 38.3 percent shooting from the field, and a 53rd percentile ranking. Basically, he was barely average.
But when you glance at his pick-and-roll numbers in Minnesota, it's almost as if you're looking at a different player: 1.04 points per 100 possessions, 44.6 percent shooting from the field, and a ranking within the 93rd percentile.
As the reader, you may throw Butler's Timberwolves numbers out the window because of the sample size (10 games), but I think there's some real value here. Again, context matters. Think about who was screening for him. In Minnesota, Butler would receive screens from Karl-Anthony Towns — a center who can splash threes better than most guards. In Philly, it was Joel Embiid — a 30 percent three-point shooter.
When Philly ran the pick-and-roll with Butler and Embiid, teams would happily ignore Joel as he popped to the three (given his shooting issues). Instead, they would send both defenders to trap Butler and force him into a tough shot. In Minnesota, you couldn't do that: Towns could make a defense pay with his spot-up abilities, thus creating easier looks for Butler.
If Brooklyn can sign a stretchy backup center like Brook Lopez, Frank Kaminsky, or Dewayne Dedmon to play next to Jimmy in bench units, I believe the Nets can arise the Minnesota-version of Butler as a pick-and-roll ballhandler. Lopez may cost a pretty penny following his strong Conference Finals performance; Dedmon and Kaminsky should be on the cheaper side.
With the right roster around him, Butler could continue his strong showing as a backup ballhandler. I haven't seen this tossed around much, but if the Nets signed Jimmy Butler, it could open up options with Spencer Dinwiddie. Dinwiddie's name has already come up in a multitude of trade rumors following the Kyrie Irving fiasco, and one of the trade candidates I really like is Orlando's Aaron Gordon. Picture this as a theoretical lineup:
D'Angelo Russell
Jimmy Butler
Off the bench: Joe Harris, Rodions Kurucs, Dewayne Dedmon, and backup PG who can shoot (i.e. Darren Collison).
Pretty solid 9-man rotation, huh? It's much better defensively than any lineup with Kyrie Irving inserted in LeVert's place. Running LeVert off the bench is a misuse of his talents, and you can't utilize him as a 3 due to his slim size (201-pounds). He'd get bullied by small forwards. I don't think I need to rehash my defensive concerns with a Kyrie-Russell-centric backcourt.
Offensively, you're not losing that much ground. There are three players who can create their own shot in the proposed lineup: Russell, Butler, and LeVert. If you prefer an extra dash of shooting, sub Joe Harris in for LeVert. You could even go small and create an Eastcoast version of the death lineup: switch in Joe Harris for Jarrett Allen, move Aaron Gordon to the five, and have Butler play the four.
The Brooklyn Nets' biggest need is a star player. It's been the case all season long. This is why Kyrie Irving is so appealing: he's the 12th-best player in the association. But here's the thing… Jimmy Butler isn't far behind. He's probably around 14th-to-15th in the hierarchy. It's not like you're trading-in Kyrie for a total scrub. For Pete's sake, Butler won multiple playoff games this season.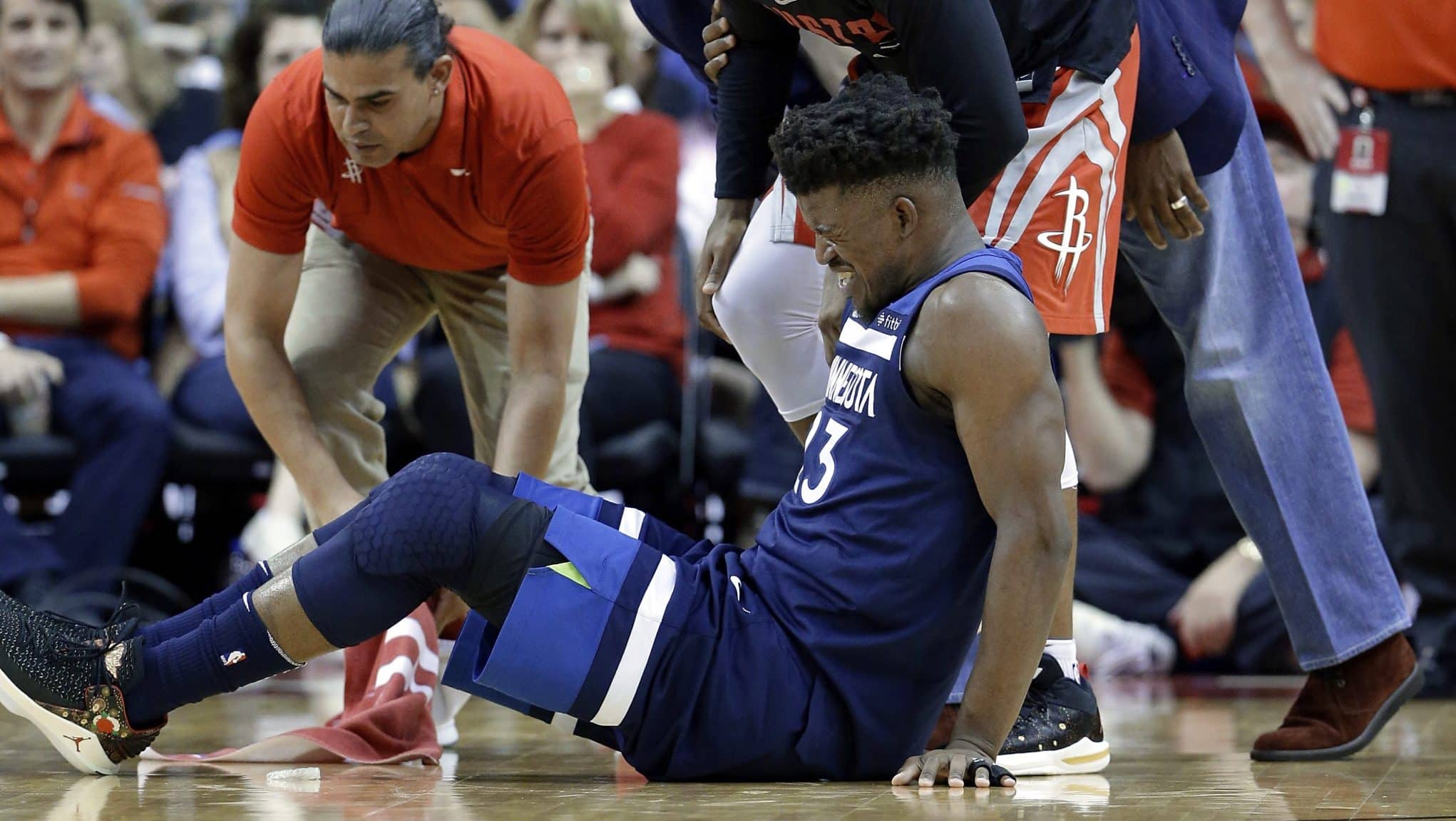 Debunking the criticisms for Jimmy Butler.
Make no mistake, Jimmy Butler will be hunting for a max contract. Per salary cap expert Albert Nahmad, here are Butler's options as a free agent:
Jimmy Butler's max EXTENSION options start in 2019-20 and add: (i) 2 years, $41M if executed within 6 months of the 76ers trade or (ii) 4 years, $101M thereafter. A max NEW CONTRACT signed next summer: (i) 5 years, $190M with the 76ers, or (ii) 4 years, $141M elsewhere.

— Albert Nahmad (@AlbertNahmad) November 10, 2018
Paying Jimmy Butler around $35.9 million a year has certainly raised a few questions within the Nets community. Let's address them.
One of the biggest concerns regarding Jimmy Butler is his age, and it really confuses me. Jimmy Butler is currently 29 years old and will be 30 at the start of next season. At the end of a four-year deal, he'd be 34. He's in the middle of his prime.
For context, Carmelo Anthony — a player who did a horrible job at tailoring his game to the modern era — still made an All-Star game at 33 years old. Butler should age more gracefully. Even if he isn't at an All-Star level near the end of his contract, he'll still be a very effective player. His offensive game relies upon strength and knowledge of the angles. It isn't based on pure explosiveness like, say, Shawn Kemp.
Plus, as a good defender, Butler will be a net-positive on the floor until he's 34, maybe 35 years old and well out of his prime (see: 35-year-old Thabo Sefolosha).
Wings (like Jimmy) tend to age the most fluidly in comparison with other positions. Unlike smaller point guards, wings don't exclusively require speed to score. Instead, they can use their hulking 6-foot-8-ish frames to batter opponents for buckets. Height advantage matters. At the same time, they aren't too big like a seven-foot center (they tend to age swiftly).
There is a second claim that is thrown around when Jimmy Butler's name is brought up…
Tom Thibodeau ran him into the ground. Now, he's injury prone.
Concerns about Tom Thibodeau's ways are real and should not be taken lightly. We've seen coach Thibs ruin many All-Star talents with his ridiculous workloads: Joakim Noah, Derrick Rose, Luol Deng… the list goes on and on.
But here's the thing about Butler: during his first couple of seasons, he barely played. Coach Thibs, while he can be a maniac, does not trust young players. In a way, this preserved Butler's body.
Jimmy Butler came into the league as an older player. He wasn't a starter until year three. Realistically, Jimmy only experienced six seasons of playing 33 minutes or more. Here's that same table, but in per-game format:
Now, let's contrast those totals to Kyrie Irving:
Notice something? For all of the chatter around Butler's aging and decaying body, he's only played 60 more total minutes than 27-year-old Kyrie Irving. Take that for data.
Tossing out Jimmy's rookie season — in which Butler (the 30th overall pick) only played 42 games and collected a handful of DNPs — Butler has averaged 68 games per season. While that isn't great, take a look at how it compares to other stars across the league.
Kawhi Leonard has averaged 58 games per season. Kyrie has averaged around 63. Anthony Davis has averaged 66. Stephen Curry has averaged 69. Obviously, you want a superstar who can stay on the floor. But it isn't the end-all be-all. Assuming that Brooklyn is good enough to survive for 10 or so regular season games (sans Jimmy), as long as Butler is healthy for the playoffs, that's all that really matters. Just look at what Kawhi is doing this postseason after a year of planned rest.
The benefits far outweigh the risks when it comes to Jimmy Butler's free agency. Although he comes with a hefty price tag, he fits every need for the Brooklyn Nets.
He would give Brooklyn a perimeter defender who can bother opposing guards. Jimmy Buckets is a clutch player. He's an excellent source of isolation scoring – an especially important skill when playsets breakdown. Butler is a proven playoff winner, and he could certainly take the Nets up a level. Perhaps he could even handle some backup point guard duties.
But above all, Jimmy Butler is a star. That's all the fans in Brooklyn have wanted. He's a superstar to believe in.