The New York Giants are bringing in 10 draftees, some with the ability to start day one, but a couple may benefit sitting some games.
Over the last two years, the New York Giants have been 8-24 while featuring little-to-no joy throughout the fan base. However, the Giants will now look to use their plethora of rookies to help rebuild their roster. On April 27, the Giants concluded the 2019 NFL Draft after making 10 selections.
All of the draftees will have different 2019 roles. Some of these selections (DeAndre Baker and Dexter Lawrence) are destined to be day-one starters. However, others will be best served sitting a few games behind their predecessors.
To the disappointment of the majority of Giants fans, Daniel Jones was drafted with the No. 6 overall pick. Since then, he has quickly turned the heads of many. Jones has continued to enhance his game since he has been in East Rutherford.
"I see improvement from (Jones) every day," Giants coach Pat Shurmur said. "He displays to me that he gets it and he's becoming more comfortable with what we're doing offensively. He's making plays in every practice. And in our view, he's getting better every practice."
Throughout rookie minicamp, Jones had some struggles but continued to work through it. With some better talent around him in OTAs and mandatory minicamp, Jones really had the chance to break through. He has been very solid and has even given Eli Manning a run for his money.
However, a Week 1 start may not be in the rookies best interest. Throwing a rookie right into the fire is usually not the best case scenario. Especially a rookie as raw as Jones. During his Duke days, the kid only saw one season where his touchdown to interception ratio eclipsed two to one. In his redshirt sophomore year, Jones only had three more touchdowns (14) than interceptions. In Jones's defense, he was constantly surrounded by subpar talent. Nevertheless, these are not great numbers for anyone with NFL aspirations.
Due to the Duke product's major room for growth, he will be best suited to sitting some games behind Manning. Jones has already had prior experiences with the two-time Super Bowl MVP as he has attended the Manning quarterback camp. David Cutcliffe also coached Daniel Jones at Duke. Cutcliffe was an influential figure in Manning's development as well as Jones's. Now, Jones will have the opportunity to further ameliorate his game due to his constant contact with Manning
"But as far as someone to watch and to see how it's done right, I think [Eli's] a good example for that," Jones said. "So yeah, I think it's complimentary considering what Eli's done in his career in this league. He's been great for me, really helpful. For me to just be around him and listen to him is a big benefit. I am appreciative of the way he's helped me out so far. I think our relationship is great."
Eli has also been very keen on helping Jones develop. While Eli's main goal is to win football games, he has had no problem mentoring Jones. The great relationship the two have formed will only make Jones a better player. Having Jones continue to learn behind Eli and ease his way into the NFL seems like the best path for him.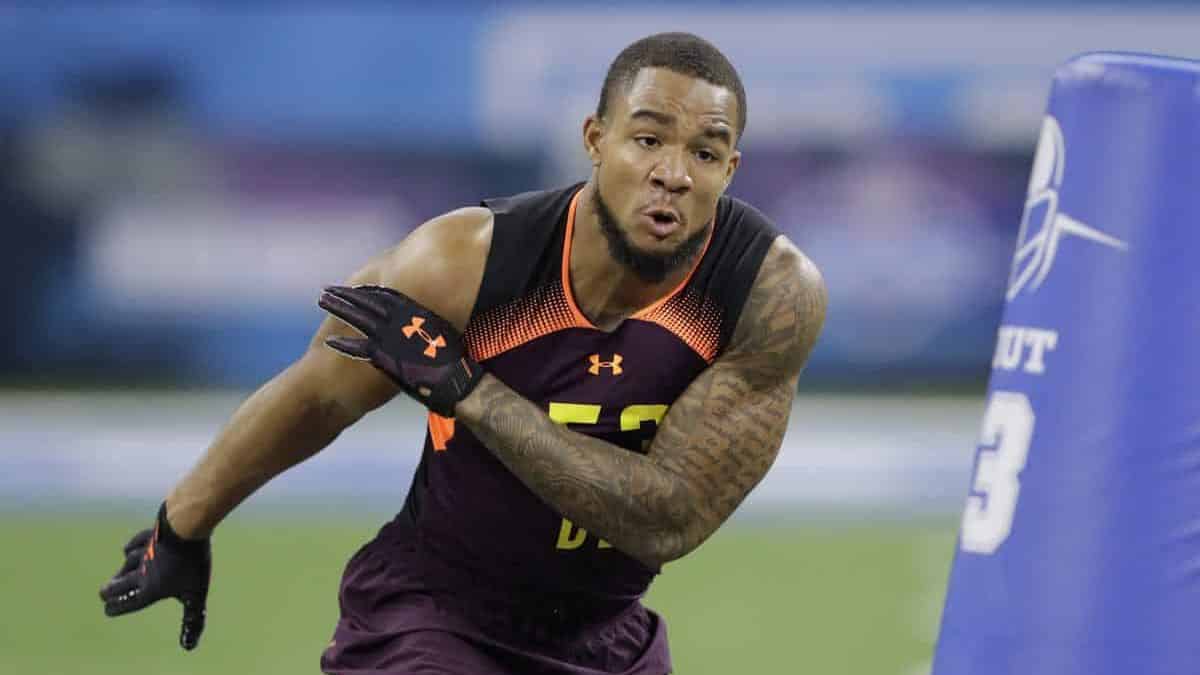 Oshane Ximines
Oshane Ximines was drafted with the third-round pick acquired from the Odell Beckham Jr. trade. He was a project pick with the ability to be a game-changer at the next level.
Ximines was an elite pass rusher during his days at Old Dominion, logging sacks game after game. He used his full arsenal of pass-rushing moves that couldn't be matched by his lower competition. This helped him record 33 sacks in his college career. Last year alone, Ximines had 55 quarterback pressures in just 12 games. Olivier Vernon had the most pressures (47) for New York last season in 11 games.
There's no doubt in anyone's mind that Ximines was an elite player at the mid-major college level. He was even the first player ever drafted out of Old Dominion. However, the competition Ximines will now have to face will be nowhere near the level of difficulty he has had over the last four years.
The X-Man will have a lot to learn before he gets fully acclimated to NFL competition. While he was named the Giants' most dangerous new weapon by Bleacher Report, Ximines doesn't seem ready to be thrown in with the hounds right away.
Currently, Ximines is behind Markus Golden at the outside linebacker position. Golden is also a new face for the Giants as the team picked him up in free agency. However, he has an advantage on most of the newly acquired players as he spent some time with defensive coordinator James Bettcher in Arizona. Markus Golden is a veteran who is familiar with the playbook, making him a perfect candidate for Ximines to learn from.
"Everybody's thirsty for knowledge," Ximines said. "Everyone wants to learn. Whenever we have the chance to learn something, we all tune in. We all buckle down and try to learn as much as possible from someone like Markus Golden, who had that 12 sack season a couple of years ago, trying to get as much information from him and working on our craft every day to take our game to that next level. He played in the scheme and he's familiar with the ins and outs of it, when I'm confused about something, I definitely go to him. He usually always has the right answer for me, I'm glad to have him along."
As of now, the X-Man is taking the majority of his snaps with the second team. During OTAs, he took occasional snaps with the first team alongside Lorenzo Carter. This is highly due to his underrated ability to cover the pass as Ximines forced an interception while covering top-wideout Golden Tate.
Nevertheless, the best thing for Ximines—for his rookie season—seems to be the rotational role he currently has at the outside linebacker position. It allows him to get the knowledge he needs from Golden. He also has the opportunity to slowly get adjusted to higher level competition in his quest to become an every-down starter one day.