With ten rookies, the New York Giants will have a lot of youth on the roster. However, the roles of each draftee in 2019 appear to vary.
An eventful NFL Draft that saw the New York Giants enter with 12 selections, concluded on April 27. After one first-round trade, the Giants narrowed that down to 10. Unsatisfaction has circulated throughout the fanbase due to a few decisions made by general manager Dave Gettleman.
Nevertheless, each rookie will have an opportunity to earn a spot on the team in 2019. Here is an outlook of the potential roles of each draftee this upcoming season.
Pick 6: Daniel Jones, QB, Duke: The Backup / Future
The Giants could not wait any longer for their quarterback of the future. In a pick that shocked many, New York elected to go with Daniel Jones. The Duke product has been connected to the Mannings for some time and this seems to be a pick to get the next Eli Manning.
This was quite a surprise to many due to the insane defensive talent on the board. To make it more of a head-scratcher, Jones was not widely regarded as the second overall quarterback in the draft. He was definitely not a top 10 talent on many big boards. The value and quality of the pick are up for debate, but if Daniel Jones shines, all the doubters will be silenced.
For Jones's 2019 role, there seems to be some confusion as well. Gettleman has alluded to using the "Kansas City model" in the past. This would entail having Jones sit behind Manning for one year.
However, Gettleman has recently said that they might use the "Green Bay model" which would mean Jones would be backing up Manning for at least two or three seasons. This seems highly unlikely considering Manning is already 38 and not getting any younger.
A more probable situation is that Daniel Jones may be able to fight for an opportunity to start in the 2019 season if the Giants struggle to begin the season.
Pick 17: Dexter Lawrence, DT, Clemson: The Run Gobbler
Eleven picks later, New York made another puzzling selection. The Giants elected to draft Dexter Lawrence, an athletic defensive tackle out of Clemson. Lawrence is a run-stuffer who saw a lot of success in this category during his college career. He used his 342-pound frame to stuff gaps and dominate the run game.
Lawrence ended his Clemson career with 162 tackles, 20 of them for a loss. These are great numbers but the knock on Lawrence is that he isn't considered a threat as a pass rusher. He finished his career at Clemson with just 11 total sacks.
This projects him as a two-down, primary run stopper which the Giants already possess in Dalvin Tomlinson (Gettleman loves his hog-mollies). Lawrence comes in as a rotational piece that could be used in packages when the Giants want to go big up front with him, Tomlinson and B.J. Hill.
Besides that, Lawrence does not seem to have a huge role on the team. If the Clemson alumni can develop a stronger pass rush then he could become a three-down starter in 2019 for the Giants.
Pick 30: Deandre Baker, CB, Georgia: The Cover Corner
Big Blue traded back into the first round to get their first of three cornerbacks. The Giants went in the direction of Deandre Baker. He is a Jim Thorpe award winner—best defensive back in college football—who has not let up a touchdown in over two years. Baker comes in as an average cornerback, athletic-wise, whose measurables are not elite.
However, Baker is a hard worker and can let his tape do the talking for him. Last year for Georgia, he started all 13 games and recorded two interceptions along with ten pass deflections. Baker is a corner who excels in press man-to-man coverage and he has shown that throughout his time guarding top tier SEC talent.
James Bettcher's defensive scheme should look to take advantage of Baker's ability to play man coverage. This will give Baker an opportunity to start alongside Janoris Jenkins at the cornerback spot.
Pick 95: Oshane Ximines, DE, Old Dominion: The EDGE Rusher
The Giants made Oshane Ximines the first player ever selected from Old Dominion in the NFL draft. This may sound like a heartwarming story, but it does not end there. The Giants chose the New York native due to the immediate help he can bring.
Ximines was an elite pass rusher for Old Dominion logging sacks game after game. He has a full arsenal of pass rushing moves that could not be matched by his lower competition. The defensive end projects to be a rotational piece for the Giants.
He will be utilized heavily in pass rushing downs and has a chance to start as an every-down player if he has a strong offseason. While he will have an uphill battle transitioning from FCS football to the NFL, Ximines should be able to serve as instantaneous help to a team searching for a pass rush.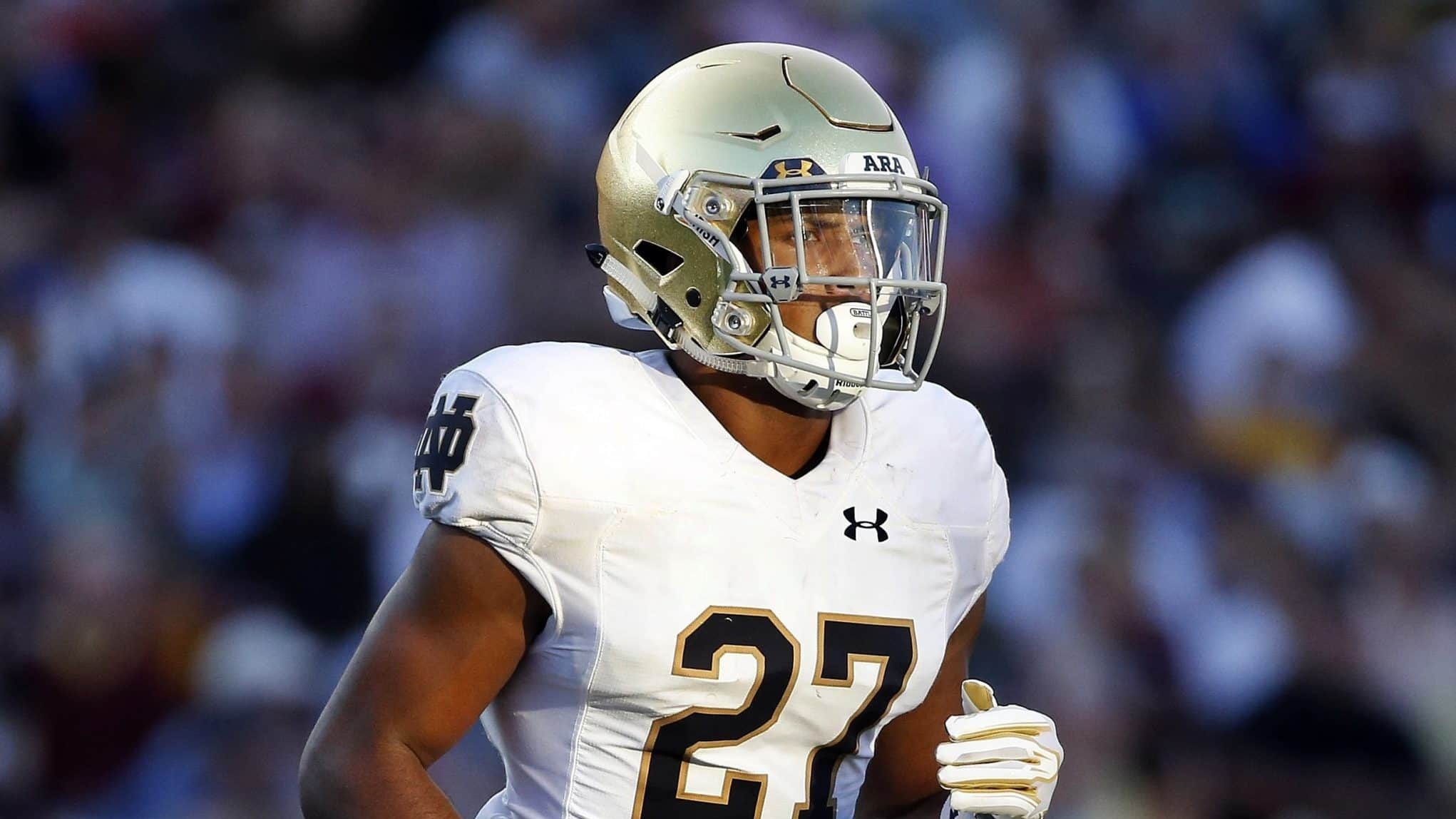 Pick 108: Julian Love, CB, Notre Dame: The Depth Corner
The Giants could not stick with one Jim Thorpe finalist so they drafted the runner up as well. Julian Love was an elite cornerback in college football. He helped to anchor the Notre Dame secondary that went all the way to the College Football Playoff. Love will be looking to translate his success to the NFL.
Initially, the Notre Dame product was thought to be a second-round talent, but fell into the Giants' lap in the fourth round. Now Love will play on a revamped secondary with a lot of young talent. The path to becoming a starter will be hard due to the competition he will face with Grant Haley and Sam Beal. However, if Love is able to gain some strength while maintaining his speed he could become the starting nickel corner.
Pick 143: Ryan Connelly, LB, Wisconsin: The Special Teams Demon
Ryan Connelly will come in and provide depth for a team that is lacking at linebacker. He is a very smart player who is touted as one of the most intelligent inside linebackers in this class by scouts. The knock on him is that he does not possess the strength or speed to be elite.
Although the Third-Team All-Big Ten inside linebacker does not seem to own all the talent to become an NFL star, he will become an instant special teams player that could see the field at inside linebacker due to injuries. As of now, it seems that the former college walk-on will match up with Tae Davis inside to back up B.J. Goodson and Alec Ogletree.
Pick 171: Darius Slayton, WR, Auburn: The Outside Speedster
Big Blue chose Darius Slayton to provide some depth at the receiver position. Slayton is a speedy receiver who has a vertical leap of 40.5 inches. This athleticism should help him carve out a role as a deep threat for the Giants. Slayton could see himself as a regular on a Giants offense in need of receivers. The only thing that will stop him is his tendency to drop balls.
Pick 180: Corey Ballentine, CB, Washburn: The Special Teams Corner
Corey Ballentine was the second (Oshane Ximines) Giant selected of Jamaican blood in 2019. He is an athletic cornerback that had a fourth-round grade by many. A case of small school syndrome allowed for him to fall to the Giants in the sixth round.
Ballentine is a player who will provide immediate special teams relief. He is also a developmental pick who could blossom into an NFL starter at some point. While starting as a cornerback in 2019 may be unrealistic for Ballentine, his lack of bad tendencies and thirst for knowledge should let him see the field on obvious passing downs.
Pick 232: George Asafo-Adjei, OT, Kentucky: The Depth Lineman
George Asafo-Adjei is by no means a top rated prospect. He was projected to go in the seventh round. However, Asafo-Adjei could see the field sooner than anyone expected. With the Giants lacking a quality starter at the right tackle position, the New York Native could see himself pushing Chad Wheeler for the starting job. That being said, the most likely situation is that the Giants sign a veteran free agent lineman to fill the position. In this case, Asafo-Adjei will be lucky to make the 53-man roster as a depth lineman.
Pick 245: Chris Slayton, DT, Syracuse: The Extra Body
Gettleman used his last pick to snag another one of his hog-mollies. The Giants went with the developmental prospect out of Syracuse—Chris Slayton. Slayton is an athletic defensive lineman who has never really been able to translate his play to the box score. As of now, he projects as a rotational defensive lineman at best.
He may not even make the 53-man roster. The best case scenario for him is if he taps into his athleticism with NFL coaching. In this case, he can be a quality depth player up front for Big Blue.