Mike Maccagnan and the New York Jets would commit a grave NFL mistake if the offensive line is solely handled through free agency.

Sam Darnold = franchise face + protection = stardom + coaching + ownership = Vince Lombardi trophy.
Get it? Of course you do.
As it currently stands at this very moment, the New York Jets employ a franchise stud whose naked body is feeling the chilly wind—similarly to an Andrew Luck a few years ago.
The needs are many yet one stands out far above the rest. Due to the presence of young Sam Darnold, an offensive line needs to happen immediately and it can't come solely by way of free agency.
The following is a statement those familiar with this site have read nearly 50 times previously. Mike Maccagnan becomes violently ill when thinking about drafting an offensive lineman. He's simply allergic. Through 28 total picks spanning four seasons, he's drafted just two offensive linemen. One is still on the team in Brandon Shell (fifth round, 2016). The other, Jarvis Harrison (fifth round, 2015), is long gone.
What gives? Isn't this the league that never witnesses quality offensive linemen make it to the open market?
It is the league that never allows big-heavy talent to become available yet despite the obvious notion, sources have the Jets looking to address the position by way of free agency this offseason, via Rich Cimini of ESPN New York.
"League insiders believe the Jets will use free agency to address the line issues, saving the draft to attack other weaknesses," Cimini proclaims.
Everything Mikey Mac's relayed publicly mirrors the report.
"I would say right now that's a position that we're going to look very strongly at in free agency," Maccagnan said at the NFL scouting combine. "It's definitely an area we want to improve upon."
Fine. Great. Look to address the position via free agency. Go ahead and offer former Denver Broncos center Matt Paradis a healthy contract.
It must stop there. The rest should mirror Darnold by way of age along a continuing theme of long-term development. The NFL Draft remains the spine of every depth chart, particularly up front.
First of all, it's the safest position to draft during the early rounds.
In a piece done by Bleacher Report's Brad Gagnon in 2015, the tackle, guard and center spots far and away showcase the safest first-round positions.
Bust rates among first-round picks, 10-year sample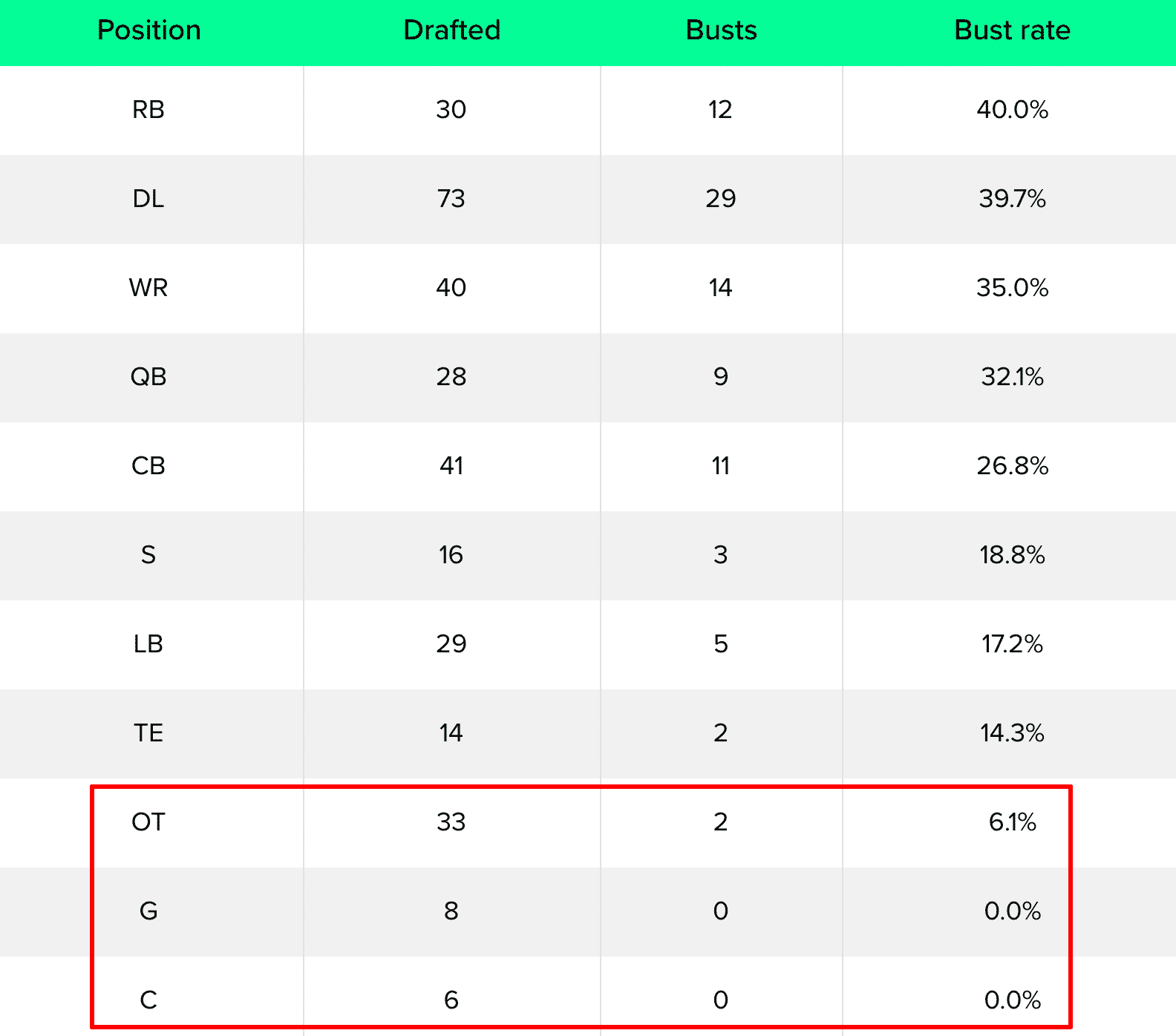 All-Pro rates among first-round picks, 10-year sample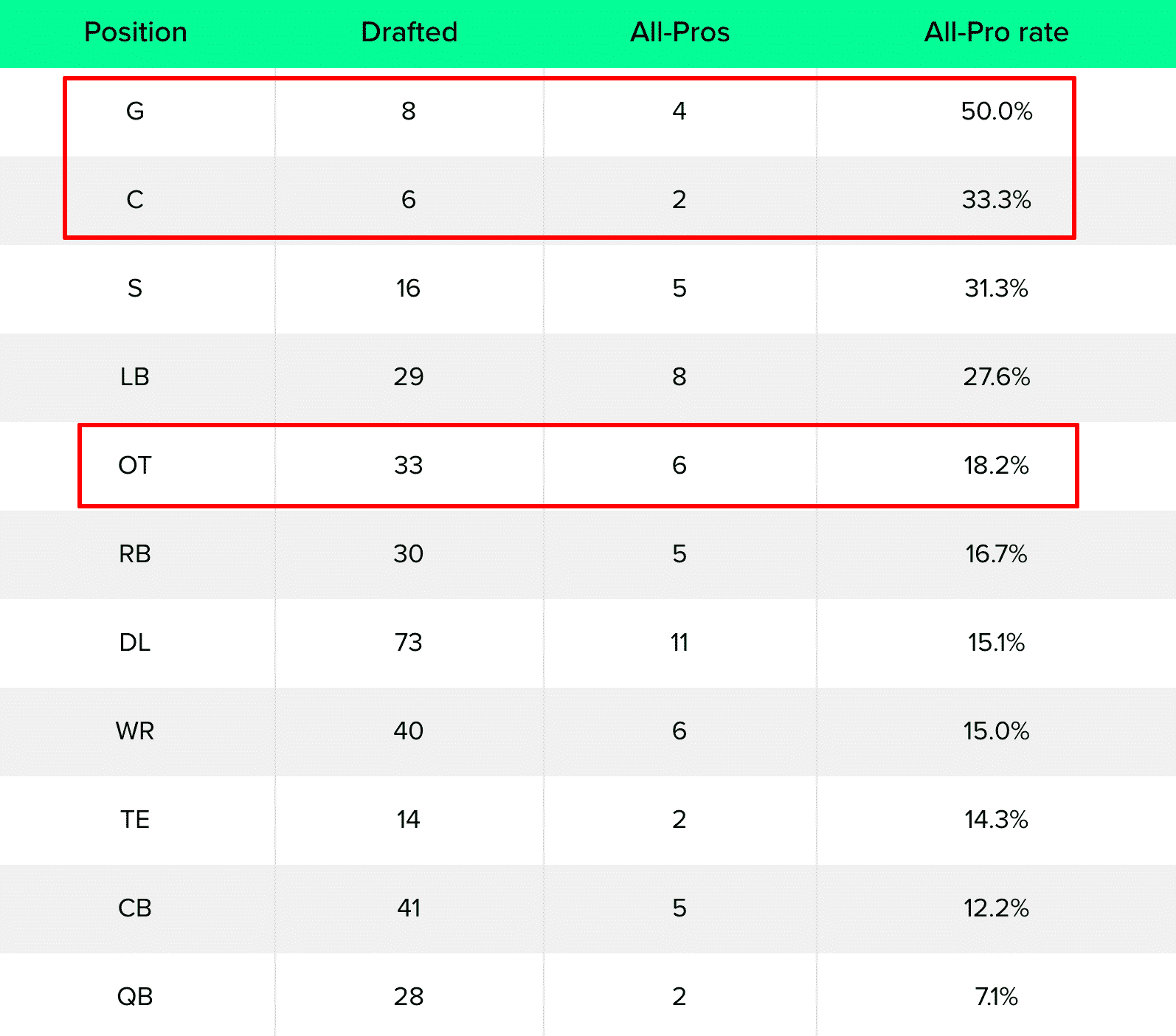 Should the Jets dare select Kentucky's Josh Allen over a decade-long left tackle for Darnold they will forever regret the action. Not necessarily due to Allen busting, but rather in not shoring up the left tackle spot as soon as possible to go along with Darnold.
Moreover, there's tremendous opportunity to trade down. The New York Giants sitting in the No. 6 hole represent the first quarterback-hungry team. Teams like the Jacksonville Jaguars, Denver Broncos, Miami Dolphins and Washington Redskins all represent organizations needing a quarterback. One, if not multiple, will want to leapfrog the Jints in the pecking order.
Demarcus Lawrence, Ezekiel Ansah, Jadeveon Clowney and Za'Darius Smith are just several quality edge rushers on the open market. Alabama's Jonah Williams, Florida's Jawaan Taylor and Ole Miss' Greg Little are all tackles ripe for the first-round picking.
It's a golden opportunity to go edge on the open market and offensive line in the bloodline (the draft).
The only active certainties up front are Brian Winters and Brandon Shell on the right side with Kelvin Beachum on the left. Beachum will be 30 by the time camp opens. He may be the Jets most productive lineman at the moment, but he and Shell together make for one of the most underwhelming tandems in the NFL.
The other negative on Beachum's record is quite hidden within the Jets beat scene. In 2016, his only season with the Jacksonville Jaguars, he contributed to a 22nd-ranked rushing attack with 1,631 total yards on the ground.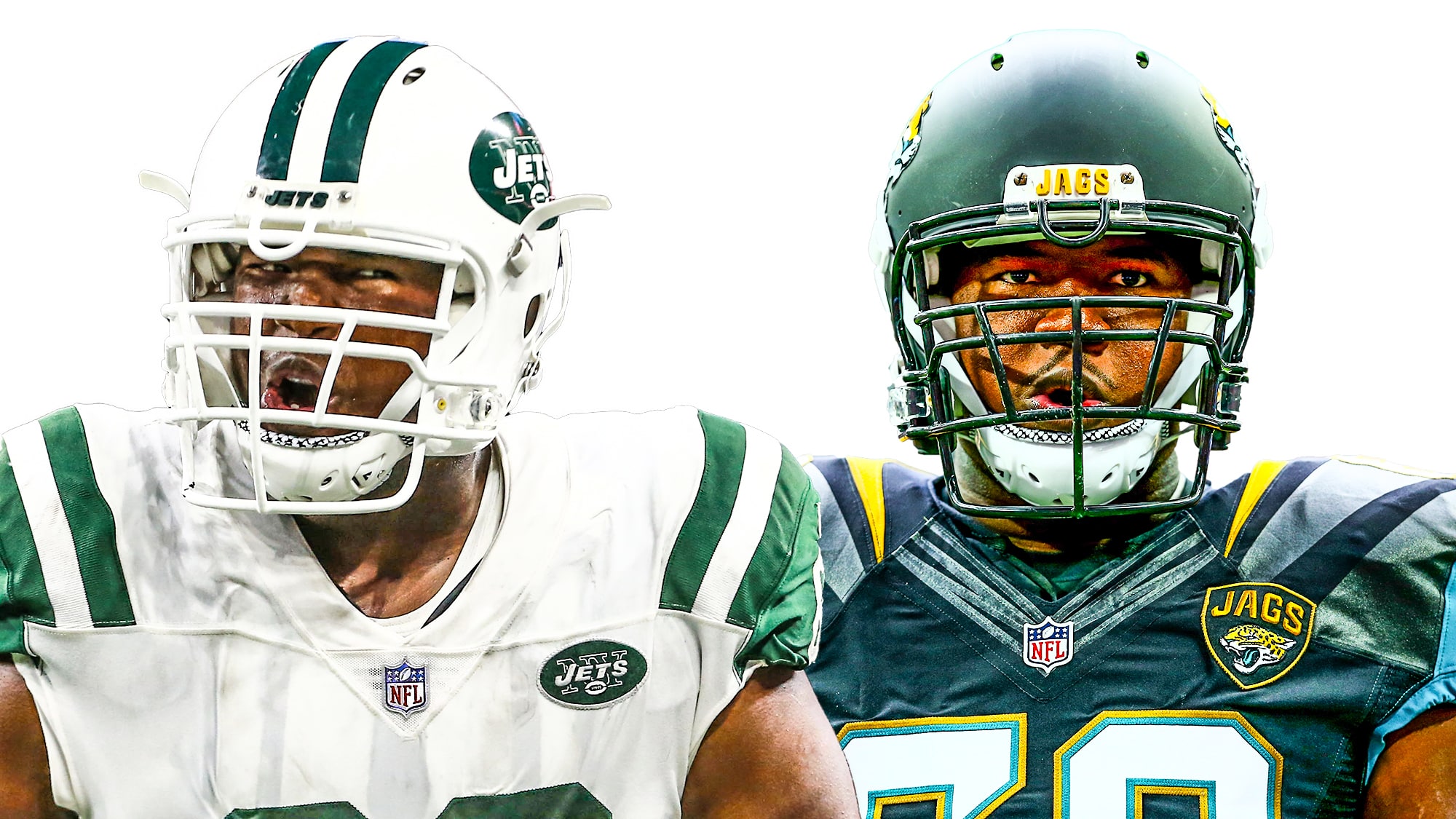 2016 Jacksonville Offense: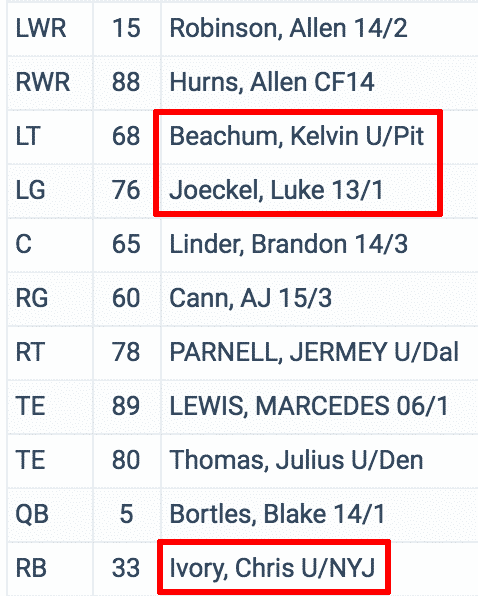 With Beachum gone in 2017, the Jags skyrocketed to first in the NFL with 2,262 total rushing yards. Early-round product Cam Robinson replaced Beachum and it was on. The other change was Patrick Omameh for Luke Joeckel. Folks, Omameh was cut by the Giants in 2018. The Giants.
2017 Jacksonville Offense: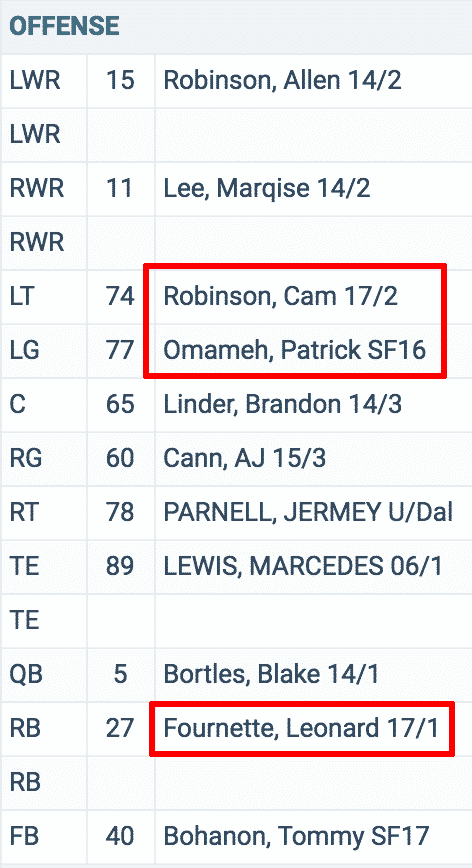 Of course many will point to Leonard Fournette's presence as the reason for such an increase in production. Be careful. Fournette, while skilled, only picked up 1,040 (13 games) of the total 2,262 total yards. It wasn't a one-man band.
In 2018, with severe injuries, particular to Robinson, the Jags fell all the way down to 19th. This was the case even after the mega free agent signing of guard Andrew Norwell.
It appears as though the early-round offensive lineman, Cam Robinson, is the difference-maker rather than the free agent signing (Norwell).
Never can an offense truly shine with such a tandem (Beachum, Shell).
Cutting Beachum would save New York $8.5 million. At the very least, drafting that decade-long left tackle while keeping Beachum allows for much-needed big-heavy competition in July—something that's desperately been needed for years. Think about it; in each of Maccagnan's years, the starting five along the line have been cemented headed into the season without any variables. It's not a good look for a highly-functional football club.
The Top Teams Appropriately Draft Offensive Linemen
Look around the National Football League; never does a potent offense showcase a free-agent heavy O-line.
New England Patriots
Sure, Dante Scarnecchia is a genius and Tom Brady helps, but three of the five linemen from the defending champs were drafted. One, David Andrews, was an undrafted free agent.
Los Angeles Rams
The Los Angeles Rams, the NFL's third-best rushing attack, feature a pair of second-round in-house selections. And no, Todd Gurley didn't break out until Andrew Whitworth was acquired and Sean McVay took over. Two in-house second rounders far surpass the level of drat commitment than Shell in the fifth and Winters in the third round.
Kansas City Chiefs
Does anybody actually wonder why the Kansas City Chiefs offensive line was so damn good in 2018? A collection of two first rounders, two second-rounders and a sixth produced massively for Andy Reid's offense. It mattered not who was in the backfield after Kareem Hunt found his way off the field.
New Orleans Saints
Case closed. Not only do the New Orleans Saints boast an entire unit all drafted within the first three rounds, but three of them were in-house selections. Once Ryan Ramczyk joined the fold, they took off as a unit.
New York Jets
It's no wonder this unit's struggled for so long. James Carpenter, Kelvin Beachum, Spencer Long all represent free-agent additions that are meant to add the extra sprinkle on top of the sturdy cake. The problem is the Jets cake remains far from sturdy.
Young, in-house drafted offensive line talent is a must when attempting to win in the NFL. Matt Paradis is a great idea at center. Aside from him, that left side of the line must be infused with young talent.
Pass-rushing help is there in free agency. If the worst-case scenario shows face, however, and edge or left tackle must be chosen in the first round, John Abraham's long-awaited replacement will have to wait another year. The bust rate warrants it and Sam Darnold is far too important to waste any time behind a poor O-line.
Enough is enough. Stop the stubbornness and open those eyes to what works in this league. The New York Jets have to go young at left tackle and left guard during the early rounds of the 2019 NFL draft.
If Mike Maccagnan continues his spring-specific allergic reaction and only add to the line through free agency, it'll eventually prove as patchwork leading to nowhere special.