The New York Jets updated depth chart brings strengths, weaknesses and grave concerns heading into the 2019 NFL season.

The NBA is a superstar league. The NFL is a value league. The detailed rigors of the hard-salary cap vary greatly from that of gobbling up stars only to keep in-house talent under a soft-cap structure.
It's apparent. It's completely obvious. It's also why NFL free agency is always overhyped.
Over the last seven seasons, taking the highest top-five free agent spenders, 35 instances, the win-improvement the following season is a mere 40. That's just a little over one more win per season per team.
Top-5 Rankings, Results
2018
Bears, $233.5 million, 5-11 to 12-4
Jets, $202.3 million, 5-11 to 4-12
Jags, $147.8 million, 10-6 to 5-11
Titans, $146 million, 9-7 to 9-7
Saints, $142.7 million, 11-5 to 13-3
2017
Jags, $178.8 million, 3-13 to 10-6
49ers, $169.9 million, 2-14 to 6-10
Ravens, $63.5 million, 8-8 to 9-7
Bears, $133.1 million, 3-13 to 5-11
Saints, $126.9 million, 7-9 to 11-5
2016
Jags, $230 million, 5-11 to 3-13
Giants, $213.8 million, 6-10 to 11-5
Broncos, $193.7 million, 12-4 to 9-7
Raiders, $156.1 million, 7-9 to 12-4
Jets, $141.7 million, 10-6 to 5-11
2015
Jets, $182.8 million, 4-12 to 10-6
Jags, $176.4 million, 3-13 to 5-11
Dolphins, $155.4 million, 8-8 to 6-10
Raiders, $150.3 million, 3-13 to 7-9
Titans, $134.7 million, 2-14 to 3-13
2014
Bucs, $152.3 million, 4-12 to 2-14
Broncos, $127.6 million, 13-3 to 12-4
Giants, $113.7 million, 7-9 to 6-10
Jags, $112.9 million, 4-12 to 3-13
Falcons, $110.4 million, 4-12 to 6-10
2013
Dolphins, $159.9 million, 7-9 to 8-8
Colts, $142.8 million, 11-5 to 11-5
Titans, $133.3 million, 6-10 to 7-9
Eagles, $103.8 million, 4-12 to 10-6
Vikings, $101.3 million, 10-6 to 5-10-1
2012
Saints, $220.1 million, 13-3 to 7-9
Bucs, $162.4 million, 4-12 to 7-9
Broncos, $152.5 million, 8-8 to 13-3
Ravens, $135.3 million, 4-12 to 10-6
Bills, $128.2 million, 6-10 to 6-10
Seven seasons featuring the top-five free agent spending teams equals 35 instances.
The overall record prior to the big-spending offseason: 228-332
The overall record after the big-spending offseason: 268-291-1
The win difference turns out as a mere 40 between 35 teams over the last seven seasons. Think about this. The five highest-spending organizations over the last seven seasons have only combined for 40 extra victories via the following season.
Considering all of the money, all of the talent, and all of the hype, there's no way 40 should be the number.
Naturally, teams can improve following a big-spending offseason. The examples above are right there for consumption. The important aspect is to understand that free agency is overvalued and must represent the sprinkles on top of the already perfectly-baked cake.
It's never about the star. It's always about the entirety of the 53-man depth chart and the New York Jets are no different.
Jets Updated 53-Man Depth Chart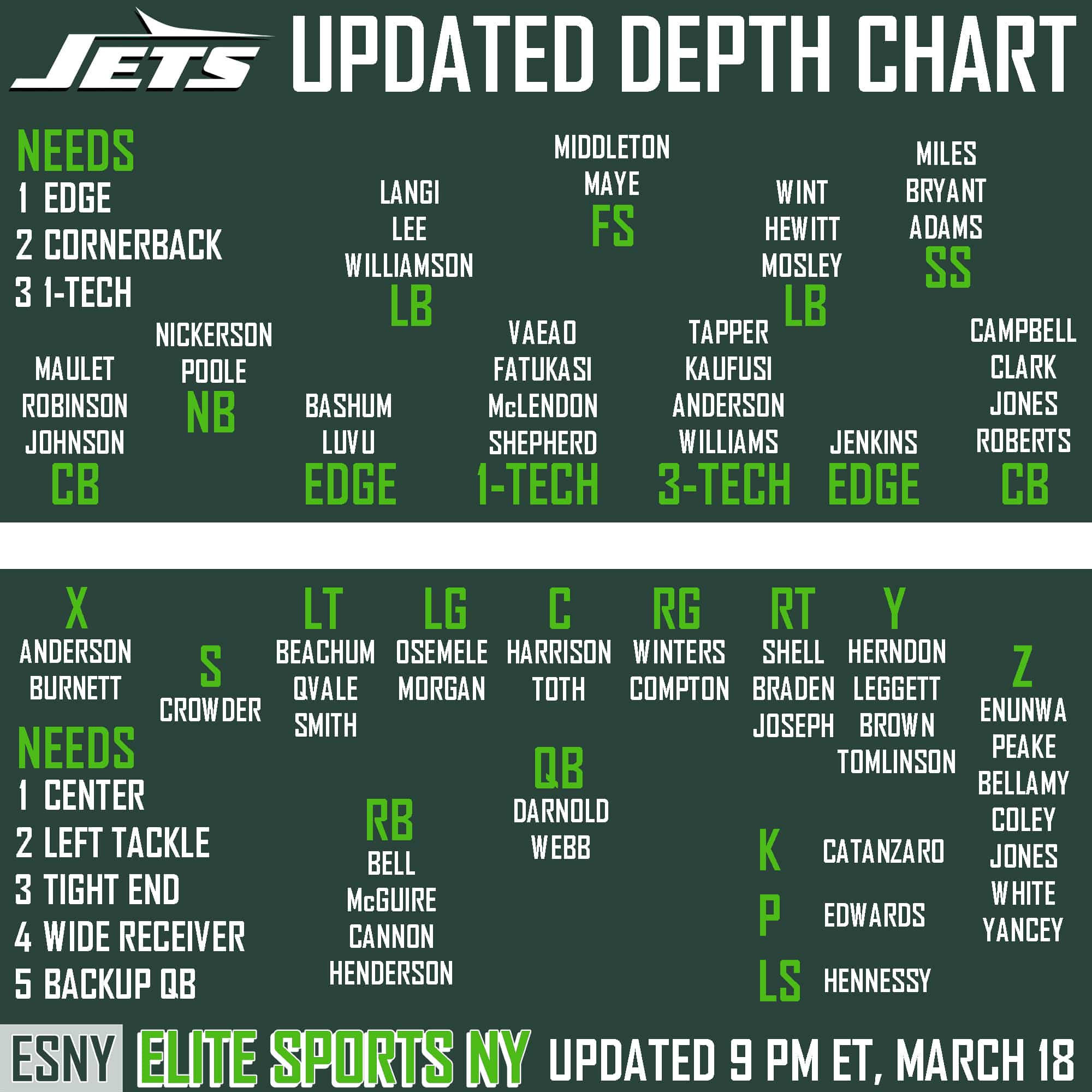 Strengths
There are four positions that greatly stand out as strengths: safety, inside linebacker, quarterback and running back. Safety and quarterback are premium spots. The entire football-breathing world already understands this about the quarterback. Safety has hit the premium level due to the insane matchup advantage offenses yield via running backs and tight ends. A Jamal Adams-type shuts those matchups down.
With Le'Veon Bell in tow, the back position is immediately top-notch. Elijah McGuire is a tremendous change-of-pace as the backup as it Trenton Cannon who can line up and execute multiple things offensively. Within this look, Bell will absolutely assume the short-yardage duties.
Weaknesses
Four years into the Mike Maccagnan era and the story remains the same; offensive line and edge are desperately weak. It's unfortunate due to each unit's critical impact on the rest of the roster.
Kelechi Osemele was snagged for a nice value yet he frighteningly compares to the Ryan Clady acquisition three years ago. In fact, Clady's experienced far more experience than Osemele upon his New York arrival.
Both players will be 30 at the time of the initial Jets campaign. Both players will be coming off injury-riddled down seasons. Both players will be two years removed from a Pro Bowl campaign.
Osemele isn't the issue. He very well may play like a beast in 2019. He's simply the newest name attached to a longstanding Maccagnan legacy that abides by the "offensive line patchwork" agenda. Until a legitimate left tackle and interior lineman are drafted in premium talent slots, this offensive line won't be fixed. Kelvin Beachum and Brandon Shell are not good enough as a combo to anchor down a top-flight NFL offense.
Obviously, within the structure of the offensive line discussion, center is the great fear. Passing on Matt Paradis has led the organization down this worrisome road.
The edge is also a disappointing story. As soon as the Anthony Barr news broke was as quickly as the Jets complete edge whiff in free agency story unfolded. Snagging at least one edge in a loaded class (see Za'Darius Smith and Preston Smith both heading to Green Bay, and Trey Flowers off to Detroit) was critical to ensure absolute flexibility in the NFL Draft.
Trading down could have been the top priority with the hopes of snagging Jawaan Taylor or Jonah Williams. Now, without an edge, it looks like No. 3 is cemented with either Josh Allen or Nick Bosa. This means the O-line will be porous yet again in front of the franchise stud quarterback.
Other weak spots are at corner, tight end depth (Eric Tomlinson was needed as the de facto fullback), the 1-technique, and a true No. 1 wide receiver.
Concerns
It's all about the offensive line, plain and simple. The radical non-attentiveness provided to the unit over the last four seasons (two OL selections in 28 total picks) represents an obvious reason for why this offense hasn't progressed.
Corner is also a dire concern. With the No. 3 pick and two third rounders, positional targeting has to be on the mind. At some point, that commitment over "best available player" must be ordered up.
If not now, when?
Trading down, collecting assets and ensuring extra talent has to still be the top priority. Fighting through the salivation over Bosa or Allen is the right approach when so many trench-holes are active.
It's a tough thing to accomplish, no doubt, but it does remain the smartest top priority that should stand out on the agenda board.