Which patchwork New York Jets offensive line acquisition enjoyed a better career prior to arrival, Kelechi Osemele or Ryan Clady? Take a wild guess.

The very instant the New York Jets acquired soon-to-be 30-year-old guard Kelechi Osemele on Sunday afternoon, fandom erupted into ecstasy.
"Steal, beast and bodyguard" are just three of the descriptors traveling around NFL space in relation to the Jets new lineman at the very moment. Oh yeah, "home run" is another consistent term flying around the football landscape.
Walk it back a bit. This one's eerily similar to the acquisition of Ryan Clady.
It's not an assassination on Osemele's future production as a Jet, rather an idea that continues to halt true offensive flourishment: accepting the patchwork veteran rather than committing to an injection of youth up front.
Osemele, 29, represented a First-Team All-Pro stud guard just three years ago. In 2017, he again qualified for the Pro Bowl. Headed into the 2018 campaign, the big-heavy was considered one of the top guards in the NFL.
Then 2018 actually unfolded.
Osemele could muster just 11 games for the Oakland Raiders this past season. Most elated about the recent acquisition—which is a solid move based on the transaction alone—will point to the injuries as an excuse for the unproductive season.
Sorry, folks, injuries are part of the skill set. It matters greatly and what's awful about slotting Osemele's name into the starting left guard spot is that he's always banged up.
Of a possible 112 career games spanning seven seasons, Osemele's played in 93. That accounts for 19 games missed—a number longtime stud offensive linemen wouldn't approach over a decade worth of playing time.
The Iowa State product was drafted by the Baltimore Ravens back in 2012. In four seasons near our nation's capital, he was unimpressive. It was until his Oakland move that had the world put on official notice.
Surrendering a fifth-round selection for Osemele and a sixth is a great deal on paper. There's no question. The risk is little while the rewarded is handsome. But the risk could be gigantic if the Jets don't play their cards the right way.
Under no circumstances should Osemele be the bonafide starter. The franchise has to look at this with complete flexibility.
Through 28 total draft picks, Mike Maccagnan has drafted an incredible two offensive linemen, Brandon Shell and Jarvis Harrison, both in the fifth round (2015 and 2016, respectively). Ignoring the injection of youth at the position is such a maddening move that I'm beyond sick and tired of screaming about it.
It's always, "Next year when the O-line pool is better is when they should strike." Always is there an excuse.
A year ago, Brian Winters's injury and Wesley Johnson's horrendous play acted as the built-in excuse to keep fans at bay. The year prior, there was a left tackle whose play acted as a bitter disappointment. Right now, rumors have the Jets not addressing the O-line in the draft while thinking Spencer Long was the sole problem all along.
Speaking of that left tackle who was scapegoated two seasons ago, let's type his name.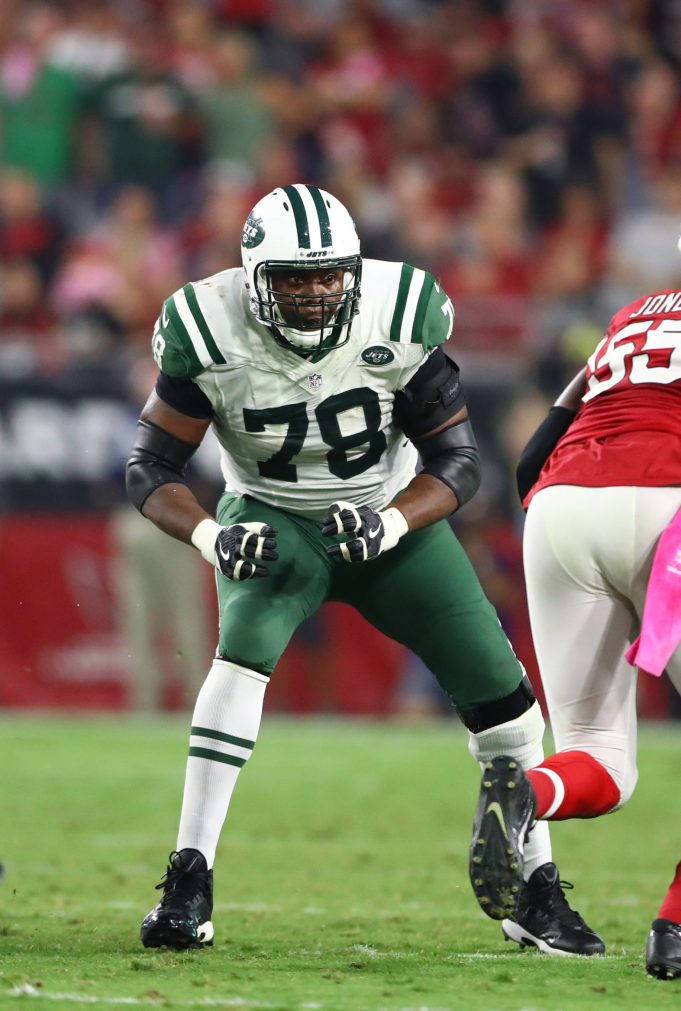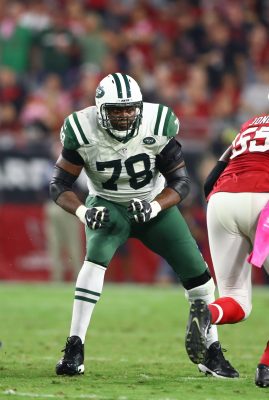 Ryan Clady.
Clady was acquired along with a seventh-round selection from the Denver Broncos in exchange for a fifth-rounder. Yes, extremely similar to the Osemele transaction.
Clady was a four-time Pro Bowler who twice hopped onto the prestigious NFL First-Team All-Pro squad. Clady's pre-Jets success is doubled that of Osemele's. And, oh yeah, the same "home run deal" chatter existed as soon as that low-risk, high-reward deal was complete.
It turned out not to be "low risk." There was no backup plan or injection of youth that could serve as a plan B. Clady turned out as a Florham Park disaster from the jump. The man played in just nine games and was removed shortly after the season.
Oh yeah, Ryan Clady only missed 14 total games of a possible 112 games (spanning seven total seasons, identical to Osemele's pre-Jets career).
Kelechi Oseleme (2019):
Second-rounder talent in 2012
Two-time Pro Bowler
Two years removed from last Pro Bowl visit
One-time First-Team All-Pro
Age 30 at the start of first Jets season
Acquired with a sixth rounder for a Jets fifth-round selection
Missed 19 games in 112 total games
Ryan Clady (2016):
First-round talent in 2008
Four-time Pro Bowler
Three years removed from last Pro Bowl visit
Two-time First-Team All-Pro
Age 30 at the start of first Jets season
Acquired with a seventh rounder for a Jets fifth-round selection
Missed 30 games in 128 total games
Does anybody out there hear me?
Osemele can absolutely squash the Clady narrative with one monstrous season. It is, of course, the hope. It is, of course, possible.
He just can't be the only plan at the position.
For four straight years, the New York Jets underwhelming offensive line headed into training camp with five concretely set up starting positions. Never was competition the name of the game (at a position that craves and thrives from it). Should Maccagnan not make sure a third legitimate guard is on the roster as a plan B, the low-risk gamble turns into a high-risk situation.
The deal itself—just like the Clady instance—is a good one. Taking a shot on a decorated monster like this at such a price is spot on. Unfortunately, it fits the patchwork narrative we've all witnessed for four straight years.
Never have we witnessed a Mike Maccagnan commitment to the offensive line during the NFL Draft (even though the top teams deploy O-lines with young, highly-drafted nuclei).
[membership level="0"]
Los Angeles Rams
LT: Andrew Whitworth, Free Agent (2nd Round, CIN)
LG: Rodger Saffold, Drafted (2nd Round, LAR)
C: John Sullivan, Free Agent (6th Round, MIN)
RG: Austin Blythe, Waivers (7th Round, IND)
RT: Rob Havenstein, Draft (2nd Round, LAR)
Kansas City Chiefs
LT: Eric Fisher, Drafted (1st Round, KC)
LG: Cameron Erving, Trade (1st Round, CLE)
C: Mitch Morse, Drafted (2nd Round, KC)
RG: Laurent Duvernay-Tardif, Drafted (6th Round, KC)
RT: Mitchell Schwartz, Free Agent (2nd Round, CLE)
New Orleans Saints
LT: Terron Armstead, Drafted (3rd Round, NO)
LG: Andrus Peat, Drafted (1st Round, NO)
C: Max Unger, Trade (2nd Round, SEA)
RG: Larry Warford, Free Agent (3rd Round, DET)
RT: Ryan Ramczyk, Drafted (1st Round, NO)
The rumor is Matt Paradis and Mitch Morse are high on New York's free-agent wish list to secure the center position. That works. That's fine. But if that acquisition is the end of the line this offseason, Mike Maccagnan will have done it again. He will have gone through an entire offseason neglecting the true formula to offensive line success while attempting to patch it up through veteran snags.
Kelvin Beachum and Brandon Shell as a tackle combo is not good enough to lead any potent NFL offense. In fact, Beachum remaining on the roster without a legit tackle pushing him from behind is way too dangerous at his age. Shell and Brian Winters as the two homegrown talent is not nearly close enough to a legit nucleus. Osemele without somebody pushing him from behind is not a low-risk plan.
LT: Kelvin Beachum, 30
LG: Kelechi Osemele, 30
C: Matt Paradis, 29 (30 in October)
RG: Brian Winters, 28
RT: Brandon Shell, 27
The above starting five is not the answer. If this is what see come July, there better be premium O-line talent chosen in the draft to heat up the competition.
Kelechi Osemele, despite the distinct Ryan Clady match, is fine as a singular move. But if the New York Jets don't attack the left tackle area early in the draft while poking for an interior guy in the mid-rounds, the "next year" routine will instantly haunt Jets fandom for the fourth-straight season.
To do that to Sam Darnold, the face of the organization, is nothing short of high-football treason.