Le'Veon Bell, C.J. Mosley, Jamison Crowder—none account for what the New York Jets needed most during this free-agency period.

It's extremely tough not to find yourself distracted.
Le'Veon Bell, oh baby. Perhaps the most talented running back in the NFL now makes his professional home in Florham Park, New Jersey. Few backs can defeat his prowess via Madden NFL on the PlayStation 4 (forget Xbox).
C.J. Mosley, oh baby. The former Baltimore Ravens defensive leader is a top three inside linebacker whose credentials could never be questioned. Not only does he make his home North Jersey, but he's doing so as the highest-paid inside backer in NFL history.
The tantalizing freshness of the big names is hard to put aside yet doing exactly that is a must if the New York Jets possess Super Bowl designs.
The two most crucial team building-block needs were amazingly not met during the NFL's free agency period. And while free agency is never the answer, unlike the NFL Draft, there was a path to ensuring more flexible draft strategy team-building success.
The first such need is the overall health of the offensive line. The second is, of course, the edge.
Other than the professional quarterback, the offensive line and four-man conventional pass rush impact a team's production more than any single unit or position on the field. Evidence, analytics or stories aren't needed to prove this point. It's a simple matter of football understanding.
A wide receiver could never help the offensive line look good. How is it possible? Everything the outside weapon does is predicated on the quarterback's play. The quarterback's play is completely dependent on the O-line's production. It just doesn't work in reverse.
Other spots like the running back can make the O-line look better, but it's far more prevalent the other way around. Countless examples of stud running backs falling down only to watch backups tear it up (James Conner in for Bell, Damien Williams in for Kareem Hunt, C.J. Anderson in for Todd Gurley) come at us from every direction.
On the defensive side of the ball, it works similarly. Everything that starts up front sprinkles down through the rest of the unit.
The Jets came away with nothing pertaining to the O-line and at the edge. (They're set along the interior in sub packages with Leonard Williams in Henry Anderson.)
Defensively, it didn't happen through a lack of effort. Anthony Barr was literally a Jet until that ill feeling turned him back to the money-strapped Minnesota Vikings. His edge credentials needed to be challenged. Just over seven pass-rush attempts per game are far from a legit sample when full-time pass rushers naturally find it more difficult. Still, Mike Maccagnan thought he had an edge guy in tow.
It didn't happen. The more important question is, "Why was he the only target?"
If there was one spot that needed multiple targets in free agency it was the edge. All the big boys were franchise tagged, as expected, but there were other legit talents.
The Green Bay Packers, a team that usually does nothing in free agency, scooped up both Za'Darius Smith and Preston Smith. That's two young edge rushers to one team. Trey Flowers is now in Detroit, reunited with Matt Patricia.
Listen, it's not easy. Some of these players may have held no interest in heading to New York. It's a common reality in the hectic world of big-boy negotiations. But the fact that not one edge man was secured is a bitter pill to swallow.
Strategically, when attempting to fit the edge/O-line puzzle pieces together, it's a rough conclusion.
Matt Paradis was right there for the taking. The new Carolina Panthers center did provide the Jets an opportunity to match his now locked-in contract. They passed. If reports are true, they were scared off by his injury history.
Paradis, 29, saw his 2018 season end prematurely after playing in just nine games. He played a full slate of 16 games each of the previous three seasons. Meanwhile, Le'Veon Bell has missed 2.125 seasons of a possible six and 1.125 seasons of a possible five (if 2018's business-decision season is taken out of the question). Yet Maccagnan had no issues yielding serious money to a position that bleeds cheap value like none other.
It's not a killer to pass on Paradis as a sole move. The man is 29 years old and the offensive line is one that requires young premium talent to make up the nucleus. There's just one nagging issue with this scenario: Maccagnan has never once shown the commitment to draft premium offensive line talent.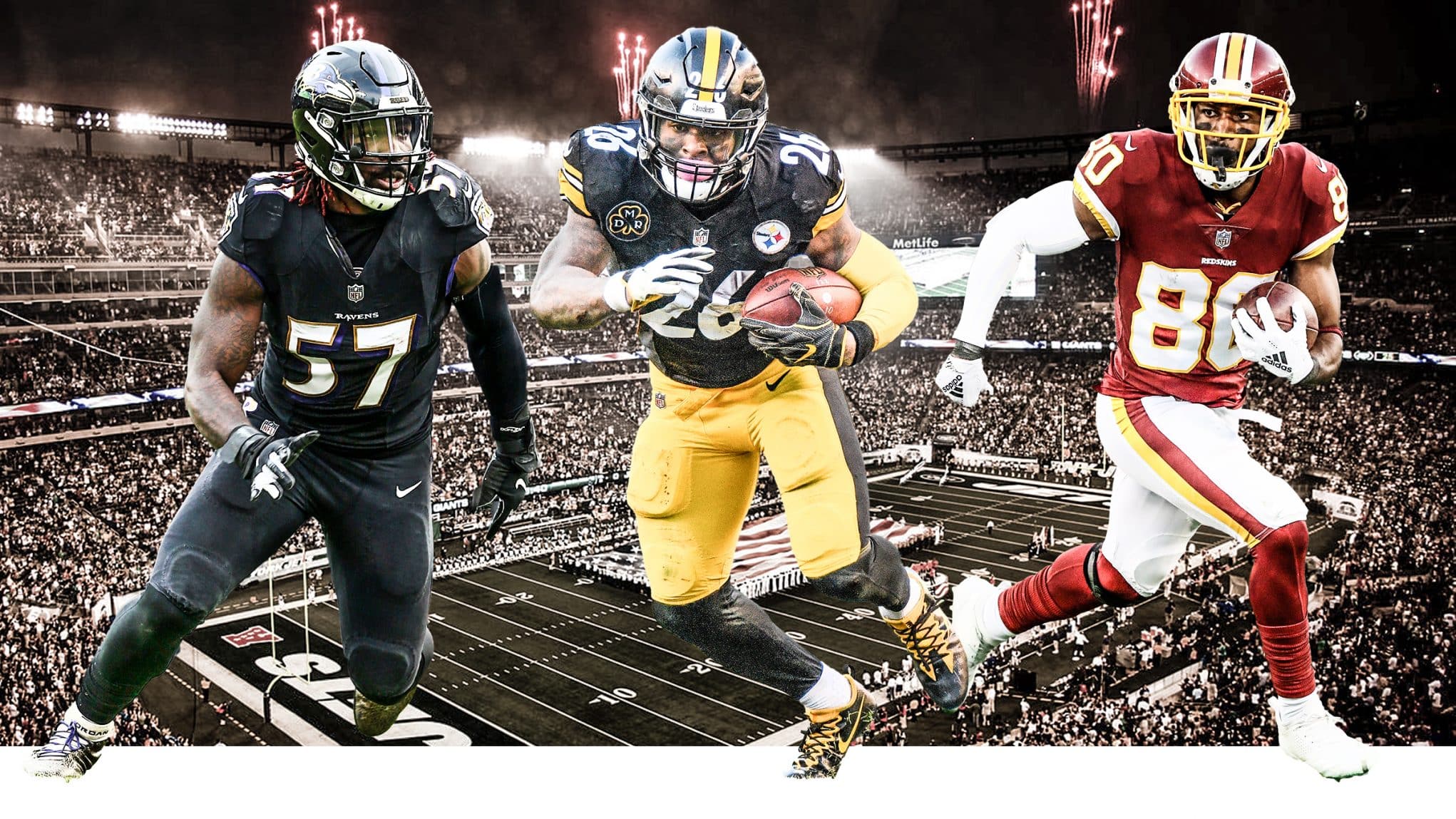 Just two of his 28 total picks as a general manager have resulted in offensive linemen (Brandon Shell in the fifth round, 2016 and Jarvis Harrison in the fifth round, 2015). Without a second-round selection this time around, the premium choices are slashed.
Kelechi Osemele was acquired for a fifth-round to play left guard. It's a low-risk, high-reward situation (as long as there's a plan B in place, unlike the Clady scenario). Fine. It also closely resembles the Ryan Clady acquisition of three seasons ago. In fact, the two situations nearly mirror one another. Both players came to the Jets coming off injury-riddled down seasons while just two years removed from a Pro Bowl appearance. Both big boys will be 30 at the time of that first Jets season. Even scarier is the fact Clady raked in more career success (four Pro Bowls to two and two First-Team All-Pros to one).
All of this adds to one tricky draft situation.
If the Jets could have landed just one edge man, that No. 3 pick would have been more maneuverable. Maccagnan could have traded down, acquired assets and drafted the decade-long left tackle (Jawaan Taylor or Jonah Williams) young Sam Darnold requires. Now, without an edge man, it seems unlikely the franchise will pass up either Nick Bosa or Josh Allen in the three-hole.
Furthermore, assuming edge is taken at No. 3, the offensive line will once again resemble a mess heading into the new season. The only way it's saved is if Maccagnan pulls a starter from one of the two third-round picks on the docket.
Osemele simply pushes along a common Maccagnan narrative that is a "patchwork O-line" philosophy. He could have squashed the previous failures by either securing an edge or signing Paradis that'd eventually allow him the option to go left tackle in the first round (whether it came by way of a trading-down scenario or not).
Now, it feels like edge has to be the answer at No. 3, and while it's crucial to secure that position, the Sam Darnold future doesn't truly begin until his offensive line is built with a young nucleus secured by premium talent from the NFL Draft.
Bell, Mosley, Crowder, Osemele—it's all nice, I suppose. It just doesn't help the New York Jets in terms of true team-building requirements. It's why securing at least one edge and perhaps a center would have allowed for the possibility to snag that decade-long left tackle needed to start the offensive party.