With no major moves, the Brooklyn Nets had a tepid trade deadline. Expect this behavior to remain consistent through the offseason.

Brooklyn stood by as many of their trade targets were dealt in a moment's notice. Nikola Mirotic was sent packing to Milwaukee. Bobby Portis is headed to Washington in return for Otto Porter Jr. JaMychal Green was moved and will now enjoy the sunny beaches of Los Angeles.
Once upon a time, the Long Island native, Tobias Harris, was Brooklyn's prized possession for the offseason. With his contract expiring at the end of the season, Brooklyn was gearing up to offer the hometown hero his next big deal.
That all changed on Wednesday, Feb. 6, when Harris was traded from the Los Angeles Clippers to the Philadelphia 76ers in a blockbuster deal. Given how well he fits with Ben Simmons and Joel Embiid (on paper), one can only assume that the 76ers will do all that they can to retain his free agent services. In fact, given that he's so wildly efficient as an off-ball threat, there's a good chance he becomes a priority over Jimmy Butler.
Philadelphia now has Harris' bird rights, meaning that they can exceed the salary cap to retain him. They can also offer Harris a full five-year, $189.6 million deal; elsewhere, he could merely attract a four-year, $145.5 million deal.
Although it's early, one can assume that Philly will throw near-max level money at Harris to entice him into staying. They are, after all, going all in on their current core.
As my colleague, Collin Loring reported, the asking price for Harris was pretty high. Perhaps a little too high.
(I, for one, would have been extremely disappointed in Sean Marks had he offered two 1st-round picks for an expiring deal. But I digress … .)
Now that the frenzy is over and the dust has settled, Brooklyn's rotation looks remarkably… the same.
With the playoffs on the horizon, Brooklyn has no choice but to roll with the punches using its incumbent roster. This isn't a bad problem to have, given how successful the team has been.
Since Dec. 7, Brooklyn has been the fifth-best team in the entire league with a 21-10 record; that's a full two months of walloping teams at a .667 winning percentage.
The Nets have shown remarkable growth since their early December losing streak. Spencer Dinwiddie played so well that he entered the new year 34 million dollars richer. The surprising rookie, Rodions Kurucs, and Jarrett Allen were both selected for the Rising Stars game.
Most importantly, D'Angelo Russell earned the distinguished honor of becoming an All-Star at just 22 years old.
Two months ago, the Nets were blowing 20-point leads en route to heartbreaking losses. Now, they're taking down the league's giants.
The team battled through adversity and learned to build a winning culture. Since Dec. 7, the Nets have been one of the league's best teams in the clutch. They've shot 52 percent from the field and a league-best 48.6 percent from deep in crunch time (per NBA.com). This is, by far, the biggest development of Brooklyn's season.
As if things couldn't get any better, Caris LeVert is back on the court, thus strengthening Brooklyn's already boisterous rotation.
Things have been clicking for the Nets, and it's the main reason why Marks decided to stay put at the deadline.
With Tobias Harris foreseeably out of the picture, one has to wonder …
What will Brooklyn's summer plans consist of?
When thinking about the 2019 NBA free agency class, two words come to mind.
Star power.
The 2019 free agent class is headlined by a plethora of big names: Kevin Durant, Kawhi Leonard, Kyrie Irving, Klay Thompson, Jimmy Butler, DeMarcus Cousins, and more.
The list is both glitzy and glamorous, but it remains to be seen if the Nets have a stake in this complicated game of NBA superstar matchmaking.
Some of the most well-connected figures in sports appear to feel confident in Brooklyn's ability to bring in star talent. In a recent piece by Zach Lowe, the ESPN insider casually slipped in a spicy tidbit that should send Nets' fans into a frenzy.
Per Lowe, "Keep an eye on the Nets. They have caught the eye of agents representing high-profile players. They are getting ambitious — with good reason."
With respect to the Billy King-infested hand they were dealt, Brooklyn's achievements are borderline miraculous. It's no wonder that agents are taking note of the team's out-of-nowhere success. King's incompetence seemed all but certain to define the decade for the Nets. Instead, Brooklyn has become a model for player development, shrewd front office moves, and team chemistry.
When looking at potential cap space for the offseason, Brooklyn has the third-most available room at $54.7 million. If Brooklyn was able to salary dump Allen Crabbe's remaining $18 million worth of salary, this number could balloon up to about $72.7 million. This is easier said than done; Brooklyn would have to find a buyer for Crabbe's inconsistent shooting, troubled injury history, and downright offensive contract. If paired with, say, Denver's first-rounder or their own, a deal could certainly be had.
For all of the chatter about the Knicks' maneuvering to free up cap space for two max-level players, they aren't the only team in New York that could boast this luxury; Brooklyn could, too.
Lowe's tantalizing claim and the boatload of cap space notwithstanding, it still seems like a relative longshot that Brooklyn lands any of the big names.
Based on early reports, many of the top free agents appear to have predestined homes.
Durant has long been reported as a target for the New York Knicks. Insiders suggest that there's mutual interest. His current final-form superteam team is a near-lock to run away with their third-straight championship, so a return to Bay Area can never be ruled out.
Speaking of the Golden State, in the wise words of Yo Gotti, Klay Thompson has publically stated that he's "going, going, back, back, to the Bay." (Rest in peace Mac Dre!)
If Durant chooses to flee east, you can bet your bottom dollar that Thompson resigns with the Dubs. If for whatever reason, the Warriors and Thompson are unable to reach an agreement, LeBron James and the Lakers will be knocking on his doorstep. There's a reason that LeBron took Klay with the second pick of the All-Star draft (a draft that totally didn't have any tampering whatsoever … ).
The chatter of Kawhi Leonard to Brooklyn is nonexistent and there's a reason for that. The Claw has lusted Los Angeles for so long that he might have palm trees imprinted on his retinas. He's taken a page out of Lavar Ball's book when it comes to his homecoming, doing everything he can to "speak it into existence." Well, not exactly "speak" things into existence … because, you know, Kawhi Leonard doesn't talk. Period. (He does laugh, though.)
[membership level="0"]
After some crafty deadline deals made by Jerry West, the Los Angeles Clippers have suddenly inserted themselves into the front and center of the NBA's cap space craze. They have cleared $59.7 million in cap room; more than enough room to sign one, and possibly, two major players (after some basic accounting). The Clippers make the most sense for Kawhi's next home, and there's been reported mutual interest. The Clippers are in the midst of building a new arena in Inglewood, and by circumstance, are also creating a new image for the franchise. What better way to enter a new era than by obtaining the best two-way player in the league.
Even some of the minor free agents appear to have set in stone destinies. Kemba Walker remains commital to the Charlotte Hornets despite the franchise's inability to surround him with any worthwhile talent. He hasn't exactly earned a boatload of money during his career, so my guess is that he takes the highest sum of cash available. For this reason alone, expect him to remain a Hornet.
As mentioned before, Harris will likely stay in Philly. He's not only a great fit for the Sixers but is also the team's insurance policy should things with Butler go awry.
In order to appease their current star, it would be utterly shocking if Milwaukee let Khris Middleton walk. Realistically, as a small market team, they aren't landing anyone better than Middleton as a free agent. So why not max the guy out?
This leaves us with three remaining major names: Kyrie Irving, DeMarcus Cousins, and Jimmy Butler. It should be noted that all three of these guys have clashed with teammates in the past; a red-flag for Brooklyn's pristine culture. Still, these guys are all-worldly talents.
Considering he's still recovering from a severe injury, Cousins is a month away from being seriously discussed as one of the guys in this top-notch class. However, if he continues to impress on the court, expect his status to heighten. Thus far, there have been no clearcut landing spots for Cousins. Given that ten teams have more than $28 million in cap space, Cousins will surely be paid handsomely should he continue to progress.
The fit of Cousins on Brooklyn's roster is imperfect. Pairing Cousins with another center isn't necessarily the best course of action. Even next to the best center in the league (Anthony Davis), the fit was fairly awkward. The arrangement would be even more strained next Jarrett Allen; a paint-locked, rim-rolling big.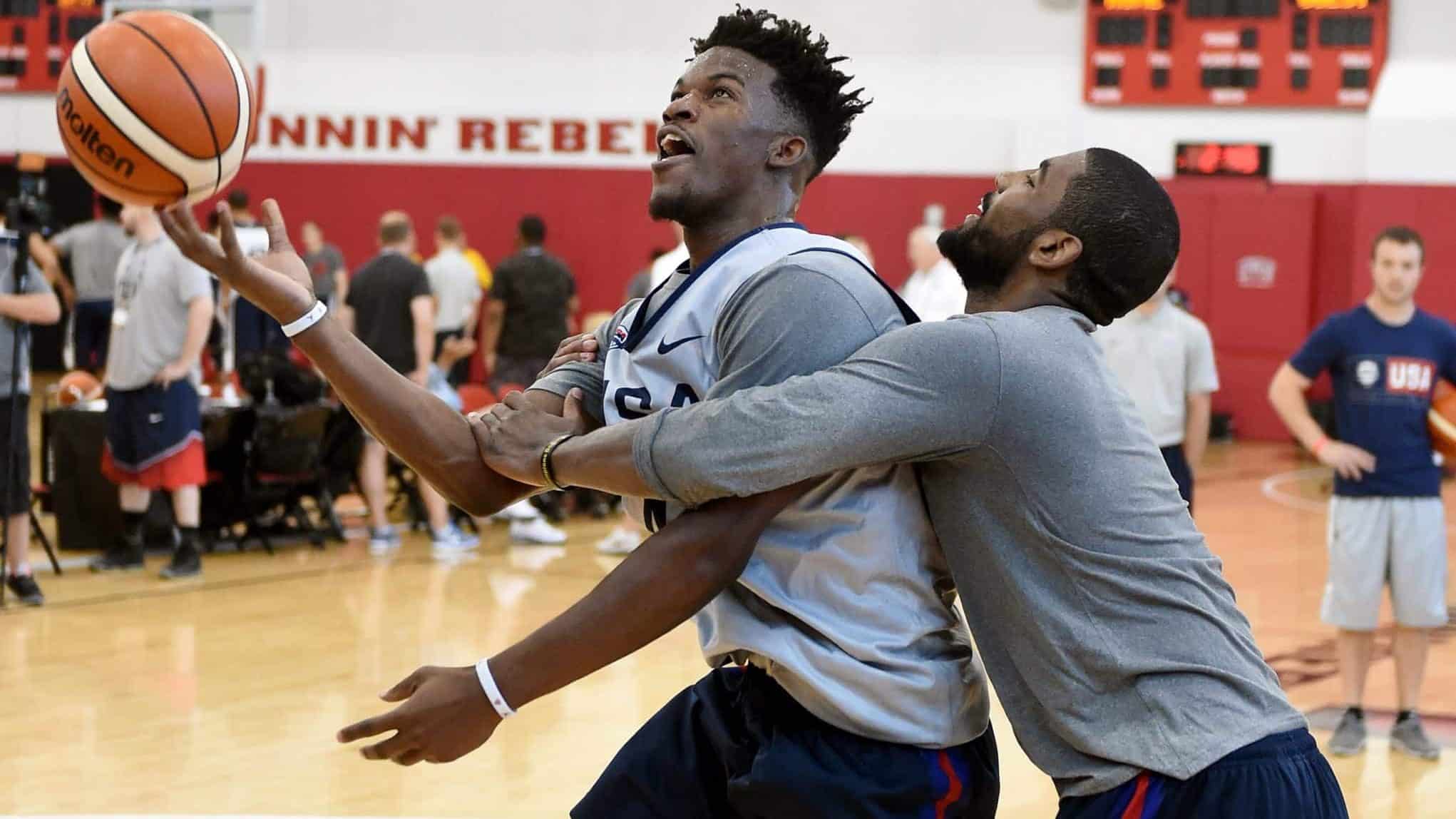 Jimmy Butler is interesting just because we have no idea what his value will be in the offseason. Is he worth four years, $120 million? Will he only be able to land a two-year, $48 million deal? The answer is a complete unknown.
Butler has all of the talent in the world, but his off-court issues have derailed his career. Butler's count of "teams he's forcibly removed himself from by being a complete diva" is up to two. Depending on how things finish in Philly, this total could rise to three.
(There's a real flight-risk of this, too. Yes, Tobias Harris is great off-ball. But he still needs his touches. If there's one thing we've learned over the last year, it's that Jimmy Butler hates to give up the rock).
Outside of the aforementioned Tobias Harris, there's a strong argument to be made that Butler is the best theoretical fit for Brooklyn. He's a very good defender, who could greatly improve Brooklyn's defense on the wing. Although Brooklyn's overall defense has improved, they could still use a reliable one-on-one defender. Butler would certainly remedy that need.
Not to mention, Butler is an excellent go-to scorer in the clutch. He's one of the league's best end-of-game players. For a Brooklyn team that shies away from the moment on occasion, his experience in the fourth quarter could be a huge bounty.
With all of that said, the off-court issues are a major turnoff. For a team that arguably has the best chemistry in the league, it would be a huge risk to pursue a hothead like Butler. Not to mention, at 29 years old, he doesn't exactly fit Brooklyn's timeline. Butler is looking to win now, and his desire to do so could greatly derail Brooklyn's progress. He single-handily destroyed a once-promising core in Minnesota, so who is to say that he wouldn't do the same in Brooklyn. For the Nets, it's not worth the gamble of pursuing him. He wouldn't raise their ceiling that much. If anything, he could drop their floor.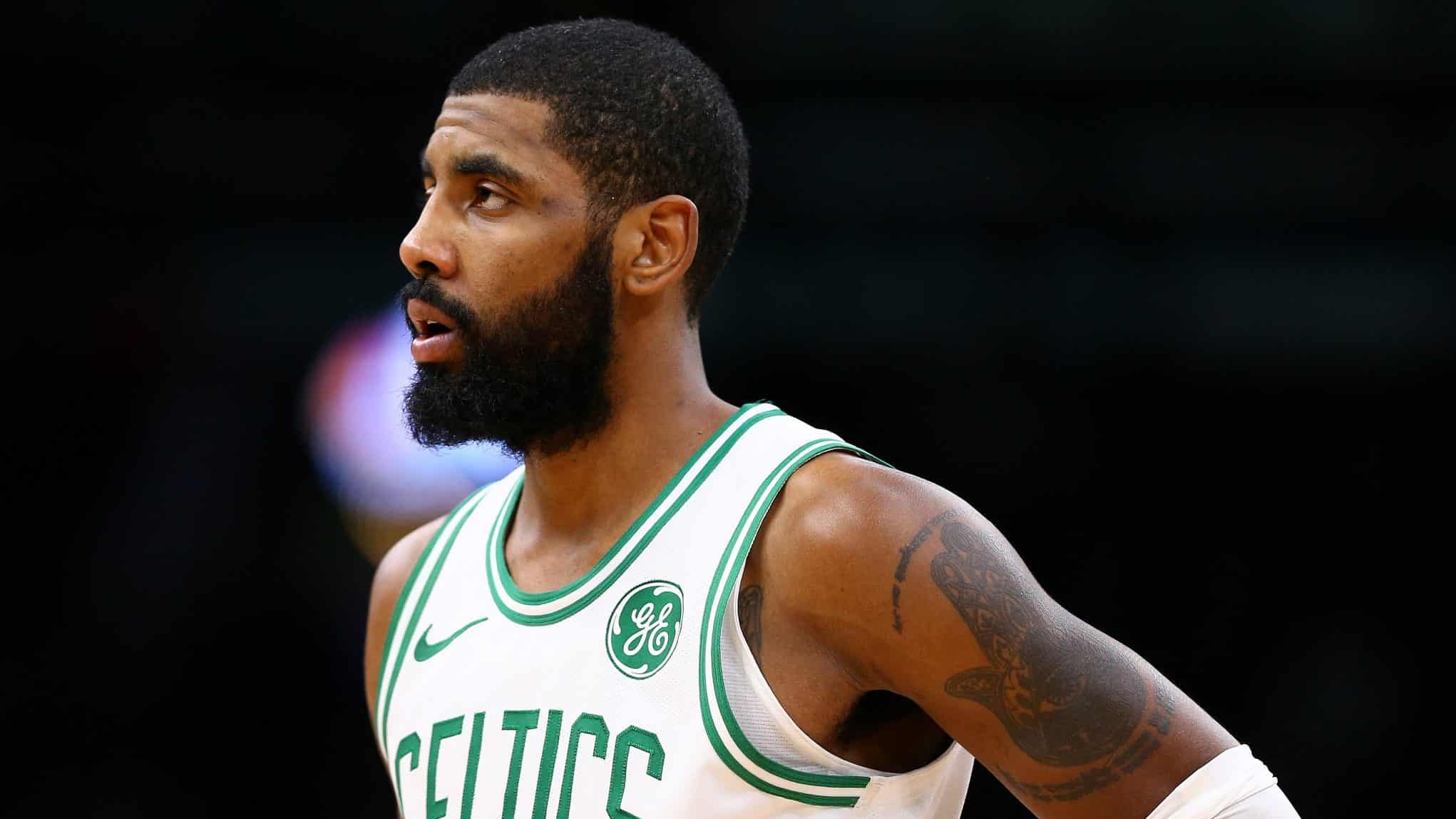 This leaves us with Kyrie Irving.
This week, Irving's former General Manager, David Griffin, made polarizing statements regarding Kyrie's future.
When discussing the fit of the New York Knicks, Griffin argued "I think Brooklyn is the fit that's better for him in terms of his mindset."
Whether Griffin is still an involved member Kyrie's personal life is still TBD. More than likely, this was more of a projection based on Irving's previous behavioral patterns.
The Knicks traded away their 23-year-old superstar-in-the-making for pennies on the dollar just to clear cap room. One has to wonder if Scott Perry and his brain-trust know something that we don't. Kyrie Irving and Kevin Durant are close friends, so it makes a whole lot of sense for these two to join forces in the Big Apple.
The Celtics, realistically, can't be ruled out. They've been on an absolute tear since mid-January. Prior to Thursday's game against the Lakers, they were NBA's best team over the last eleven games. Talent-wise, Boston is still the cream of the crop in the Eastern Conference. Boston has the most guys on their roster that could sway a playoff series. Irving, Al Horford, Jaylen Brown (playing great recently), Jayson Tatum, and Marcus Morris could all win Boston a playoff game or two. Hell, even Terry Rozier could get hot and give Boston the advantage.
Milwaukee is certainly frisky, but Boston should be the favorite to come out of the East. It will be tough for Irving to walk away from a winning situation, especially with how young and promising his current team is. They offer the same attractive culture and roster depth that Brooklyn has, but with more top-end talent. (That sentence hurts to write, but it's true).
David Griffin hasn't worked with Kyrie Irving in almost two years. His report just isn't enough to get the ball rolling on the Uncle Drew-to-Brooklyn rumors.
Run it back, Brooklyn
There is no perfect fit for Brooklyn when it comes to the 2019 free agent class.
If Brooklyn acquired Kyrie, they would be forced to play an uncomfortable amount of small-ball. The Nets already have two starting-caliber point guards on the roster in D'Angelo Russell and Spencer Dinwiddie. Defensively speaking, there just isn't enough size on this roster to make up for the (likely) ball-stopping issues in the backcourt.
As a result, the team would likely have to do away with one of their two point guards. Given that Dinwiddie is a better-suited as an off-the-bench sparkplug, this would likely mean that D-Lo would be sent packing. For a guy of Kyrie's talents, this is a worthy price to pay. Still, considering Russell's rise this season, losing him for nothing would certainly hurt.
Fear not though, I doubt that Brooklyn will be faced with this tough scenario. Irving has two better suitors on the market.
The trade deadline has only strengthened the narrative that Brooklyn should throw money at their restricted free agent, D'Angelo Russell. Early in the season, it was presumed that D-Lo would earn between $15-to-$18 million per year. Now, after his mid-season swoon and All-Star selection, that number has likely ballooned to $20-to-$25 million.
Is that a hefty price to pay? Hell yes. Should Brooklyn be willing to spend nearly a quarter of their cap space on Russell? You bet your ass.
Compared to the rest of the field, Russell represents the highest ceiling of any non-superstar free agent. At just 22 years old, he has already advanced to the All-Star game, and he's showed improvements to the weakest parts of his game. Brooklyn has the ability to match any sum of money thrown Russell's way — a major advantage.
With money to spend, it just makes sense to keep a guy of Russell's caliber.
The 2020 free agent class is pretty underwhelming unless you consider 30-year-old Draymond Green a valuable asset. (Which, if you do … hats off to you, buddy.)
What makes the summer of 2020 interesting is that the 2016 draft class will enter restricted free agency. Guess who is a part of that class?
Caris LeVert; Brooklyn's potential franchise guy.
Although Brooklyn has all of the cap space in the world, it may be best to go all-in on its current core. Their window to sign major players is now, but given Brooklyn's lack of options, perhaps the team should turn their focus to keeping Russell and LeVert in the fold.
They've made this far by trusting their system. There's no reason to turn back now.