With a 26-23 record, the Brooklyn Nets are poised to make the playoffs for the first time since the 2014-2015 season. Here are six possible trade deadline deals that could ensure a trip to the promise land.

Two weeks away from the trade deadline, and the Brooklyn Nets are smack in the middle of the playoff hunt.
The Nets have been one of the hottest teams in the league, winning 11 of their last 15 games. On all accounts, they've been a semblance of their parts, getting strong performances from different players on different nights. Best of all, they've risen to the top of the league without their best player, Caris LeVert.
With a balanced roster of young and cheap players, the Nets don't need to do anything drastic at the trade deadline.
Unlike Utah or Denver, they are a rising team in a large media market. Being in New York City will always be an attraction for the league's top players.
At the moment, the Nets have money to burn on star free agents. With around $46 million available in cap room, the Nets must keep as much flexibility as possible for the summer.
Brooklyn has been able to build a playoff roster from salary dumps, second-round picks, draft night trades, and G-League players. The top players in the NBA have undoubtedly taken notice of Brooklyn's blue-collar success. Some of them, including Kevin Durant, have already spoken fondly about Brooklyn.
In our player-first league, guys look for stability. It's why Kevin Durant left Oklahoma City for greener pastures in the Bay Area.
Since Sean Marks came into power, Brooklyn's moves (for the most part) have been calculated and informed. That stuff matters, and it's why guys like Durant have applauded Brooklyn's franchise for its success. Jimmy Butler's mention of Brooklyn as one of his preferred trade targets was just the beginnings of a new era.
Six months ago, it would have sounded crazy to assume that Brooklyn might be a major player in free agency.
Now, it doesn't.
I've reported this in great detail, but this upcoming free agent class is loaded with talent. Since I last wrote about this topic, some of the seemingly-immovable stars have appeared to become available.
Kyrie Irving has voiced frustration with his young cast of teammates. Barring a deep playoff run, he may choose to leave the Celtics. Jimmy Butler is still an asshole, and as stunning as this may sound, he seems to hate playing with two younger players! Shocker, I know!
Kawhi is a weirdo, and we have no idea what he's thinking (other than to constantly cram the ball on opponents' heads for all 48 minutes). He has always been a wildcard, so who's to say that Brooklyn can't grab The Claw.
With so many possibilities next summer, Brooklyn needs to save money. If anything, their goal should be to clear cap room and make room for two major free agents (I know, I'm daydreaming at this point).
Even with the frugal mindset, it doesn't mean that they can't make any moves during #TradeSZN.
The Nets still have room for improvement. They're currently starting Treveon Graham at the shooting guard, which is… not great.
Their depth at the wing and small-ball four-position have never been outstanding. Especially with Rondae Hollis-Jefferson, Allen Crabbe, and DeMarre Carroll in and out of the lineup with injuries.
Given Brooklyn's lack of depth at the forward positions, there's a lot riding on the slender shoulders of Rodions Kurucs. Although he has been outstanding, he would still be a rookie playing big minutes in the playoffs.
The goal of Brooklyn's trade deadline pursuit should be to add solid role players without greatly hindering their cap space. This is, obviously, easier said than done.
The best way to accomplish both goals is to add players on expiring deals or rookie contracts.
Now, before we get into some possible deals, I wanted to go over a few disclaimers.
Caris LeVert and D'Angelo Russell are untradable. Unless a top-25 guy becomes available, it would be silly to give up either of these guys. (And no, Mike Conley doesn't qualify as top-25 due to his massive contract and age).
Spencer Dinwiddie cannot be traded due to the rules of his extension. I am the Dinwiddie whisperer here at ESNY. But, I find him to be slightly expendable (for the right price). He's not that young (25), has an iffy shot selection, is inconsistent, and is a bad defender. But for now, he's staying.
I don't want to shake up Brooklyn's core too much. They've been among the league's five best teams since early December. A lot of their success pertains to the balanced and complementary nature of their roster. I was even tentative to give up someone like Ed Davis. His hunger for rebounds has given Brooklyn countless second-chance opportunities. Not to mention, his defensive integrity has been instrumental for Brooklyn's youth.
For the most part, I wanted to move guys who either a) hadn't really played or b) did not fit with Brooklyn's championship window due to advancing age.
Brooklyn has very few mid-level deals in term of salary (i.e. between $8-10 million). This is, in large part, due to the tactical nature of Brooklyn's smart front office. Outside of Crabbe, there are no bad contracts on this team.
The only mid-level guys on Brooklyn's roster are Joe Harris and Jared Dudley. Harris, being one of the best off-ball shooters in the league, is borderline untradeable (just because Brooklyn wouldn't get enough back). In large part, the gravity he attracts as a shooter is the main ingredient in Brooklyn's potion of triumph. Because of this, it's pretty tough to string together fake trades.
With all of that out of the way, let's get into some potential deals.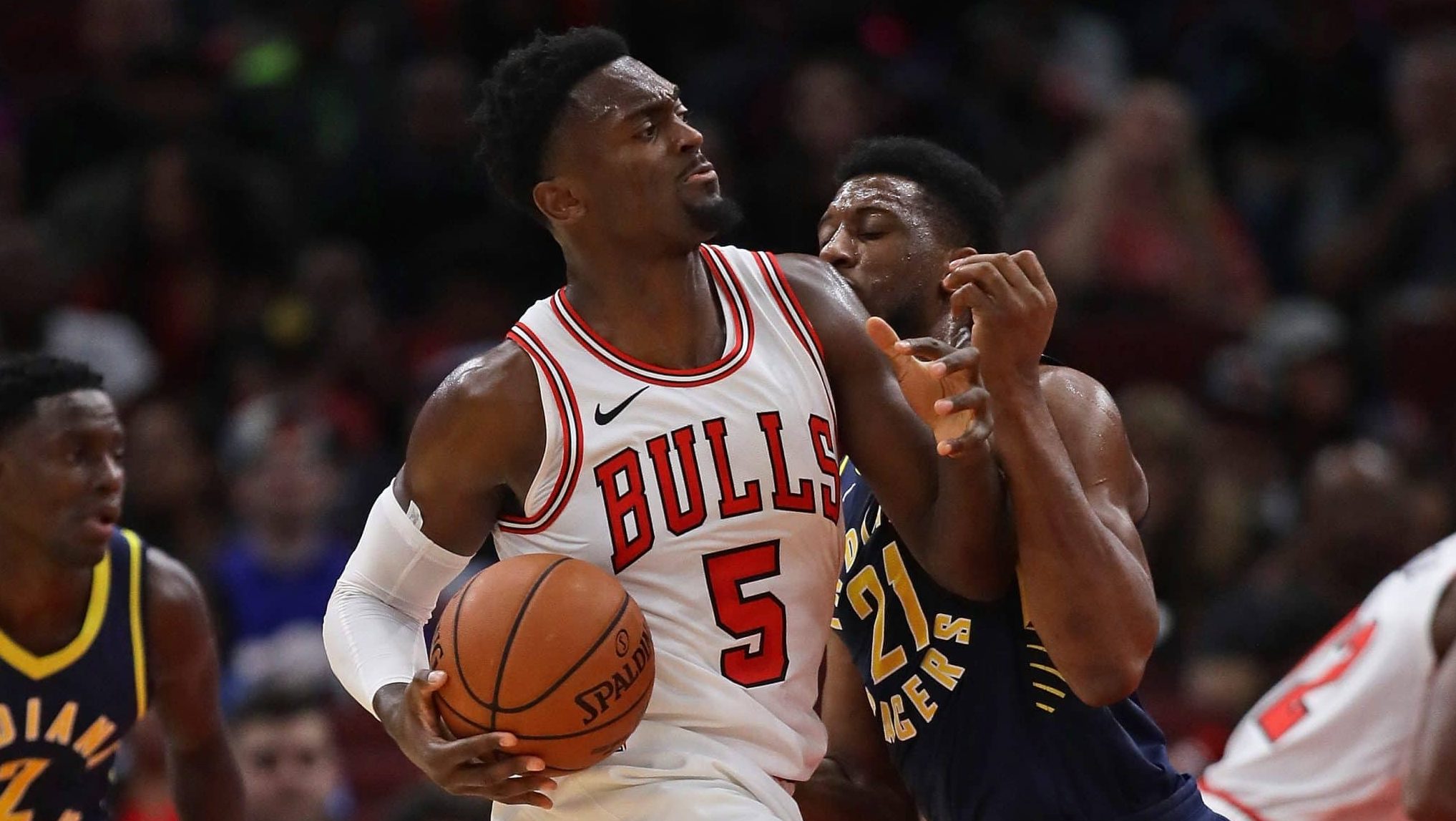 Brooklyn trades Allen Crabbe and their 2019 first-round pick (from Denver) to the Chicago Bulls for Robin Lopez and Bobby Portis.
One thing you'll notice about a majority of these trades: I desperately want to move Allen Crabbe.
Allen Crabbe has a $18.5 million player-option this summer, which he will almost certainly opt into. That's a lot of money for, you know, Allen Crabbe.
Now, as mentioned before, the Nets want to maintain as much cap space as possible for a star free agent. With Crabbe on the books, they only have enough room for one star. (Unless they renounce D'Angelo Russell. Which would be stupid).
However, with Crabbe gone, the Nets would have room for two star-players. Why settle for just Tobias Harris when you can get him and Kevin Durant.
So, Brooklyn pairs Crabbe with Denver's first-rounder and sends the package to Chicago. Chicago, one of the many teams in the Zion sweepstakes, gets rid of Robin Lopez and Bobby Portis; two solid players who, if anything, help them get unneeded wins.
Assuming that Crabbe opts in, there's still only one year left on his deal. Shooting 38.7 percent on 6 three-point attempts per game, he's still a very solid marksman who could absolutely be a trade asset next season. For a tanking Chicago team that is looking to add picks in any way possible, Crabbe could be huge for them around next year's trade deadline.
Bobby Portis is a great fit for Brooklyn. He gives them some needed toughness inside when going up against the league's strongest players. Portis is a solid performer in the paint and is a nice three-point shooter. At 37 percent this season, he could fill the stretch-four void that has plagued Brooklyn's roster all year long. (I love Jared Dudley to death, but he hasn't been exactly knockdown in that role).
Due to Portis' versatility on offense and grit on defense, the 6-foot-11 third-year player would be fantastic for the Nets. Not to mention, at 23 years old, he would fit Brooklyn's window perfectly.
One last thing.
Portis is a restricted free agent this summer. If he a) doesn't fit the team or b) attracts too much money elsewhere, the Nets could easily release his services.
Basically, for Brooklyn, think of this as an Allen Crabbe salary dump with the added bonus of acquiring a five-month trial of Bobby Portis.
For Chicago, they would acquire a first-round pick for a guy they have no need for (due to the fact that they already have their power forward of the future in Lauri Markannen). They could also, in theory, deal Allen Crabbe and his expiring deal next season for an additional draft pick.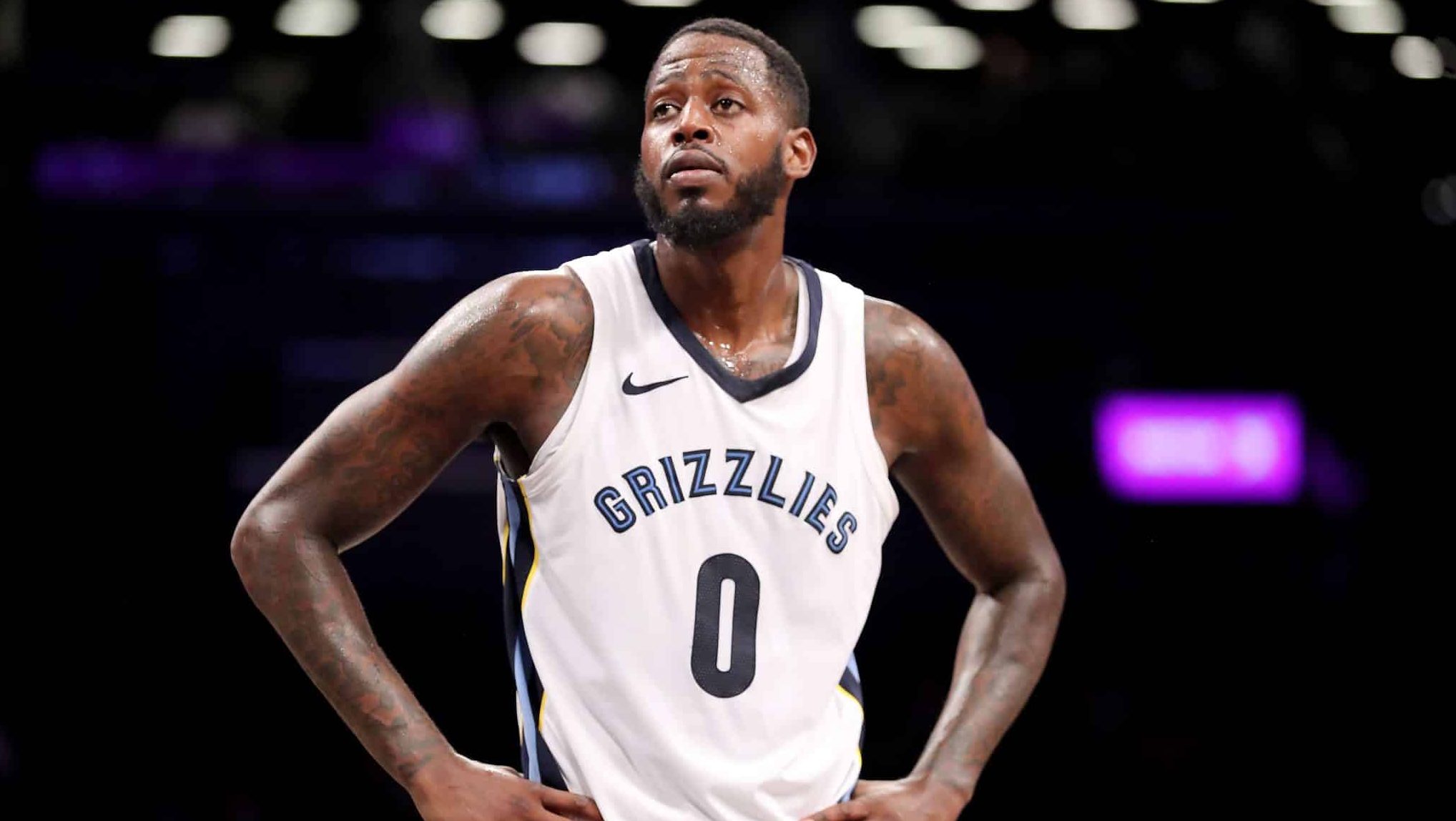 Brooklyn sends Jared Dudley and their 2019 second-round pick (from New York) to the Memphis Grizzlies for JaMychal Green.
If you been live under a rock and haven't heard the news, the Memphis Grizzlies are having a bit of a firesale.
In contrast with this surging Brooklyn team, the Memphis Grizzlies have been one of the worst teams in the NBA over the course of the last two months. After a strong start to the season where they looked like the Grit-and-Grind Grizzlies of old, Memphis has free-fallen to the fourteenth spot in the Western Conference.
With an aging roster and a 19-29 record, reports have leaked that the team has fielded calls for their star players, Marc Gasol and Mike Conley.
Memphis is in a tricky situation. Because of the 2015 Jeff Green trade, they owe their pick to the Boston Celtics if it falls outside of the top eight. (Memphis, we know your pain. Fucking Danny Ainge!)
Right now, Memphis is the sixth-worst team in the league. To ensure more breathing room and avoid losing this pick, Memphis needs to get dramatically worse. This means stripping the team of all talent possible while diving headfirst into the Zion Williamson, RJ Barrett, and Ja Morant lotto.
Now, onto the proposed deal.
Giving up Jared Dudley would hurt. His impact off the court has been immeasurable. He's reportedly been an excellent influence on Brooklyn's young players. Not to mention, he does a ton for the community (i.e. giving away tickets for free on Twitter) while constantly bantering with the fans.
Even so, excluding a few veteran savvy plays, he just hasn't produced for Brooklyn on the court. Still shooting just 40.5 percent from the field and 32.2 percent from three, Dudley is past his prime.
Brooklyn has the second-most productive bench unit in the league. The Nets could bolster that impressive depth with the addition of JaMychal Green; a 28-year-old power forward with an attractive skill set.
Hailing from the G-League, Green originally landed on Memphis' roster back in the 2014-2015 season. His calling card has always been defense, and he's also a pretty explosive dunker.
Over the years, he's refined his three-point shooting to round out his game. This season, he's shooting an excellent 39.1 percent on nearly 3 attempts per game.
A switchy, defensive four who can shoot the long-ball and jam home dunks? Sign me up!
Green would fill almost all of Brooklyn's holes on offense and defense. At 6-foot-9, he's a pretty solid rebounder for his size, grabbing 6.6 boards per game in only 23 minutes of play.
JaMychal averages nearly one block and one steal per game. His intensity down low would almost surely help Brooklyn's frontcourt defense, which surrenders the sixth-most points in the paint out of all thirty teams.
From the outlook of fans, dealing the emotional leadership of Jared Dudley for JaMychal Green would hurt. But from a pure basketball standpoint, this deal is a no brainer.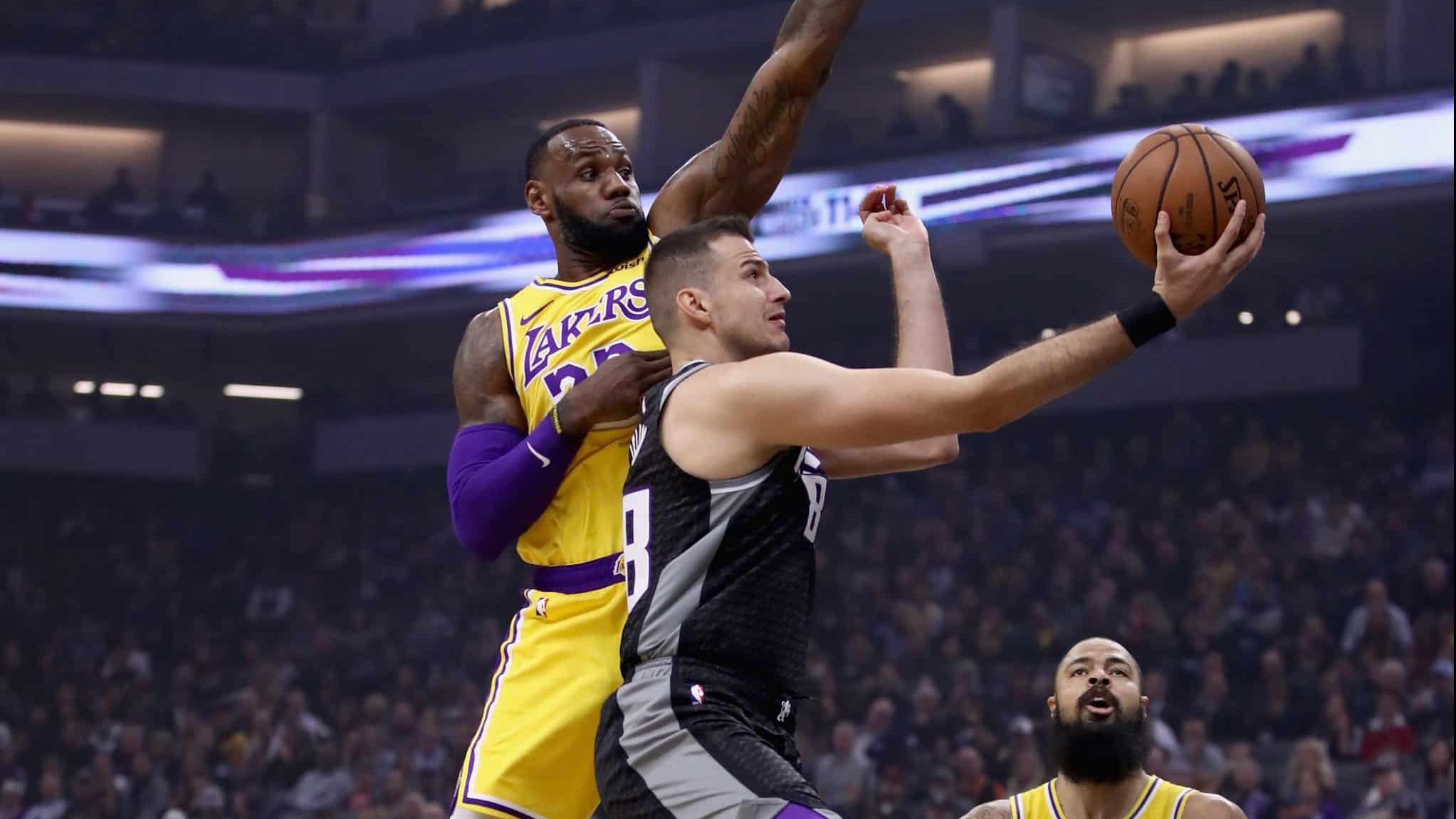 Brooklyn trades Allen Crabbe and their 2019 first-round pick (from Denver) to the Sacramento Kings for Nemanja Bjelica and Kosta Koufos.
I can hear the groans already, but bear with me for a second!
Obviously, this deal is very similar to the proposed trade with Chicago. It's still, for the most part, an Allen Crabbe salary dump with the added bonus of acquiring a stretch-four. There are two key differences, though:
First, Kosta Koufos is a better player than Robin Lopez.
Robin Lopez is a 7-foot center who pulls down 2.9 rebounds per game. Yes, you read that correctly. Two. Point. Nine. Rebounds. Yikes.
Koufos, a largely forgotten center on Sacramento's ever-changing frontcourt, is a solid energy guy. He's grabbed 4.7 rebounds in only 12.9 minutes. At 245 pounds, he would give Brooklyn a much-needed counter to throw at some of the more imposing centers in the Eastern Conference playoffs (cough cough, Joel Embiid).
Outside of size and rebounding, he can't do much else. A career 58.3 percent free throw shooter, Koufos can't hit the broad side of the barn (although, to be fair, Lopez sucks at free-throws too). He would merely add some frontcourt depth to Brooklyn; a team whose center rotation only consists of a second-year Jarrett Allen and the undersized Ed Davis.
[membership level="0"]
Bjelica is the main grab in this trade. He's somebody that I've always liked, especially while playing for Minnesota.
He's shooting 41.3 percent from three this year even amidst a sub-30 percent January slump. For his size (6-foot-10), Bjelica is a pretty willing passer, tossing 2.1 assists per game. Given the threat of his three-point trigger and vision, Bjelica would be the perfect addition to Brooklyn's drive-and-kick offense. He could fulfill both roles as the initiating passer and as the spot-up shooter in their spread offense.
Not to mention, he's on a pretty affordable deal at $6.5 million per season. Unlike Portis, Bjelica wouldn't be a five-month rental; he's under contract for the next three years.
Basically, Brooklyn would have the assurance that they're getting a stable entity for a first-round pick.
Bjelica would have the opportunity to carve out a stable role as a spot-up, stretch-four for the Nets. At 30 years old, he could potentially act as a veteran presence for this Brooklyn team.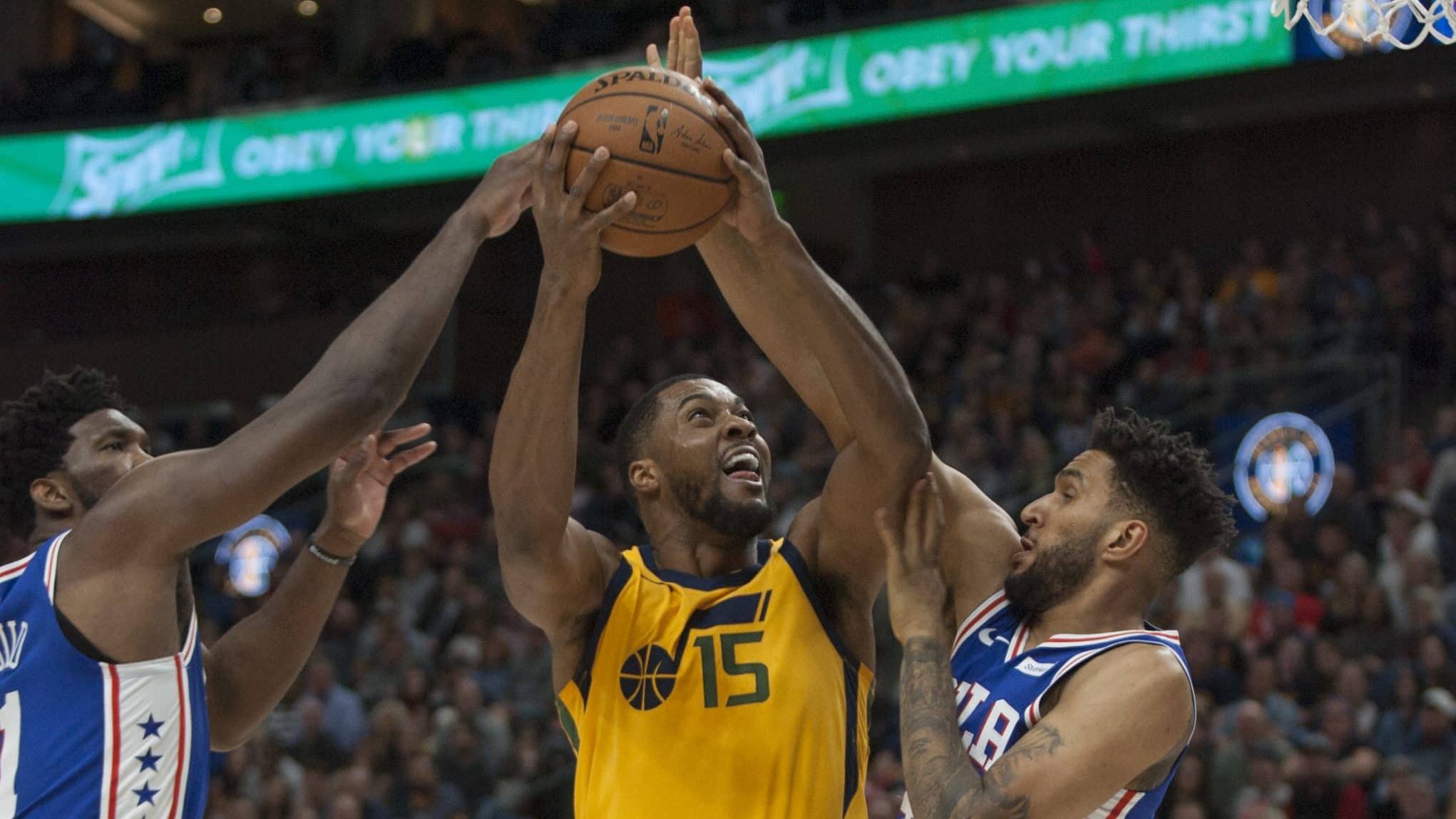 Brooklyn trades Ed Davis, Allen Crabbe, and their 2019 first-round pick (from Denver) to the Utah Jazz for Derrick Favors and Thabo Sefolosha.
Remember how I said I didn't want to deal Ed Davis? I lied.
Look, to completely honest with you, I could see both sides of this trade slamming down the phone in disgust.
Brooklyn might value Ed Davis more than they should due to his veteran leadership, defensive focus, and offensive rebounding.
Utah, on the other hand, definitely overvalues Derrick Favors. They already threw $37.6 million at Favors last summer. That's like, a whole lot for a backup center.
Let's put things into perspective for a minute.
For Brooklyn, Favors is an irrefutable upgrade over Ed Davis. Much like Davis, he's an excellent offensive rebounder at 2.7 per game. The two also average about the same amount of second-chance points.
The main difference between Favors and Davis pertains to scoring range. For Davis, 159 of his total 175 shots have come from the restricted area.
Favors, on the other hand, is much more balanced. He's made 47.9 percent of his shots in the paint, as well as 41.9 percent of his attempts from midrange.
With a shot selection that stretches to 18-feet, this is the major reason that Favors' scoring average nearly doubles that of Davis.
Brooklyn would at least have the option to play him alongside their starting center, Jarrett Allen. They have not been able to do so with Ed Davis, due to his lack of scoring versatility.
One last thing on Favors: his two-year deal is nonguaranteed for the second season. This means that if Brooklyn doesn't like what they're seeing from the then-29-year-old big man, they have the option to terminate Favors' contract. So essentially, Brooklyn is only on the hook with Favors for one season.
At this point, you may be wondering: so what's in it for Utah?
As mentioned before, Ed Davis is a fairly similar player to Derrick Favors. This is perfectly acceptable for Utah.
Their best lineups involve surrounding the potential two-time Defensive Player of the Year, Rudy Gobert, with a gang of smaller 3-and-D players. They've had little success slotting Favors next to Gobert, thus prompting his demotion to the bench unit.
Favors is a little too talented to be receiving backup center minutes, and he needs a change of scenery.
Davis can fulfill 80 percent of Favors' offense for Utah, but for a third of the price. All he needs to do is play his role: grab offensive boards and direct traffic on defense.
Utah would also receive a first-round pick in the 25-to-30 range. One of my biggest NBA virtues is that teams tend to overvalue first-round picks (especially late ones). The payout on first-rounders is far too inconsistent to live and die by. That's why I've been so willing to pass off this Denver pick in potential trades.
Still, Utah was able to grab Gobert with the 27th overall pick in the 2013 draft (coincidentally via a Denver first-rounder). They would surely love for the opportunity to do so again with this Nuggets pick.
Crabbe, even with his hefty salary, is still a productive player if used correctly. As mentioned before, he can shoot the damn ball. Even with a dismal start to the season, in which he shot 28 percent from three, Crabbe is putting up above-average shooting numbers from deep. In his last nine games (before injury), Crabbe made an eye-popping 48.3 percent of his 6.7 attempted threes.
For a Utah team that ranks 21st out of 30 teams in three-point percentage, Allen Crabbe would be a welcomed addition to their rotation. He would provide Utah with another reliable three-point marksman outside of the 37-year-old Kyle Korver, thus strengthening the ongoing playoff run.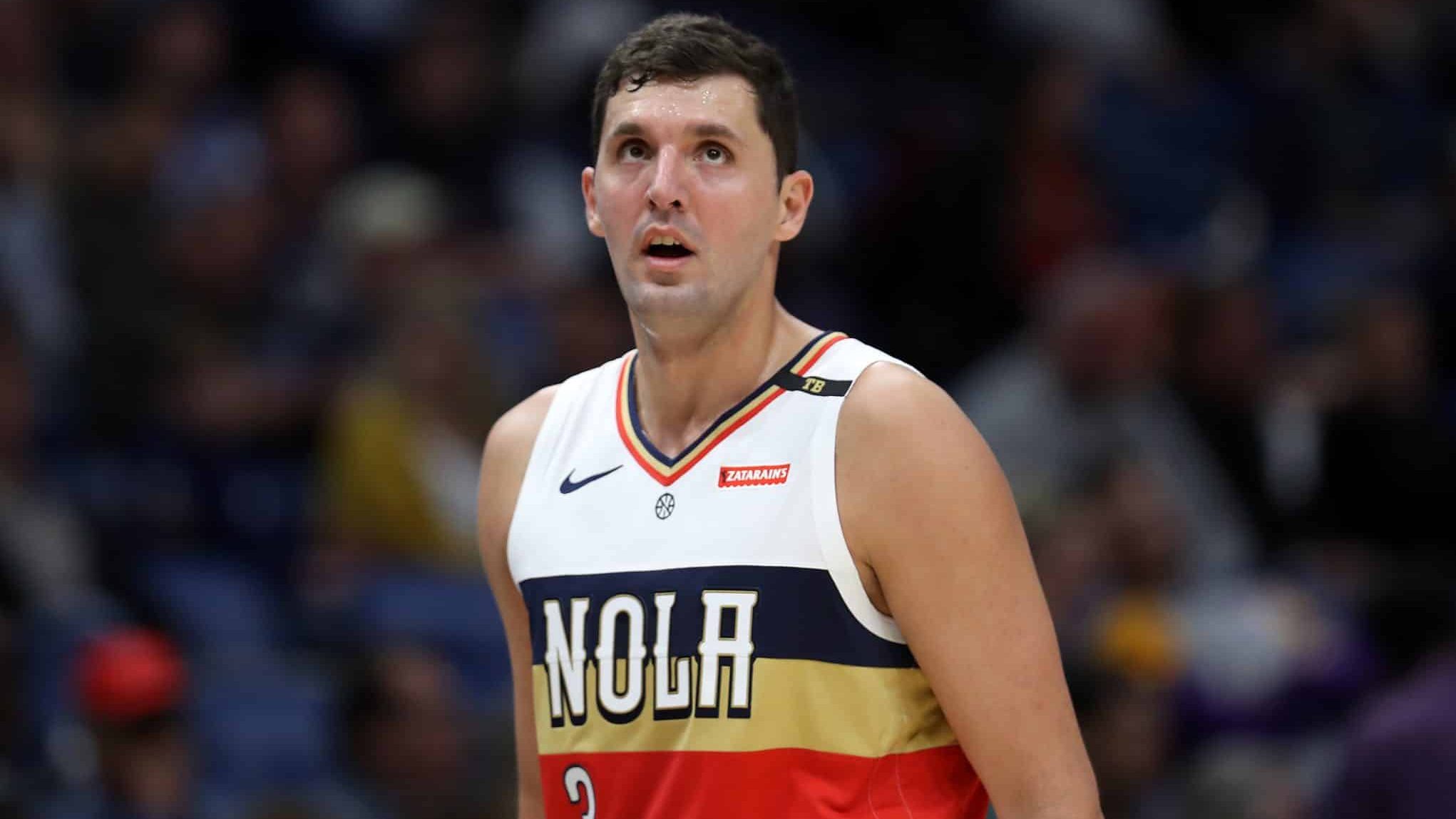 Brooklyn trades Allen Crabbe and DeMarre Carroll to the New Orleans Pelicans for Nikola Mirotic, Solomon Hill, and Darius Miller.
If you didn't already know, the Anthony Davis clock is ticking in New Orleans.
The Pelicans are in desperation mode. Their star, Anthony Davis, can choose to become a free agent in the summer of 2020. For the Pelicans' front office that has repeatedly failed to put together a strong supporting cast, this is a real danger.
This season, the Pelicans aren't necessarily burdened by a lack of talent. In fact, they have some pretty good players on the team.
Julius Randle, Anthony Davis, Nikola Mirotic, and Jrue Holiday all represent above-average to All-Star level talent. The issue for the Pelicans is that these guys can't really play together.
Because of this, perhaps it's time for New Orleans to break up their core. With Davis on the mend for the next two weeks, the team needs to spice up their rotation. Most of all, New Orleans needs 3-and-D wings.
In comes Brooklyn: deploying not one, but two of those coveted two-way players.
Carroll, an aging player, is still productive on both sides of the ball. He's been impressive in January, averaging 15.9 points per game on 40.7 percent from three and 43.6 percent from the field.
Carroll, along with Crabbe, would provide shooting to an offense that ranks 24th in attempted threes.
The two wings would give the Pelicans some needed oomph on defense. As it stands, New Orleans allows the seventh-most points per 100 possessions.
New Orleans needs to bring in productive players. This deal allows them to bring in two rotation guys for the price of one (Nikola Mirotic).
Which brings us to Brooklyn's side of the deal.
Mirotic is an exceptional stretch-four. He's attempting 7.2 threes per game; a number that would surely please Kenny Atkinson. Not to mention, he's an underrated rebounder, grabbing 8.3 boards per game.
Of all the stretch-fours named in this article, Mirotic is easily the best of the bunch. For a Brooklyn team that desperately needs a sweet-shooting big man, this seems like a total gimme.
Solomon Hill is a net-zero with a hefty contract ($12.5 million per year). Fortunately, he comes off the books this summer. (As pointed out by one of my Reddit readers [thank you, by the way, sir], Hill is on the books until the conclusion of the 2019-2020 season. The last year of his contract is worth about $12.7 million. Given that this number is two-thirds less than what the Nets would owe Crabbe, I would make this deal. Because his contract is mid-level, it would be slightly easier to flip as an expiring deal next year. They would still receive a player who could help them in the playoffs in Nikola Mirotic. If the Nets wanted to, they could even buy Hill out before Aug. 31st and stretch his contract over three years. With a buyout, the team would only owe him about $4.25 annually). 
Darius Miller is the final piece in this deal. I picked him in particular because he provides 70 percent of what DeMarre Carroll can do on the court.
He's a solid defender, allowing only 107.6 points per 100 possessions this season. I was surprised to learn that he can shoot the three-ball pretty well; Miller is shooting 38.5 percent from deep on 4.5 attempts. That's pretty damn good for a throw-in.
At 28 years old, you know what you're getting from Miller. He's an upgrade over Graham if nothing else.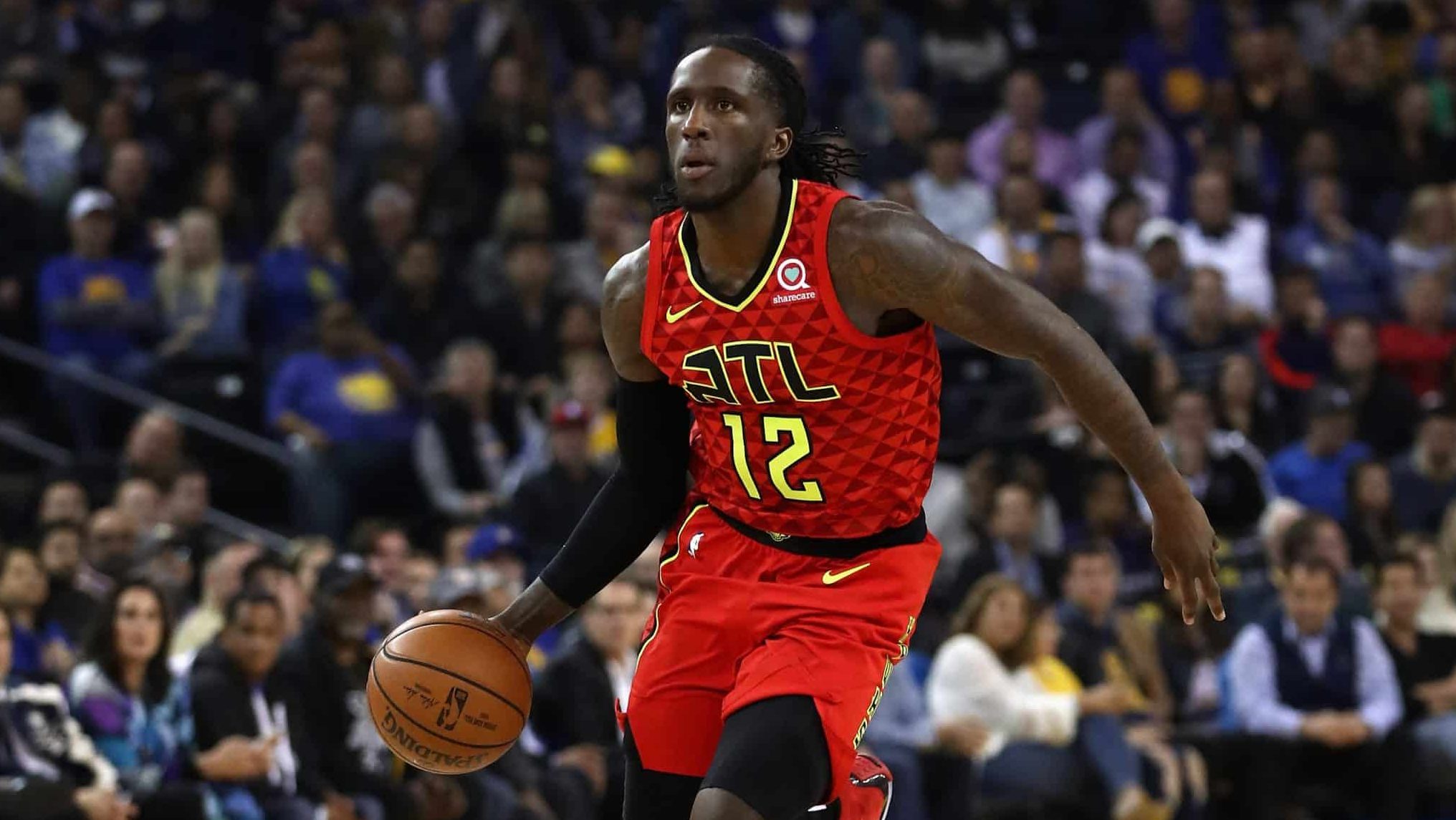 Brooklyn trades Rondae Hollis-Jefferson and their first-round pick (from Denver) to the Atlanta Hawks for Taurean Prince.
This is, by far, my favorite fake trade.
Now, it may seem like blasphemy to deal Brooklyn's longest-tenured player and a first-round pick. But it isn't.
Here's why.
Rondae Hollis-Jefferson is a very solid defender who plays damn hard. RHJ is one of Brooklyn's better players in transition. He's excellent at putting his head down for straight-line drives to the rim.
However, Hollis-Jefferson is a truly awful shooter. RHJ has a noticeable hitch in his shot, which will forever inhibit his ability to make jumpers with consistency. He's also a free agent this summer, making him the most expendable player on this roster.
The Denver pick will likely be a bottom-five selection in the first-round.
Just a quick overview of the guys drafted in 24-to-30 range last year: Mo Wagner, Landry Shamet, Robert Williams, Jacob Evans, Anfernee Simons, Dzanan Musa, and Omari Spellman. While some of these guys have the potential to carve out roles as solid players (i.e. Shamet and Williams), none of them will be stars.
What I'm saying is that Brooklyn wouldn't give up a ton to grab a very productive player.
This season, Taurean Prince is averaging 14 points per game on a tidy 43.1/36/83.9 percent shooting split. He's one of the few bright spots for Atlanta. However, his team is one of the many finalists in the Zion sweepstakes.
His production leads to winning ways; an unacceptable fate for a team gunning for a top-three pick.
Because of this, Prince's name has come up in a multitude of trade rumors.
At 25 years old, Prince would fit perfectly into the age-window of Brooklyn's team. He's an excellent defender whose aptitude earned him playoff minutes during his rookie season. At 6-foot-8 and 220 pounds, Taurean has the physicality to play some small-ball four. However, he also has the foot speed to defend the three with regularity.
Out of any player listed so far, Prince is my favorite fit on Brooklyn's excellent roster. Although Mirotic's ceiling may be higher, Prince's versatility on both sides of the ball would make him a seamless addition. He checks off every box on Brooklyn's trade target wish-list.
He's essentially the younger, more polished version of DeMarre Carroll. I could honestly see him swinging a series for the Nets.
Best of all, Prince is still on his rookie salary. At only $2.5 million per season, the Nets would hold onto his rights for a full year and a half.
Like many players before him, Taurean Prince could finally find a sturdy home in Brooklyn.
Let's get these deals done, Sean Marks.
This piece was edited on Jan. 27th. The article reported that Solomon Hill's deal comes off the books at the end of the 2018-2019 season. This was incorrect. Hill's contract is valid until the conclusion of the 2019-2020 season.