With Anthony Davis on board, the Brooklyn Nets would no longer be a surprising regular season team. They would instantly become a championship contender.

On Monday, Adrian Wojnarowski of ESPN broke the news that Anthony Davis' agent, Rich Paul, had informed the New Orleans Pelicans that his client did not intend to sign a contract extension and was requesting a trade.
Davis, a top-five level talent, has averaged career-highs across the board this season: 29.3 points, 13.3 rebounds, 4.4 assists, as well as 1.7 steals. However, his team has achieved middling success. The Pelicans are currently 22-28, sitting a full 5.5 games out of the playoffs.
Poor regular season play has plagued New Orleans throughout Davis' seven-year tenure. In that span, New Orleans has only advanced to the playoffs twice.
Because of this, the rest of the league has been preparing for Davis' exit for years. The Boston Celtics, in particular, have been circling New Orleans like a hungry pack of buzzards, waiting for a moment like this to come.
If Davis was to be traded, the Pelicans would almost certainly enter a rebuilding stage. They would require multiple first-round picks in hopes of selecting their next NBA superstar.
Even with Anthony Davis onboard, the Pelicans have never finished higher than 21st in league-wide attendance ratings. This season, with Davis putting up numbers that only two players in history can match, New Orleans ranks only 25th in attendance.
Because of this, the Pelicans would need the assurance that they are receiving a young player that's a near shoo-in for the All-Star game. Selling the appeal of multiple first-round picks wouldn't be enough to gain fan interest. Receiving a future star could be the difference maker when it comes to keeping Pelicans in New Orleans.
Boston's trade package would be centered around Jayson Tatum's potential as a franchise player. It would also include some combination of Jaylen Brown, Terry Rozier, the Grizzlies' first-round pick (top-eight protected in 2019, top-six protected in 2020, and unprotected in 2021), the Kings' top-one protected pick, and possibly their own pick.
But, as you may already know, the Celtics cannot deal for Davis until the conclusion of the 2019 season due to the Rose rule.
On top of this, per Yahoo's Chris Haynes, Boston is not a top target for Anthony Davis. Given that AD can elect to become a free agent in the summer of 2020, that's pretty concerning for the Celtics.
This has provided the other 28 franchises with an opening to grab Davis.
The Lakers, in particular, seem to be the biggest beneficiary to these happenstances.
In all likelihood, this is by design. I don't want to spend too much time on the issue of tampering, as it has little relevance to the topic hand. I will say that it seems rather questionable that Rich Paul, LeBron James' childhood friend, has engineered Davis' future around a timeline that benefits the Los Angeles Lakers the most.
The Lakers final package for Davis could be some combination of Kyle Kuzma, Brandon Ingram, Lonzo Ball, Ivica Zubac, and possibly Josh Hart.
Even so, there's still something missing from the Lakers' party bag of young talent. There's no surefire All-Star.
Lonzo's current trajectory is as a high-quality role player. His poor shooting percentages across the board, low free-throw rate, and overall tentativeness are massive limitations.
Ingram hasn't been able to mesh with the league's best player; a concerning trait. Much like Lonzo, he also appears to suffer from a lack of intensity.
Kyle Kuzma is probably the best of the bunch. Still, he's an almost 24-year-old prospect that shoots 30 percent from three. I like Kuzma a considerable amount, but what is his realistic ceiling? A one-time All-Star at best?
This isn't a two-team race.
Similar to what happened with Paul George and Kawhi Leonard, a surprise team could sneak into the mix.
Per Rich Paul, Davis wants to compete for titles. On the outside looking in, it appears that he also wants to heighten his star power. The recent All-Star snub has likely only magnified those feelings.
In steps two major market teams: the Brooklyn Nets and the New York Knicks.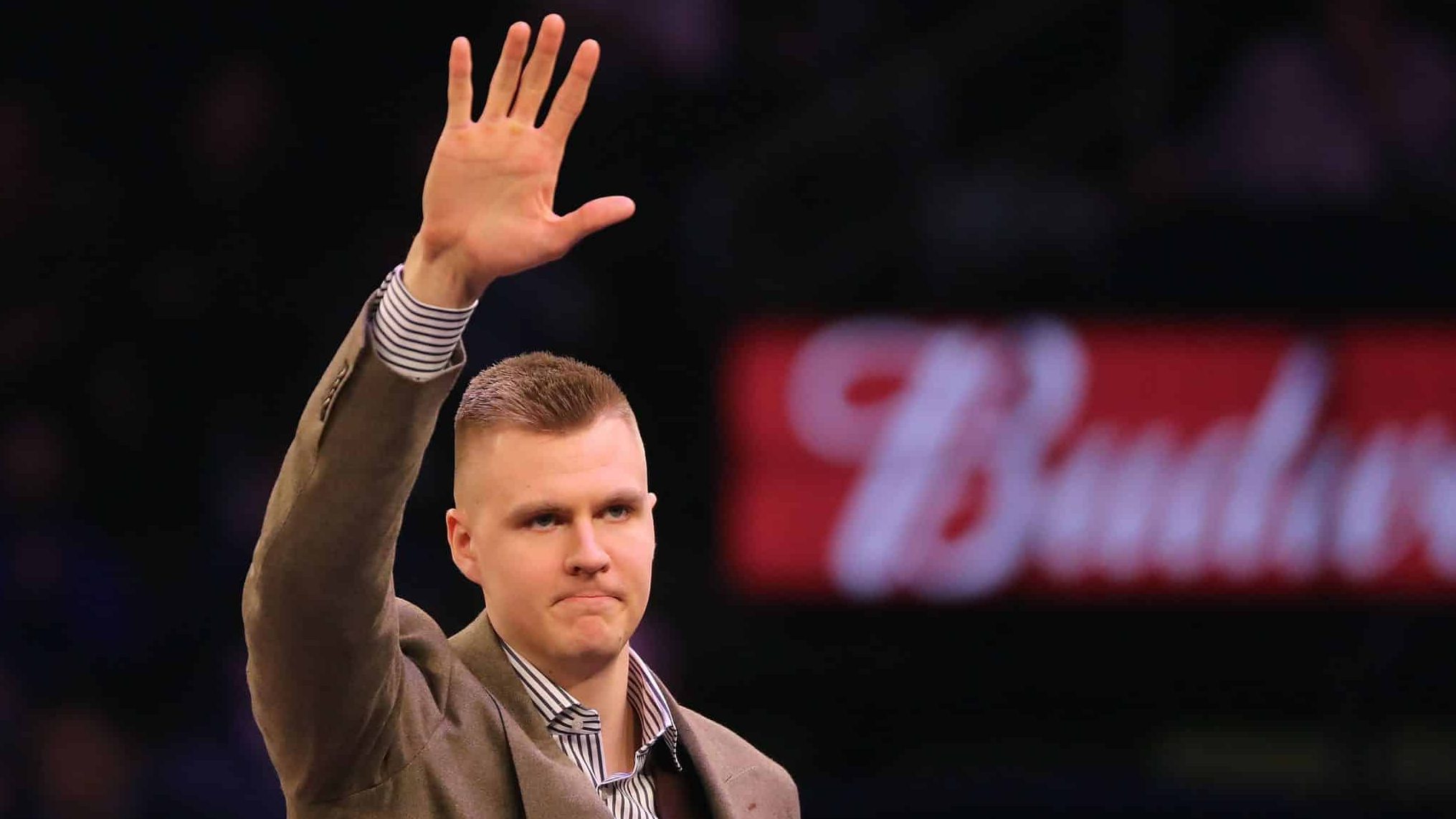 The Knicks package is undeniably appealing. It would likely be centered around Kristaps Porzingis, a guy with top-ten level talent. You could make the case that he has the highest ceiling of any available player for Davis (including Tatum). I wouldn't argue with you.
Porzingis, in combination with promising rookie Kevin Knox, New York's first-rounder, and Courtney Lee (to make salaries work), would make the Knicks a realistic trade partner. You could even throw-in former lottery pick, Frank Ntilikina, to sweeten the deal.
That's a pretty nice return for New Orleans. Even though Porzingis is a free agent this summer, he is restricted; meaning that the Pelicans could match any sum of money thrown at The Unicorn.
Still, there's a growing fear that Porzingis is this generation's Ralph Sampson. That's an obvious turn-off for New Orleans.
Not to mention, the Knicks would completely gut their roster for Anthony Davis. In New York, AD may find himself in a similar situation; surrounded by a complete and utter lack of a supporting cast. The big city is an appeal, but again, Davis wants to win titles.
There's no assurance that he would be able to do so while playing for the barren Knicks. New York would only have one year to surround Davis with a competent group of teammates. Given where the Knicks are currently, this would be one hell of an uphill battle.
If the Knicks' front office failed at team-building, they would run the risk of losing their new star in 2020.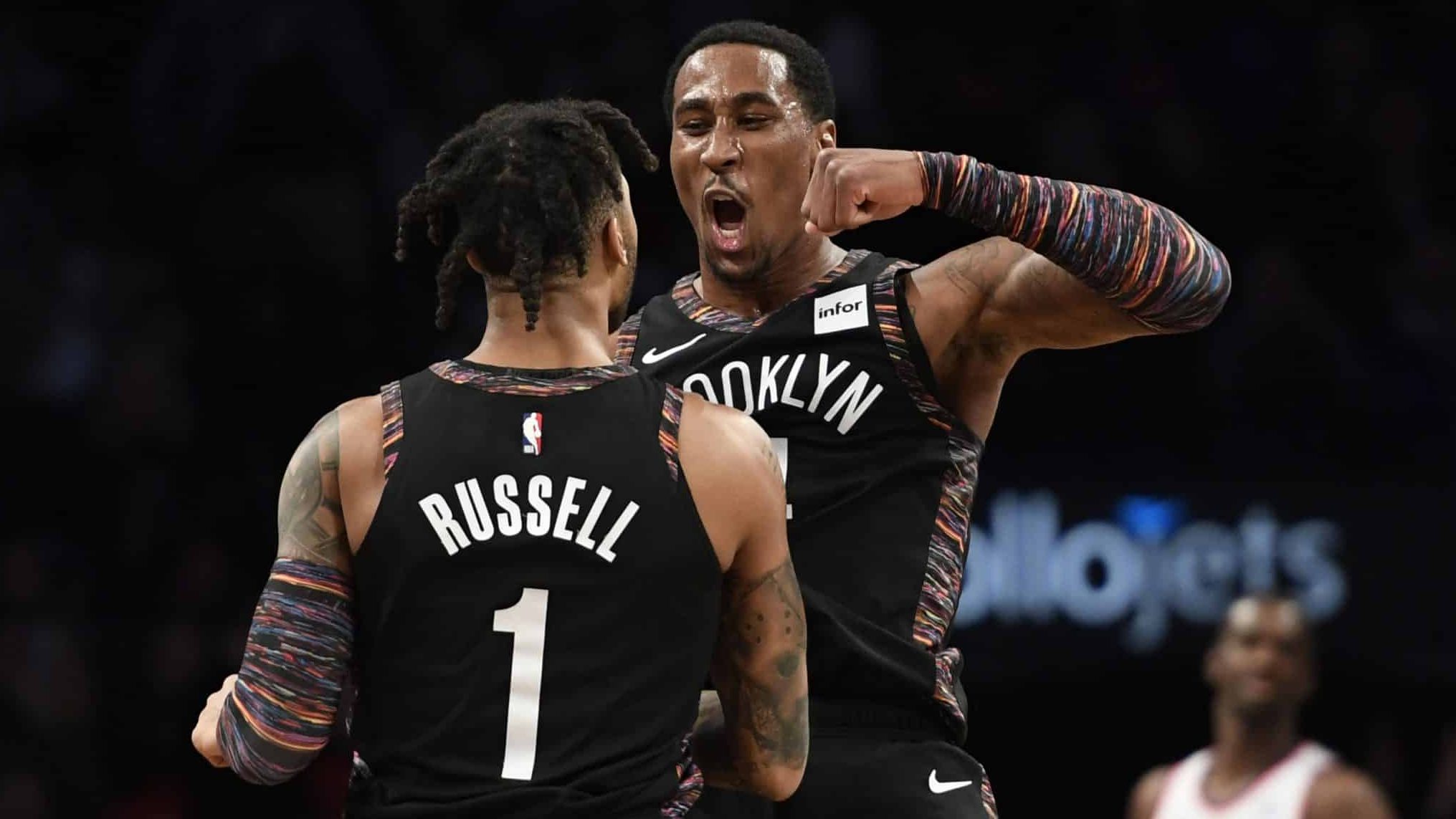 The second major market team is the Brooklyn Nets; a rising ball-club that has performed much better than its crosstown rival, the New York Knicks.
Similar to the Boston Celtics, the Brooklyn Nets have been in asset acquisition mode for the last five years. The biggest difference between the two ball-clubs is that Brooklyn has accumulated promising players without the assistance of any lottery picks.
My colleague, Collin Loring, curated a fantastic piece (that you should absolutely read) on what an Anthony Davis trade package would look like from Brooklyn. Because of this, I'm not going to repeat information.
Loring's trade bundle of Caris LeVert, Jarrett Allen, Allen Crabbe, and Brooklyn's 2019 first-round pick would probably suffice. One thing I would like to add: if New Orleans was spooked by LeVert's medical history (a valid concern, by the way), then Brooklyn could easily swap in All-Star hopeful, D'Angelo Russell.
The presence of LeVert (or Russell) gives Brooklyn the edge against the Lakers or sleeper destinations like the Toronto Raptors. Both LeVert and Russell will likely make the All-Star game at some point in their careers, making them more attractive assets than Ball, Pascal Siakam, Ingram, Kuzma, etc.
Brooklyn can offer a plethora of solid picks to top-off the deal. They could offer their own pick, the Denver first-round pick, and the Knicks' second-rounder.
From New Orleans' side, they would receive everything they are looking for: young, All-Star caliber players in LeVert or Russell (and possibly Allen), as well as multiple first-rounders.
Brooklyn would obtain the thing that they've desired most: a superstar.
Based on the reactions of fans and prominent media members, the general consensus is that Brooklyn should stay out of the Davis sweepstakes.
This is where I firmly disagree.
The Nets have compiled an exciting young roster; full of overachieving pieces. The front office has made savvy moves to provide the franchise with a shocking regular-season run and a bright future.
However, I worry that there is a cap to Brooklyn's success.
The goal for every franchise is to win championships.
While Dinwiddie, LeVert, Russell, and Allen have all enjoyed success this season, it's highly unlikely that any of them become top-five level talents.
[membership level="0"]
Fun exercise: name the last finals team whose roster didn't include a superstar player.
I'll bet that your first guess was the same as mine: the 2004 Pistons. Even then, Detroit benefited from a talent-stripped league that was in the midst of a transition phase… away from the Shaq and Kobe Lakers.
You need superstars to win championships.
The talent disparity between James Harden and Damian Lillard is what separates the Houston Rockets from the Portland Trailblazers. One team is a perennial first-round bounce. The other has advanced to the Conference Finals. Twice.
As it stands, I fear that Brooklyn parallels Portland more than Houston. Brooklyn's young players all have undeniable flaws. LeVert cannot shoot, Dinwiddie struggles with consistency, Russell will not become a superstar until he gets to the line with more frequency, and Allen is limited offensively.
These flaws will be magnified in the playoffs. The Nets have no safeguard; no superstar to call upon should things get tough.
That's the appeal in dealing for Davis. Even if the team loses LeVert (or Russell), Allen, and a few firsts, they will still have enough talent to surround Davis with a strong supporting cast. They would be a finals contender in the Eastern Conference, thus alleviating the risk of Davis leaving in 2020.
Dinwiddie and Russell (or LeVert, depending on New Orleans' preference) would give Brooklyn two guys who can feed Davis the ball. They can also ease the scoring load off his shoulders; LeVert, Dinwiddie, and Russell all are averaging over 17 points per game. Brooklyn would still have two of the three players named.
Although Brooklyn has become an increasingly popular free agent destination, there's no guarantee that they'll land a star. They'll be going up against other large market teams with cap space. This includes the Knicks, the Lakers, and the Clippers.
There's a good chance that the Nets strike out this summer. Brooklyn's only crack at a big free-agent might be with Tobias Harris. He's a solid player who would fit their core nicely. At the same time, he's not a superstar.
Anthony Davis is a bona fide top-five talent. He's the type of guy you tank for in perpetuity to grab. He's generational.
He could also be the best player on a championship team; an honor very few players can claim. That's one hell of a luxury for a franchise.
The feelings of PTSD from the Kevin Garnett-Paul Pierce trade are understandable. However, Brooklyn wouldn't be trading for two 35-year-old veterans. They would be dealing for a 25-year-old superstar who puts up Kareem Abdul-Jabbar numbers.
The opportunity to grab a guy this talented doesn't arise often. For Brooklyn, this may be their best shot at grabbing a franchise-player.
Their process has lead to this.