Without saying they should, it's hard to ignore the Brooklyn Nets' asset arsenal in terms of a trade for New Orleans' Anthony Davis.

The Brooklyn Nets have been working as a franchise to build a foundation worth supporting star talent. Well, one star just hit the NBA's trade market: Pelicans forward and five-time NBA All-Star Anthony Davis.
Adrian Wojnarowski of ESPN woke up the entirety of NBA Twitter Monday morning with a report of Davis's request to be traded from New Orleans:
Agent Rich Paul has notified the New Orleans Pelicans that All-NBA forward Anthony Davis has no intention of signing a contract extension if and when presented and that he has requested a trade, Paul told ESPN on Monday.

— Adrian Wojnarowski (@wojespn) January 28, 2019
Rumors had been swirling all season long about Davis' availability, as his contract features a player option for the 2020-21 season. The former first-overall pick is averaging 29.3 points, 13.3 rebounds, and 2.6 blocks per game.
Everyone in the NBA knows New Orleans cannot let him walk for free. And the longer they wait, the more his trade value declines.
So, it's just a matter of when they'll execute a trade involving their franchise face of six-plus seasons.
An All-Star big man, Davis's talent is franchise altering and could make any team a candidate for next summer's top free agents.
So naturally, eyes are turning to the Brooklyn Nets, who have eyed next summer as a pivotal free agency for the franchise.
General manager Sean Marks has nearly erased the hole left by his predecessor Billy King's fire sale trade with the Boston Celtics. He and the Nets front office have put together a solid young core: D'Angelo Russell, Caris LeVert, Spencer Dinwiddie, and Jarrett Allen. Would the team be willing to part with one, or even two of them to acquire Davis?
Without arguing it's best for the Nets, one can still argue to the rest of the league Brooklyn possesses one of the NBA's most compelling trade packages.
Potential Trade
New Orleans will be shopping for as much young talent and future draft picks it can get their hands on. Anthony Davis has been the face of their franchise since they drafted him in 2012.
They'll likely look to fill his void at center and build a core around star point guard Jrue Holiday. At 28, he's considered one of the league's best perimeter defenders.
This season is already a wash, and the Pelicans front office needs to come to that realization. The game now is trading Davis for draft picks while pushing their own pick as far up the lottery totem pole as it can reach.
Looking for young budding talent is goal number one, of which the Nets have aplenty. A starting place for a Brooklyn-New Orleans trade could look something like this, albeit with the potential to grow through negotiations:
New Orleans receives: G Caris LeVert, C Jarrett Allen, G Allen Crabbe, and Brooklyn's 2019 first-round pick.
Brooklyn receives: F Anthony Davis and New Orleans 2019 second-round pick.
What's this do for New Orleans?
The centerpiece of this deal is Crabbe's $18.5 million salary. He's averaging just 9.5 points in his 28 games played, and Brooklyn's made it clear he doesn't have a future with the Nets.
New Orleans trajectory, even after a Davis trade, could lead them to buying out the guard's salary. Near the playoffs this season or over the summer. He's a veteran shooter, and when healthy, will likely have a market among contenders.
LeVert was the Nets best player in the 14 games he played before suffering a freak foot injury. The third-year guard was averaging 18.3 points, 4.7 rebounds, and 1.2 steals in 30 minutes a game. He's already a proven facilitator down the lane and could form an ideal backcourt partner for Holiday.
Looking at Anthony Davis's resume, it's safe to assume New Orleans will remain indifferent on LeVert's health status. Their own star player is averaging just 68 games a season with the Pelicans.
Sophomore big man Jarrett Allen has turned into one of the league's more capable shot blockers. Per NBA.com. He's averaging 2.8 blocks per 48 minutes, just half a rebound behind Anthony Davis's 3.3 average.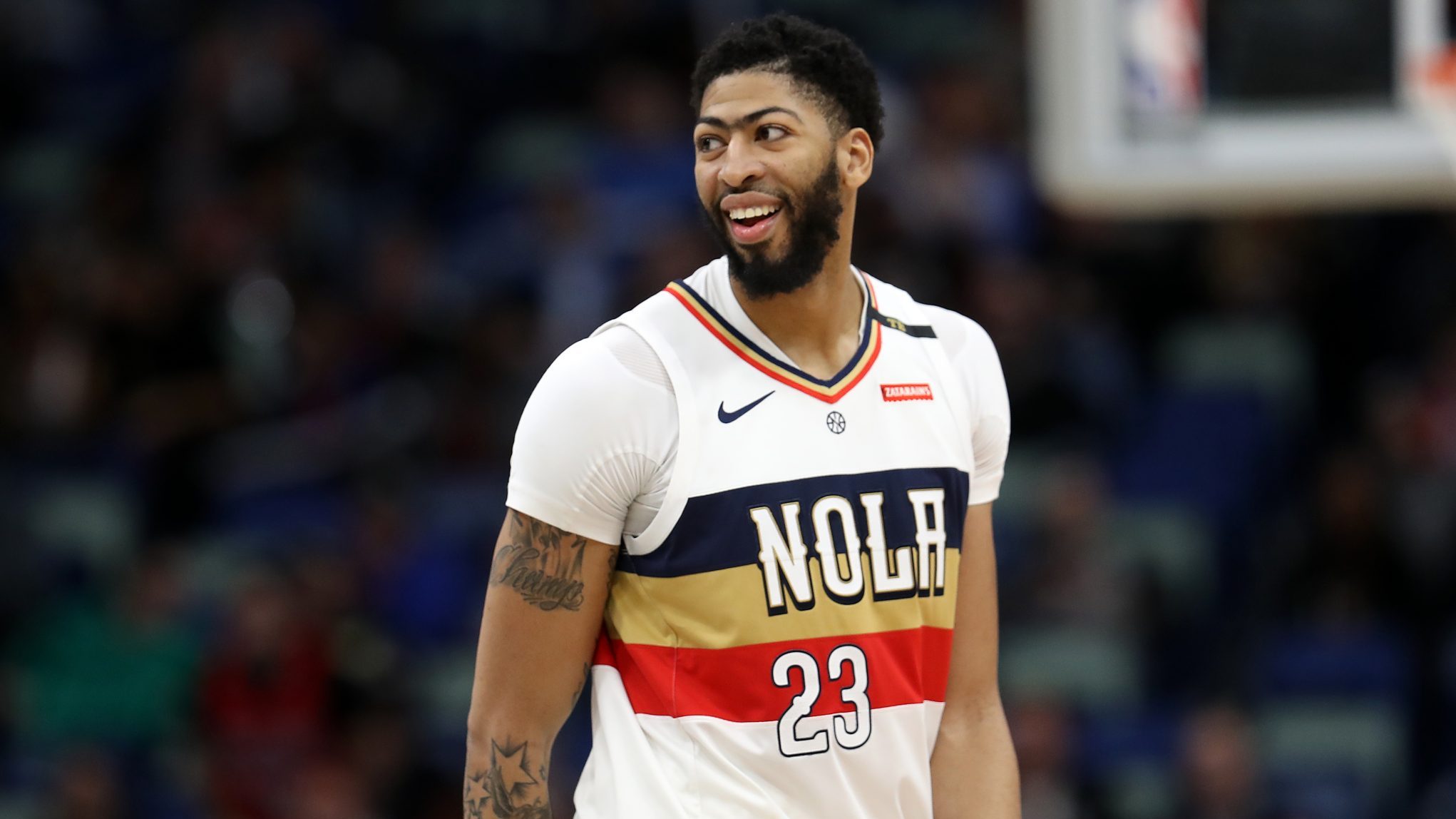 This doesn't account for his star-studded block highlights, including the likes of LeBron James and James Harden. He could grow into what New Orleans would need at the five, although not fully replenish the void left in absence of Davis' All-NBA skillset.
Brooklyn's first-round pick won't be the most attractive, as they're making a push for the playoffs. As of Monday morning, when Davis trade request went live, the Nets were 27-23, and the sixth seed in the Eastern Conference.
Still, that'll make for two first-round picks going to New Orleans, which they can add to an already exciting young core. With Holiday as the team leader, it's hard to be that upset with this return and future potential.
Other than "DUH," Why Would Brooklyn Pull the Trigger?
Brooklyn gets a man who needs no introduction, and the chance to lure more talent to Barclays Center come July. Klay Thompson, Kawhi Leonard, Kevin Durant, Kyrie Irving, and Kemba Walker could all hit the free agent market.
Does Davis fit with the Nets?
He'd be Brooklyn's star, and number one option.
While D'Angelo Russell has proven himself this season, averaging a career-high 19.2 points and 6.4 assists, Brooklyn is far from contention. Nonetheless, with his own free agency imminent, LeVert will likely have the most value in a trade.
Davis will add the 'star factor' the Nets so desperately need. In crunch-time, in the locker room, and with the media. Brooklyn's attendance could see a surge, although the fans have seemingly fallen in love with the team's pesky young lineup.
With eyes on contending for a championship, this is the ultimate chess move. You acquire the talent before it's thrown to the lion's den, otherwise known as NBA free agency.
Anthony Davis is a top asset, on his own, and in terms of the bigger picture. But will Brooklyn risk it all, again, desperately longing for star talent?
---
It's hard to say whether Brooklyn should be in a hurry to acquire a star talent, but it's clear they possess one of the more attractive packages should that route present itself.
Nets fans know more than anyone: you truly never know what that sneaky Sean Marks is up to.
The Brooklyn Nets will look to continue their hot streak against one of the Eastern Conference's-worst Bulls. Brooklyn's hosting 11-39 Chicago at Barclays Center Tuesday night.