The NHL All-Star break and bye week have finally arrived for the New York Rangers, leaving questions about how they've performed in 2018-19.

The first half of the NHL season has come and gone for the New York Rangers. It was a half that brought mixed results to a rebuilding team, but ultimately showcased positives they can take into the home stretch.
At the NHL All-Star break, New York is 21-20-7, a record that no-one thought they would be at this time of the year. What went into getting here saw a different type of compete-level, a level that was greatly missing in a dreadful 2017-18. That compete level never left even though the team struggled to find wins at stretches, but they still were able to come out 21-20-1 entering the All-Star break.
Now as the team rests up and gets set to battle it out in the second half, we take a look at how the offense, defense, goalies, and coaching staff as performed under first-year head coach David Quinn.
Grades will be determined based on impact to the team, performance and consistency.
Goaltending
Henrik Lundqvist and Alexandar Georgiev have been put in a tough position this season. They continue to represent the backbone of a team who struggles defensively, allowing 33.3 shots on goal a game.
Facing the fourth most amounts of shots per game comes with its consequences. New York has the sixth most goals against in the league at 3.38.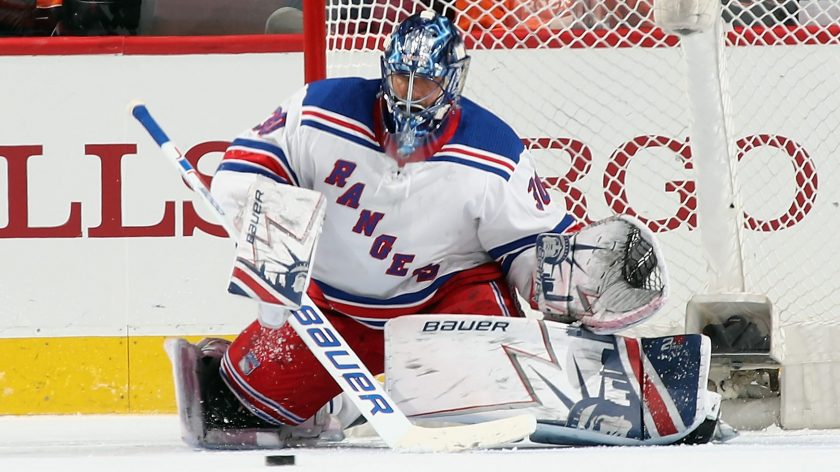 Even with all of those stats and the negative numbers, the Rangers netminders are enjoying a fairly decent season when you dive into it.
Looking at Lundqvist's advanced numbers, he has a .921 save percentage when the Rangers are at even strength a number that makes winning games easier. Short-handed, the numbers for Lundqvist decrease dramatically with a .837 save percentage allowing 29 goals on 178 shots. That is the only blemish for Lundqvist and the Rangers who are killing penalties at a 77 percent clip this season in 165 chances.
For Georgiev, a glance at his basic stats make you want to question why he's even up in the NHL with the Rangers. He sports a 3.43 goals-against-average and a save percentage at .895 and the advanced statistics aren't pretty either. Unlike Lundqvist who is excelling at even strength, Georgiev has a .894 save percentage at even strength. While the numbers are not exactly pretty, Georgiev has shown flashes of what he can be as a backup which has kept himself in the NHL this season.
Overall, the Rangers goaltending has kept them in as many games as possible this season. It is unfair to criticize them for the Rangers struggles and poor stretches considering how they haven't really had much help over the first half of the season.
Grade: B-
[membership level="0"]
Offense
From an offensive standpoint, 2018-19 has been an up and down season for the New York Rangers.
You never really know what team is going to show up on any given night offensively and that plays a big role in why they sit sixth place in the Metropolitan Division. Despite being led by Chris Kreider and Mika Zibanejad, New York's offense ranks towards the bottom in the entire league.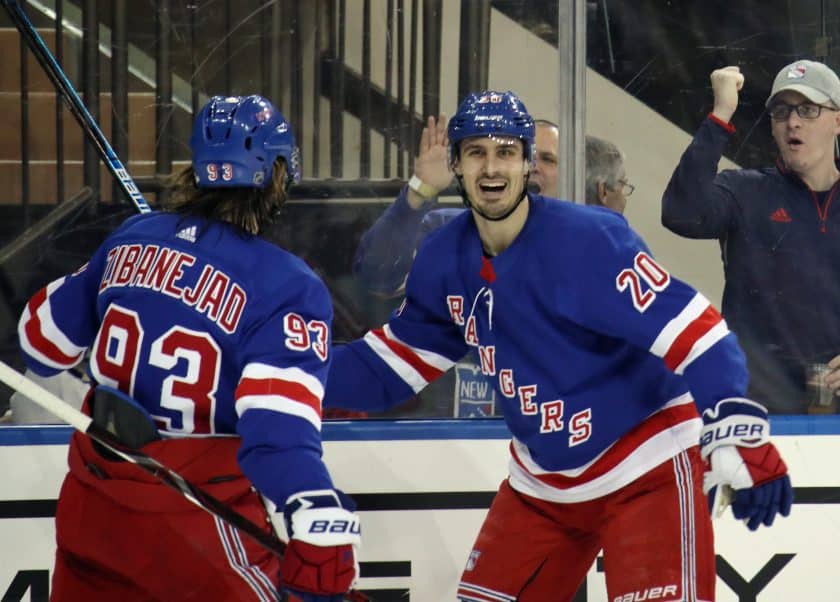 Kreider leads the Rangers with 22 goals, while Zibanejad leads them in points with 44. Both players are having career years excelling under first-year head coach David Quinn who has found a way to unlock the potential fans knew each player has.
Not only has he done wonders with those two, but he's done the same with Kevin Hayes who is seeing the best year of his short career. Despite missing all but one game in the month of January thus far, Hayes is still on pace to set a career high in assists.
While those three have primarily been the positives offensively, there have been plenty of negatives up front for New York. Until recently, Mats Zuccarello has been having one of the worst seasons of his career. He's admitted to the noise surrounding his future as a major distraction and it has affected his game on the ice. But, it hasn't just been Zuccarello who has underperformed.
Jimmy Vesey was unable to keep up the pace he started with at the beginning of the season while Pavel Buchnevich has yet to become the consistent force the Rangers think he can be.
As a team, New York's offense has scored just 132 goals on the season, 24th in the league and 25 more than the Kings who have scored the least amount of goals this season. Most of their damage has come at even strength where they've scored 89 times.
The power-play has also been a problem converting 29 times in 136 chances. But what is even more alarming is how they have yet to a score a goal with the two-man advantage, one of 13 teams who have yet to do so.
Getting the puck on goal has been a major problem this season, of their 21 wins just eight times has New York outshot their opponent. In their 13 other wins, they've been outshot every single time showing how they have failed to win the possession game. As a team, they are being outshot by 398 shots on the season and have missed the net 465 times to go along with hitting the post/crossbar 24 times.
It's going to be extremely difficult for this team to win games moving forward average 2.79 goals a game especially when they have a hard time keeping the puck out of the net. Should general manager Jeff Gorton go ahead an make some of the moves most think he'll make at the trade deadline, scoring goals will become even more difficult for New York.
Grade: C
---
Goaltending was always going to be a strength for the Rangers considering who they have to start in goal on a nightly basis, but if you asked anyone around the league where the Rangers offense would be, most would not have them all the way towards the bottom.
There are two areas that the Rangers really need to improve upon as the season continues to unfold: offensively and defensively. Now we'll talk about the defense in part two of this report card series, but from an offensive standpoint, New York has to hope for Kreider and Zibanejad to maintain what they did in the first half. If they can't, it's going to be a long road to April.