Mats Zuccarello has been rumored to be traded away from the New York Rangers on multiple occasions and now it's required to move him. 

His No. 36 sweater is one of the most familiar sights on the ice for the New York Rangers. His tenacity and leadership have been a Blueshirt standard since he first laced up his skates nine years ago. When you look up the word "loyalty" in the dictionary, his picture appears next to the definition.
The name under that picture is Mats Zuccarello.
Right wing Mats Zuccarello, a native of Oslo, Norway, has had the full support of the New York Rangers fan base since day one. He's a leader on and off the ice who has provided the team a spark at every opportunity.
Unfortunately, the time to move Zuccarello has arrived.
Zuccarello has only appeared in 17 of the Rangers 29 games due to a nagging right groin injury. He has missed the last five games and 11 out of the past 13. Though the team has missed him, his absence has given the Rangers an opportunity to learn something about themselves.
This is a preview of sorts, as the head coach and organization have been able to get a first-hand look of how life without Mats Zuccarello might be.
Surprisingly, the team has managed fairly well without its star player in the lineup.
In the last 14 games, the Rangers are 7-7, as they've been hovering around the .500 mark without Zuccarello. The team has been able to fill his spot in the lineup, though it's hard to find a better passer anywhere in the league. Still, this team can play good hockey without him, as they have before.
Should Zuccarello be traded?
This is the toughest question Rangerstown faces. I am glad my name is not Jeff Gorton, because when the time comes to move Zucc, the GM may be the most hated man in New York City, if not the entire NHL world. Gorton may be hated more than, dare I say, commissioner Gary Bettman.
The controversy and second-guessing would be almost unbearable. This is Zucc we are talking about. He's the face of the franchise, along with Henrik Lundqvist. A trade? Really?
As hard as it is to write this, I believe they should move Zuccarello as soon as possible.
Before the question comes up, yes I am a huge Zuc fan. My kids are Zuccarello fans. We have met him, taken pictures with him, and even have his autograph on a Rangers 2015 Stanley Cup Program.
But fans, this is hockey. It's a business, and the best thing for the New York Rangers is to trade Zuccarello. It's the perfect time, as teams will soon be jockeying for playoff positions.
Zuccarello's contract expires at season's end when he becomes an unrestricted free agent. The forward turned 31-years-old in September, and as the team looks to get younger and faster, the question of what to do with Zuc has come up several times in the last calendar year.
As last year's trade deadline approached, Zuccarello was mentioned in multiple trade rumors, but nothing transpired. Though he has been injured this season, his name has come up in possible deals with teams like Montreal and, prior to the William Nylander signing, the Toronto Maple Leafs.
His skill in setting up players for scoring chances makes him a trade candidate for many other teams as well.
The Pieces no longer fit
The Rangers and Zuccarello do not seem to be the fit they once were. The team is having a hard enough time trying to find ice time for its youngsters right now. Brett Howden, Filip Chytil and Lias Andersson are this team's future. Add to that the possible arrival of 2018 first round pick Vitali Kravstov next year, and the odds of Zuccarello sticking around are slim.
Zuccarello really doesn't have a place in the lineup if the Rangers continue the youth movement. And, as of now, there is no reason to believe the team will change that status quo.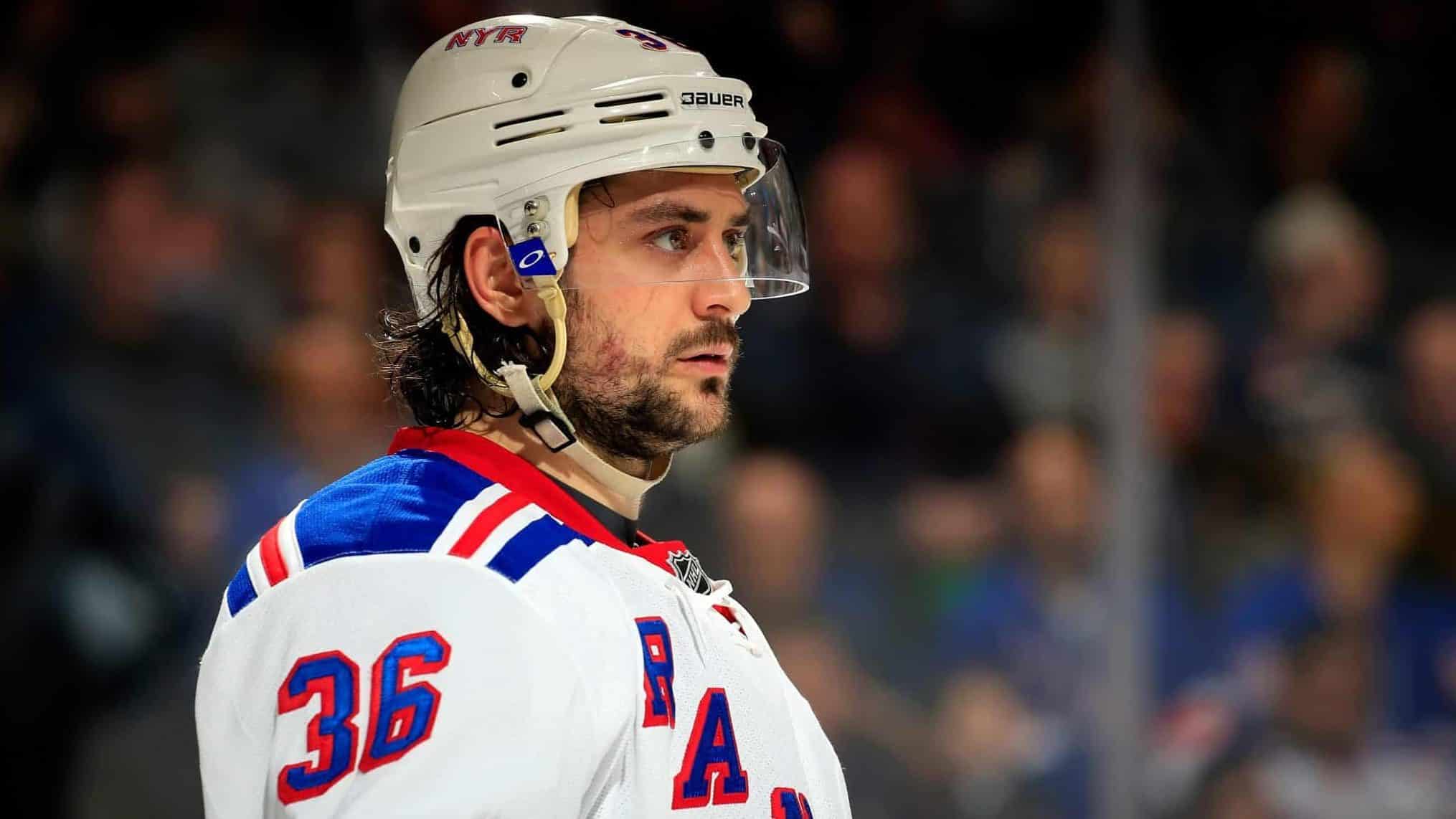 The Blueshirts may find it hard to move one of their most popular players, but it is a necessary move for the team to continue growing into a playoff contender. The Rangers would do the fan base an injustice if they simply let Mats walk at the end of the season. A positive return needs to come from this separation, whether it be a roster player or a draft pick.
There should be plenty of interest once Zuccarello returns from his injury. That could be another reason the team has not rushed Zuccarello back, in addition to the two minor setbacks when he attempted to return previously.
Separations are hard. This one would be downright devastating. Few players have the heart that Zuccarello has within him, the essence of a team player with a fan base that cheers his every move.
The Rangers and Zuccarello have seen a little of what life will be like without one another recently. It's tough to envision, but the inevitable trade will come.
It has to happen for the good of both player and hockey club.
In a trailer for the movie The Avengers: Endgame, which has been playing and viewed millions of times this past weekend, one line keeps repeating, and it perfectly represents the years of service Zuccarello has given to this hockey club. From skating as a rookie to enduring an almost career-ending head injury to helping the youth of this year's club excel, one thing stands out for Mats Zuccarello:
"Part of the journey is the end."
What a journey it has been for Mats Zuccarello. Regardless of when he is moved, his career as a Ranger will always be remembered as one of success and loyalty. Fans need to appreciate all he has done for the Blueshirts and our community, but they also need to accept the inevitable.
Mats Zuccarello will not be a New York Ranger when March 2019 arrives.
Follow Frank on TWITTER