Henrik Lundqvist is the backbone of the New York Rangers. He's struggled lately, and the solution is simpler than you might think.

There is no denying how important Henrik Lundqvist is for the New York Rangers. Without no. 30, who knows where the Rangers would be on any given night over the last the 14 years.
He has been a model of consistency posting 20 wins or more in every season he's played, including 25 or more wins in 12 of those seasons. Not only have the wins been there, but he's served as a calming force when the Rangers needed one, just think back to the 2013-14 Stanley Cup Final run. The Blueshirts found themselves down 3-1 to the Pittsburgh Penguins in the second round and Lundqvist put the team on his back carrying them to the Eastern Conference finals and their first Stanley Cup Final appearance since 1994.
Now fast-forward to today as Lundqvist is yet another year older and has become even more important with the Rangers in a rebuilding phase. He started the season out strong posting a .930 save percentage, a 2.31 goals-against-average, and a .957 save percentage at even strength in his first six games of 2018-19. As the season has progressed those numbers have dipped, and don't even look like the numbers we are accustomed to seeing from the 36-year-old.
Entering the month of January, Lundqvist saw his save percentage drop to .918, .927 percent at even strength, and a 2.81 goals-against-average on his way to his fifth All-Star selection. But the month of January has not been kind to the man they call "the King," he's given up 15 goals in his first three games of 2019 as the Rangers struggled to start 2019 in a positive way.
This is not the first time Lundqvist has seen a dip in his numbers after starting a season out strong. He had similar instance a season ago when he allowed 20 goals from Feb. 17 through Feb. 28. He turned it around and was able to put respectable numbers the rest of the way even with the Rangers missing the playoffs for just the second time in his career.
To fix his struggles, the Rangers can build on previous seasons.
Rest, Rest, and More Rest
Through the month of December, the Rangers had one of the easiest schedules in the NHL including a random week off that was not considered their bye week.
Once that week off was over, their schedule picked up and the opponents got tougher forcing New York to rely on Lundqvist a bit more than they normally did throughout the beginning of the season. That brings us to January where the first two weeks have seen a game every other day for the Rangers just up until the All-Star game and the Rangers bye week.
Giving Lundqvist a breather every now and then might not be such a bad thing for first-year head coach David Quinn who is still learning how to manage a talent like Lundqvist. An idea Quinn can work off to help Lundqvist get back to where he was earlier in the season comes from his predecessor Alain Vigneault. Now Ranger fans don't want any part of something Vigneault did, but the method was an effective one.
Instead of starting Lundqvist every game, it's time to sprinkle in Alexandar Georgiev more often and maybe give him a few starts in a row. Vigneault did this with Cam Talbot, Antti Raanta, and even with Georgiev a season ago sparking up several conversations of a goalie controversy in Rangers town. But it was never a controversy, it was a way to give Lundqvist a breather with the hopes of a long playoff run and it worked.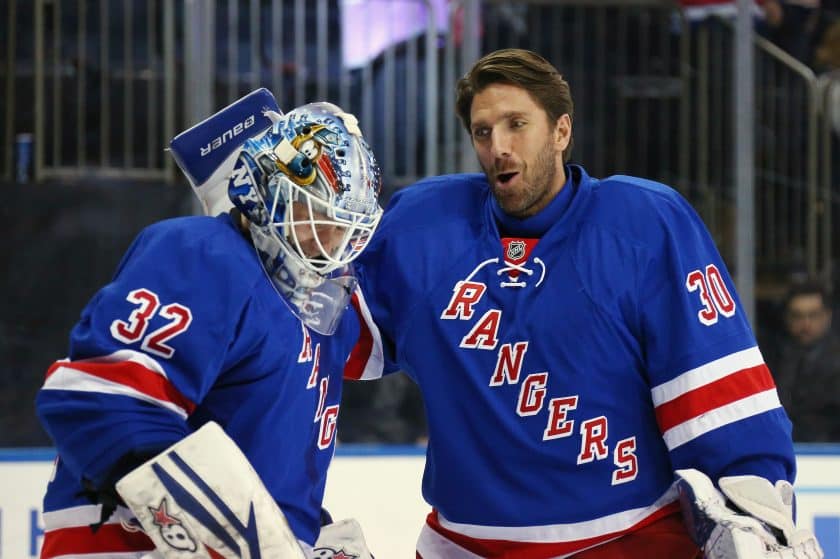 While the Rangers are not in a position to be in the playoff conversation, giving Lundqvist a break once in a while will still help him. Quinn has started to do that going back and forth between Lundqvist and Georgiev the last week, including giving Georgiev starts in back-to-back games over the weekend but it's time to do it more often.
Resting Lundqvist will help more than it will hurt, especially considering his age and the amount of wear and tear he has had to face this season in a short amount of time.
A Small Adjustment To His Game
When Lundqvist is not sure of himself or is seeing a dip in his game, he starts to fall back into a habit of playing deep in his net. Now his style has always been to play deep in the crease, but sometimes it comes back to hurt him especially when he is struggling to keep the puck out.
On three of the Islanders four goals, Lundqvist stayed relatively deep in the cage, never leaving the blue paint or even going to the top of the paint. Doing this forces him to pick up the puck later giving him less time to react and make the save he needs to make.
What Lundqvist needs to do is get back to playing an aggressive style of game and start challenging shooters again. By being aggressive it gives the opposition less time to make a move and might catch them off guard and miss the net altogether. He still has the reflexes to where he can react and adjust to the shot coming his way.
Goalies are creatures of habit, there is no denying that but sometimes the habits a netminder has when they struggle can come back to hurt them and this is clearly the case with Lundqvist. While some of it is rest and another part of it is mental, Lundqvist needs to stop playing in a defensive mode and start challenging shooters again. Once a goalie with his legacy starts doing that, it gets inside the shooter's head and can work to his advantage.
---
Lundqvist will get as much rest as he possibly could over the next few weeks. The Rangers have three games remaining until their bye week and the All-Star break. He will represent the Rangers in San Jose Jan. 26 when the league comes together for the three-on-three tournament and then have one two more off days before the Rangers return to action Jan. 29.
Rest will not be a problem for Lundqvist, now he has to just get back to playing a versatile type of game.