The New York Jets defense has a lot of talent, but need an EDGE rusher, which they might be able to find in Chandler Jones.

The bad news is that the New York Jets still lack an EDGE rusher. The lack of pressure from the outside has allowed teams to double team Leonard Williams and prevent him from making big plays in the backfield.
He enjoyed a big game against the Broncos with two sacks, but, as ESNY's Paul Esden points out, he still needs a sidekick.
The good news is that Mike Maccagnan seems to realize this, as he stated before the season that he wanted to improve that area. He lost the bidding war for Khalil Mack despite being willing to beat the Bears offer, and couldn't get Tom Coughlin to move Donte Fowler Jr., but he has made the effort to improve that area.
However, hope isn't lost for the Jets ahead of the Oct. 30 trade deadline. The team has a path to add an elite pass rusher to their roster before the deadline, and his name is Chandler Jones. If he's available, the Jets need to scoop him up.
The Jets 3-4 defense has recorded 14 sacks. Amongst outside linebackers, only Jordan Jenkins has multiple sacks, with 2.5 through six games. That's not bad, but it's not going to scare teams into double teaming him.
Meanwhile, Jones has 6.5 sacks through seven games after leading the NFL with 17 last season. He's been everything advertised since being traded to the Cardinals prior to 2016. An EDGE guy who can get to the quarterback can turn the Jets defense from solid to elite. Meanwhile, the Cardinals are 1-6.
At 1-6, the Cardinals are looking towards the future and trying to put weapons around Josh Rosen. However, according to Jay Glazier of The Athletic (subscription required), the Cardinals have been unwilling to move him.
"Yes, teams have called about Peterson and DE Chandler Jones, but they have been told repeatedly by Cardinals general manager Steve Keim that those two are off limits."
While that seems like it would be the end, it's important to remember that the Raiders weren't willing to trade Mack up until the point that they were. While the situations were different (Jones isn't holding out), the reality is that nothing is off-limits in the NFL.
So, while the Cardinals have thus far been unwilling to move Jones, it's not hard to envision a situation in which they could be convinced to move him. They'll need to sign weapons this offseason, with Larry Fitzgerald on the backside of his career and Rosen needing a wide receiver that can make plays for him.
The Cardinals currently project to have roughly $47 million in cap space, a number that will jump to $67 million if they cut Sam Bradford. That sounds like a lot of money but the Cardinals need to address essentially the entire offense except quarterback and running back this offseason. That money will dry up fast.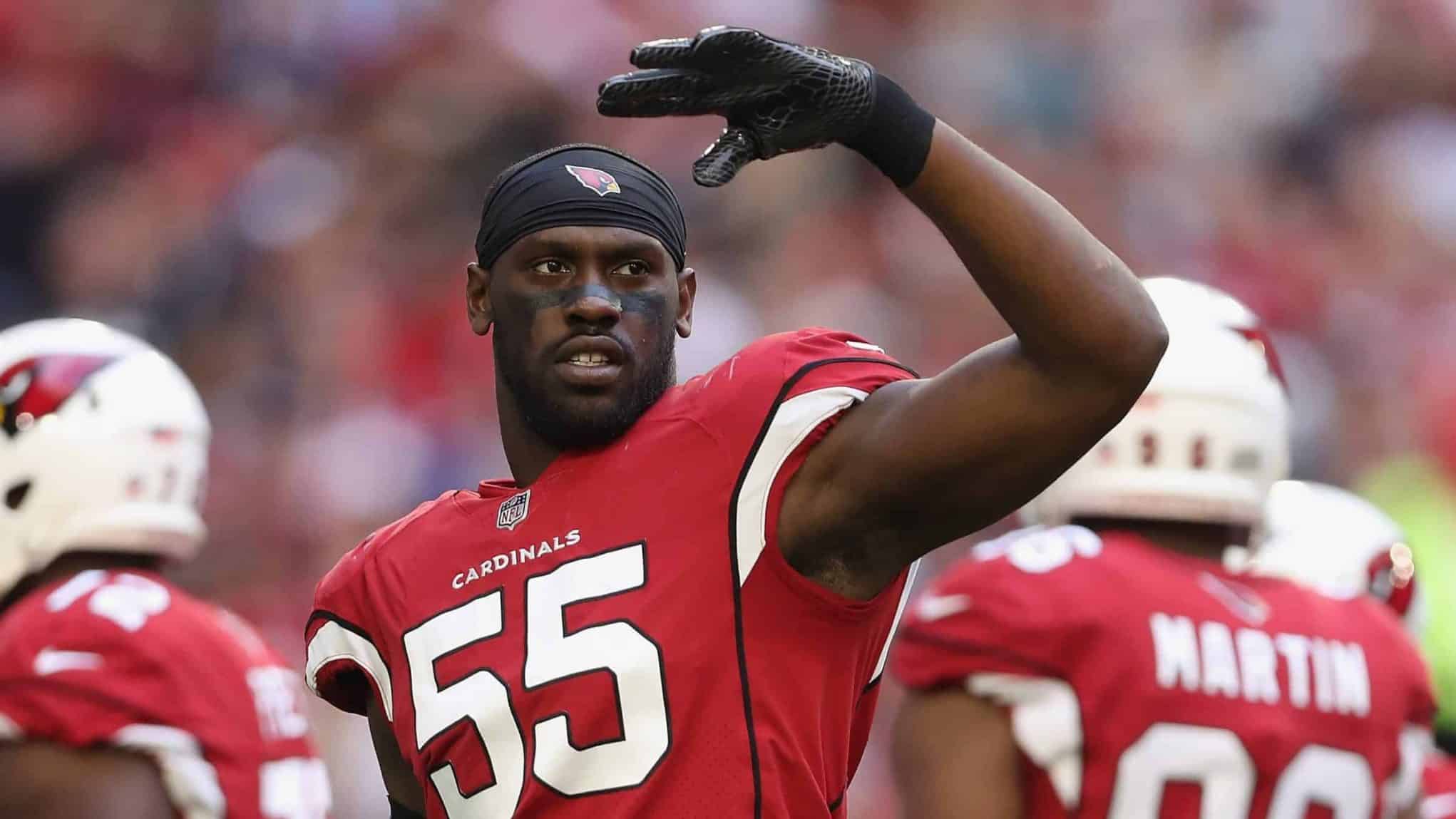 However, if the Cardinals trade Jones they will clear another $19.5 million in cap space. While he's a great player, the cap space will help them more than he will at this point. The team needs to add to their offense to allow Rosen to take the next step in his development. Meanwhile, the Jets, with over $100 million in cap space and a desperate need for an EDGE rusher, could use Jones' services.
The Cardinals will have more cap space they can take advantage of, and will also have the draft capital that they get from the Jets to address their roster holes. It's important to note that it's difficult to assess what pass rushers will get traded for. Mack got two first round picks, but Jason Pierre-Paul netted a third-round pick.
However, ESNY's Paul Esden (aka Boy Green) has relationships with NFL insiders thanks to his work on his podcast and his radio show. He informed me that the thinking around the league is that a second round and a third-round pick is what his value is.
The Jets do not have a second round pick next year thanks to their deal to add Sam Darnold, but they could offer the Cardinals their 2020 second round pick, along with the third round pick and toss in a fifth rounder in 2019 to make up for the year gap.
The Jets get the elite EDGE rusher they so desperately need, while the Cardinals would get draft capital and cap space that would help them further the development of their quarterback of the future Josh Rosen.
Maccagnan should be permanently on the phone with the Cardinals until he can convince them to make a deal for Jones, then pull the trigger.
Follow Billy on TWITTER