For the Syracuse Orange, marching into Death Valley and beating Clemson for the second year in a row won't be easy … but it can happen.
Football is the new basketball.
This college football season, several hoops havens are enjoying a taste of national success. For example, Duke and Kentucky are undefeated after four weeks of play, each currently ranked in both the Associated Press and ESNY Top 25 polls. Even woebegone Kansas has experienced some gridiron giddiness, ending their 46-game road losing streak in Central Michigan a week before crushing Rutgers 55-14.
This infection has apparently made its way up to central New York.
Situated at 4-0, equaling their best start since 1991, the Syracuse Orange are quite literally making the Carrier Dome a football hotbed again, recently hosting Florida State in sweltering 87-degree conditions, making the air-conditioning-free stadium's sponsorship a source of cruel irony.
With several members of Syracuse's Big East championships squads taking in the game at the Carrier Dome, as well as several recruits, head coach Dino Babers felt the historic victory could set the pace for the past, present, and future.
"I thought it was a fantastic family win," Orange head coach Dino Babers said after the game. "Orange, Cuse, from the past and the present and hopefully the future with the recruits that were in the house … that's really going to take this program and take this university to greater heights."
At the time, the win over the Seminoles seemed a like a signature victory, one that could drive the Orange from the doldrums of the Atlantic Coast Conference era. Yet, the victory over the Seminoles feels somewhat tainted by matters beyond their control, namely Florida State's struggles beyond the Carrier Dome visit.
The world of college football can be generous, yet unforgiving, and that perhaps perfectly defines the Orange's task this weekend.
Just under a calendar year ago, Syracuse, had what could've been a signature victory, defeating a Clemson Tigers team defending its national title on a Friday night at the Carrier Dome. That victory had the makings of a signature win, the type of victory every programs seeks and looks back on once they've sustained the success gained over the fateful 60 minutes. The operative term, how, is "sustained", as the effects of a signature win must go on beyond the game itself. Syracuse failed to do that, losing their final five games, as well as bowl eligibility, to close out 2017.
Now, there's a chance to do it again.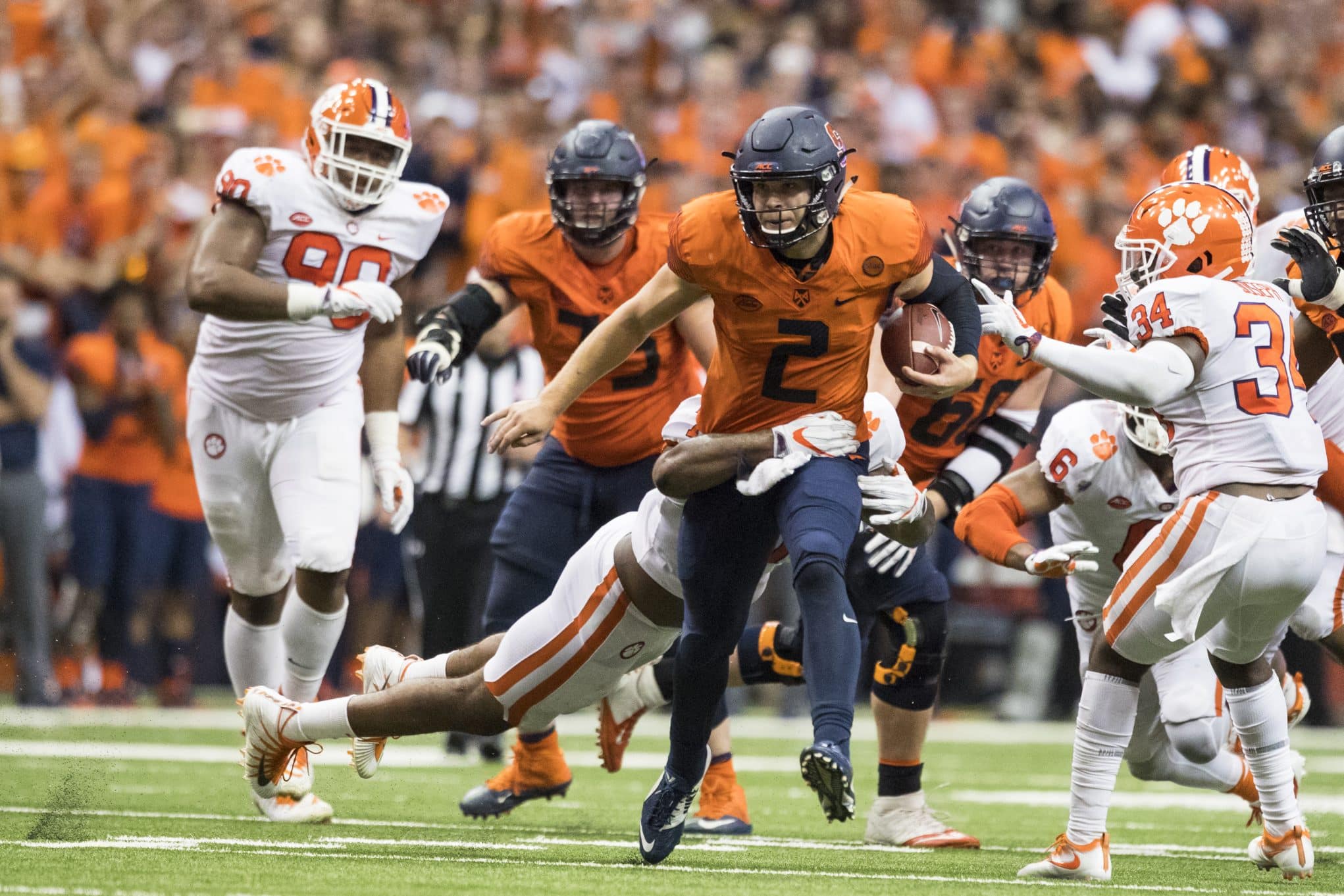 Clemson, currently ranked third in the Associated Press poll, and second in the ESNY rankings (Syracuse ranks 24th in the latter), will seek revenge on their home field in an early afternoon showdown at Memorial Stadium (12:00 p.m. ET, ABC). The task is difficult, yet doable, a sentiment that has defined their week of preparation.
"The thing you want to make sure is they're not losing mental battles," Babers said earlier this week, per Syracuse.com's Nate Mink. "Are they too wound up? Are they too hyped up? Do you need to get somebody out of the game, talk to them a little bit and calm them down? Those are the things that are going to get you beat."
Babers would further acknowledge how this year's matchup would be different because of the atmosphere alone, remarking that Death Valley will "be extremely loud, and that's how it's supposed to be in a big game when you're going into somebody's else place". The Orange, however, will have to make Clemson's new offensive leader uncomfortable in his own home.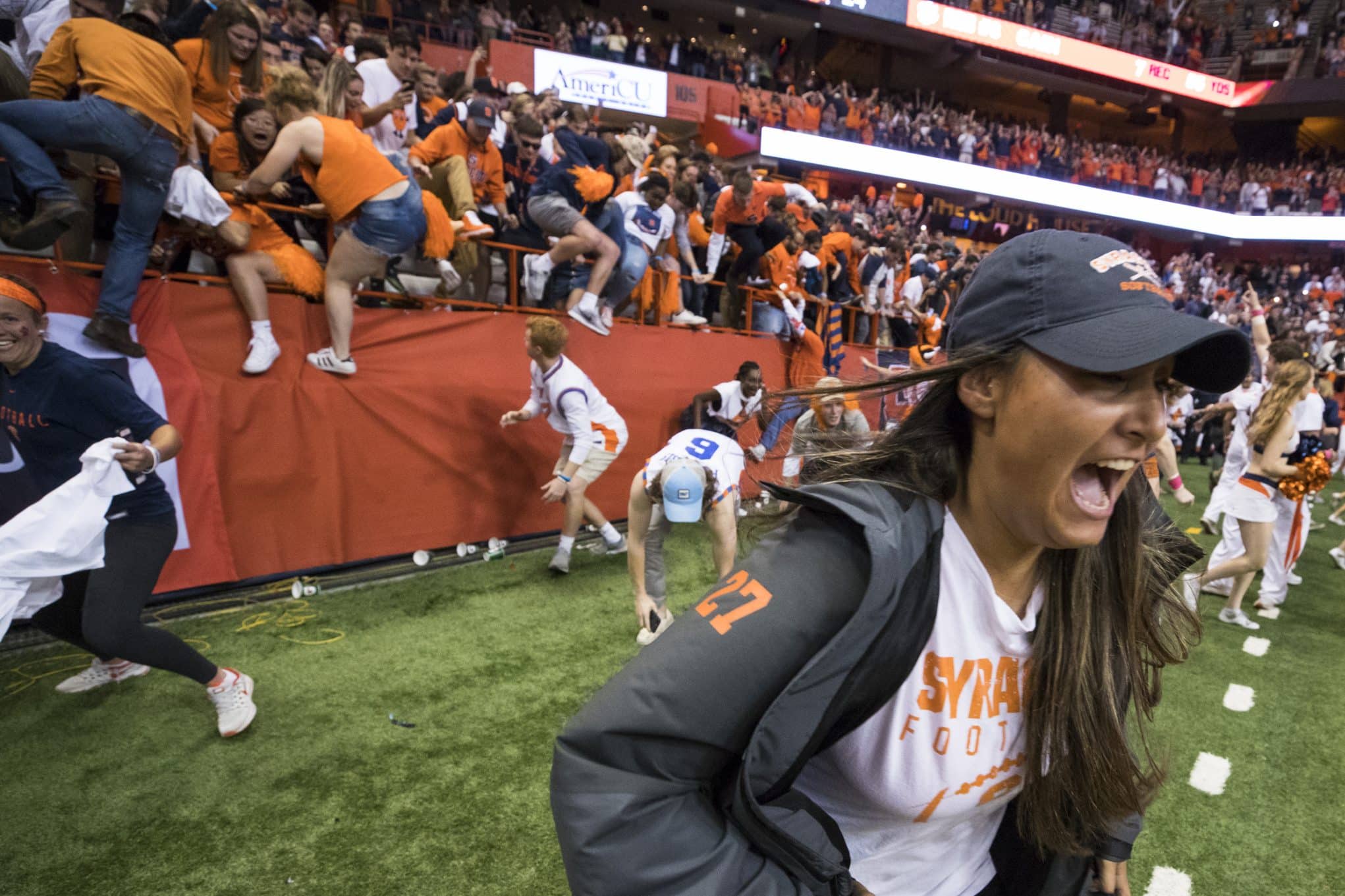 Earlier this week, Clemson named touted freshman Trevor Lawrence as its starter, leading to the planned transfer of senior Kelly Bryant. A pro-style quarterback from Georgia, Lawrence has a chance to rectify one of last season's few mistakes: losing to Syracuse.
Last season's meeting likewise featured quarterback drama. When Bryant was injured, the Orange took advantage of inexperienced backup Zerrick Cooper, his conservative substituting playing a part in a 27-24 loss. Lawrence has taken chances during his debut campaign, taking chances downfield. Notably, he fired a 64-yard strike to Tee Higgins in the Tigers' narrow 28-26 victory over Texas A&M earlier this month.
"The goal is to make any quarterback uncomfortable, but especially a guy that's making his first start," Orange defensive end Kendall Coleman, he of four sacks this season, said of Lawrence, according to Stephen Bailey, also of Syracuse.com. "We definitely want to get back there, get in his face and let him know that we're there, let him feel us."
The pressure worked last season, as Tigers quarterbacks were sacked four times en route to the victory.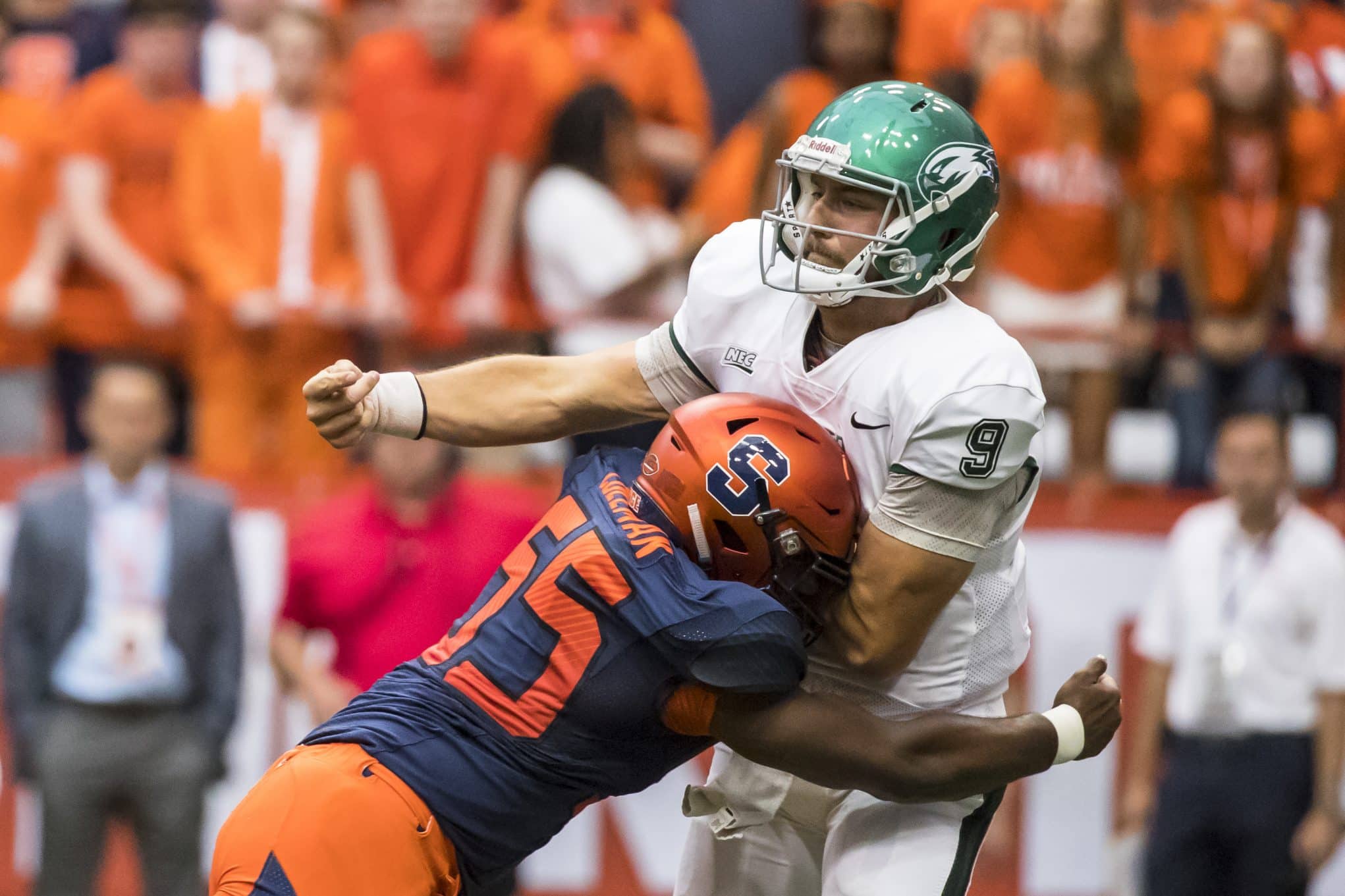 Syracuse did well to "solve" their own impending quarterback question over the first four weeks. It seems hard to believe, but Eric Dungey won't be wearing orange forever. While another hyped newcomer, Tommy DeVito, mostly took care of business in the wake of another Dungey injury against Florida State, the senior will not go quietly into the night. Despite missing a decent number of snaps, Dungey has been accountable for 13 Orange touchdowns, including five in total during last week's victory over Connecticut.
Dungey had 339 total yards and three passing touchdowns in the monumental Clemson win last season. Nationally lauded Clemson head coach Dabo Swinney even singled out Dungey in his evaluation of the Orange this week, according to Mink.
Despite the potential of the quarterbacks lighting up the scoreboard, and Syracuse defenders can afford to give no big plays from Clemson deep threats like Higgins, Hunter Renfrow, Amari Rodgers, and Justyn Ross, the battle could very well be solved in the trenches. Hard fought first downs in last year's matchup led to the Orange eating the clock, the victory concluding with a nine-play, 38-yard drive (not counting a trio of kneel-downs) that ate up the final 6:10 of play to secure the victory. The victorious effort was punctuated by hard-fought gains, pushed open holes necessary for victory. With a good number of players on the line returning from the victory on each side, big bodies could decide a big win.
Overall, Saturday represents a unique challenge on both sides. For the Orange, they're looking to finally build on the promise first displayed a year ago, and return to true college football relevancy for the first time since their Big East days. For Clemson, they're looking to exorcise a demon as they try to make their fourth consecutive College Football Playoff trip. It may pale in comparison to some of the other matchups, including a pair of battles featuring top ten squads, but a victory by either side, be it emphatic or close, could shape the larger national picture.
"It's going to be loud. I know it's going to be an intense environment and I'm excited to go out there and play some good football," Orange linebacker Ryan Guthrie said, according to Greenville News' Scott Keepfer. "They're the No. 3 team in the nation, we're 21 (point) dogs, I love being an underdog."
Follow Geoff Magliocchetti on TWITTER