Big wins propelled Notre Dame, LSU and Virginia Tech in ESNY's Week 2 Top 25 college football rankings, but their victims paid the consequences.
This Week's Voters: Geoff Magliocchetti, Louis Sklenarik, Justin Weiss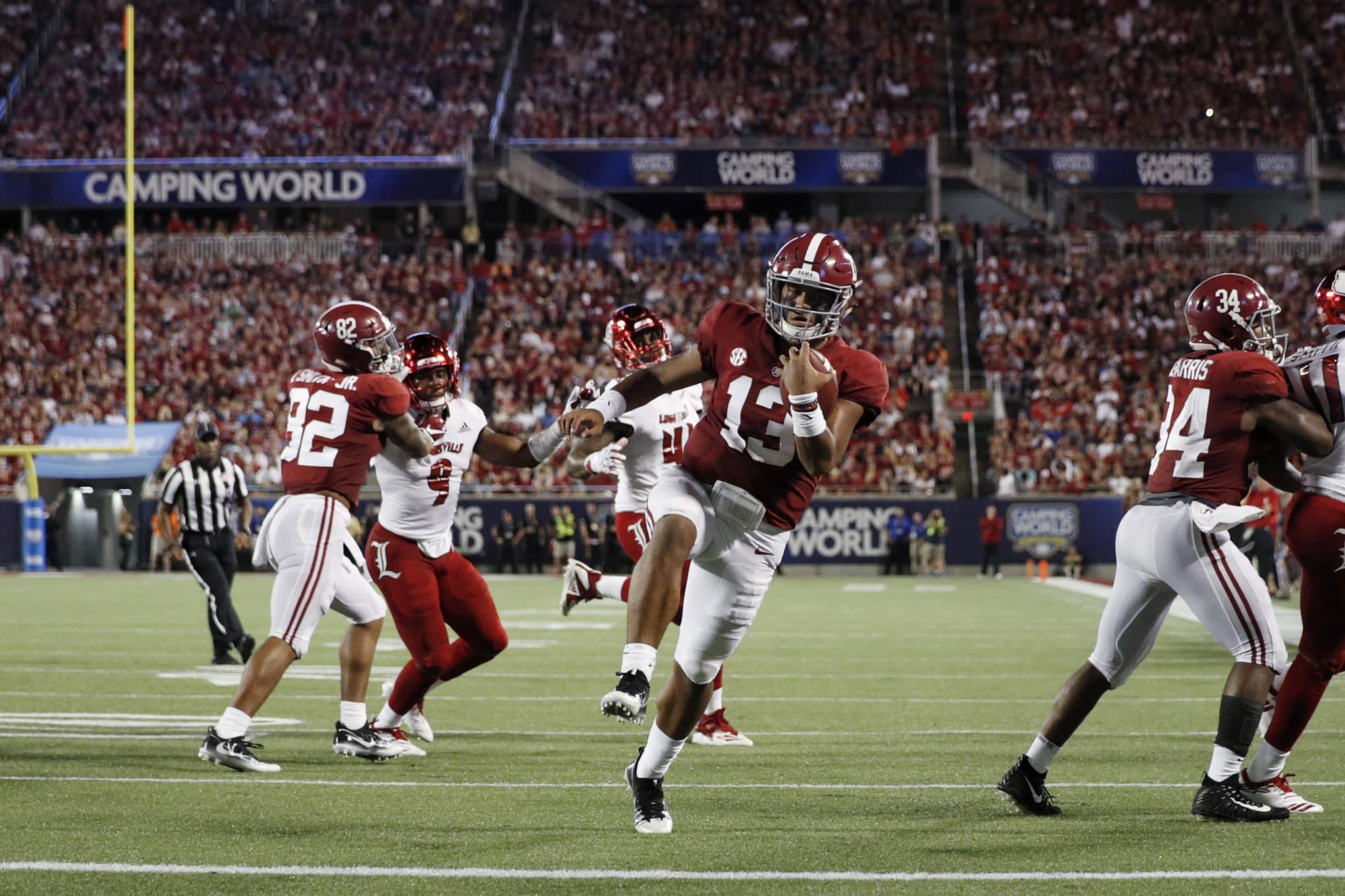 #1. Alabama (1-0)
Last Week: W vs. Louisville 51-14 (@ Orlando, FL)
Top Performer: QB Tua Tagovailoa (12-16, 227 yards, 5 carries, 26 yards, 3 total TDs)
This Week: Saturday vs. Arkansas State (3:30 p.m. ET, ESPN2)
Nick Saban's bizarre quarterback rant aside, it was hard to find any reason to knock the Crimson Tide from their unanimous top ranking, scoring the first 34 points and never looking back.
#2. Clemson (1-0)
Last Week: W vs. Furman 48-7
Top Performer: QB Kelly Bryant (11-17, 132 yards, 5 carries, 44 yards, 2 total TDs)
This Week: Saturday @ #25 Texas A&M (7:00 p.m. ET, ESPN)
Also ranked unanimously in the runner-up spot, the Tigers have a quarterback controversy of their own brewing (touted true freshman Trevor Lawrence put in 137 yards and three touchdowns), but they should receive some clarity in an intriguing non-conference visit to College Station.
#3. Georgia (1-0)
Last Week: W vs. Austin Peay 45-0
Top Performer: QB Jake Fromm (12-16, 157 yards, 2 TDs)
This Week: Saturday @ #22 South Carolina (3:30 p.m. ET, CBS)
Starting SEC play early, the Bulldogs will have to be careful not to fall into a conference-induced trap, much like they in 2014, when a sixth-ranked Bulldogs teams suffered a 38-35 loss in Columbia, wasting a 131-yard output from Todd Gurley.
#4. Wisconsin (1-0)
Last Week: W vs. Western Kentucky 34-3
Top Performer: RB Jonathan Taylor (18 carries, 145 yards, 2 TDs)
This Week: Saturday vs. New Mexico (12:00 p.m. ET, BTN)
While Taylor lived up to the hype in the debut weekend, the team enjoyed a strong performance from QB Alex Hornibrook (257 yards, 2 TD's), and they got two additions coming this week in the form of senior tight end Zander Neuville and sophomore defensive end Isaiahh Loudermilk, both of whom are back from injury.
#5. Auburn (1-0)
Last Week: W vs. #11 Washington 21-16 (@ Atlanta)
Top Performer: QB Jarrett Stidham (26-36, 273 yards, 1 TD)
This Week: Saturday vs. Alabama State (7:30 p.m. ET, SEC Network)
A neutral site win over the class of the PAC-12 is a great way for the Tigers to kick off the year, but they'd like to avoid another letdown against an FCS opponent, struggling to beat Mercer at Jordan-Hare last season.