The AHL is the strongest developmental League in all of professional sports and for awhile, the New York Islanders boasted one of the worst AHL clubs until now. The Bridgeport Sound Tigers are back. 
On July 1, 2018, New York Islanders fans found out that their captain and franchise player, John Tavares, was leaving for his hometown Toronto Maple Leafs on a seven-year deal worth $77 million.
For those Islander fans brave enough to tune into his introductory press conference at the newly named Scotiabank Arena, Tavares said something interesting.
"It really took the right opportunity and the right fit. I thought that the timing just couldn't be beat and certainly being from here and I think with where this team is at and how good and young their core players are, and obviously seeing in recent weeks how the Marlies did and what the future holds with much more talent and the job they've done here, it was just hard to turn down …"
Tavares mentions the Maple Leafs' AHL affiliate, the Toronto Marlies, as one of the reasons he decided to join the team.
Fresh off their first-ever Calder Cup championship, the Marlies play host to some of the best up-and-coming talents in the League and have successfully developed current Leafs such as William Nylander, Kasperi Kapanen, Connor Carrick, Connor Brown and Zach Hyman.
The purpose of having an American Hockey League (AHL) team seems pretty simple: Draft players, let them develop, and when they're ready, they make the jump to the NHL.
Headed into this past season, there were 640 former AHL players scattered across the 31 NHL team's opening night rosters meaning that over 82 percent of NHL players first went through the AHL. In short, having a good AHL team is a solid indicator of how an NHL team will do in the near future.
In fact, after their AHL team won the Calder Cup last month, the Maple Leafs are now the favorites to win the 2019 Stanley Cup with 7/1 odds (of course signing Tavares helped too).
Taking a look at the Islanders' AHL affiliate, they've actually done more damage than actually helping their club.
Now, with assistant general manager Chris Lamoriello and his father Lou Lamoriello calling the shots, the Bridgeport Sound Tigers looked poised to be an AHL powerhouse.
As an assistant general manager, Chris' job is also to serve as the general manager for the Sound Tigers and so far, he has used the offseason to make the Isles' farm team one of the most talented in the AHL.
But before these past few weeks, the Sound Tigers, like their parent club, were seen as one of the bottom teams in their respective League.
Other than their inaugural season (2001-02) in which they made it to the Calder Cup Final, the team has lacked a winning mentality and winning culture.
With 80 points this past season, the team did not qualify for the playoffs and were screwed out of a playoff spot the season prior thanks to a stacked division even though they finished with 92 points which would've led the other division in the Eastern Conference.
Since the 2010-11 season, the team has made the playoffs just twice and they were swept in both first-round matchups. Since 2007, the team has won two playoff games; Not two playoff series, two playoff games (they lost both matchups 4-1).
Now, thanks to some prospects expected to land in Bridgeport and outside help brought in this offseason, the Sound Tigers have just as good a chance as anyone to capture the Calder Cup.
Offseason Signings
Bridgeport is in the midst of their most productive offseason ever, bringing in three proven AHL scorers and veterans.
The Sound Tigers first brought in 27-year-old Matt Lorito on a two-year deal. Lorito has 66 goals and 171 points in 202 regular-season games including 23 goals and 49 points in 59 games this past season.
Lorito also has plenty of playoff experience, winning the Calder Cup with the Grand Rapids Griffins (Detroit Red Wings' AHL affiliate) in 2017. In 30 postseason games, Lorito has scored 10 goals and 20 points.
Later in the day, the team announced they had also signed 30-year-old Mike Sislo to a one-year deal.
Sislo has played in 444 regular-season AHL games with 129 goals and 271 points over that span including 23 goals and 47 points this past season with the Tuscon Roadrunners (Arizona Coyotes' AHL affiliate). Sislo has also scored three goals and five points in 42 NHL games.
The biggest signing was that of Chris Bourque who joins his brother Ryan in Bridgeport.
Chris is a six-time AHL all-star, a three-time Calder Cup champion, a two-time AHL scoring champion, the 2015-16 season MVP, and 2010 playoff MVP.
Thrilled to be joining the @TheSoundTigers along with my brother! Expecting big things this year from the tigers!

— Chris Bourque (@cbourque17) July 9, 2018
At 32-years-old, Bourque is the AHL's active leading scorer (and 24th all-time in points) with 235 goals 690 points in 716 AHL games. This past season, Bourque had 17 goals and 53 points in 64 games with the Hershey Bears (Washington Capitals' AHL affiliate).
In capturing three Calder Cup championships, Bourque has 35 goals and a League-record 82 assists (117 points, fourth all-time) in 133 postseason games.
Bourque also played for Team USA at this year's Winter Olympics.
Crowded Crease
The team has also signed 29-year-old goaltender Jeremy Smith. Smith went 13-13-1 this past season with the Charlotte Checkers (Carolina Hurricanes' AHL affiliate) with a 2.71 goals against average (GAA) and a .902 save percentage (Sv%). In his career, Smith has a record of 132-98-24 accompanied by a 2.43 GAA, a .917 Sv%, and 13 shutouts.
The Smith signing is perhaps a bit unexpected considering many thought the Sound Tigers already had their goaltending tandem in Christopher Gibson and Linus Söderström.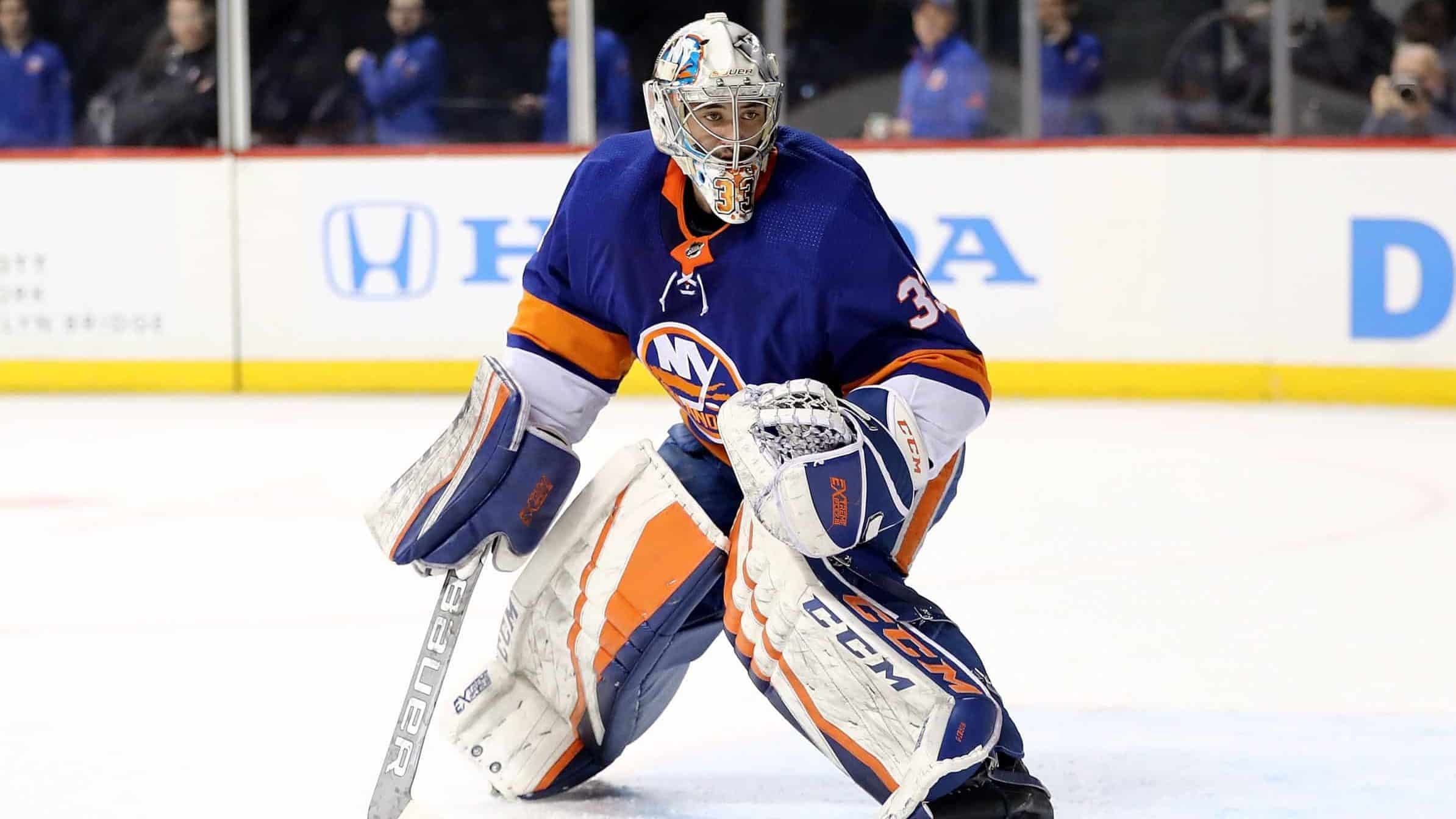 Gibson went 19-14-3 with Bridgeport last season with a 2.42 GAA, a .906 Sv%, and four shutouts. When Thomas Greiss went down in late-February, Gibson was called up to the Islanders where he went 2-3-2 with a 3.65 GAA and .908 Sv%.
21-year-old Linus Söderström is expected to make the transition from the Swedish Hockey League (SHL) to North America this season.
Söderström, the Isles' fourth-round selection in 2014, is seen as the team's second-best goaltending prospect behind Ilya Sorokin who will remain in the KHL for the time being.
Dynamite Defense
Perhaps the brightest area of this upcoming Sound Tigers roster will be on defense. Here is what you could expect it to look like:
Seth Helgeson
That depth-chart excludes Sebastian Aho who for all practical reasons should be with the Isles next season. If he isn't, however, that just makes the Bridgeport defense even better.
When defensemen Johnny Boychuk and Calvin de Haan (now with the Hurricanes) went down last season, the team was hoping Toews could come up and contribute at the NHL level but he had a season-ending injury of his own which led to the team calling on Aho.
In two AHL seasons, Toews has 13 goals and 67 points including 22 points in 30 games before going down with an injury last season.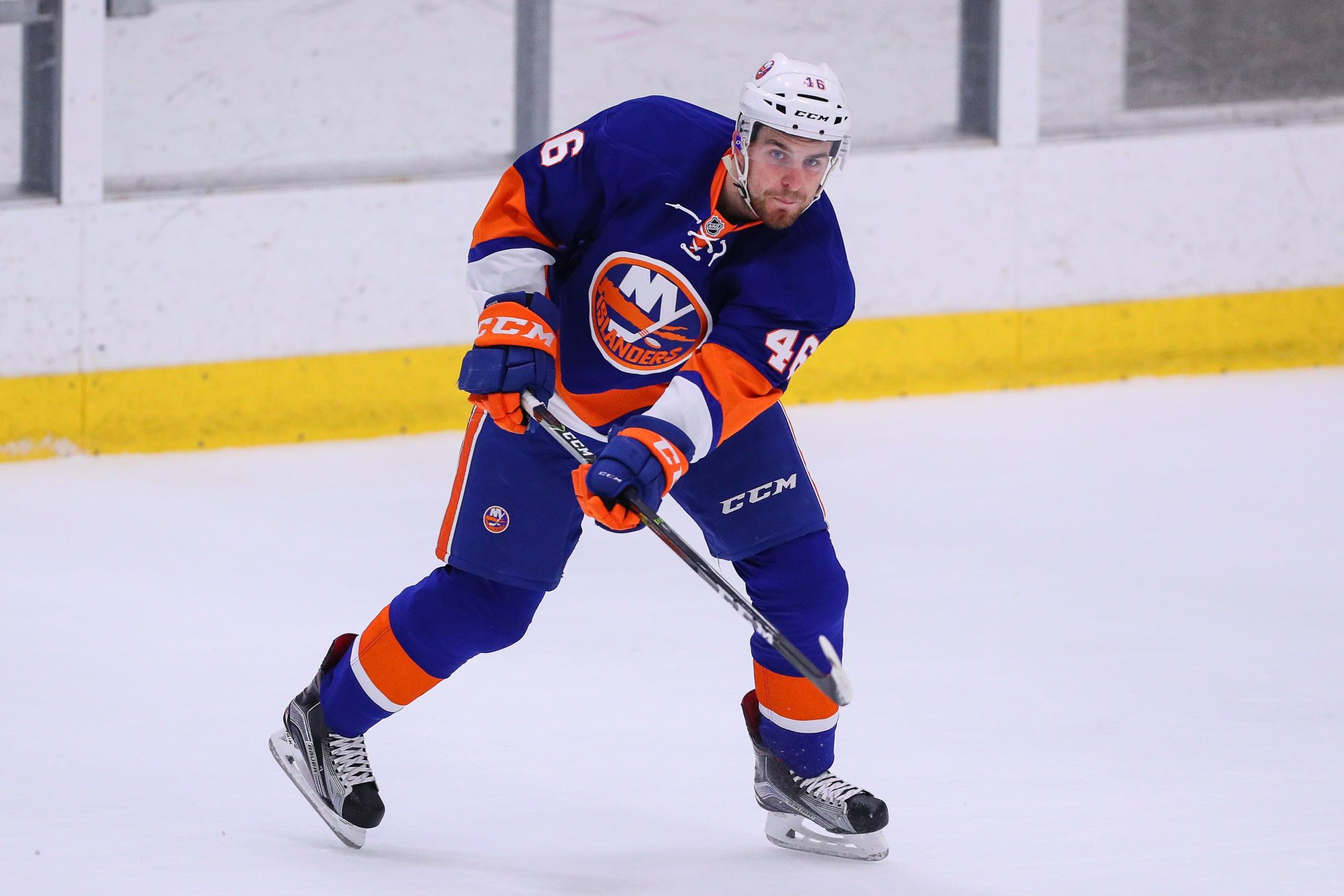 Quenneville got a little taste of professional hockey last season, joining the Sound Tigers for their final three games after finishing his season with the Medicine Hat Tigers of the WHL.
Quenneville holds the franchise record for points by a Tigers defenseman, passing Kris Russel (now with the Edmonton Oilers) in February.
Vande Sompel was an AHL all-star this past season as a rookie with seven goals and 29 points in 58 games.
Burroughs has been with the Sound Tigers for parts of four seasons as is coming off the best season of his career with six goals and 25 points through 75 games. He had 24 points the season before so the 22-year-old is beginning to find his game and some consistency.
Fresh of a rookie season of 17 points (seven goals, 10 assists) in 50 games, Wotherspoon looks ready to take his game to the next level. The 20-year-old was drafted in the fourth-round by the Islanders in 2015.
Rathgeb will be new to the Sound Tigers blue-line next season, coming over from Switzerland. The 6′ 1″ defenseman had a strong development camp on Long Island.
Helgeson just re-signed with the Sound Tigers and the 27-year-old brings size to a relatively small Bridgeport defense. The 6′ 4″, 214 lb defensive-defenseman had one goal and 11 points last season.
On-Point Offense
Chris Bourque – Travis St. Denis – Matt Lorito

 

Michael Dal Colle –

 

Scott Eansor – Mike Sislo
Ryan Bourque – John Stevens – Steve Bernier/Otto Koivula
Ryan Hitchcock – Connor Jones – Ben Holmstrom
I mean, wow. This team could truly ice five competitive forward lines if they wanted to/were allowed to. The Islanders are crowded at the forward position and so that leaves the Sound Tigers with a top-line of three young, NHL-ready players.
Bellows, drafted 19th overall by the Isles in 2016, is currently the team's top prospect and the 2018-19 season will be his first season of professional hockey. While he might deserve a spot with the big club, there simply isn't room at the moment.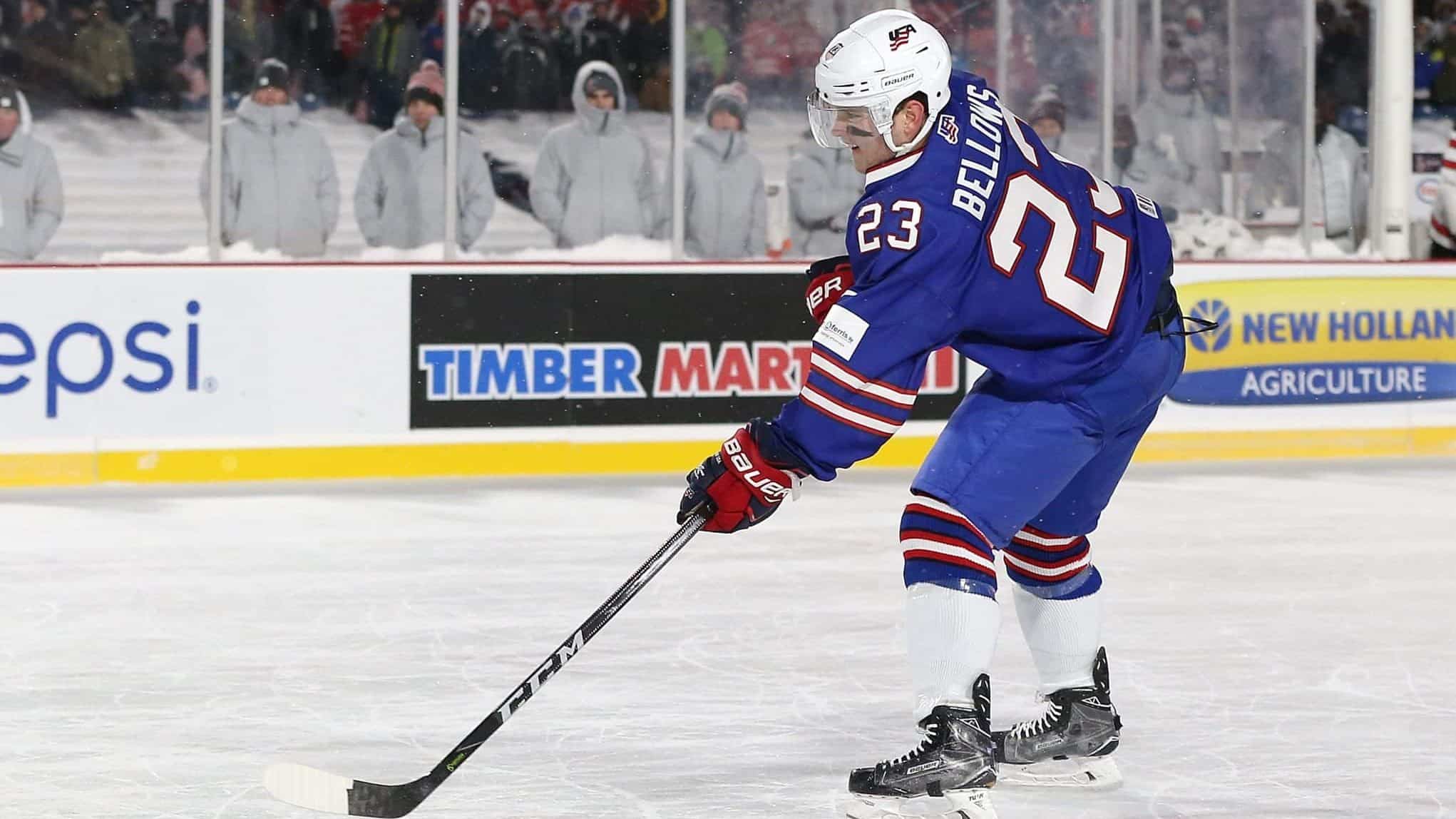 The same goes for Ho-Sang, drafted 28th overall by the team in 2014. The 22-year-old has 22 points in 43 NHL games and 67 points in 100 AHL games.
Fritz was with the Islanders from January until the end of last season. In 34 games with the team, the 26-year-old scored three goals and seven points.
At the time of his NHL call-up, Fritz was fourth in the AHL scoring race with 38 points in 35 games. In 117 career AHL games, Fritz has 31 goals and 92 points.
At the beginning of this very busy offseason, St. Denis earned his first two-way contract (two-year deal). In his second professional season, the 25-year-old center led the Sound Tigers in scoring with 23 goals and 44 points in 74 games.
Dal Colle has struggled since being drafted fifth overall by the Isles in 2014. The 22-year-old had seven goals and 24 points in 60 games last season and zero in his first four NHL games.
Bridgeport typically uses the same system as the Isles so the transition is easier for Islander prospects and perhaps Dal Colle can bounce-back with a new system under new head coach Barry Trotz.
Eansor was a co-captain with Mathew Barzal for the WHL Seattle Thunderbirds prior to turning pro last season. In his rookie campaign, Eansor was fourth on the team with 16 goals (and had 22 points) in 59 games.
Success is on the Way
There's no reason this team can't go out and win it all. Regardless, this a team composed of talented young and veteran players and next season the Sound Tigers will most likely ice their best team of all-time with or without a Calder Cup to show for it.
For the first in forever, the Islanders have invested in their future by beginning to create an AHL powerhouse which is great news for the Islanders and Sound Tigers alike.