New York Islanders prospect Mitch Van Sompel is thoroughly enjoying his first season with the Bridgeport Sound Tigers of the AHL.
N
ew York Islanders prospect Mitch Vande Sompel is having a terrific first season of professional hockey down in Bridgeport.
"Neither big nor strong, Vande Sompel does struggle with the riguors of defending his own zone," via Dobber Prospects, March 2015.
"Vande Sompel is an undersized but dynamic offensive defenseman…He could improve defensively," via Elite Prospects, 2015.
These are just a couple of things that appeared on scouting reports for Mitch Vande Sompel prior to the 2015 NHL Draft. But Elite Prospects also referred to Vande Sompel as "one of the best offensive defencemen available" while Dobber Prospects added that Vande Sompel was "extremely gifted on his skates and fortunate to own an innate ability to read the ice."
The New York Islanders thought enough of Vande Sompel to select him in the third round (82nd overall) of the 2015 NHL Draft. After a brilliant junior career, Vande Sompel is in his first season of professional hockey playing for the Bridgeport Sound Tigers, the Islanders' American Hockey League affiliate.
So far, Vande Sompel is doing very well with three goals, seventeen assists and twenty points through 36 games. On Wednesday, his outstanding play earned him a selection to the 2018 AHL All-Star Game.
Despite all of those mixed pre-draft reports about his game, Vande Sompel is now an all-star at the professional level and just one phone call away from the National Hockey League.
"You always want to prove everyone that doesn't believe in you wrong," Vande Sompel told Elite Sports New York during a recent telephone conversation. "I think the biggest thing is believing in yourself and what you're capable of. If you dream is to play in the NHL, I have to make the most of what I have. I think being undersized is just realizing that you have to compensate with strength and speed."
Vande Sompel is an interesting package at 5-foot-10 and 190 pounds. He plays a very smart game and sees the ice extremely well. He's a fast skater that loves to jump into the play on the offensive end and his play on the defensive end as improved dramatically. It might not be long before he gets summoned to the big club.
The current group of defensemen for the New York Islanders includes Ryan Pulock, Scott Mayfield and Sebastian Aho, three players who have learned the ropes playing the Islanders' system for the Sound Tigers. With Calvin de Haan out for the season and Johnny Boychuck still sidelined because of a lower-body injury, the Islanders were forced to accelerate Aho's arrival on Long Island after he was taken in the 5th round of the NHL Draft this past June.
Devon Toews would have probably received the call before Aho, but he's out for the season with a shoulder injury. Should the Islanders suffer another injury on the blue line or have the need to have an extra defenseman around, the next call-up could very well be Vande Sompel, who was ranked as the 34th best North American skating prospect before the 2015 NHL Draft.
In his first season in the American Hockey League, Vande Sompel has made a nice transition from juniors to professional hockey.
"I think its been mostly positive," said Van Sompel who was ranked "Coming in, you really don't know what to expect. It's a different breed of hockey. You're playing against men now…it's a lot faster and stronger. It's just coming in every day and willing to learn and work but I think it's been pretty awesome so far."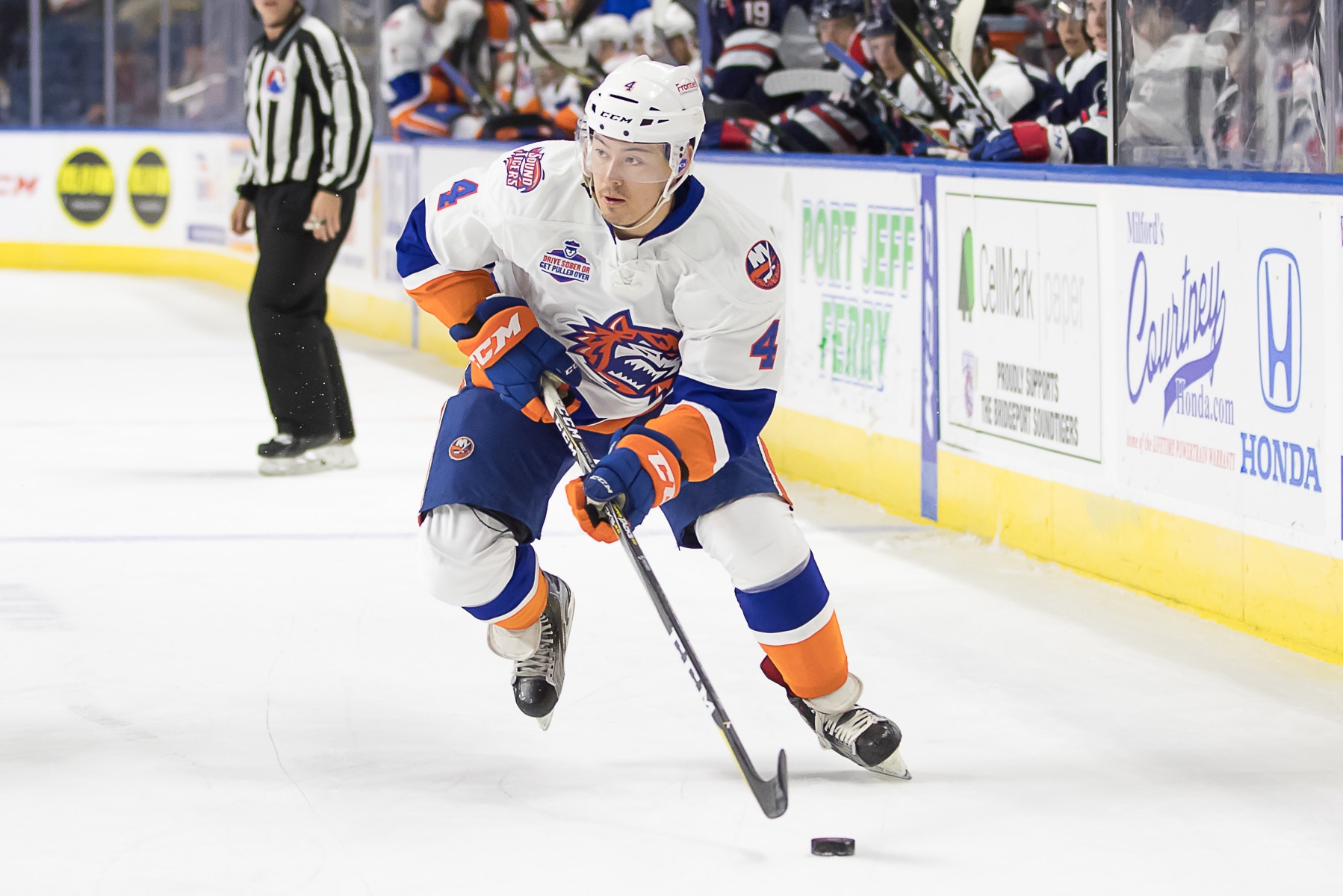 There is a huge difference on the ice for a hockey player between juniors and the AHL, but there is also a big contrast between the two levels of the ice. When a player is in juniors, he's generally living with and taken care of by a local family but when you get to the pros, you're basically on your own when you're away from the rink.
Being a professional means being able to take care of yourself.
"I mean you don't have someone cooking for you all of the time," said Vande Sompel. "It's a job now and not just a game. It's your career going forward."
During his four-year junior career, Vande Sompel tallied 47 goals and 127 points in 218 games, all but 30 of them playing for the Oshawa Generals. During the 2016-17 season, he was traded to his hometown London Knights where he finished his junior career. He had exceptional numbers in juniors but the transition to the AHL can be a bit of a culture shock.
All of a sudden the players are faster and stronger, something you hear about before you step on the ice but it's not something you can appreciate until one goes through it. Vande Sompel didn't know what to expect, but now he's settled in and is one of the guys.
"The speed caught me a bit off guard when I started," said Vande Sompel. "I didn't realize some of the guys were so fast so just adjusting to that was one of the most important things for me. It's a totally different game."
Vande Sompel first realized how different the professional game is when he went to his first training camp with the Islanders. Working with a mix of experienced veterans and young players, Vande Sompel has made it his business to keep his eyes and ears open and to learn as much as he can as he prepares for the day that he gets the call to make his NHL debut.
One player on the Islanders that has had an impact on how Vande Sompel practices and plays is veteran defenseman Dennis Seidenberg.
"You underestimate how good he is for the age he's at and how well he takes care of himself," said Vande Sompel. "I got to play with him in a few exhibition games and just to see how he plays and reacts and takes care of himself … it really gives you kind of an idea of what it takes to get to that level."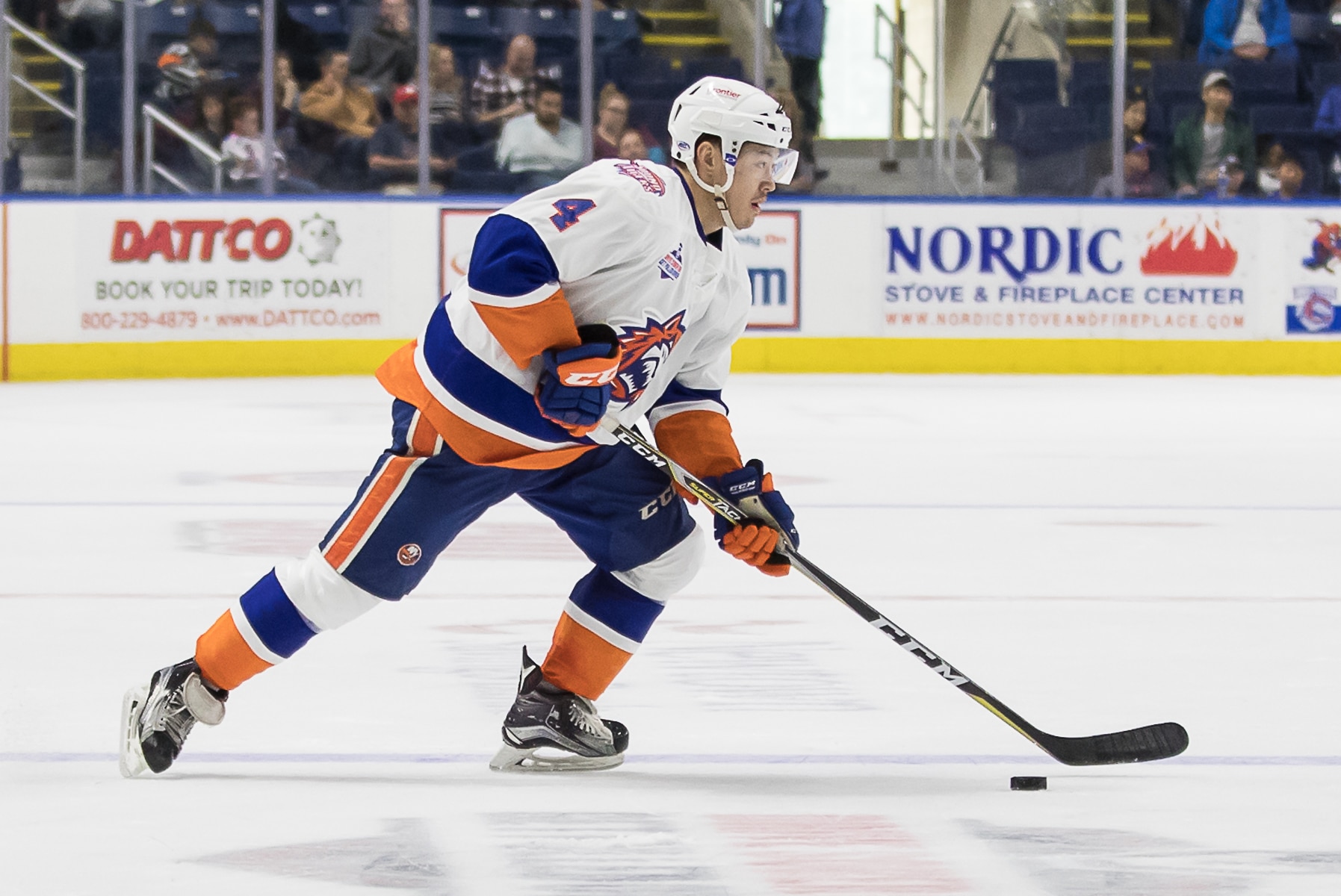 Islanders General Manager Garth Snow and head coach Doug Weight are always paying attention to what is going on in Bridgeport in the event that they need to make a call-up. Whether it's a forward, defenseman, or goalie, the Isles' top brass is always in communication with Sound Tigers Head Coach Brent Thompson, a former Islanders assistant, to keep them up to speed on things and to make suggestions as to who deserves a promotion.
In his first pro season, Vande Sompel has learned a lot from Thompson, who has done a great job preparing other young players for the NHL.
"He's been awesome," said Vande Sompel. "I've had a lot of good coaches and he's definitely been one of the best. He pushes you every single day and helps you realize what it takes to be a pro. He expects the most out of his players day in and day out and he pushes you to your fullest capabilities."
That push has Vande Sompel looking out at the Long Island Sound when he steps into Webster Bank Arena for a Sound Tigers home game. Given the Islanders' history of promoting young players, you can't blame him for wondering when he'll be getting the call.
"You can't hide from knowing that it's somewhere in the back of your mind but you try and keep it there and try to keep the good hockey going and work towards your goals," said Vande Sompel.
With a focus on improving his skills and helping the Sound Tigers win games, Vande Sompel also finds time to keep tabs on how the Islanders are doing. Players in the AHL spend a lot of time on bus trips to away games and then back home, so there is an opportunity to take advantage of technology and see what's happening on Long Island with the parent team.
"I follow (the Islanders) on Twitter and Instagram," said Vande Sompel. "Social Media is one of the biggest things these days. I check in and see how they're doing and how they played."
Give the way that he has played during his rookie AHL campaign, Mitch Vande Sompel better keep his phone close by when he's not on the ice. The Islanders are following his every move as well and he should definitely take the call if he sees a "516" area code come up on his phone.
Islanders fans can follow Mitch Vande Sompel @mitchv_97 as well as the team @TheSoundTigers. The Sound Tigers are back home at Webster Bank Arena in Bridgeport his Saturday night to host the Hershey Bears at 7 p.m. ET.