New York Islanders prospect Parker Wotherspoon is helping lead the charge for the Bridgeport Sound Tigers who are after the playoffs.
While the New York Islanders have been in a nosedive down the stretch and appear to be on their way to missing the playoffs for a second straight season, their AHL affiliate is making some noise in their efforts to make the postseason. The Bridgeport Sound Tigers are getting hot at the right time and find themselves in striking distance of a postseason berth.
The Sound Tigers are on a run where they have won six of their last seven games including a five-game winning streak and that has pulled them within seven points of the Charlotte Checkers for the fourth and final playoff spot in the Atlantic Division. With three games in hand heading into Thursday night's road game in Rochester, the Sound Tigers are legitimate contenders to make the playoffs.
A big reason why has been the play of 20-year-old left-handed shooting defenseman Parker Wotherspoon who has joined some of his teammates in finding a scoring touch. He has seven goals and nine assists for sixteen points this season, but he has scored four goals in his last four games including two game-winning goals.
"We went through a little rough stretch when we just couldn't put the puck in the net," said the Islanders' 4th-round draft pick in 2015. "But the last couple of weeks, we found the net and we're getting those chances and getting some bounces sometimes. We know we can keep the puck out of the net because we're really good defensively so when those chances come, we're hard to beat."
The Sound Tigers have been able to make this run despite missing some players that were expected to be a big part of the club. Goalie Christopher Gibson, defenseman Sebastian Aho, and forwards Tanner Fritz and Ross Johnson were called up by the Islanders while defenseman Devon Toews has been sidelined since December with a shoulder injury and won't play again this season.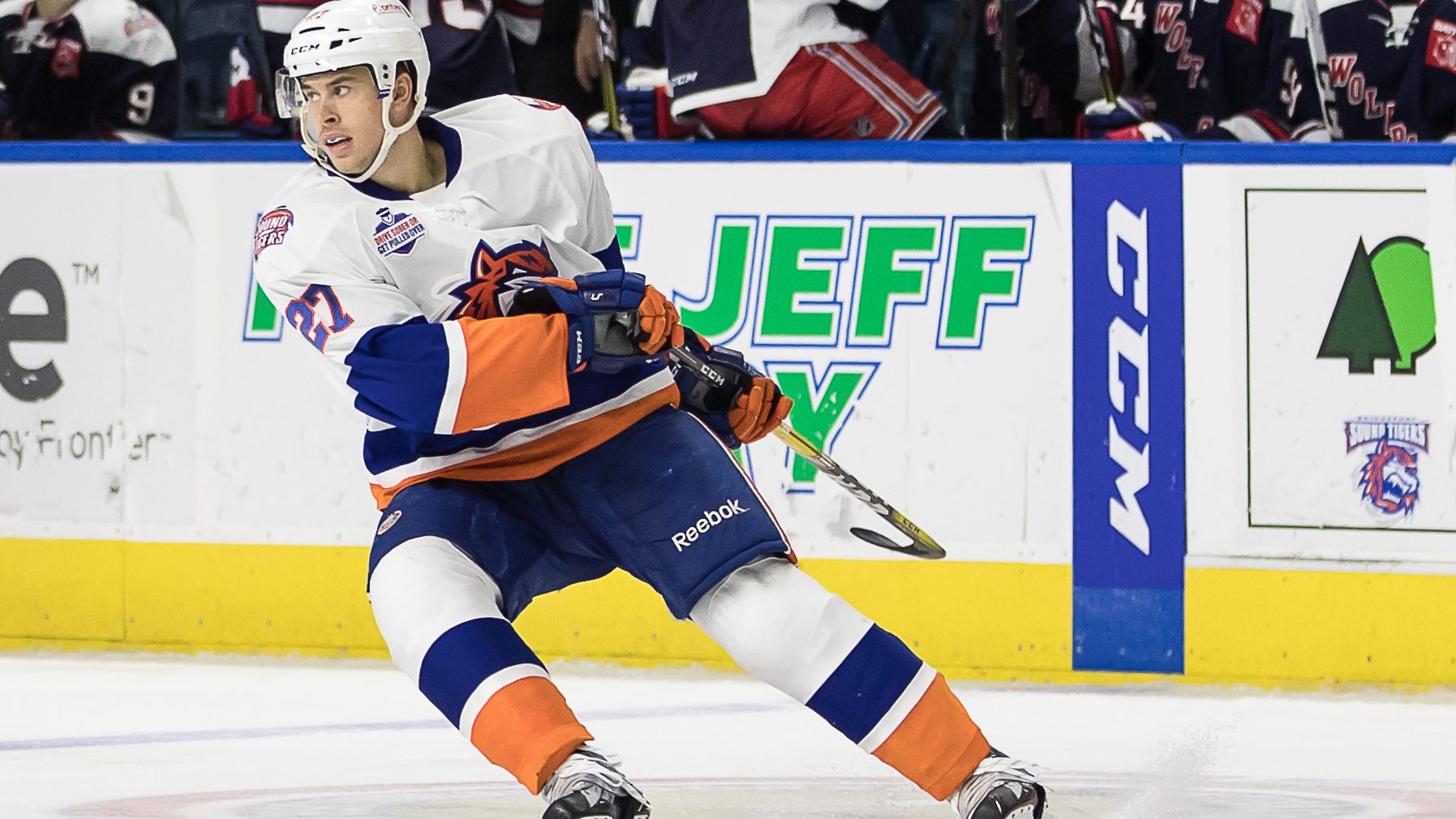 Yet somehow the Sound Tigers have been able to tread water and now things are coming together as Head Coach Brent Thompson has his team focused on the task at hand.
"Obviously those guys were big pieces of our team and I think what it comes to is next man up and I think a lot of guys have stepped into that role," said Wotherspoon. Thommer does a great job of keeping us in line and doing the right things."
Thompson has also played a huge role in the development of Wotherspoon in his transition from junior hockey to his first full season in the AHL.
Wotherspoon enjoyed a terrific career with Tri-City in the Western Hockey League including last season when he led all defensemen in the WHL with 66 points (10 goals and 56 assists). He set team career records for defensemen with 150 assists and 182 goals and was an alternate captain for the Americans. His performance earned him a promotion to the Sound Tigers at the end of the season and played in four games after appearing in six games late in the 2015-16 season.
But the AHL can be a challenge because professional hockey is a big step up from juniors and Wotherspoon learned that first hand. Thompson has guided the native of Surrey, British Columbia through an early season issue and now Wotherspoon has blossomed.
"He's helped me a lot," said Wotherspoon. "I had some bad practice habits coming into the year from juniors. He worked with me and he kept me competitive during practice. I had to work on my practice habits a lot and that's translated to my game. He's been a big part of my growing experience here in the (AHL)."
Another big adjustment that Wotherspoon had to make was getting used to the faster game in the AHL. Just like any other player that has transitioned from juniors to the pros, getting acclimated to the speed is a big part of excelling at the next level.
"You're fast enough for this but it's a different notch coming from juniors," said Wotherspoon. "There's no 16 years old slowing down the pace so everybody is usually high tempo."
And now that Wotherspoon has been able to grow during the course of the season at Bridgeport, it's not a crazy though to anticipate when he might get a phone call to make the trip across the Long Island Sound to join the big club. It may not come this season, but Wotherspoon knows he's in a good place with the Islanders because they have certainly given opportunities to other young players.
He's seen it happen right before his eyes this season.
"They're a great organization," said Wotherspoon. "They want to use the young guys. They give you hope that if you play your game and play it right then they'll give you the opportunity. I think that's a big part of being in the (AHL) because the A can be frustrating sometimes and just the face that you have hope is huge."
And while earlier this season all Wotherspoon and the Sound Tigers could hope for is to get back in the playoff race. Now that they're knocking on the door, they feel like the postseason is no longer just a pipe dream. It could be a reality.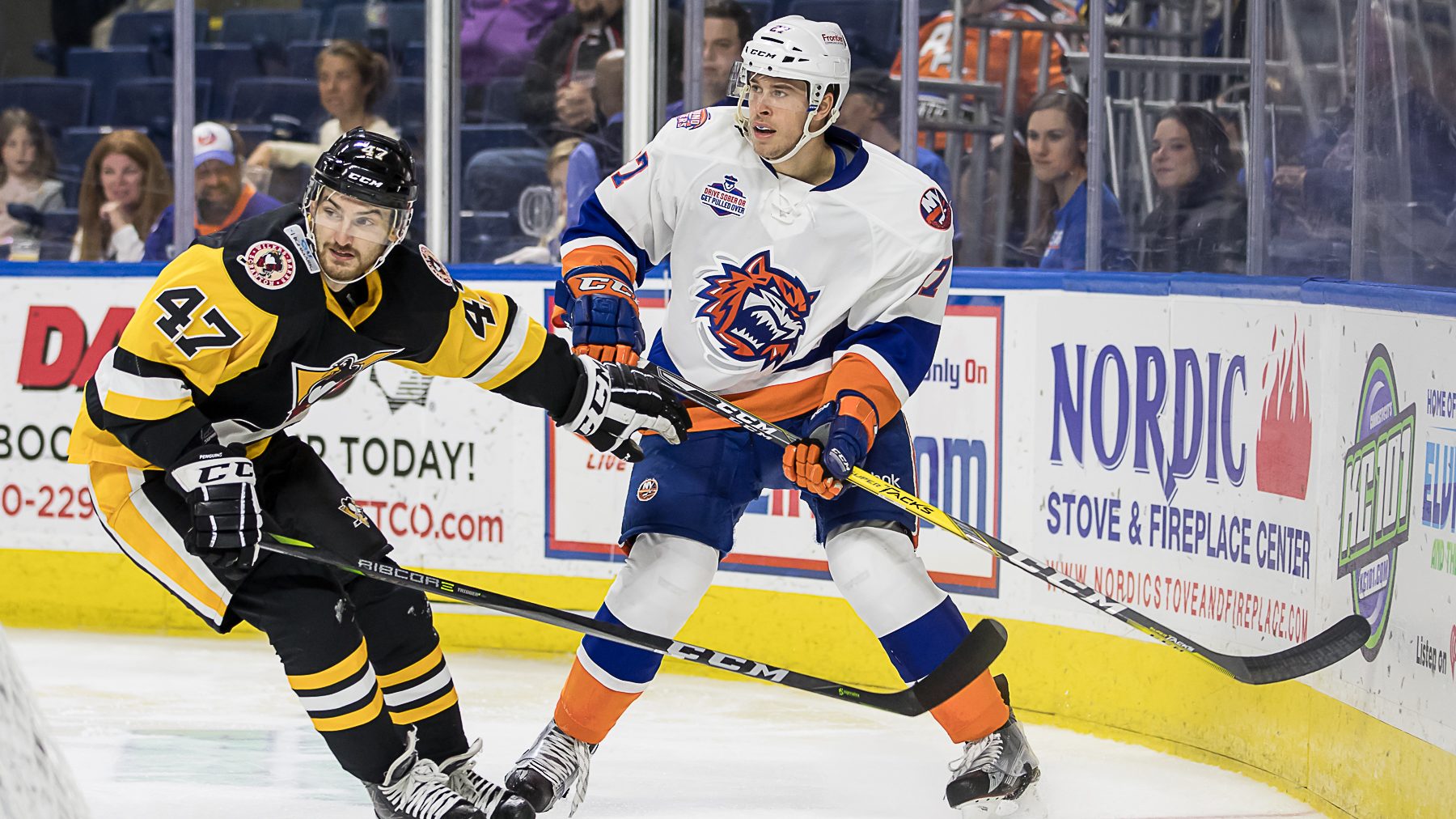 "We're confident," said Wotherspoon. "We've won quite a few games the past couple of weeks so we're excited. I think we're all dialed in. We want to make the playoffs."
The great thing about the Islanders having their AHL team in Bridgeport is that it's not that far away should they need to call up a player. In fact, it's great for Islanders fans as well because it's only a short drive or a trip on the Port Jeff Ferry to be able to see what's happening at Webster Bank Arena in Bridgeport. It's a great arena to see a hockey game and the game night experience is terrific.
It's a good opportunity for fans on Long Island to be able to see the Islanders of the future like Wotherspoon. The Sound Tigers are on the road for a while but they return home to take on the Hershey Bears on March 28 and will also have a morning game against Providence on April 3rd when many kids will be on vacation from school.
Wotherspoon has seen a mix of Sound Tigers and Islanders jerseys in the crowd at homes games this season.
"It's awesome," said Wotherspoon. "It's really important for the fans too. They get to see all of us grow up and move on to the NHL. The fans are great here. They make a lot of noise."
Parker Wotherspoon is a perfect example of what minor league hockey is all about. He's been able to improve his game throughout the season and turn into a legitimate blueline prospect. Islanders and Sound Tigers fans have also been able to share in his growth by seeing him in action at Webster Bank Arena. But he's just part of what's building in Bridgeport.
The Sound Tigers are on a roll and they're making a big push to compete for the Calder Cup.