Mike Maccagnan and the New York Jets have dangerously placed young Sam Darnold on the disastrous Andrew Luck plan that leads to injury by way of a horrendous offensive line.
The Andrew Luck plan: quarterback play that results in scanning the field prior to running for your life on even a three-step drop. It's a mixture of the trainer's room and old NFL Films highlights of Fran Tarkenton doing crazy things with his legs well outside of the pocket—even 30 yards behind the line of scrimmage.
The Andrew Luck plan: the unsuspecting yet disastrous place the Indianapolis Colts placed their franchise quarterback within and thus, ruining so much of what was a once in a generation talent.
As of last Thursday at the 2018 NFL Draft, the newest, freshest organizational face of the New York Jets, Sam Darnold, is the next man up in what's titled the "Andrew Luck plan."
Young Darnold enters the NFL with an offense not yet ready to humbly and graciously accept the gifts of his talents. Robby Anderson, Quincy Enunwa and Jermaine Kearse offer up a solid one-two-three combo on the outside, but weaponry is only important if the house if first protected. The Jets house is made of straw.
Their offensive line is terrible.
Only six NFL teams relented more sacks than the Jets a year ago. Forty-seven total sacks in 16 games had only the Cleveland Browns, Green Bay Packers, Denver Broncos, Arizona Cardinals, Houston Texans and yes, those very familiar Indianapolis Colts give up more.
None of those teams qualified for the tournament. Exactly zero of those teams finished with a winning record, the Jets included.
When did the now infamous Andrew Luck plan officially commence? The answer is the offseason of 2015.
Then general manager Ryan Grigson—the very same man who's responsible for the birth of Deflategate—was coming off his team's most successful season of a new era. Young Luck, now in his third year, took the Colts to the AFC Championship Game. It marked the third straight season Luck took his team to the playoffs and the second in which they recorded at least one playoff win.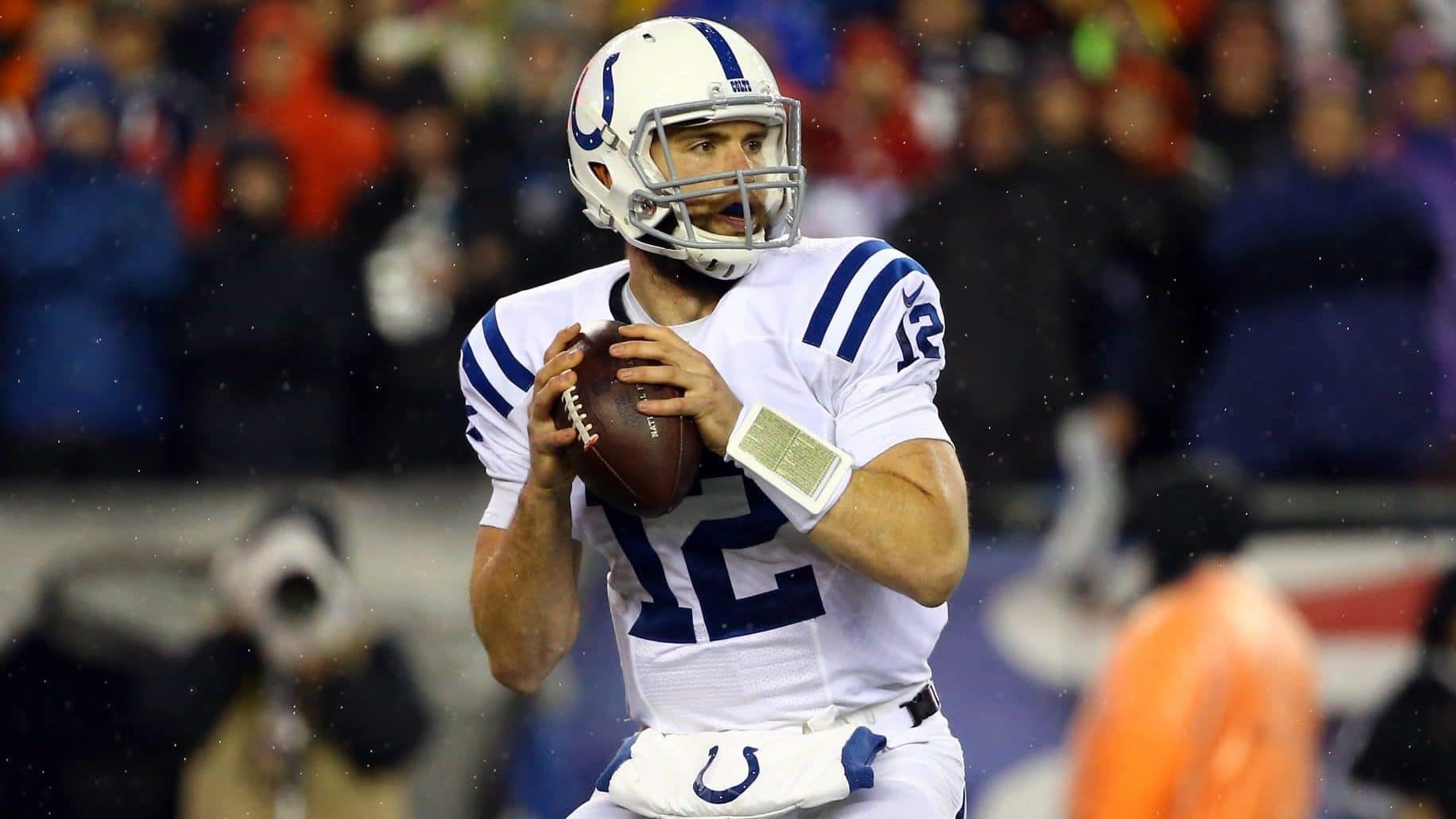 It was all a farce.
The Colts just weren't that good. Luck was that good.
Luck's abilities blinded the organization (and the world, for that matter). His talent washed away terrible play along the offensive line and in accordance with many aspects defensively. That offseason of 2015 was the crucial moment for the franchise so lucky to luck into Luck after experiencing a Peyton Manning for a decade and a half.
Instead of shoring up an offensive line that everybody knew was awful, Grigson went out and acquired veteran talent like Frank Gore and Andre Johnson. Oh yeah, he also drafted every position other than offensive line that offseason. The likes of WR Phillip Dorsett, D'Joun Smith and Henry Anderson (the newest Jets) were are welcomed in as top round rookies.
The Colts inexplicably continued to pile on weaponry instead of offensive line talent, the spot that accounts for nearly half the offense (five of 11).
Luck eventually wore down to the point of complete football hibernation. He could only manage seven games in 2015, 15 painful games in 2016 and then a complete missed season a year ago.
That 2015 offseason didn't stop media members from believing the Colts were on the verge of big things, but it sure stopped the Colts reality cold in its tracks.
Darnold's situation with Mike Maccagnan reeks of the Luck and the Colts.
While that critical 2015 mismanagement by way of the Colts highlights Luck's third offseason, that's no reason to shrug it off. Darnold could come in this August guns-a-blazing and lift the Jets to a wild-card playoff berth and 10 wins. He could do amazing things right off the bat with this current personnel grouping.
It's just important to separate the entire health of a team's depth chart and just how elevated one player makes it at times.
Through four big-boy drafts, Maccagnan has drafted a grand total of two offensive linemen. That's Brandon Shell in the fifth circa 2016 and Jarvis Harrison in the sixth by way of the 2015 version. Immediately after snagging Darnold, guys like Orlando Brown and Mason Cole were available in the third and fourth round. Mikey Mac passed.
Not one premium offensive lineman has been drafted, nor has one premium OL free agent been snagged by this administration in four years (unless you're trying to convince yourself Kelvin Beachum counts, the guy who left the Jacksonville Jaguars only to see them skyrocket from 22nd to first in league rushing in his absence).
A grand total of zero Pro Bowl nods have been accumulated by the five projected Jets starters on the line in 24 combined NFL seasons.
You think watching Andrew Luck going through severe shoulder problems is rough at this point, in 2018? It's nothing compared to the very moment when everybody realizes that team's general manager could have done something about the situation prior to devastation occurring.
Sam Darnold may just be as talented as Andrew Luck. There's just one little problem …
Mike Maccagnan may be just as stubborn as Ryan Grigson.
Instead of holding onto this crazy belief that the offensive line is a plug-and-play spot, the New York Jets should have snagged at least one premium talent for the explicit purpose of protecting the face of all hope (Darnold) moving forward in that third or fourth round.
It didn't happen and unless one of these undrafted free agents comes out of nowhere (they haven't in the first three Mac drafts), Sam Darnold enters the NFL on the extremely dangerous and painful Andrew Luck plan.