The New York Jets top 2018 NFL Draft misses include Oklahoma tackle Orlando Brown, Florida State edge man Josh Sweat and many more.
Six more draft picks are under Mike Maccagnan's belt. Another mixed bag of reactions has followed.
The young New York Jets general manager entered his fourth NFL Draft with pressing needs on both sides of the ball. Should Sam Darnold be that man all at Florham Park envision, nothing else will matter when the 2018 NFL Draft is looked back upon in many years.
The quarterback is simply that important in a league on bended knees constantly serving the offensive gods.
Other than QB, the offensive line, tight end, interior defensive line and edge spot were all great causes for concern. On the outset, it seems as though two of the four have been handled.
Still, many apparent misses remain.
The overall theme that Mikey Mac refuses to use any premium pick or salary cap pie for the offensive line has held true through another rookie class. In not selecting one offensive lineman for the second consecutive draft, Maccagnan's total OL number in four drafts is two, both of whom were drafted late in the round: Brandon Shell (fifth in 2016) and Jarvis Harrison (sixth in 2015).
That amounts to two big heavies selected in 28 total picks. Hardly a number sufficient enough to cover nearly half of the offense (five of 11 spots).
Here are the top New York Jets misses from the 2018 NFL Draft and yes, it follows a two-position trend in which most GMs use as the gold standard of team building in today's NFL: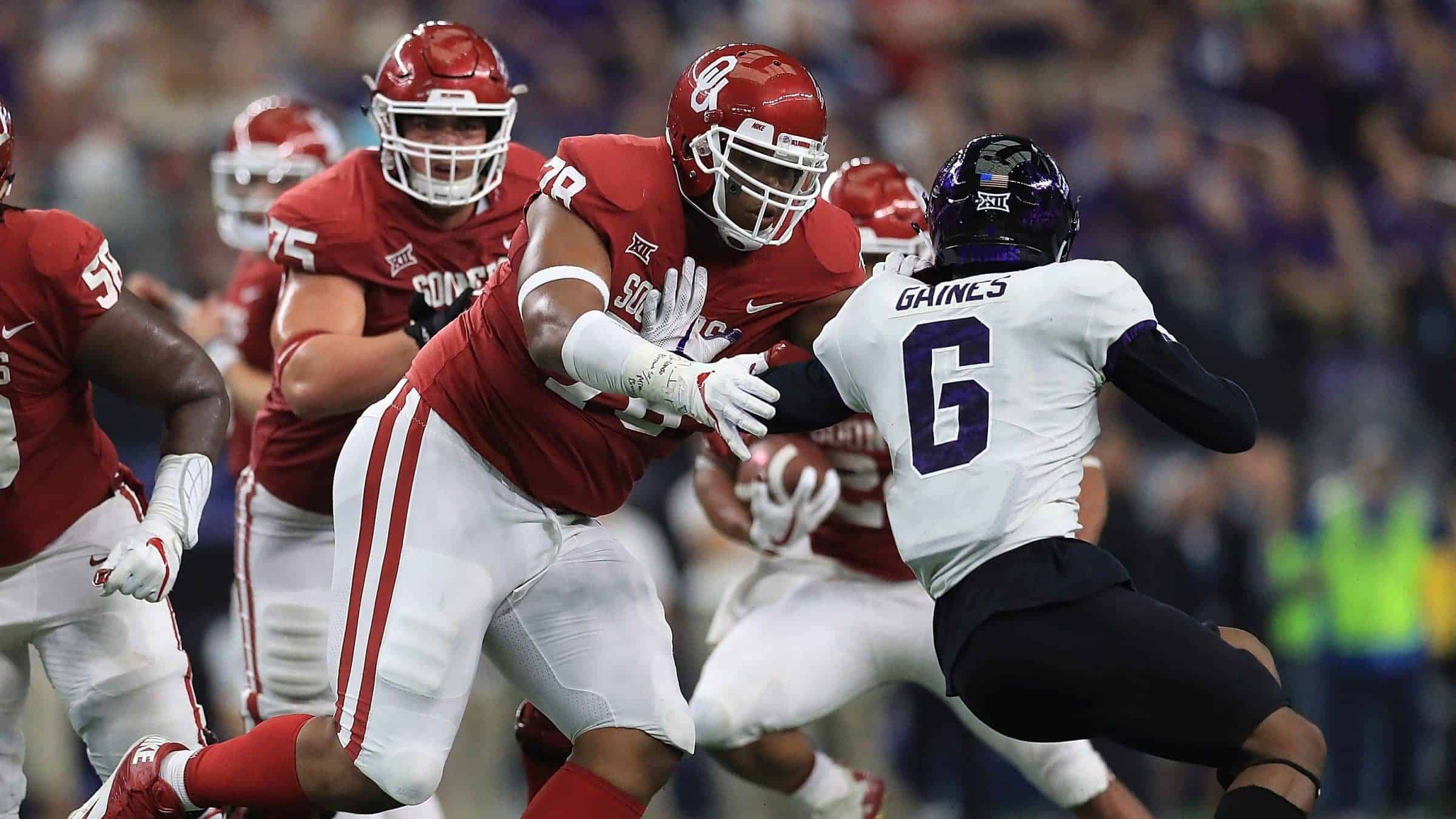 Orlando Brown, LT-Oklahoma: Round 3, 72 overall
Jets selected DT Nathan Shepherd here.
Orlando Brown went to the Ravens in the third round, 83 overall.
This one is shocking. Baffling. Indisputable. Incredible. Amazing. Ridiculous. Any word you'd like to volunteer forth, shoot your best shot.
This is by no means a shot at small-school stud Nathan Shepherd—who, by all accounts, is a rare and talented interior defensive lineman. But when Sam Darnold is in the house, taking care of the offensive line that rivaled the worst pass protecting units in the NFL a year ago needs to be priority No. 1.
Just a month ago, Baker Mayfield's top lineman was rumored as a first-round choice, but Orlando Brown slid to the third round due to poor testing at the combine. He fits the right tackle more at the next level, but with the Jets, there's nothing wrong with that. Bring in an anchor who can compete with both Kelvin Beachum and Brandon Shell. It's already been proven that Ben Ijalana can't get the job done in that regard.
At the same time, Shepherd does fill a serious need along the defensive trenches. The problem comes in knowing Colts interior man Henry Anderson was also acquired and UConn's Foley Fatukasi was also drafted in the sixth round.
This comes out to a grand total of three interior defensive linemen acquired to zero on the offensive side of the ball, not including the undrafted free agents who Mac's failed on over his first three drafts.
Mason Cole, C-Michigan: Round 3, 72 Overall
Jets selected DT Nathan Shepherd here.
Mason Cole went to the Cardinals in the third round, 97 overall.
Remember Pat Eflein? Garret Ey of ESNY proclaimed him the Nick Mangold replacement prior to the 2017 NFL Draft.
It was too perfect.
With Mangold on his way out and Eflein easily attainable as a mid-round pick, Maccagnan had to pounce. At least, that's what we thought.
Eflein wound up drafted by the Minnesota Vikings in Round 3, overall selection No. 70, a pick that was originally owned by the Jets. In any event, Mac could have easily snagged the kid along with other extremely high-producing prospects that have already turned around NFL offenses (Cam Robinson with the Jacksonville Jaguars, Ryan Ramczyk with the New Orleans Saints, Dion Dawkins with the Buffalo Bills, Dan Feeny with the Los Angeles Chargers, etc.)
Folks labeled last year's OL draft class as "weak" and thus, GMs like Maccagnan and Jerry Reese received passes. We're now currently having the same exact conversation in Jet land just a mere 365 days later.
But in getting back to the "miss" at hand, Michigan's Mason Cole could have easily washed away the Pat Eflein mistake from a year ago. He and Orlando Brown were there for the taken. The Jets, instead, went with Nathan Shepherd.
Other third-round OL misses include TCU's Joseph Noteboom who was taken by the Rams 89th overall and Chukuma Okorafor taken by the Pittsburgh Steelers 92nd overall. A total of four talented offensive linemen went in that third round after the Jets took their interior defensive lineman.
Arden Key, EDGE-LSU: Round 3, 72 Overall
Jets selected DT Nathan Shepherd here.
Arden Key went to the Raiders in the third round, 87 overall.
As dire as the offensive line situation is, the EDGE spot (3-4 outside linebacker) is that much more desperate. Jets fans sing the old tune of John Abraham every season that goes by without successfully bringing in a proper edge presence.
The only reason OL is that much more critical is the presence of one guy: Sam Darnold.
LSU's Arden Key could be a name that brings much despair to the front office. As badly as the interior needed help, the edge spot needed it that much more. A conventional four-man pass rush is what wins in this league.
Brian Allen, C-Michigan State: Round 4, 107 Overall
Jets selected TE Chris Herndon here.
Brian Allen went to the Rams in the fourth round, 111 overall.
Much like Cole, Brian Allen is a tough, mobile center who'd instantly start or at least push the injury-prone Spencer Long to the brink.
Da'shawn Hand, EDGE-Alabama: Round 4, 107 Overall
Jets selected TE Chris Herndon here.
Da'shawn Hand went to the Lions in the fourth round, 114 overall.
Personally, I like the pick of tight end Chris Herndon. But coming off a draft in which Jordan Leggett was scooped up in the middle rounds, it feels like a makeup selection.
This fourth round presented another nice opportunity for OL or EDGE help and a perfect candidate was Da'shawn Hand whose versatile, tough attributes would translate beautifully into Bowles' 3-4 and sub-package scheme.
Will Richardson, OT-NC State: Round 4, 107 Overall
Jets selected TE Chris Herndon here.
Will Richardson went to the Jaguars in the fourth round, 129 overall.
The Jacksonville Jaguars just "get it."
After allowing Kelvin Beachum to walk last offseason (the second team who dumped him), they drafted Bama tackle Cam Robinson and skyrocketed from the 22nd overall rushing squad to No. 1 in 2018. Leonard Fournette did help, no doubt, but Robinson has been terrific.
Though they already have an O-line that can rival the Cowboys, they're still incredibly adding on.
Not only did they sign the best guard in the league in Andrew Norwell, they drafted rookie tackle Will Richardson out of NC State in the fourth round, another Jets miss.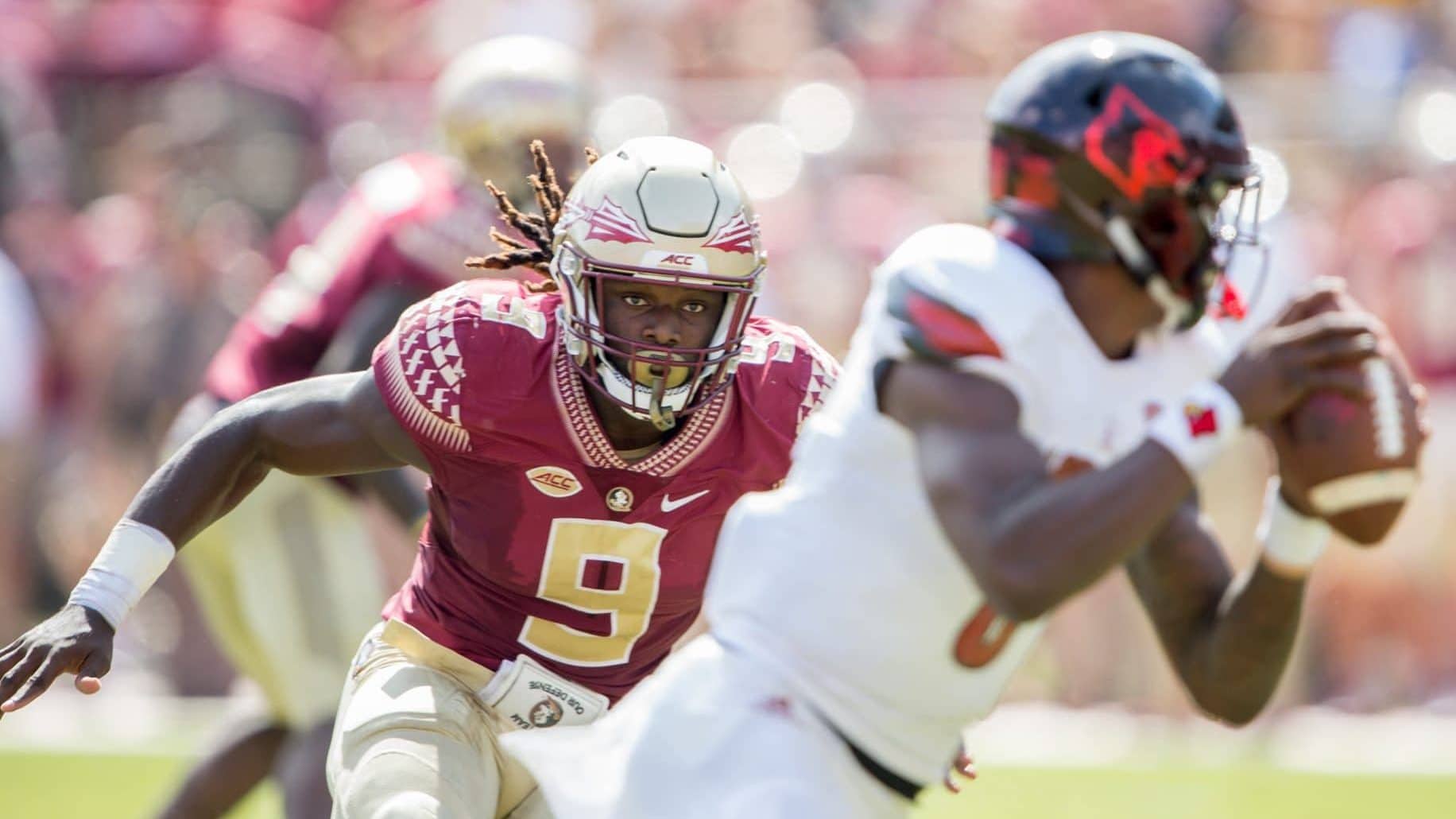 Josh Sweat, EDGE-FSU: Round 4, 107 Overall
Jets selected TE Chris Herndon here.
Josh Sweat went to the Eagles in the fourth round, 130 overall.
Much like Hand, Josh Sweat represents an EDGE miss. In stark contrast to Hand, Sweat is an athletic and extremely quick presence on the outside.
Tyrell Crosby, G-Oregon: Round 4, 107 Overall
Jets selected TE Chris Herndon here.
Tyrell Crosby went to the Lions in the fifth round, 152 overall.
Due to wheeling and dealing, there was no fifth-round choice for New York. Instead, three sixth-rounders were on the docket. But that doesn't take away the idea that two premium mid-round OL talents were chosen in the fifth round.
The first is Oregon's Tyrell Crosby who's now a member of the Detroit Lions. Though he'll have a lot to learn—adjusting from the collegiate spread—his raw run-blocking attributes are through the roof.
Jamarco Jones, T-Ohio State: Round 4, 107 Overall
Jets selected TE Chris Herndon here.
Jamarco Jones went to the Seahawks in the fifth round, 168 overall.
Very much in the same vein as Orlando Brown, Jamarco Jones was rumored as a first-round talent just a couple months ago.
Jones' strength is pass blocking, exactly what's needed in Florham Park. His value in the fifth is just incredible. How he slid so greatly is still one of the mysteries of this past weekend.
Final Thoughts
Much like the entire world, I don't know what to think about Nathan Shepherd who hails from Canada. He can turn out to be a Hall of Famer for all we know. He can also turn out to be the next little-known draft bust. I like Chris Herndon, but tight end is nowhere near the instant need OL and pass rush is.
Nonetheless, there was plenty enough talent to gobble up one offensive lineman and one EDGE presence after taking Darnold. In my perfect world, Orlando Brown would have been the third round choice, Josh Sweat the fourth round choice and I would have done anything possible to remain in the fifth to take a second OL in Tyrell Crosby or Jamarco Jones.
Think about last season. Ryan Ramczyk with the Saints, Cam Robinson with the Jags, Pat Eflein with the Vikes … what do they all have in common? All were delivered to teams who made a significant jump in success in 2018.
Then add on the fact the Super Bowl champion Philadelphia Eagles completely reworked their O-line last year and Tom Brady is literally an average QB when he gets hit, it's easy to come to the reality of a formula that exists in this league …
A dominant O-line is needed to have any offensive success whatsoever. After all, the unit makes up nearly half of the offense (five of 11). On the other side, a conventional pass rush is what raises the level of play on an elite level. Those very same Eagles have a million pass rushers and still take Josh Sweat in the draft just to add another to the embarrassment of riches.
Unfortunately for Jets fans, Mike Maccagnan is operating on an entirely different, foreign NFL page in terms of team building. The organization's offensive line and pass-rushing ability are both horrendous.