Another NFL Draft has come and gone with New York Jets general manager Mike Maccagnan ignoring the offensive line. It's a major problem in Florham Park, New Jersey.
Twenty-four total NFL seasons, zero NFL Pro Bowl nods. That's the depressing math concerning the New York Jets projected starters along the offensive line. Kelvin Beachum, James Carpenter, Spencer Long, Brian Winters and Brandon Shell are the names who've combined for 24 below average NFL campaigns.
This is the depressing number protecting the face of the franchise in Sam Darnold and yet Mike Maccagnan decided to draft zero offensive linemen with his six available picks in the 2018 NFL Draft.
Let's double-down.
Twenty-eight total draft picks, two offensive linemen. This double-down statistical output represents Maccagnan's choices through four years as GM for the green-colored team who makes its home in the swamps of Northern New Jersey. Only Brandon Shell via the fifth round in 2016 and Jarvis Harrison by way of the fifth round in 2015 can be labeled Maccagnan O-line draftees.
What in the world is going on? For a unit that represents nearly half the offense (five of 11 players), something just isn't adding up.
Maccagnan has that dreaded Jerry Reese disease. He's allergic to the true value of offensive linemen.
It began with the decline of D'Brickashaw Ferguson and Nick Mangold. The two first-round stalwarts who were properly snagged in the first round of 2006 by Mike Tannenbaum and Eric Mangini, provided an illusion of sorts for personnel-decision makers to come. Never was the O-line a worry with those two. Never were they truly appreciated. Yet once they were drafted, everything changed. An entirely new culture was ushered in highlighting itself with placing any playmakers within an offense led by Mark Sanchez and ground-and-pound.
Once the very good Brick and possible future Hall of Fame Nick faded, Maccagnan needed to deliver. He hasn't and for some unknown reason, he believes he can plug-and-play at the most important unit in football—the place that must be locked down first and foremost to have any chance of success.
Two seasons ago, Ryan Clady was acquired in the effort to replace Ferguson. It was a solid low risk, low reward gamble. It failed with flying colors.
A year ago, Pittsburgh Steelers and Jacksonville Jaguars castaway Kelvin Beachum was inked to a deal. New York's offensive line struggled mightily. In total, 47 sacks were relented. Only six NFL teams gave up more.
Though the team appeared to fall somewhere near the middle of the pack in rushing—19th with a 4.0 yards per carry and 19th with a 106.4 yards per game—the rushing situation is much more depressing. The Jets would have finished 31st in the league with an 81.15 yards per game average if their three top-notch rushing games were taken out of the equation.
Jets rushing in Weeks 4, 9 and 16:  647 yards
Jets rushing in other 13 games: 1,055 yards
The idea that this current O-line is one of the league's disasters cannot be disputed. How improved it will be can.
Long was signed as the center. In theory, it should improve things. In reality, this man is always hurt. Winters was hurt all year in 2017. Again, in theory, this should improve the line. In reality, who's to say he won't find himself injured again? Shell is still improving, but is already 26-years-old entering the third year of his career. I don't see the famous Hall of Fame Shell bloodline running through this kid.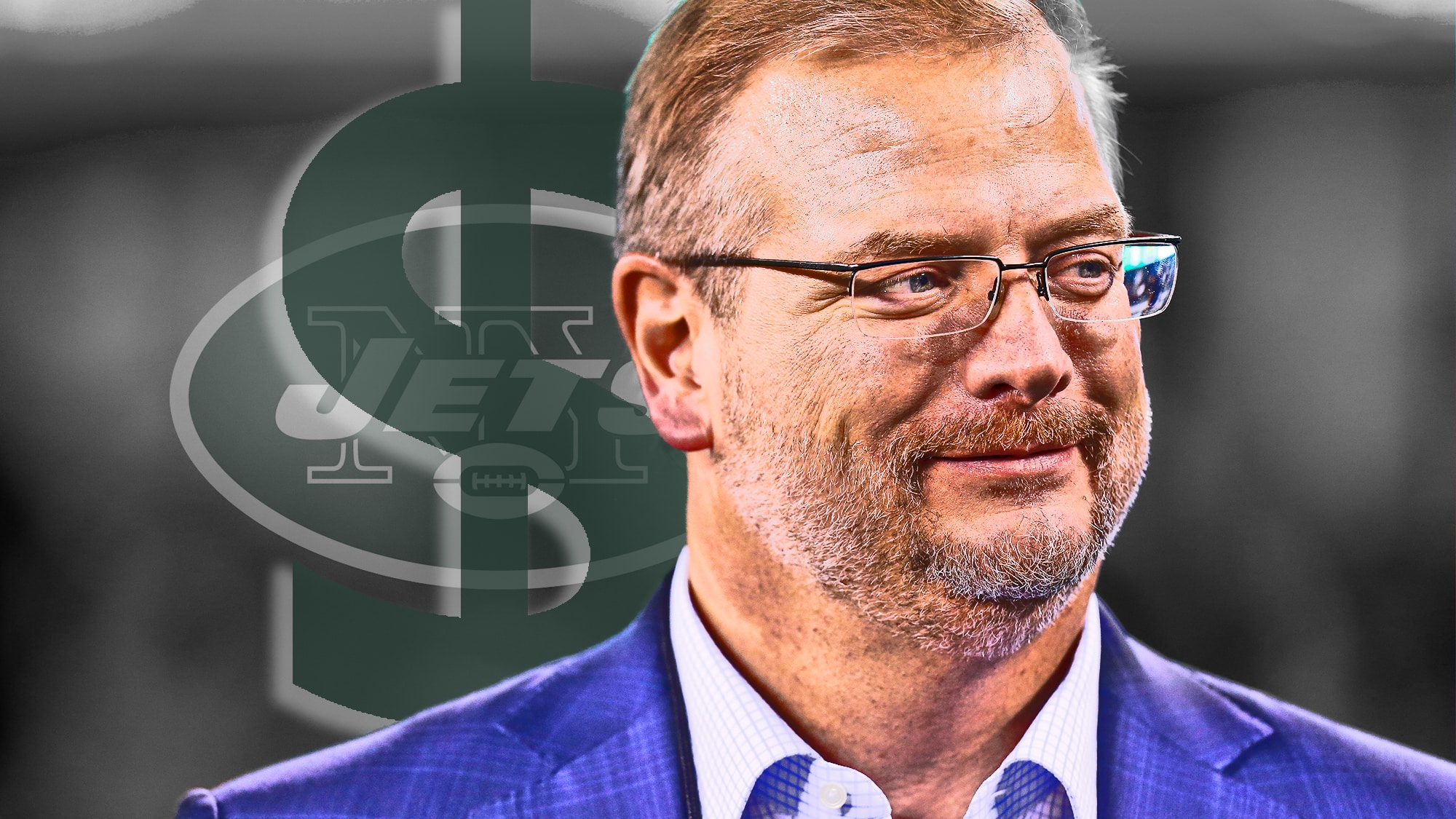 Making matters worse, New York's blindside anchor for Darnold, Kelvin Beachum, left a Jacksonville franchise that skyrocketed to first in the league in rushing in the very first year without him. From 22nd in the league in rushing with Beachum in 2016 to first in the league in rushing without him, it seems like those Jags knew what they were doing when drafting his replacement in last year's draft, Cam Robinson. (And oh yeah, all they did to add onto it was snag the best guard in the NFL via free agency, Andrew Norwell.)
Tom Coughlin and the Jags are adding onto their embarrassment of riches while the Jets don't even have a legit third tackle or third guard who can push any starter to the brink during training camp.
In terms of public perception and conversation, the Jets O-line passiveness is something rarely discussed. Last year Maccagnan received a free pass as fans and media members alike got it into their heads that the 2017 NFL Draft class was weak at the position. Although there weren't any top 10 picks, it simply wasn't true. Second-round to middle-round OL selections are thriving in the NFL (Ryan Ramczyk, Forrest Lamp, Pat Eflein, etc.).
So, OK, he received a clearcut pass while a nut like me continued to bash the OL oversight. We were saying the same exact thing this time last year: the O-line is simply not competent enough from a starting and overall depth standpoint. There's just no competition.
Reset.
After another 5-11 season in which Josh McCown was forced to navigate around at least two free-runners a game, Maccagnan would absolutely fill the void with having a full draft and over $100 million in cap space available. He had to. Right?
Not even close.
Aside from taking on Long, nothing happened. Ben Ijalana was re-signed. A few other minor moves were made. But not even a whiff of Jets interest was bandied about concerning Nate Solder or Andrew Norwell. Even if you do believe both were severely overpaid, how could the Jets not even be involved in having initial interest?
The only answer is obvious: Maccagnan believes the OL is a plug-and-play spot that doesn't deserve value attention. It's why he never drafts or signs premium free agents at this spot. Everybody is taken in on a discount after teams dump them (Beachum, Long), a shrewd trade (Clady), a late-round flyer (Shell, Harrison) or undrafted free agents.
This, my friends, is a major problem.
After the interest was clearly on Kirk Cousins—another mistake that fortunately didn't come to pass—and no premium big heavy was acquired, the fanbase was looking forward to raking in a couple big heavies with two second-round selections in the draft.
Never it is a mistake to trade away three second-rounders to move up three spots in the top 10 and draft a potential franchise QB (Darnold). It doesn't matter if the line is horrendous. Getting that guy means everything. But if this is the case, more during free agency was needed to protect that new face of the franchise.
Now, where are we? The New York Jets hope to protect the new face of the franchise with a delicate, poor and extremely thin offensive line protecting the future. The team had over $100 million to get it done and didn't even sniff talking to at least one of the big boys.
In the third round of the draft, offensive lineman Orlando Brown had fallen and he was right there for the Jets taking. The Oklahoma left anchor was rumored as a first rounder just a couple months ago.
Of course, Maccagnan passed and instead, chose unknown defensive lineman Nathan Shepherd. It was absolutely another "need pick," but when Darnold is in the house, thinking more than twice is necessary here.
More importantly than specific situations is an overall theme that won't stop anytime soon …
Mike Maccagnan doesn't value premium attention along the offensive line. This contrasts with any and every logical football-thinking narrative that's crowned champions from 75 years ago to the Philadelphia Eagles of this past February.
While Mikey Mac is attempting to rewrite the heart of how offensive football works, we, the fanbase, are just aching for one draft in which Ferguson and Mangold can be compared to.
To double our troubles, look at the big brothers. David Gettleman has brought in Nate Solder and stud second-round guard Will Hernandez. In just a few short months since taking the helm, he's literally fixed the Jints O-line.
If only Gettleman was Sam Darnold's general manager …