Having Ereck Flowers compete and not be given the starting right tackle job is the appropriate way to go about business for the New York Giants.
With the addition of prized left tackle Nate Solder, three-year lineman Ereck Flowers will be manning a new role in 2018. And the New York Giants are taking the right steps in having the 2015 first-rounder compete to be the starting right tackle.
Last season, Flowers was slightly better than he was in 2016, but as a whole, he still struggled to protect Eli Manning's blindside. He continues to find difficulty in holding his ground and has Manning running for his life, which was the biggest reason why general manager Dave Gettleman made Solder the highest paid offensive lineman in the NFL.
Whether it be on passing or running downs, Flowers has been an inconsistent and unreliable presence up front. Now he'll be faced with competing for a starting job at right tackle.
When discussing the team's decision to sign Solder, Gettleman brought up that head coach Pat Shurmur put in a call to inform Flowers that he'll be competing to start at right tackle, as Paul Schwartz of the New York Post noted.
"[PAT] Said, 'Listen, we're going to move you to right, and at the end of the day, the five best offensive linemen play.' That's where they left it, and Ereck was fine on the phone."
First off, moving from left to right tackle isn't an adjustment that's going to be bread-and-butter for Flowers. He may very well be better at the position, but Flowers excelling from the get-go shouldn't be expected, which is why the Giants should go into Training Camp with Flowers having to earn the starting gig. Assuming they do not sign or add a starting right tackle, the Giants should go into camp with Chad Wheeler as the starter.
Last season, Wheeler appeared in 11 games and started in five. In those five starts, he impressed, keeping his man in check on passing downs and holding his ground. The rookie was one of very few who played well up front for the Giants in 2017. In fact, had the Giants not signed Solder or a premier left tackle, the case could've been made for Wheeler to start over Flowers on that side instead of the right; he simply played better.
Is it a demotion having Flowers go into Training Camp as a reserve? Sure, but it could get him to buckle down and work on his craft. Before they signed Solder and hired Gettleman as general manager, the Giants never once gave Flowers competition or the idea that he could be out of a starting job.
Jerry Reese continually ignored addressing the O-Line in free agency while Ben McAdoo made little-to-no adjustments week after week (besides benching Manning this season because he thought Geno Smith gave the team a better chance to win—true story. Solder's arrival presents the first real challenge for Flowers.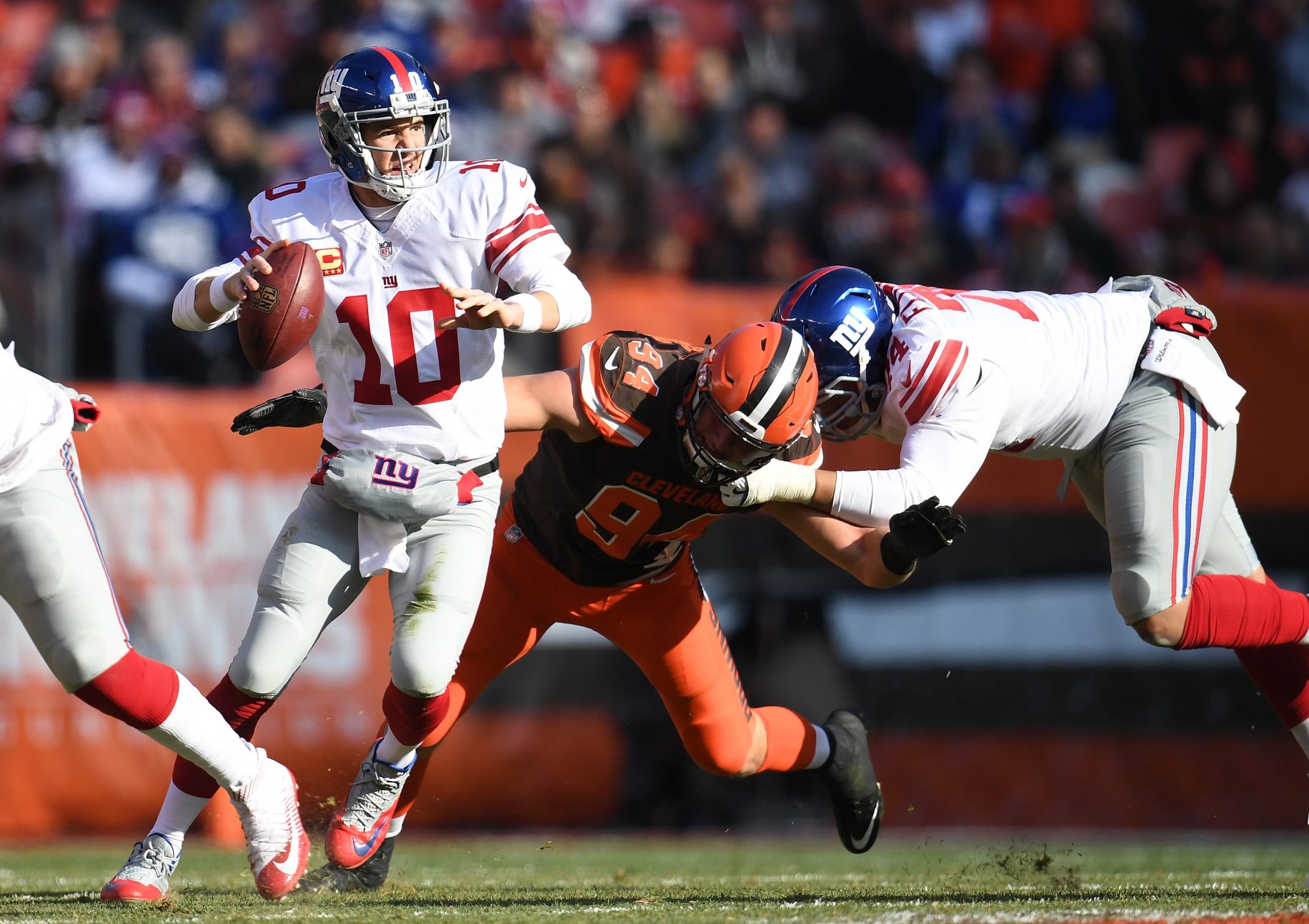 Shurmur was wise to immediately inform Flowers about the Giants' plan for him. While he likely isn't thrilled that they signed someone to play his position, it's best that they be upfront and honest with Flowers. And who knows, maybe this turns out to be a blessing in disguise for him. At times, competition brings out the best in others and telling Flowers that he isn't guaranteed to start could spark a fire beneath him, get him to work harder and prove that he should be starting.
If Flowers can improve and excel at right tackle, that would only make the Giants' offense even better. With time to scramble and operate, Manning can find his premier options out wide in Odell Beckham Jr., Sterling Shepard, Roger Lewis and tight end Evan Engram more easily.
In reality, have the Giants' woes up front been solely because of Flowers? No, in fact, the problem has been everyone that's lined up there the last four years. But Flowers has played the most prominent position up front and if he struggles, it can be contagious. Now at right tackle (potentially), he'll have to adjust to a new niche, but if you're the Giants you'd rather have Flowers on the right side than at left tackle.
Also, last season the Giants put tight end Rhett Ellison on the right side to help assist whoever was at right tackle. Putting Ellison on Flowers' side would help his efforts in holding his ground at right tackle; his presence was a big reason why Wheeler saw success in his time at the position.
If the season were to start today, Solder would be at left tackle. Next to the $62-million man would be the recently-signed Patrick Omameh at left guard and Brett Jones at center. Besides those three positions, the rest of the team's line is unknown. That doesn't mean they won't bring in more starters through free agency and/or the NFL Draft — which could potentially create more competition for Flowers.
The Giants resolved their left tackle woes by signing Solder. Now they need Flowers to reinvent himself and the Giants are getting him to do so the appropriate way — by making him prove himself.