After years of miscues and neglect, the New York Giants finally began to atone for past mistakes on the offensive line.
Upon his arrival to East Rutherford in December, many New York Giants fans were ready to enshrine Dave Gettleman in Canton.
Mere hours after his introductory press conference, Gettleman immediately made a change to the Giants beleaguered offensive line, dropping starter Bobby Hart prior to the team's season finale against Washington.
It was no secret that the Giants' most glaring problem was their offensive line, but the problem was mostly disregarded by the previous management regime. Gettleman's movie was a sign of changing times, the commencement of a renovation brought upon by 2017's disaster.
The invitation, however, was somewhat rescinded in the early stages of NFL free agency.
Considered to be a "done deal" by several sources, prized free agent lineman Andrew Norwell, a Gettleman disciple from the general manager's Carolina tenure, joined a Giants legend, albeit a departed one in Tom Coughlin.
After Norwell agreed to join Coughlin's Jacksonville Jaguars on Tuesday, Gettleman did end up adding a former Carolina comrade, albeit in the form of running back Jonathan Stewart, whose upcoming 31st birthday and career-low 3.4 average was frequently referenced by fans on social media who called for Gettleman's head.
Gettleman eventually did slightly quell the storm, signing ex-New England Patriots tackle Nate Solder, and earning a modicum of revenge against the Jaguars by welcoming in one of their top guards, veteran Patrick Omameh. Specifics about Omameh's contract have yet to be revealed, but Solder's four-year deal is good for $62 million, $34.9 million of which is guaranteed. The deal makes Solder the highest paid lineman in football.
That's quite a label to bestow on Solder, who turns 30 in April. A first-round pick back in 2011, the Colorado alum was serviceable in New England, playing in three Super Bowls while protecting Tom Brady. Save for a 2015 outlier, where he missed a majority of the year with a torn bicep, Solder has been a reliable prescience, missing just two games in his other six seasons.
Solder is a warrior on the field and off, starting every game for the 2014 Patriots after beating testicular cancer in the offseason. Solder's two-year-old son Hudson is currently fighting kidney cancer, first diagnosed with kidney tumors when he was three months old.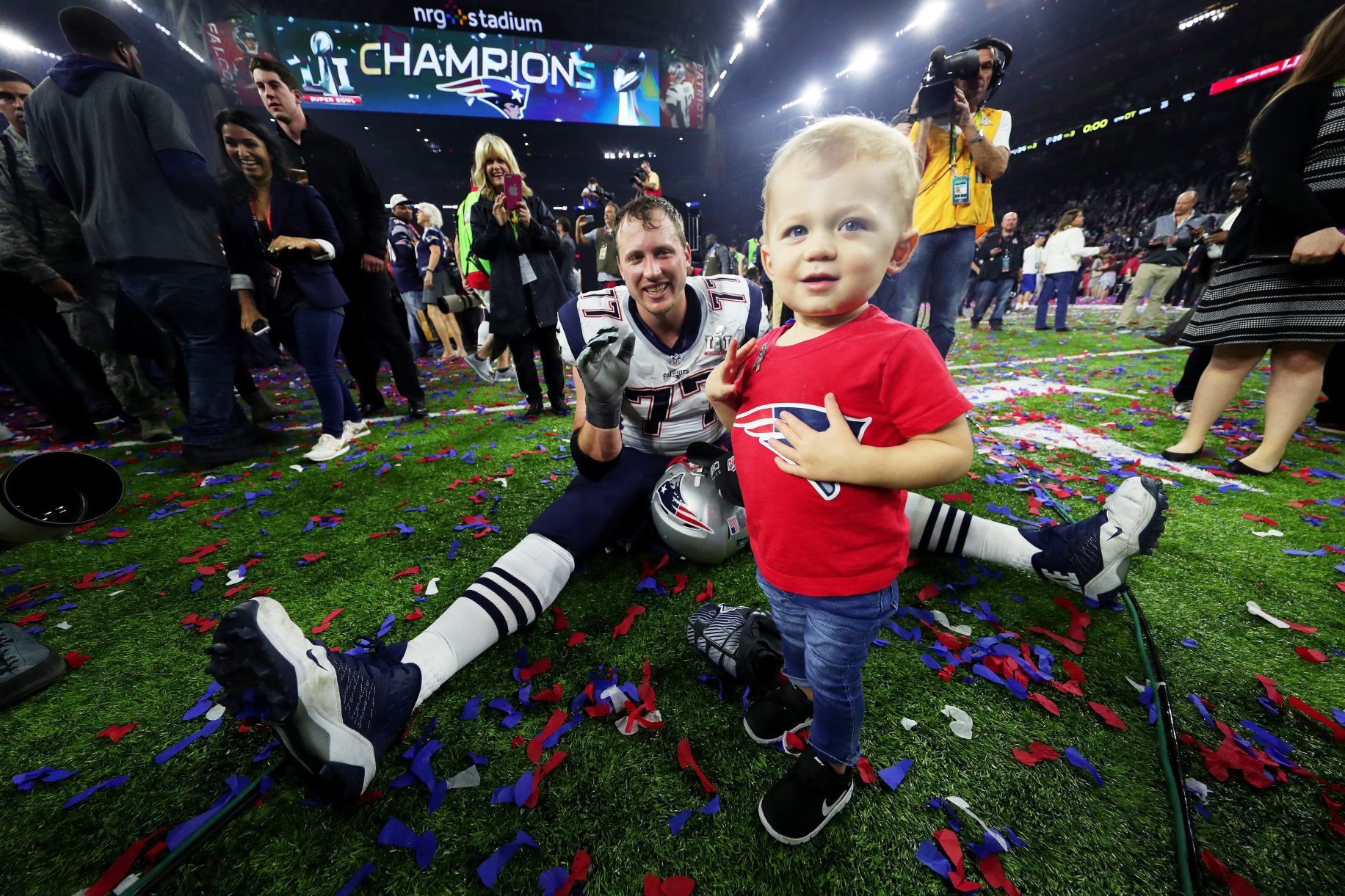 No one will question Solder's toughness, but few expected him to be at the top of the list of the NFL's richest blockers. He has never been named to a Pro Bowl, and Pro Football Focus ranked him 32nd amongst tackles in 2017. Particularly distressing for Big Blue is Solder's attraction to yellow…penalty flags, that is. Over his past three full seasons, Solder has been called for 28 penalties (five of which were either declined or offset).
There's no need to wait to judge the Solder contract. It's a gigantic deal, one that may require some restructuring from other expensive contracts on the roster if the Giants wish to make more moves this offseason. It's a move that will forever be attached to Gettleman, as free agent blockers have left a lasting impact on the Giants franchise.
Kareem McKenzie, for example, signed a seven-year deal in 2005 and played the length of it, winning two Super Bowls in the process. The offensive line revolution that led to those two titles began in 2004 when future Pro Bowler Shaun O'Hara was added on a three-year, $5.4 million deal in 2004. Then again, not all "hog molly" contracts have ended in glory, as Geoff Schwartz played only 13 games after earning a four-year, $16.8 million deal in 2014.
The most undeniable thing, however, is that it was absolutely necessary.
Gettleman has been called upon to put out the fire that was the Giants' 2017 season, a 3-13 disaster that probably goes down as the worst season in franchise history. The woes on the line, however, were not exclusive to 2017. Just a year before, which featured a playoff cameo, offensive line shortcomings prevented the Giants from becoming a dominant NFC power, as mediocre showings forced several defensive bailouts.
With a chance to build on the first playoff appearance since 2012, Jerry Reese and his staff chose not to address the line issues, the most notable moves being a one-year deal to guard D.J. Fluker and a sixth-round selection of tackle Adam Bisnowaty, who spent most of the year on the practice squad.
The offseason budget was instead dedicated to flashy additions, like receiver Brandon Marshall. Defensive end Jason Pierre-Paul was re-signed, and the first three draft picks were dedicated to a tight end (Evan Engram), a national champion (defensive tackle Dalvin Tomlinson), and the potential heir to Eli Manning (Davis Webb).
The silliness that permeated the tragedy of Reese and head coach Ben McAdoo was the disregard for the line, constant excuses made to defend it. McAdoo infamously called out "sloppy quarterback play" after the team's home opener loss to Detroit, but quickly defended a line that gave up five sacks in the 24-10 defeat.
The Giants are in a position where one unusually high draft pick isn't going to instantly put them back into championship consideration, especially with a potential dynasty brewing in Philadelphia. They needed to find a solution, or at least a partial response, to one of their most glaring problems, a firm sign the Reese era was over.
Solder, and to a lesser extent Omameh, can be the turning point.
Gettleman's supposed passing on Norwell, whom he discovered as an undrafted free agent in Charlotte, shows that he's the type to not throw a contract at a player simply because he's a popular commodity. He's going to address team needs, and not just on the line.
Mere days into the new NFL year, Gettleman has also addressed the linebacking unit in an attempt to restore the group to former Giant glory. Alec Ogletree was acquired in a West Coast trade with the Rams, while Kareem Martin, an Arizona veteran of James Bettcher's 3-4 set, is likewise set to join.
Plenty of work has to be done to fully drain the cesspool 2017 brought upon East Rutherford. For now, however, Gettleman has strapped his protective gloves on and is ready to get to work.
Geoff Magliocchetti is on Twitter @GeoffMags5490