Oft-criticized New York Giants offensive lineman Ereck Flowers will now compete for the job on the opposite side of the line that he's used to.
On Wednesday, the New York Giants made a huge move in free agency and signed former Patriots left tackle Nate Solder to a four-year, $60 million deal. Clearly, Solder is going to be the team's left tackle, the man tasked with protecting Eli Manning's blindside.
That means Ereck Flowers now has a new position, something general manager Dave Gettleman announced, via the team's official Twitter account.
Dave Gettleman confirms Ereck Flowers will contend for starting right tackle role. "He's a big, strong powerful kid and it's just a matter of getting used to playing over there." pic.twitter.com/ZsJIexCdMU

— New York Giants (@Giants) March 16, 2018
According to Gettleman, head coach Pat Shurmur called Flowers shortly after the Solder deal was completed. Voa Paul Schwartz of the New York Post: "[Pat] said, 'Listen, we're going to move you to right, and at the end of the day, the five best offensive linemen play.' That's where they left it, and Ereck was fine on the phone."
The 2015 first round selection has struggled for the most part ever since he entered the league. This past year was definitely an improvement, but he still only landed a poor grade of 51.5 on Pro Football Focus.  If it wasn't clear before that he wasn't the Giants answer at left tackle, it's definitely clear now.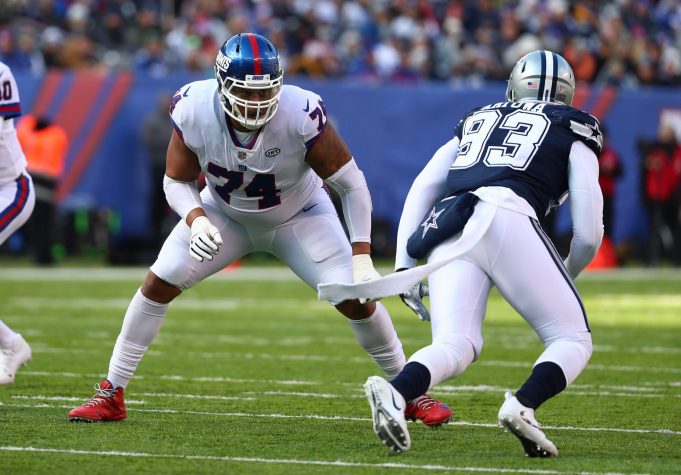 His size (six-foot-five, 325-pounds) is most definitely a plus, but his footwork and technique remain shaky. The dynamics and consistency in those regards just haven't been there throughout his young career. However, pressure will be taken off of him moving to the right side, so coaches and fans will have to see how it all plays out.
At right tackle, he'll have to go against edge rushers like Vic Beasley, Cam Jordan, Ryan Kerrigan twice and Demarcus Lawrence twice, so that's something of a concern. But then again, the five best linemen will play—he may not get off the sideline.
So Ereck Flowers moves to the right side because he can't handle LT.
All he has to face that side in 2018 is:
DeMarcus Lawrence x2
Ryan Kerrigan X2
Brandon Graham X2
Whitney Mercilus
Vic Beasley
Cam Jordan.

This can only go well.
H/t @PFF_Ben

— Sam Monson (@PFF_Sam) March 16, 2018