The New York Giants refuse to leave emotion out of their decision-making as it relates to the No. 2 selection in the upcoming 2018 NFL Draft. 
Eli Manning still has a couple of productive seasons left in him. Everyone knows that. But the New York Giants are mistakingly allowing emotion to prohibit drafting Manning's successor.
At the NFL Scouting Combine, general manager Dave Gettleman continues to hint that the Giants are likely to pass on drafting a quarterback with the number two overall pick. He's tip-toeing around questions regarding the pick and shows a continued commitment to Manning being under center in 2018.
Saying how the Giants need to draft a Hall of Fame player and are open for business if the right trade comes their way for the number two pick, Gettleman cannot make it more obvious that the team isn't drafting a quarterback.
There's nothing wrong with committing to Manning for next season. He's still a quality quarterback in the NFL and with a bolstered offensive line, he and the Giants can have success. But if they don't draft a quarterback, they're going to regret it for the next decade.
The 2018 NFL Draft is a quarterback-heavy class. Whether it's UCLA's Josh Rosen, USC's Sam Darnold, Oklahoma's Baker Mayfield, Oklahoma State's Mason Rudolph, Louisville's Lamar Jackson or Wyoming's Josh Allen, there are a number of potential franchise-changing quarterbacks in the draft. Out of the six, Rosen and Darnold are viewed as the two best prospects, according to many.
Rosen has a cannon. He fires in passes, moves well in the pocket and is not afraid to take chances downfield. Throwing for 3,756 yards and 26 touchdowns while posting a quarterback rating of 147.0 in 2017, he played with confidence and looked like a seasoned pro. The Bruin is ready for the NFL. The same goes for Darnold.
Much like Rosen, the USC product (Darnold) has a solid arm. He also has good footwork, isn't afraid to take chances and had success with a shaky offensive line in front of him (Hey, the Giants had that same problem last season!). Throwing for 4,143 yards and 26 touchdowns while posting a quarterback rating of 148.1, he played with a fearless mentality and showcased an ability to play under center in the NFL.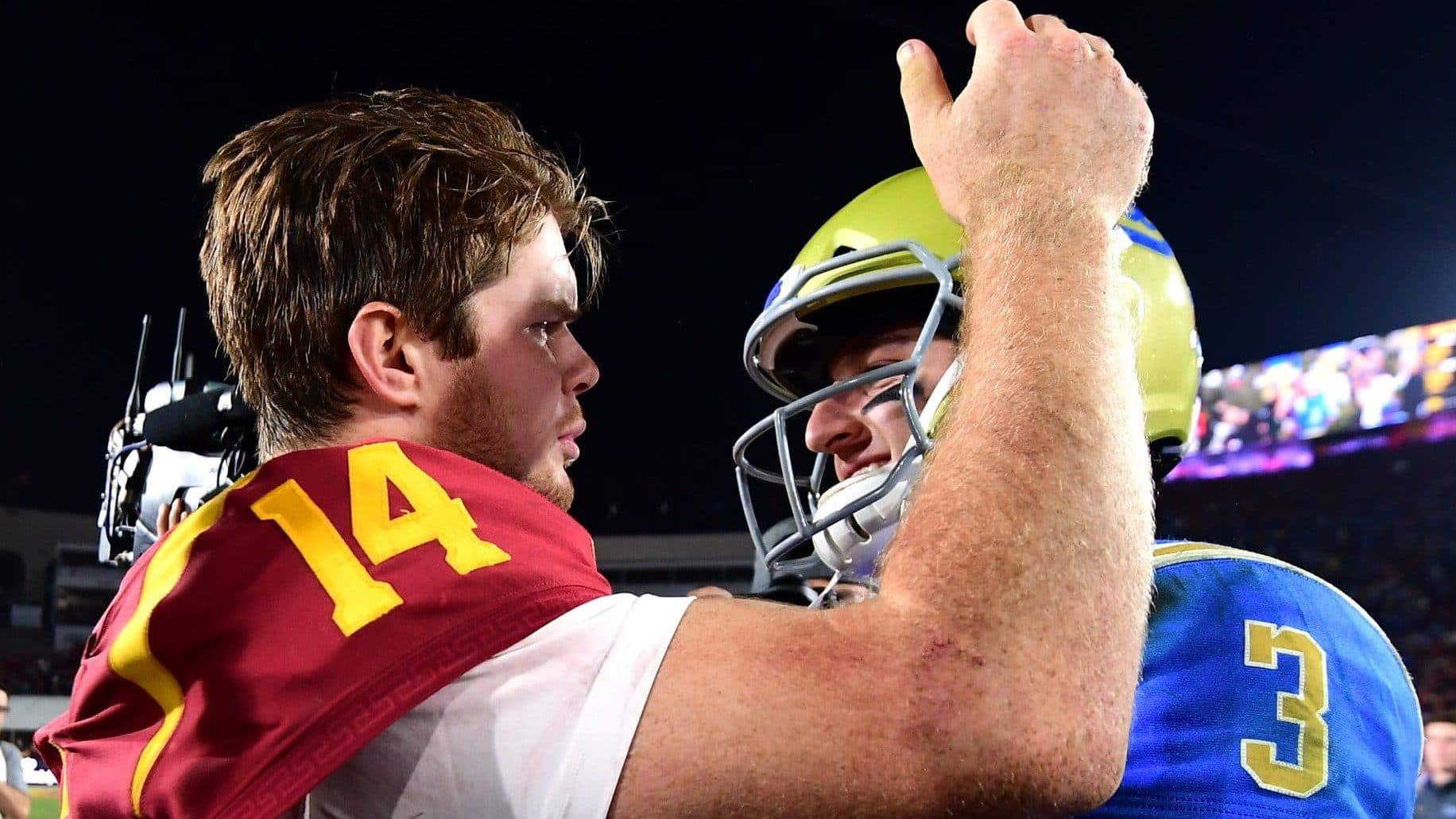 Over the last two seasons, Manning has been an average quarterback, point-blank and simple. He's doesn't have the zip on his passes he once had, puts the ball in harms way often and hasn't been able to adapt to different situations. Now yes, the Giants' offensive line has been subpar in recent memory and that's certainly been part of Manning's struggles.
Ereck Flowers has struggled to hold his ground at left tackle, while injuries and inconsistency have decimated their O-Line as a whole. Plus, Manning was without his go-to receivers on the outside for the majority of last season in Odell Beckham Jr., Brandon Marshall and Sterling Shepard (for five games). But an offense's struggles can only be blamed on the O-line so much.
The Giants' desire to be all-in on 2018 is admirable, but reaching for an offensive lineman at number two, such as Notre Dame's Quenton Nelson (who's increasingly becoming a favorite to be selected by the Giants at number two), would be preposterous. This's a team that is in a unique situation where they can draft their quarterback of the future and simultaneously compete for the playoffs. With $24 million in cap space and potentially more depending on whether they cut some noteworthy names, the Giants will have the coin to shore up their offensive line.
Whether it be New England's Nate Solder, Carolina's Andrew Norwell (who the Giants are reportedly willing to make the highest paid guard in the NFL) or Baltimore's Ryan Jensen, the Giants have a plethora of options in free agency to help improve their line; it's better to add proven commodities up front than reaching for offensive lineman in the draft out of need. If and when the Giants bring in such reinforcements, their offense goes from mediocre to electric.
With Beckham, Shepard, Roger Lewis and tight end Evan Engram (who lines up in the slot), the Giants have a number of legitimate receiving threats. With more time to scramble, Manning will have the chance to make more decisive decisions when looking to get rid of the ball. Based on their potentially lethal passing attack, Penn State running back Saquon Barkley could put that offense over the top. And if the team is intent on looking over a quarterback, drafting Barkley is the way to go. At the same time, with an improved line, the Giants could easily see improvement from second-year back Wayne Gallman and Orleans Darkwa.
When then-head coach Ben McAdoo made the bold decision to bench Eli Manning before their Week 13 matchup with the Oakland Raiders, the team's direction was clear: They're drafting a quarterback and parting ways with Manning. Co-owner John Mara even backed the head coach's decision to bench the tenured quarterback. Six days later, he had a change of heart and fired McAdoo as well as general manager Jerry Reese. Now the franchise can't separate its heart from reality.
Could part of the Giants' insistence on passing up on the likes of Rosen, Darnold and other QB's prospects be that they believe Davis Webb is better than all of them? He understudied Manning and the Giants' offense all last season and supposedly has a close relationship with the veteran. But the Giants putting so much trust in Webb is a huge risk. He's never appeared in an NFL game, was activated just once in his rookie season and has seen limited first-team reps in practice.
Management wants to bank on the former third-round pick being their next Manning?
Another reasoning for the Giants' inability to put Manning's successor in place is that they feel bad about the way they handled his benching last season. Mara publicly admitted that he made a mistake with how he went about the situation. If passing on a quarterback is the plan, Mara is certainly involved in the decision. Sounds absurd right? Well, don't forget that he, not Gettleman, decided to hire Pat Shurmur as the team's head coach.
According to CBS Sports' Jason La Canfora, Gettleman wanted to hire Carolina Panthers' defensive coordinator Steve Wilks as head coach, while Mara and fellow co-owner Steve Tisch wanted someone with more experience. Mara supposedly wanted Shurmur, but Tisch was fond of New England Patriots' defensive coordinator Matt Patricia. Sounds like an organization on the same page from top to bottom right?
Mara stepped in and hired Shurmur because the former Minnesota Vikings' offensive coordinator has stated on multiple occasions that Manning still has multiple years of high-caliber play left in him and has committed to starting the 37-year-old in 2018. Mara doesn't want to make Manning feel worse and needs to save face by making up for supporting his benching. He's doing so through Gettleman and it's a major mistake that is going to hurt the Giants sooner rather than later.
Look around the NFC East. The Philadelphia Eagles have Carson Wentz who before going down wth a torn ACL was on track to win the NFL MVP. Even in his absence, Nick Foles was able to step in and help deliver the Eagles a Super Bowl. With Wentz coming back sometime next season and the team building off a Super Bowl victory, Philly is bound to be an NFC powerhouse for the next five years, at least.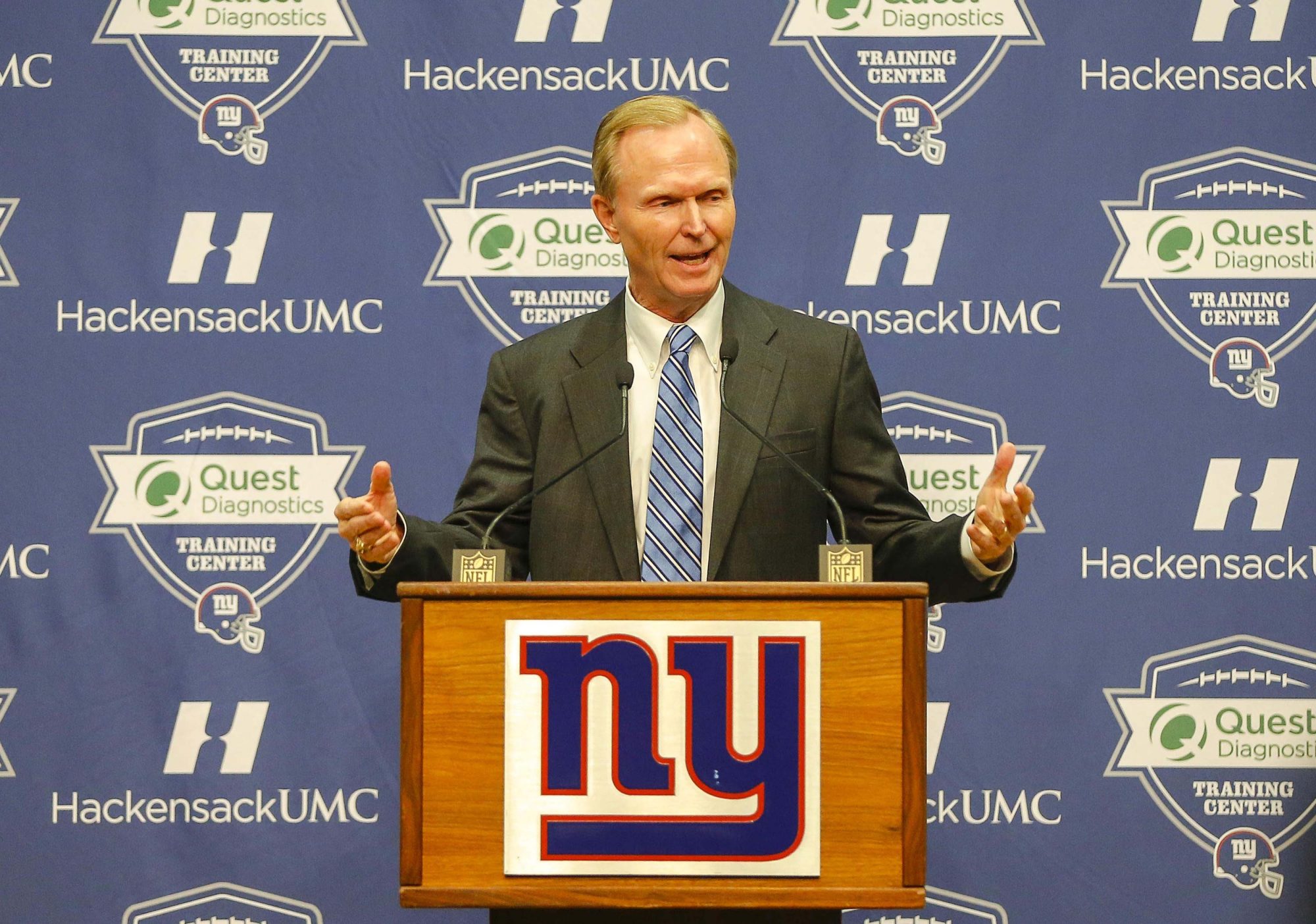 Despite going 9-7 last season, the Dallas Cowboys are another potential NFC powerhouse. If it weren't for star running back Ezekiel Elliot's six-game suspension, the Cowboys probably would've been one of the two NFC Wild Cards. And they're just a year removed from going 13-3 with Dak Prescott under center who plays better with Elliot in the backfield.
The Washington Redskins will also be competitive in the years to come. While it appears Kirk Cousins' days as a Redskin are over, management made a trade with the Kansas City Chiefs to acquire Pro Bowl quarterback Alex Smith. While Smith has seen little to no playoff success, he's a proven commodity in the regular season whether it be with his legs or decisive passing ability.
Wentz (25), Prescott (24) and Smith (33) are all better and younger than Manning (37); that's not good long-term for the Giants. Eli has helped win the Giants two Super Bowls and when it's all said and done may go down as the best quarterback in franchise history. But the Giants are eventually going to need to match the likes of Wentz and Prescott at quarterback. Rosen, Darnold, Allen or any other top quarterback prospect in this class could be their answer.
Gettleman's return, but as general manager, was supposed to signal change and begin a trend of smarter drafting tactics. Passing up on the unique opportunity to draft their version of Wentz will show that the decision-making hasn't changed; it's just Mara making up for the chaos he let take place at the end of McAdoo's tenure through Gettleman. Perhaps Reese and Marc Ross weren't the problems after all?
The Giants can win with Manning running the show next season if they stay healthy and get on the same page offensively. But he's not the long-term answer.
Emotion must be cast aside. The New York Giants need to take a quarterback at two.