It seems that the New York Giants believe that Davis Webb is their quarterback of the future. How could this affect the upcoming draft?
The debate over who the New York Giants should select with the second overall pick in the NFL Draft is mostly hanging on the mystery of what kind of player quarterback Davis Webb can be. Last year's third-round pick is still someone the Giants front office reportedly believe to be the next franchise-quarterback for Big Blue.
Webb is a mystery, to say the least, since he has not taken a snap in an NFL regular season game. Besides practice and limited snaps in the preseason, there is nothing else the Giants can really judge Webb on from his one year in the pros.
What they can judge Webb on is how he performed in his last year at the University of California and compare that to the productions of the top quarterbacks in this year's draft this past fall.
With the Giants having one of the top two selections in the draft, the G-Men would have a chance to select one of the top-three quarterbacks in Josh Rosen, Josh Allen, and Sam Darnold.
Looking at how all three quarterbacks fared in their last season in college to how Webb performed in his final collegiate season, the Giants may already have their quarterback of the future.
Webb threw for more yards (4,295) and more touchdowns (37) then Rosen, Allen, and Darnold in his last season at Cal.
Neither Rosen nor Allen threw for 4,000 yards or 30 touchdowns in any season in college. The most yards Darnold threw in a collegiate season was 4,143 and the most touchdowns he tossed was 31.
Webb completed almost 62 percent of the 620 passes he threw in 2016. Rosen and Darnold both had a higher completion percentage in their final college season, doing so with over 100 pass attempts fewer than Webb.
Allen never completed 60 percent of his passes in a full season in college.
Darnold tops the list in the quarterback rating department, scoring a rating of 148.1 this past season for USC. Rosen finished a point shy of Darnold with a QBR of 147. Webb had a QBR of 135.6 in 2016 for Cal, while Allen had a rating of 127.6 in 11 starts for Wyoming in 2016.
As we know, college stats aren't just the criteria NFL scouts look at when scouting players.
Allen's accuracy is something he needs to improve on, but scouts see with his size, arm strength, and athleticism that he has the tools to be a great NFL quarterback. Some scouts, like Bleacher Reporter's Matt Miller, compare him to NFL quarterbacks like Cam Newton and Ben Roethlisberger.
"Josh Allen has rare traits in terms of arm strength and athleticism. After watching him in person, I'd say his arm is the strongest I've ever seen," Miller said of Allen. "Allen's physical traits are similar to Cam Newton and he made it to a Super Bowl and won an MVP without being incredibly accurate. You could also compare his arm, agility and pure strength to a young Ben Roethlisberger, another player who had amazing success without being highly accurate."
From working in a pro-style system at UCLA, Rosen is the readiest out of the three top quarterbacks in the draft and this has him highly thought off by ESPN's Draft Expert Todd McShay.
"Rosen is far superior [than Darnold] going through his progressions and has a pretty deep ball. He's a better QB right now, but that doesn't mean he will be down the line," McShay said.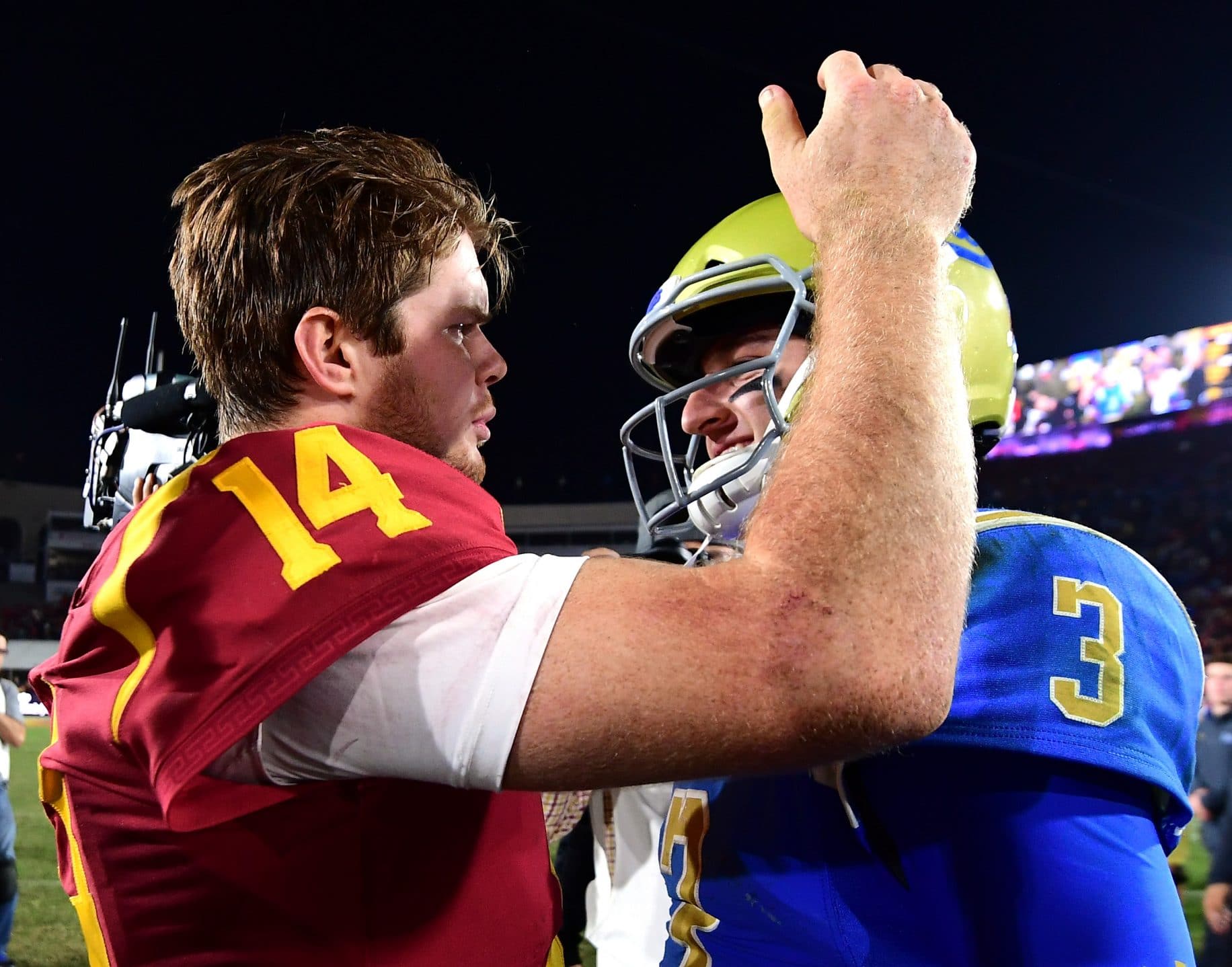 Because of his playmaking ability and his accuracy throwing the football, ESPN's Matt Bowen believes Sam Darnold has the intangibles of a good NFL quarterback.
"The surgical accuracy, the ability to throw outside of the pocket and the bucket throws in critical game moments. It's all there," Bowen said of Darnold. Darnold created some late-game magic again in the win over Texas earlier this season. Step up and make a play. Those are the intangibles I want at the (quarterback) position."
Those reviews aside, when you look at the production of his last college season, Webb is certainly right up there with Rosen, Darnold, and Allen.
Webb certainly believes he is the Giants' quarterback of the future when he spoke with ESPN's Jordan Raanan earlier last week.
"I had a conversation with Mr. Gettleman and kind of told him how I felt and my abilities as a quarterback," Webb told Raanan after a throwing session with a group of college players preparing for the draft. "I think there are enough people around the facility that believe in me and believe in my work ethic and believe in my ability to play quarterback one day for this franchise."
ESPN's Mel Kiper has the Giants selecting running back Saquon Barkley with the No. 2 pick in his latest Mock Draft.
Sports Illustrated and Monday Morning Quarterback columnist Peter King reported last week that there is  Giants may not be looking to draft a quarterback with the second overall pick. King would go on to say, "Much smarter NFLers than me told me in the last few days that they think GM Dave Gettleman will pass on a quarterback to fill another major need at number two overall, and I don't doubt it."
Those are signs that there is not much separating the top-three quarterbacks from Webb in the Giants' mind.
May have Big Blue thinking that their better off sticking with Webb and instead use their pick on an area of need.
The fact that the Giants are rolling with Eli Manning still at quarterback for this season is another factor too.
It appears the Giants believe with Manning under center and with upgrading areas of need in the NFL Draft and free agency, that their team can be playoff contenders again in 2018.
Remember, new Giants head coach Pat Shurmur said in his opening press conference that a big reason why the Minnesota Vikings offense got better in 2017 was that of their ability to plug holes around the position. According to Paul Schwartz of the NY Post, Shurmur said, "We didn't change the oil up there, we changed the transmission. We went and got two free agent offensive linemen, we drafted a center that played like a veteran, and we transformed the offensive line that helped us do the things that helped us win 14 games [including the postseason]."
That looks to be the focus the Giants have on making their team better for 2018.
If the Giants don't go quarterback with the No. 2 pick, it doesn't mean that they wouldn't try to draft a QB later on in the draft. It will though show that the G-Men have high regards of Webb, and believe he can be the guy to take over for Manning when the time comes.
It's still a mystery of what kind of player Davis Webb is. It sure is beginning to look like the Giants feel that mystery is an NFL Franchise-Quarterback!