The recent rumors surrounding Mike Maccagnan and the New York Jets falling down at the feet of Kirk Cousins screams desperation rather over championship-smart personnel management.
So it begins. Not just beginning from a casual "rumors floating in the air standpoint," but from a serious narrative ready to split the entire fanbase right down the middle.
The New York Jets are hot and heavy for Kirk Cousins.
After weeks of pro-Cousins speculation, Rich Cimini of ESPN New York dropped a Monday bomb on all who all burst out the same "Oh, the pain" phrase as WFAN's Joe Benigno.
The Jets want him badly, and sources say they're willing to pay whatever it takes — unless the Washington Redskins decide to tag him for a third time (unlikely). Money aside, the Jets hope to convince him he'll have a chance to win in New York. Because of obvious deficiencies on the current roster, they must sell him a championship vision. Their recruiting pitch also will stress his familiarity with the offensive system. In addition to making Cousins wildly rich, the Jets want to let him know he'll be comfortable with the scheme and coaches.
Momentum has pushed them towards the clear leader of the clubhouse.
Kirk Cousin's odds are on the move (opening vs. now): ?#Jets: +160 ? -150#Broncos: +175 #Cardinals: +400 ? +750#Bills: +900 ? +1200#Jaguars: +1400 ? +1200#Giants: +1400 ? +2000#Dolphins: +2000

More #NFL Specials: https://t.co/8Z3mDG6zF8 pic.twitter.com/8TAMpjozZQ

— Bovada Official (@BovadaLV) February 19, 2018
This organization could not show more desperation if it tried.
Mike Maccagnan and Todd Bowles are in trouble. With an unspectacular record of 20-28 through three years of Jets football, perhaps the only thing saving them is Woody Johnson's absence or newfound belief in consistency or longevity (in taking a page from the Pittsburgh Steelers playbook).
Of course, due to Jimmy Garoppolo's massive deal, Cousins will soon become the richest player in the NFL—the richest player on an annual basis in football history. Yet the man isn't even a top-five NFL quarterback. In reality, he's arguably outside of the top 10.
What gives?
Desperation. Desperation instead of calculated championship insight.
Along with fans who cry sick and tired of stopgaps and career journeymen who show up anywhere but the back page, the organization now seems to have that attitude of "getting that guy" no matter the cost. It's unfortunate. The cost is too great to ignore.
Fifteen Percent of the Cap
This isn't baseball. These aren't the Yankees. New York (or even New Jersey) in the Jets case equals fiction when it comes to spending. Like 31 other professional football organizations, the Jets are playing under the same financial rules.
Only general managers who understand and fully take advantage of the unforgiving nature of the hard salary cap flourish in today's league where they play for pay.
With a base salary cap of $178 million in 2018, a cool $30 million on an annual basis nets nearly 17 percent of the entire pie. Twenty-eight million dollars (a smidge higher than Jimmy G) would provide Cousins with over 15 percent of the entire Jets cap.
Immediately—should Cousins be lured to Florham Park, New Jersey—the 50 accountable roster spots (with Cousins counting as number one of the Top 51) would be behind the eight ball. Attempting to build around such a massive piece of the pie would not come easy. And this monstrosity of a challenge comes with a general manager and head coach who've proven nothing at this level.
This specific scenario only works if the 15 percent man is either a flat-out stud in the form of a Tom Brady or Aaron Rodgers, or if incredible value is found through the draft and free agent market.
It's a Playoff Strategy, Not a Championship Strategy
We've already witnessed what Kirk Cousins can do in the NFL. We've watched him through the years and are extremely familiar with his ceiling.
He's a good quarterback.
Cousins, 29, has thrown for over 4,000 yards and 25 touchdowns each of the last three seasons. In 2016, he was named to the Pro Bowl while leading the league with a blazing-hot 69.8 completion percentage. He's an accurate, smart, and even underrated athletic quarterback who could absolutely lead an NFL team to solid seasons.
But can he lead a team to a Vince Lombardi Trophy when his supporting cast has a limit of 85 percent of the cap?
In D.C., he finished the Skins era with a below-average 26-30-1 record while making conservative money early and ridiculous dough the final two seasons. The Redskins certainly couldn't surround him with enough talent to even pick up one tournament victory.
Why would the Jets suddenly find that magic while providing Kirk with even more of the spending pie?
It never matters how much space is available at a given time. Hypothetically, if the Jets had a clean slate of $178 million heading into this offseason, it still always comes down to value. Is that player worth the value of the cap being dished out?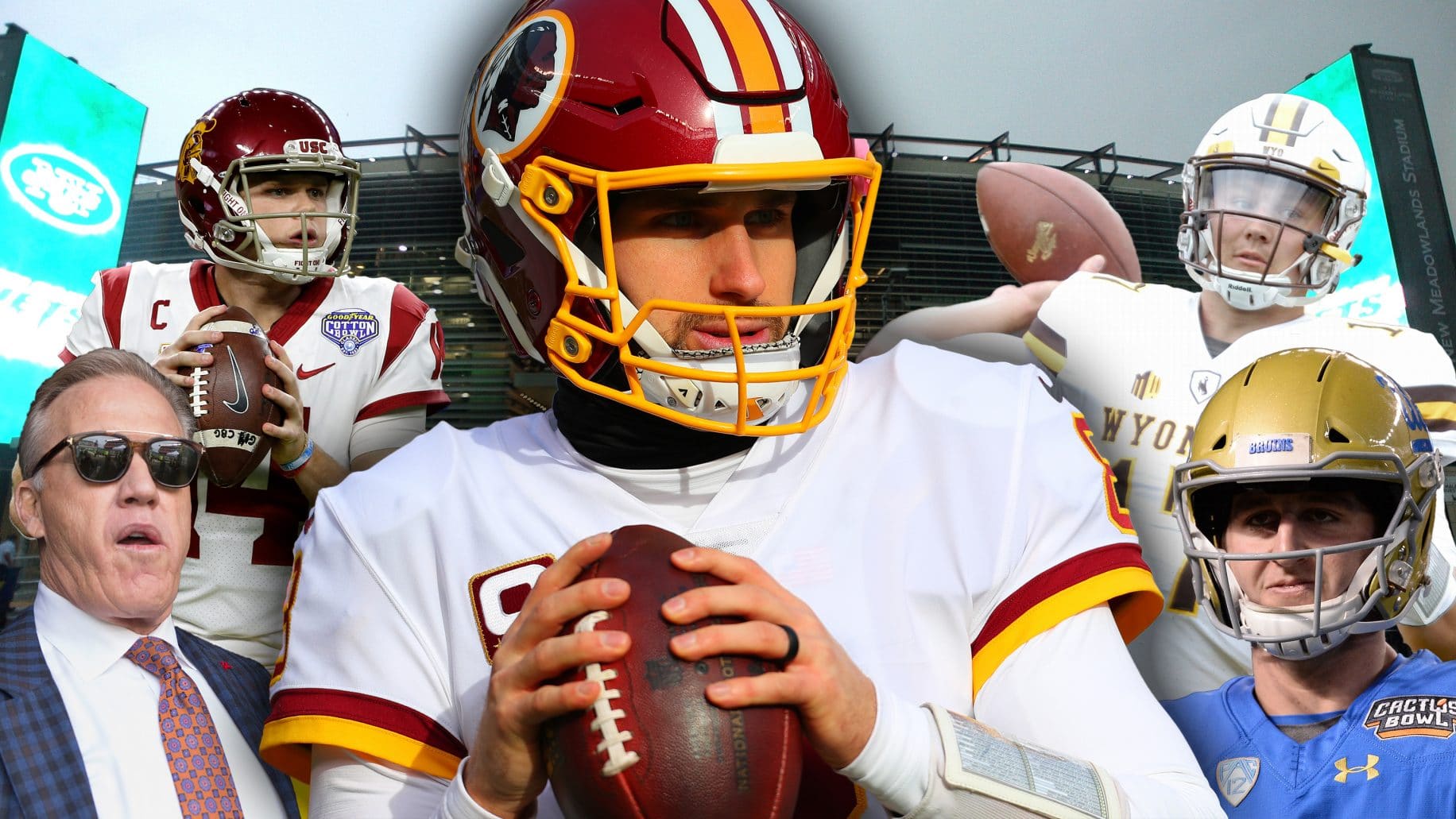 The Actual Championship Strategy
Alternatively, the Jets are facing an extraordinary opportunity in the sixth hole that does, indeed, bring a championship formula to the table.
The problem? Maccagnan and Bowles seem unwilling to take that personnel risk. Instead of drafting a Sam Darnold, Josh Rosen or Josh Allen who (at least one) will be available at No. 6, they're taking the route of immediate impact. They're taking the path that is safe yet unfulfilling and non-championship worthy.
Should the Giants pass on a QB at No. 2 (which is very likely, especially if you listen to the great Peter King of Sports Illustrated), the Indianapolis Colts pass (which should happen based on Andrew Luck), and the Denver Broncos sign either Cousins or AJ McCarron, suddenly, the Jets are facing the predicament of drafting the second QB off the board.
Darnold, Rosen or Allen come in making around $5-8 million on an annual basis for the first four years while working with a potentially dynamite team (thanks to the bigger pie) around them. New York would actually have a choice between Rosen or Allen for $5 million per season for four seasons in this scenario. Seems extremely promising over dishing out $30 million to the 10th or 12th best QB in the NFL.
Just look at Seattle. Russell Wilson was drafted in the middle rounds. The value received within that deal was astronomical. Other parts were drafted with great value as well, but once Wilson received that dough, overcoming the rest of the team suddenly became much more difficult.
Just look at Philadelphia. Carson Wentz and Nick Foles aren't lighting up the banks. How about Jacksonville? Or what about Minnesota?
Other than Kurt Warner, who, over the last two decades, was signed as that veteran guy to lead a team to the promised land? Trent Dilfer? Brad Johnson? What are we talking about here, the rarest of the rare—historical defenses who could overcome any quarterback leading the way? And these guys came prior to the drastic aerial rule changes bestowed on the league halfway through the millennium's first decade.
Even Joe Flacco—Super Bowl champ—was drafted and won a chip under a tidy deal. Since he was dished the big bucks, those Baltimore Ravens have struggled to field a consistent group around him.
In the case of New England and Green Bay, it makes sense. Those two greats are worth every penny. They literally change the fortunes of half the team's plays any given Sunday. (And still, there were seasons in which Brady understood the cap so much that he allowed the Pats to pay him just $1 million on the books in order to beef up the team around him.)
That's the championship formula. That is how you capture titles.
In this cruel world of hard-salary cap football, the only aspect to money and attributes that matter is value. Two years ago, Maccagnan walked into a wonderful cap-free environment with tons to spend. His aggressive rebuild failed with flying colors. The R.O.I. on contracts like Darrelle Revis and David Harris brought nothing but pain. This is the major reason so much money is available now.
Nevertheless, the amount of money available means nothing.
If Kirk Cousins is signed to the richest deal in NFL history, the playoffs can easily be had in 2018. Hey, the Jets may even win a game or two. They may make the playoffs a couple years in a row. It may even save the jobs of Mike Maccagnan and Todd Bowles.
Cheap thrills aside, Cousins at $30 million is not what wins championships in this league.
What does win chips is drafting a kid with a loaded team and developing his unknown ceiling around as good a constructed roster as humanly possible. Maybe he turns out to be the next Russ Wilson. Maybe not. Maybe he reminds us all of the rotten Christian Hackenberg selection.
The point is this: that's the appropriate formula, one that doesn't bury you in either salary cap hell or mediocre purgatory, a route Mac and Bowles seem to be on due to craving immediate impact.
It's all about value. … and when it comes to Kirk Cousins at the level of $30 million per NFL season, the New York Jets would be already starting behind the eight-ball when it comes to their painstaking Super Bowl pursuit.
You better know what you're doing, Mike Maccagnan and Todd Bowles. Unveiling the red carpet for "possibly" the 10th best quarterback in the league screams nothing but pure desperation.