A new ESNY New York Jets series has Paul Esden Jr. and Robby Sabo construct the perfect 2018 roster taking in free agency and the NFL Draft. Part one is here as we look at the quarterbacks.
The perfect roster. What is the perfect roster? For one, it doesn't exist. Never can a perfect 53-man NFL roster be assembled.
Not only is it too difficult to become that fortunate, but in the salary cap age we currently live in, assembling the perfect NFL roster is more difficult than believing Roger Goodell will soon turn more popular than the great Pete Rozelle.
What makes the notion of perfection a little easier to take is money. Yes, money. It always comes down to money and the New York Jets have a boatload this offseason.
As of right now, New York is equipped with a little over $73 million in total cap space, via Over The Cap. The mammoth figure comes at you with certain veteran cap casualties like Muhammad Wilkerson and Matt Forte still employed. Many experts project the real number to well over $100 million prior to the commencement of free agency.
More money equals more possibilities. More possibilities in free agency equal more possibilities in terms of next season's depth chart. Big boy NFL free agency and the NFL draft are always the two gateways to the new season. Each combines as the two-part forum of the ultimate jigsaw puzzle for every general manager.
With a crazy amount of dough available to Mike Maccagnan this offseason, he suddenly finds himself in the very same situation circa 2015 (when taking over for the conservative John Idzik).
Here are just two examples of the New York Jets perfect roster after free agency and the NFL Draft, quarterbacks edition.
Robby Sabo
Starter: Josh Allen (First Round, No. 6 Pick)
When the 2017 season officially ended, my adamant stance on everything anti-Kirk Cousins was apparent. I did not want to see the Jets sign the guy and made sure everybody knew those feelings.
As time marches on, I'm actually warming up to the idea of Cousins. At 29-years of age and in the middle of his prime, Cousins represents the most solid QB the Jets have possessed since either Chad Pennington, Vinny Testaverde or Ken O'Brien. If he cost only $18-20 million a year? Yes. Let's do it. Let's bring Kirk in.
At the going rate? No dice.
While I like Cousins, there's no chance in the world he's worth nearly $30 million a season and nearly 20 percent of the salary cap. In baseball, stricter luxury tax thresholds aside, it doesn't matter if you overpay a guy. Teams like the Yankees can make up for it with few restrictions.
In football, if that $30 million a year guy doesn't live up to that money, it hurts the entire depth chart. That's the main issue.
Only Tom Brady, Aaron Rodgers and perhaps Carson Wentz and a healthy Andrew Luck worth the money Cousins is about to receive. Wentz aside—chosen purely based on age and early production—these guys impact the game to a level that worth $30 million a season. They're so good that it doesn't matter the 52 other positions on the roster are built with less of the total pie.
In Cousins case, why would the Jets suddenly be able to build around Cousins making $30 million or more a season when the Washington Redskins couldn't accomplish the feat at $20-$24 million?
Give me the rook. Give me one of these QB rooks in this order:
Josh Allen, Wyoming
Sam Darnold, USC
Josh Rosen, UCLA
If Baker Mayfield and Lamar Jackson wound up as the lone options at No. 6, I'd pass for Minkah Fitzpatrick, Bradley Chubb, Quenton Nelson or Mike McGlinchey.
Nevertheless, it's especially the correct move to pass on Cousins and hope he heads to the Denver Broncos so it takes another spot in the top five off the path of a drafted QB. If Cousins is in Denver and no trades go down in the top five, the Jets could be looking at the No. 2 QB off the board (assuming the New York Giants pass on a QB).
The Jets will be gifted either Sam Darnold or Josh Allen—two prospects who are neck-and-neck in terms of the top of the class.
Give me Allen to be the guy on the perfect roster making just $5 million a season. Remember, this is not the 1990s anymore. Young drafted top 10 QBs are already slotted their financial terms in terms of the first three-to-five years in the NFL.
Cousins will be better than Allen in 2018, but Allen is the championship choice. Cousins could lead the Jets to wins and the playoffs, but Allen has the chance to lead the Jets to their first Vince Lombardi Trophy in nearly half a century.
Should Allen's ceiling surpass Cousins', suddenly that $5 million a year against that $30 million annual salary makes for one dangerous depth chart up and down every position.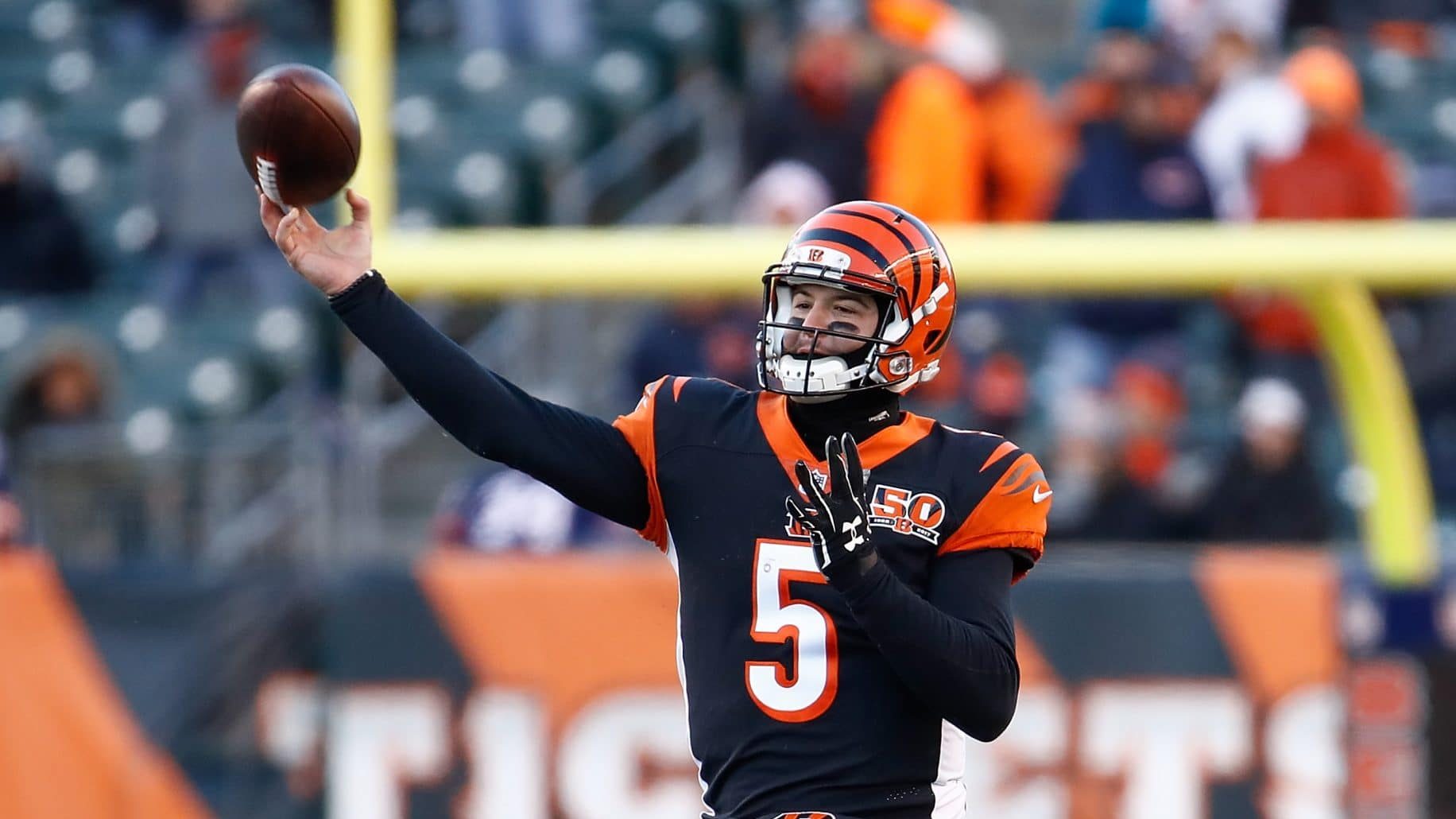 Backup: AJ McCarron (Free Agent Signing)
There are two men who are perfect as the No. 2 guys in this situation: Josh McCown and AJ McCarron.
After 14 NFL seasons with seven different teams, Josh McCown enjoyed a breakout campaign with the Jets in 2017. Robby Anderson on the 9-route and Jermaine Kearse on the deep out provided us a glimpse into what McCown could do in the NFL.
He's now a free agent. But he's a free agent who's already made mention that he has no issues coming back to the Jets as the backup.
McCarron, on the other hand, wants to be a starting quarterback. Therefore, if he's signed and the Jets then go out and draft Allen or Darnold, happiness may not be the top emotion coming from the McCarron-Webb household. At the same time, if the Jets offer McCarron a solid fringe starting salary, McCarron could bite and understand he has a great shot at starting come September.
Should McCarron cost too much, McCown's the easy choice. But remember, this is the "perfect Jets roster." Drafting Allen and paying him around $5-7 million and signing McCarron to a $15-18 million annual salary could shore up the position for the Jets for a half-decade to come.
Honestly, it basically comes down to cutting Christian Hackenberg or Bryce Petty. Cut the bust. Keep the fourth-rounder who's at least piled up a bit of NFL experience and fits the third-string mold a little better than the other. Honestly, it's more of a "cut your losses and get the stench out of the building" so it cannot be discussed any further." Petty is stench too, but Hackenberg always brings that bigger bust stench with him as that high second-round selection. Cut that narrative and allow Allen or Darnold to have one less thing to worry about.
If McCarron is the second guy, the third-stringer means even less.
Final Thoughts
If it's Allen or Darnold with McCarron, the Jets will be committing about $20-24 million a year to their quarterbacks. If it's Allen or Darnold with McCown, the Jets will be forced to commit around $12-14 million a year to their quarterbacks with far less security in understanding McCown's age and injury history.
If it's Cousins alone, it's $30 million a year with no chance of a fallback option. And on top of that, we've witnessed Cousins' ceiling already. In the case of Jimmy Garoppolo, the sky's still the limit.
Kirk Cousins is a good NFL QB. Top 10, perhaps? Maybe some can argue the seventh or eighth best QB in the league? In any event, he's not special and special's what's needed to overcome eating up over 20 percent of the salary cap each season.
He's the sort of mistake that'll have your franchise functioning as "good" and "playoff worthy" yet have no legit chance to win championships (unless everything around him breaks perfectly).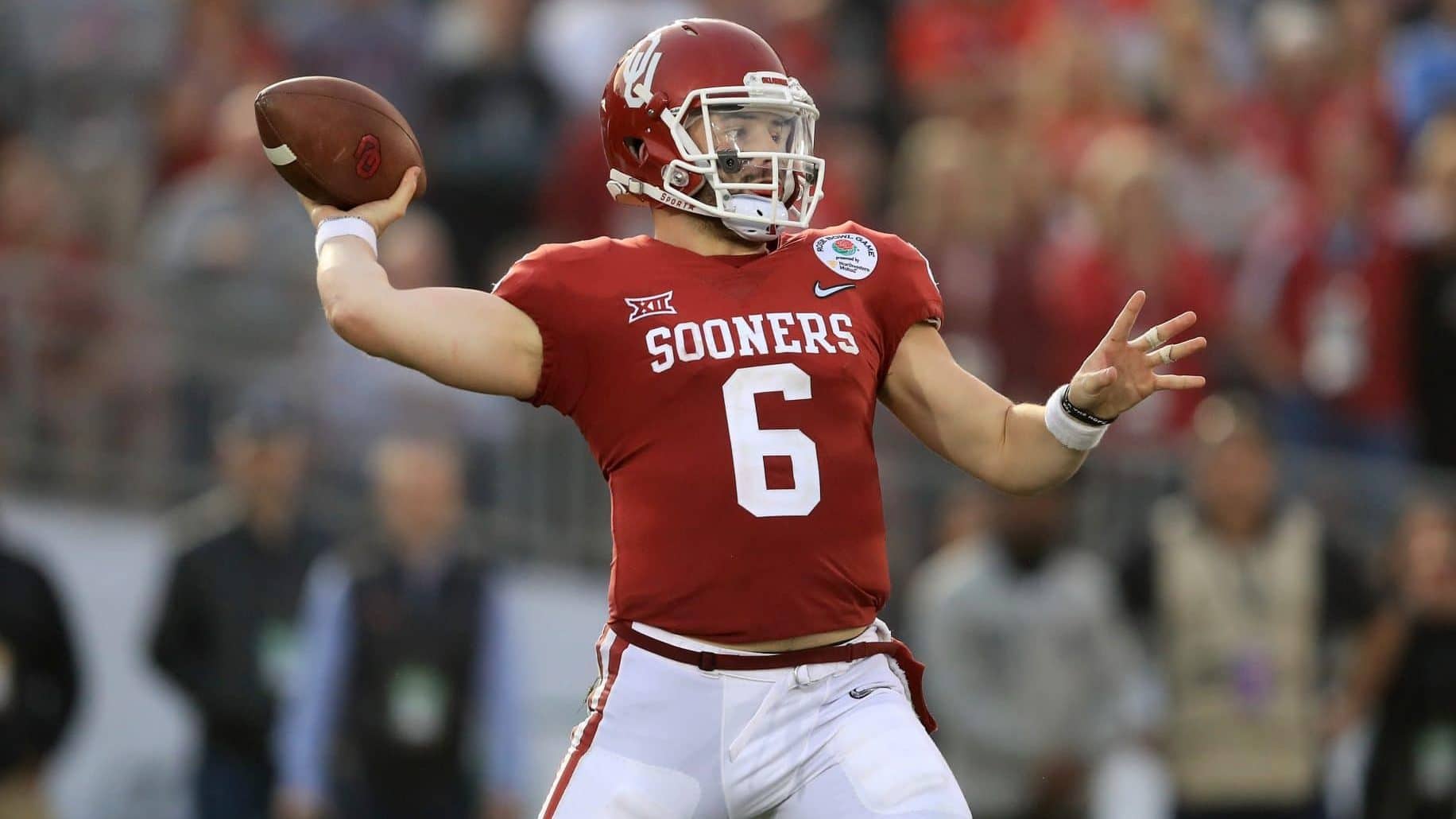 Paul Esden Jr.
Starter: Baker Mayfield (First Round, No. 6 Pick)
In an ideal perfect scenario, if you could Joe Namath guarantee me that Baker Mayfield would be there at No. 6 for the Jets, I would take Mayfield in a heartbeat. While he doesn't possess the prototypical size and measurables at the position he does have the intangibles, the playmaking ability, and the bravado to lead the Jets back to the promise land.
The Jets haven't picked an offensive player in the first round since 2009 when gang green ironically traded up for a franchise quarterback. In this scenario, they won't have to trade up and they can wait for Mayfield to fall into their laps. I concur with my running mate that the totality of a rookie would be in the $20 million ballpark over the next five years. While alternative options could prove more costly.
But the struggle will be between getting a "win now" guy like Kirk Cousins and pushing all the chips to the middle of the table. Or trying to rebuild and hope that whatever rookie the Jets select will be able to develop sooner rather than later.
My top-three preferred quarterback options in order are as follows:
Baker Mayfield
Kirk Cousins
Josh Rosen
My dark horse candidate is Lamar Jackson.
My sources are telling me his grade is second round, but I think he could sneak into the back-end of the first round. He's a better pocket passer than people are giving credit and his talent level is off the charts. While Josh Rosen is deadly accurate, has a nice build. The lone concern that continues to come up is his passion for the game and truly how long he'll play football.
Before we move on to who will be playing backup quarterback, I'm all in on the Kirk Cousins trade.
The issue with my plan is Mayfield could be gone by six and by way of the NFL calendar, free agency comes first. The Jets should do everything in their power to bring Cousins into the fold. He's got the video game numbers, he's a top-10 NFL quarterback, and he's entering his prime. That doesn't happen often. Gang green should maximize this chance.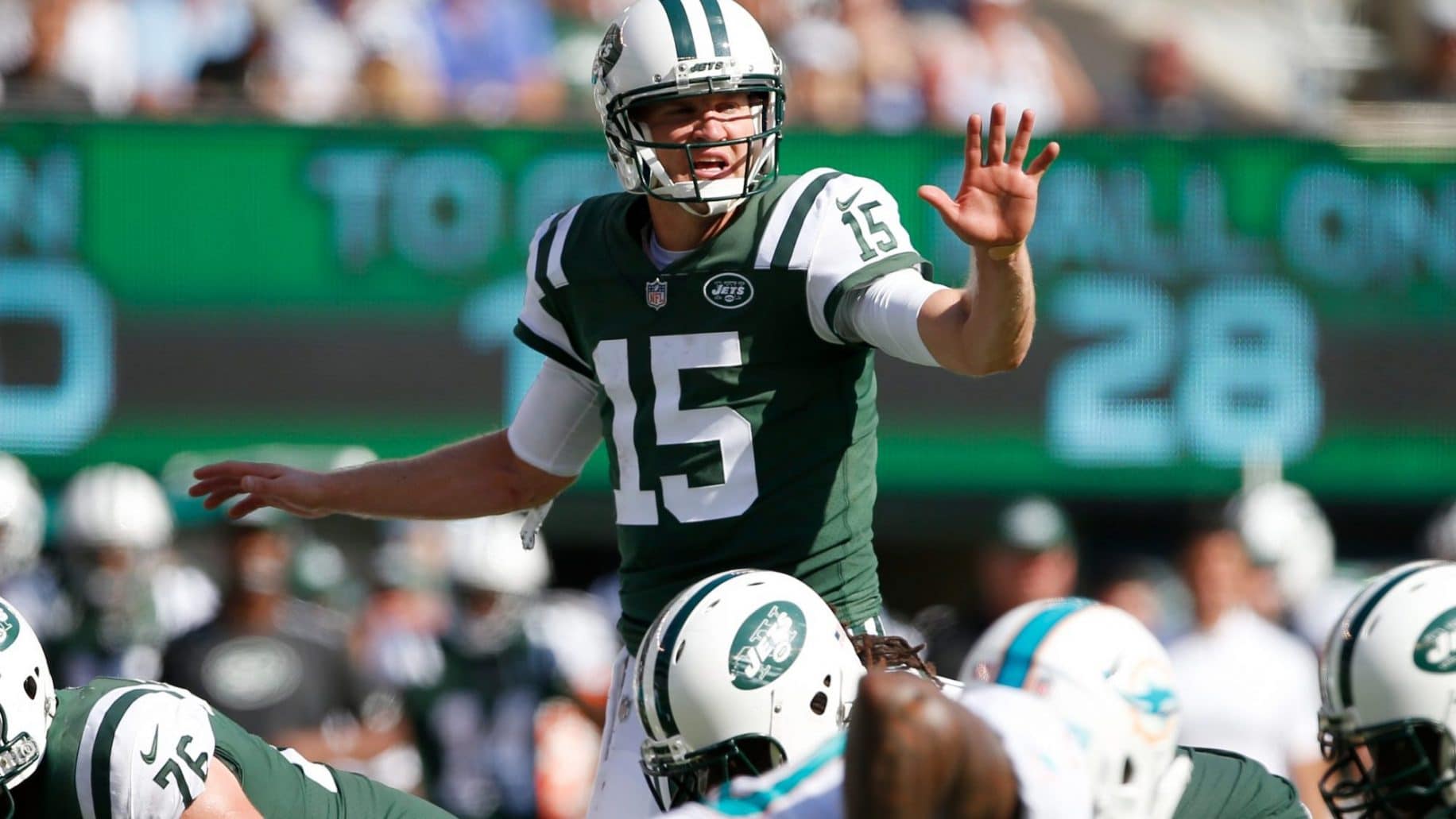 Backup: Josh McCown (Free Agent Re-Signing)
The old wily vet should be brought back for another year or two on his timeshare on 1 Jets Drive. McCown obviously galvanized the locker room and he'll come cheap, that's a ripe combination. There are several different ways the Jets can go with the backup spot, this would be the most cost-effective option.
Trevor Siemian is on the block and sources have indicated to me the Jets could have an interest (they shouldn't because why waste draft compensation when you can get guys for free). McCown can't finish seasons as we witnessed last year, but in his new role as the true mentor and backup, he won't have to play all 16 games.
Although we don't want a Mark Brunell situation on our hands, that ruined Mark Sanchez. Brunell wasn't legit competition, so essentially the Jets brass handed Sanchez the job and understandably he probably got a bit complacent. We want Mayfield to earn his job, not be handed it.
Third String: Christian Hackenberg
Bryce Petty sucks. He's a nice guy, but nice guys finish last. Hackenberg hasn't played a snap and people are throwing around the "bust" label, but he is still that young piece of clay. If you keep a third string quarterback it has to be a young guy developing, there is literally zero point in keeping a guy like Petty. If you know he is trash, then just move on. Stop wasting time.
Final Thoughts:
A poll was brought up recently: Who would you rather have, Mayfield or Cousins? This was like choosing between kids.
I would 100 percent be happy with either scenario and both situations have their pros and cons. If the Mayfield option happens, the Jets are hoping that with the additional funds they'd have (by not spending on Cousins), they could build a superstar team to help out the youngster and hopefully, that'll increase his floor.
While on the other hand, you wouldn't have to necessarily do that with a guy like Cousins. He's ready to plug and play in this offense, although it's going to cost a pretty penny. Some say the most lucrative deal in NFL History is going to do it in March. But walking in Cousins is going to be one of the most decorated quarterbacks in Jets history. One way or another, though, it finally seems like the Jets are going to figure out this quarterback situation this offseason for better or for worse.