Jeff Hornacek shouldn't lose his head coaching job based on the New York Knicks falling out of the playoff picture.
Jeff Hornacek is likely not going to coach the New York Knicks to their first playoff appearance since 2013. Simultaneously, the team's record of 21-25 is not his fault, in fact, the losing was expected. And based on the expectations, or lack thereof going into this season, the head coach should not be relieved of his duties.
According to Frank Isola of the New York Daily News, management is toying with the idea of cutting ties with the head coach after this season and hiring Mark Jackson or potentially Doc Rivers — which would be a mistake.
When the Knicks traded Carmelo Anthony back in September, any expectations that were in place for the 2017-18 season, in terms of contending for a playoff spot, were eliminated for Hornacek's squad. They were a team in rebuilding mode that was establishing a foundation around its new focal point, that being Kristaps Porzingis.
While the Knicks defeated the Cleveland Cavaliers on the road, as well as the Boston Celtics, Toronto Raptors, and Oklahoma City Thunder at home, their hot start was deceiving. Playing only 11 of their first 31 games on the road, the Knicks were able to take advantage and get out to a 17-14 start. And while they've fallen off a cliff ever since, their successful streak does warrant recognition, Hornacek especially.
Hornacek was getting the most out of every player on his roster. Jarrett Jack emerged as a reliable facilitator; Tim Hardaway Jr. has been an offensive focal point; Enes Kanter has hit the boards and been an emotional leader; Courtney Lee has played well on both ends. And their bench, as a whole, played well with one another. Whether it be rookie point guard Frank Ntilikina, Lance Thomas (before Hardaway went down with an injury and Thomas was inserted into the starting five), Kyle O'Quinn, Michael Beasley, Doug McDermott or Ron Baker, their bench was producing.
Ever since the road-heavy stretch began (after they went 17-14), their offense has been hot and cold and the losses have piled up, as they've dropped 11 of 15 games. Being without Hardaway for 20 games due to a leg injury also did them no favors. As a result of the continued losing, the tag-team of president Steve Mills and general manager Scott Perry may look to be sellers before the Feb. 8th trade deadline in an attempt to get back assets in return for their impending free agents. This would be done to avoid running the risk of losing them for nothing in free agency. Doing so would only worsen Hornacek's odds at getting the Knicks into the playoffs.
The Knicks' downfall and potential seller's mentality as the deadline nears can easily be viewed as Hornacek losing his team. At the same time, look at everything he's dealt with dating back to training camp.
Hornacek had to get a bunch of young players who, for the most part, had never played with one another to gel. With that group, he had to find a way to get them to compete on the defensive end. Impressively, they have done just that. New York is surrendering 105.1 points per game — which is 12th in the NBA. Hornacek has received a respectable effort from his team on the defensive end and when they started the season 0-3, did you ever think this Knicks' team would be in the top half of the league in points surrendered?
When a coach is working with a rebuilding roster, or one that includes a number of unproven and inconsistent players, it's difficult to assess the man in charge based on the team's win-loss at year's end. What that coach can be judged on are his team's defensive commitment and execution, and Hornacek has done well in that regard.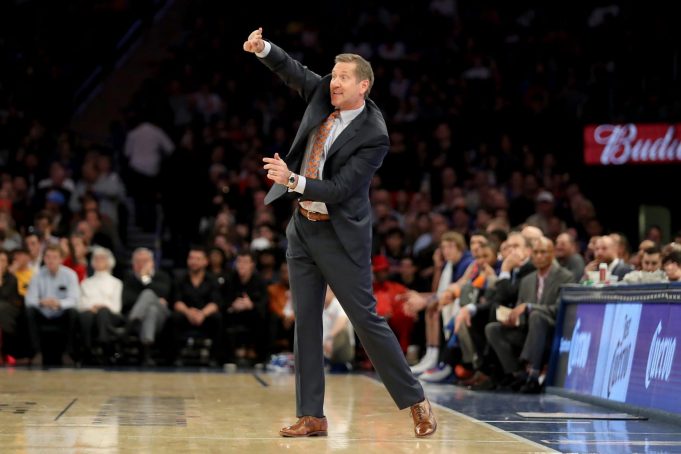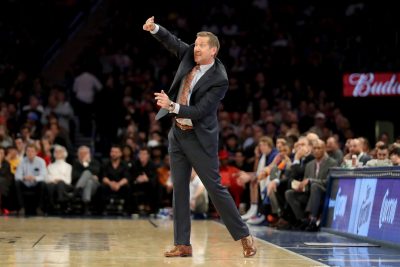 While not categorized as elite players on that end of the floor, McDermott, Kanter, Beasley, and Hardaway have held their own and shown signs of improvement defensively. Porzingis, Ntilikina, Lee, Thomas, and O'Quinn have also put forth valiant defensive efforts. The problem with the Knicks is their offense.
Averaging 104.6 points per game — which is 18th in the NBA –, the Knicks haven't been able to score at a high enough level on a nightly basis. With a team that was projected to win just 30-35 games and in search of an identity, that offensive struggle is expected.
It's important to remember that Hornacek was hired by Phil Jackson, not Mills or Perry. When new management is put in place and takes command, those new faces tend to bring in people they are familiar with to work alongside them. With Mills and Perry now in charge and Jackson out the door, the two could look to bring in someone of their choosing to be the head coach — which could be Jackson or Rivers –, relieving Hornacek of his duties.
Hornacek is not one of the premier names in the head coaching department and has not yet coached a playoff game with the Knicks, but the team's losing record is not his fault.
The Knicks are a rebuilding team that was never expected to compete for a playoff spot this year. Hornacek should not lose his job because his team is playing up to those underwhelming expectations.