The Knicks have passed the halfway mark of a season that's featured more good than bad but has still had its share of frustrations. Here are the three biggest questions facing New York over the second half.
C
onsidering where they started, it could be worse. A lot worse.
Just past the midway point of a season in which the fine folks at Vegas had the New York Knicks pegged for 30 wins, the Knicks have a record of 20-24. That it's coming off the heels of a 0-5 preseason and 0-3 start to the year makes the total all the more impressive.
While they've benefited from a home-heavy schedule, they've also had to deal with 20 missed games from Tim Hardaway Jr. and six from Kristaps Porzingis, plus two more where KP exited early with an injury. According to CleaningTheGlass.com, the Knicks should have half a win more than they do, based on their efficiency differential. In other words, they are what their record says they are.
Keeping that in mind, here are the three biggest questions facing the franchise from now until the end of the season.
Buyers, sellers or standing pat?
Let's eliminate one choice right off the bat: if the Knicks gave up anything by way of young players or draft picks to acquire a veteran at the deadline, it would be akin to the Mets trading Scott Kazmir for Victor Zambrano, Kris Benson and Kris Benson's wife 14 years ago. Scott Perry seems like a bright guy, and he's preached patience since taking over. He's not selling out on the future.
That leaves standing pat or selling off assets…or whatever the Knicks have that might be considered an asset.
The player who most closely fits that definition is Courtney Lee. While he's not young (32) or cheap (two more seasons at a total of $25 million), he might be the best two-way wing on the market come February. Lee isn't anyone's idea of a defensive stopper, but he won't hurt you on that end and is comfortable defending most small forwards.
That, combined with his shooting a career-high 43 percent from deep, makes Lee an incredibly intriguing player. He's also shown more off-the-dribble creativity this season than he's been known for throughout much of his career. On a team where he's the fourth or fifth option – as opposed to the second or third he's been tasked with being in New York – Lee could be the final piece of an offense for a playoff hopeful.
Both New Orleans and Detroit are fighting hard to make the postseason, have their respective 2018 first round picks to trade, and could use another wing. The Knicks would likely wind up taking back some bad salary in either deal, but in a league where even late first rounders are increasingly hard to come by via trade, New York may not have a choice.
The other name to keep an eye on is Enes Kanter, who is more of a wild card due to his $18.6 million player option next season that he is almost certain to pick up.
Opinions on Kanter vary as much as any player in the league. He is someone who is good at two particular skills—low post scoring and offensive rebounding—that have gone out of vogue and is weak in several areas deemed necessary to win in 2018. In his ideal role as a super-sub who can help carry an offense for 15 minutes a game, Kanter can be incredibly valuable, even if he is overpaid for that purpose.
The bigger issue is that very few playoff teams need another big man. Milwaukee comes to mind, but they dealt away a first rounder with heavy protections in the Eric Bledsoe deal and have nothing else of interest to trade besides Jabari Parker (keep dreaming, Knicks fans).
The bet here is that even if the Knicks do become sellers at the deadline, they can't find a workable trade for the big guy and instead revisit moving him in the offseason.
As for whether they do in fact become sellers, the smart money says no. Perry talks openly about the value of winning games for winning's sake and has no interest in anything resembling a tank. If the Knicks are even remotely in shouting distance of a playoff spot in early February, another team would have to blow them away with an offer for New York to make a move.
Speaking of which…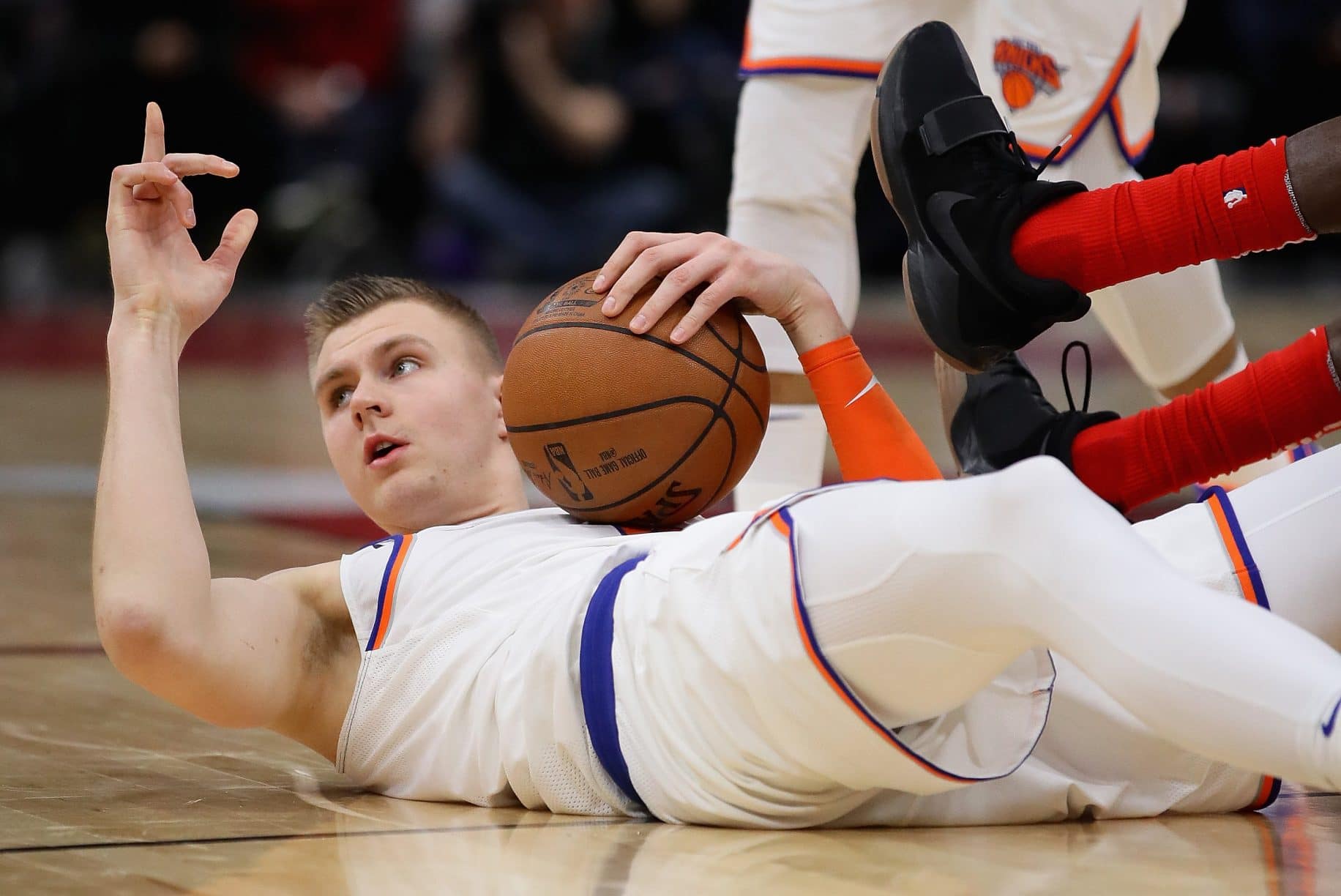 Playoffs … Playoffs?!?
The Knicks odds of making the postseason aren't quite at Jim Mora GIF levels, but they're not far away.
Currently, New York sits comfortably in 10th place in the Eastern Conference, two games ahead of the Charlotte Hornets but also two games behind the Philadelphia 76ers and three back of the eighth-place Pistons. Everyone ahead of Detroit figures to be safe, including the surprising Indiana Pacers who have righted the ship and won four of five since Victor Oladipo returned.
The Pistons will be without starting point guard Reggie Jackson for at least another three weeks, so the possibility of them falling remains—but it makes the possibility of the two teams engaging in trade talks even less likely. The Sixers are a different story.
Philadelphia has been surging of late, winning five of seven since defeating the Knicks on Christmas Day. Even with Joel Embiid missing a quarter of the team's games thus far and Markelle Fultz apparently taking shooting lessons from the drunk guy behind the local OTB, the Sixers are deep and talented. They have what it takes to make a run.
New York also can't count out the Hornets. Charlotte is about to play five in a row at home and is the type of franchise to make a win-now move even though it wouldn't be prudent to do so.
At the rate they're going, the Knicks will probably wind up playing meaningful games into at least late March, which is more than the last three editions of the team could say. While its possible the upcoming six-game West Coast swing goes horribly wrong, it's more likely that Timmy's return gives them just enough juice to stay within shouting distance of .500.
How close they get will depend largely on which players see the court over the season's final three months, and who surrounds one player in particular.
Decisions, decisions…
No, the last question is not going to be "what's wrong with Kristaps Porzingis?"
After treating the league like his personal rag doll over the season's first month, Kristaps has come back down to earth. Now he's merely having the exact season you would expect from an uber-talented 22-year old learning on the fly how to be the first option on a team slightly bereft of talent. Let's all chill out.
No, the final question here is how can Jeff Hornacek continue to try and make Porzingis' life easier by surrounding him with lineups that can generate some easier looks for his big man.
The template is clear: more time with Tim Hardaway Jr. and Frank Ntilikina.
When Porzingis, Hardaway Jr. and Ntilikina share the court, they're outscoring teams by a Madden-on-rookie-setting 31.5 points per 100 possessions according to NBA.com. Of New York's 67 three-man lineup combinations that have played at least 90 minutes together, this trio's net rating is more than double the second best combination.
Perhaps the bigger surprise is that through 45 games, the triad which figures to be the heart of New York's core for years to come has only shared the court for 92 minutes. Moving forward, Hornacek would be wise to get them a minimum of 10 minutes a game together.
More to the point, it may be time to hand over the reigns to the young Frenchman. Of the eight players Porzingis has shared at least 200 minutes with this season, he has a negative net rating in only two pairings: with Jarrett Jack (minus-1.1) and Courtney Lee (minus-0.5). However, when Porzingis and Lee share the court with Ntilikina and not Jack, they've outscored opponents by 10 points per 100 possessions over about 160 minutes according to CleaningTheGlass.com.
It should be noted that Jack always plays against the opposing team's starters, while Ntilikina / Porzingis units have had the benefit of playing against some backup-heavy bunches. Still, the contrast in numbers is stark.
The 14.2 net rating Frankie and KP have achieved together has come over 316 minutes of court time—far from an insignificant amount. For comparison's sake, James Harden and Chris Paul are a plus 8.8 in 368 minutes together, while Steph Curry and Kevin Durant are a plus 15.1 in 621 minutes.
Interestingly enough, when Ntilikina and Porzingis share the court, the only Knicks rotation players that have a negative net rating with the pair are Jack (minus-1.0) and Michael Beasley (minus-7.4), although both have come in limited minutes.
In terms of why the team is having more success with Ntilikina on the court, the obvious answer is his defense. According to CleaningTheGlass.com, opponents are shooting three percentage points worse from the field and turn the ball over almost two percent more when Frank is on the floor. Both numbers are in the 87th percentile among guards.
Less obvious is the offensive impact the rookie is having. The Knicks take more shots at the rim and shoot more from deep when he's leading the attack, and they shoot threes four percentage points higher on average.
Hornacek will also have an additional option at his disposal in the form of newest Knick Trey Burke. New York went on an 8-1 run during the three minutes of court time Burke shared with Porzingis in his debut. His penetration and handle clearly added a dimension that the offense has been lacking. The head coach may even want to experiment with some funky lineups that get Frank and Trey on the court together at once.
That's just one of many things for Knicks fans to look forward to as the second half of the season officially gets into full swing. If nothing else, here's hoping the season ends with one combination that's been sorely lacking for a few years now: hope and optimism.