Playing with an attacking mindset will bring the most out of New York Knicks' big man Kristaps Porzingis.
Kristaps Porzingis has played well in his first year as the New York Knicks' offensive focal point, but there are still glaring holes in his game, one being his tendency to settle for outside jumpers. If the big man wants to elevate his game to greater heights, he must play with an attacking mindset.
The Knicks went into their Monday afternoon affair with the Brooklyn Nets looking to snap a three-game skid and get back on the winning sides of things after also dropping 10 of their last 12 games. Thanks to 26 points from Porzingis on an efficient 8-of-14 shooting from the field and 2-of-3 from beyond the arc, as well as nine rebounds and two blocks in just 27 minutes, the Knicks were able to win their third game versus the Nets this season, 119-104.
Going into their matchup with the Nets, Porzingis was struggling offensively. Averaging just 19.9 points per game on 37-percent shooting in January, he was not serving as a reliable go-to option (Porzingis is averaging 23.7 points per game on 43.4 percent shooting from the field this season). Struggling to gain position in the post and finish in the paint, he was producing at a discouraging level, making his Monday afternoon performance comforting for head coach Jeff Hornacek and the Knicks.
Playing with an attacking mindset, Porzingis showcased a well-rounded offensive arsenal. And if that versatile play continues, Porzingis can be unstoppable.
It's no secret that the seven-footer is not adept at operating in the post or creating his own shot at ease. He's accustomed to playing out on the perimeter, finishing off fastbreaks and executing ally-oops. It's what makes him a unique player. At the same time, at 7-foot-3, there are solutions that can offset his post-up flaws and advance his game.
Is it becoming the norm for big men to gravitate towards playing out on the perimeter, or, at the very least, develop a reliable jump shot? Of course, and Porzingis blends in well with that trend. Simultaneously, if Porzingis' outside game can become his secondary source of scoring, he will become an even more formidable presence.
Porzingis possesses a long wingspan and his height gives him an advantage over 99.9 percent of the players that guard him, especially on jump shots. When it comes to other aspects of play on that end, it's no different, but attacking the rack in particular.
Porzingis has shown his cards, that being he prefers to operate out on the perimeter, but getting in the habit of pump faking, or just going straight at the rim, can catch defenders off-guard. Based on how hard it is to block his shot, or have an answer for him in the paint, Porzingis often gets fouled when he puts the ball on the floor and attacks the rim.
Hornacek and the Knicks have seen Porzingis play with aggression in the past, most recently in the early stages of this season, but it has been hot and cold.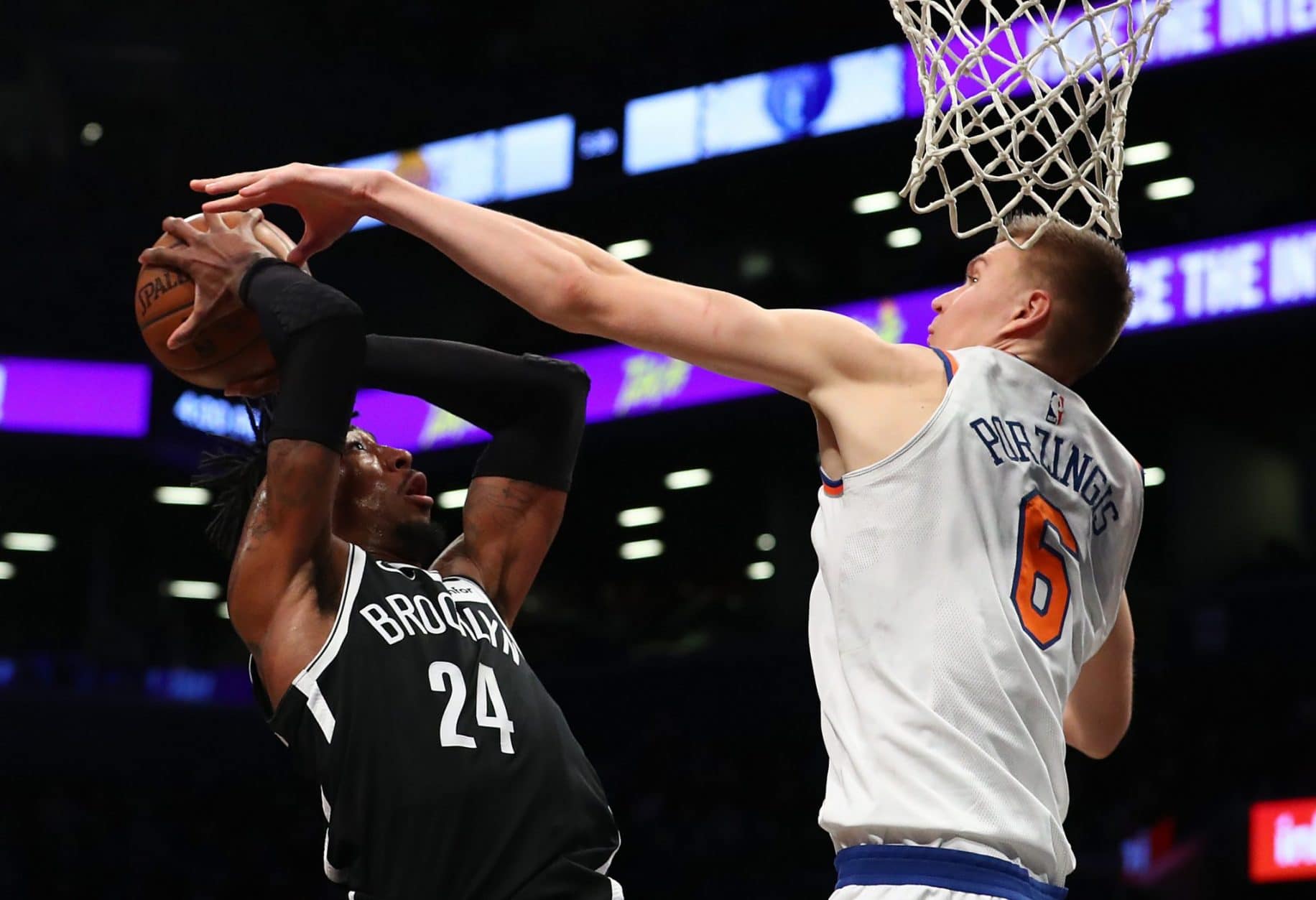 If Porzingis isn't going to establish a consistent post game, then playing with more aggression—forcing his way to the rim and/or the charity stripe—would make him more of an offensive threat.
The rebounding numbers with Porzingis also aren't where the Knicks would love for them to be. Averaging just 6.9 rebounds per game this season and 7.2 for his career, he hasn't hit the glass at will, making it even more imperative that he improve the other weak spots in his game.
Monday afternoon was just one game, but if Porzingis can continue to play with aggression, while also operating out on the perimeter when necessary, he will begin to truly establish himself as one of the more potent big men the NBA has to offer.