Should the Charlotte Hornets seriously pursue trading Kemba Walker, rumors and buzz surrounding the New York Knicks bringing him back home to the five boroughs will be loud and sensical. 
T
wo weeks into January means NBA trade season is upon us, and with that, a big decision awaits the
New York Knicks
.
Should they buy or sell?
At 20-24, things are brighter than predicted, but a trade could vastly improve the Knicks' circumstance.
In particular, the acquisition of Charlotte Hornets point guard Kemba Walker could do New York a lot of good. At 27-years-old, the former UConn product has become one of the best scorers in the game, and arguably a top-25 player in the NBA.
It may sound ridiculous to think that the Hornets would trade their former ninth overall pick who they set out to build the franchise around, but as they currently sit 12th in the Eastern Conference and Walker is set to be a free agent in 2019,
Marc Stein of The New York Times claims it's a real possibility:
"The Michael Jordan-owned Hornets are going nowhere. Yet we advise you to track them at least through the Feb. 8 trade deadline because Charlotte will probably be forced to consider dealing Kemba Walker. If Walker stays, Jordan risks losing his best player without compensation in the summer of 2019 — or, perhaps worse, paying big bucks to hang on to him instead of starting an overdue tear-down of a pricey but mediocre roster."
Now hang on Knicks fans, I know exactly what you're thinking.
"Why should New York make a trade that would assuredly slow down the growth of rookie point guard Frank Ntilikina?"
Because in this version of Knicks future, the French Prince is nowhere to be found.
Offense
For years, the Knicks have played with lackluster point guards who couldn't score the basketball. Nowadays, that's no different with veteran Jarrett Jack and Frank Ntilikina.
In Kemba Walker, New York gets one of the better scorers not only at point guard (fifth), but in the entire league (18th). He's averaging 21.7 points per game and recently poured in 41 against the Dallas Mavericks.
It was his second 40-piece this season and a reminder to the good folks of the Eastern Conference that he is indeed capable.
The Knicks sacrifice this scoring punch with guards like Ntilikina and Jack. Where the rookie is all-defense, Jack is averaging 6.1 assists per game, keeping the offense at a decent flow for New York.
As trade season approaches, all teams with a need for quality buckets should take interest in Kemba—the New York Knicks especially.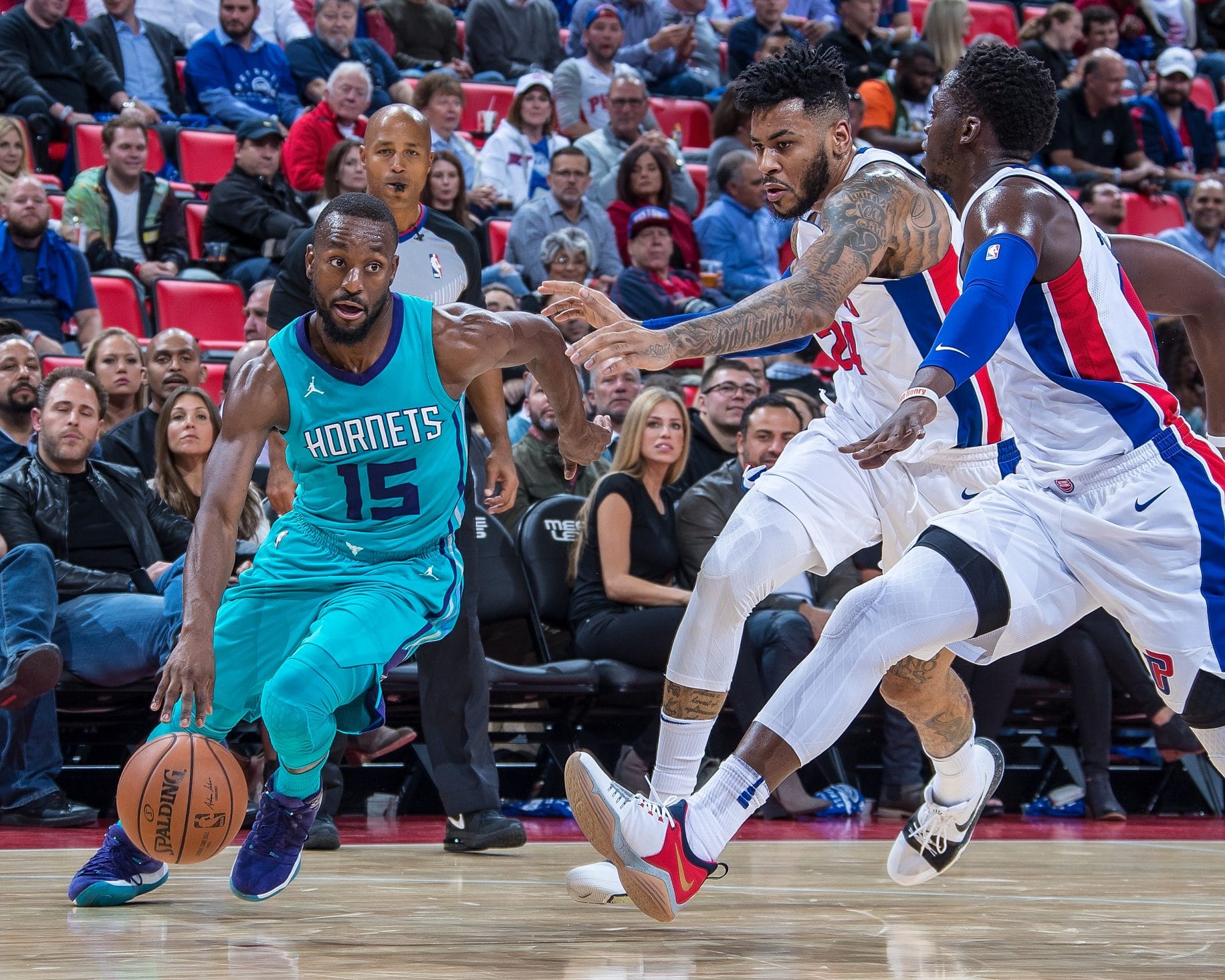 Culture
As it stands now, Walker is assuredly a top-30 player in the NBA. I would argue he's higher, but the general consensus is he sits 30th at a minimum.
Next to Kristaps Porzingis, the New York Knicks would instantly be home to one of the league's better duos. Sure, Carmelo Anthony was undoubtedly one of the league's better scorers when he played for the Knicks, but he and Porzingis were no top duo.
Walker's addition would also boost the likely low appeal New York holds as a future free agent destination. Who wouldn't want to play next to Walker and Porzingis?
Although the Hornets point guard is nearing a free agency decision after next season, as a former Bronx native, he could be inclined to re-sign with the Knicks. If not, New York at least gives Porzingis a season and a half with a real point guard at a time which he undoubtedly needs it most.
Porzingis Pros
Speaking of the young Latvian star, this trade could seal the deal for his immediate future. Though he's definitely enjoyed his time with his French counterpart, acquiring help like Kemba Walker could win him over.
At the end of last season, Kristaps skipped his exit interview. He was frustrated with the franchise and wanted all to know. Only eight months later, all is "solved for the time being."
Whether it has or not, showing him that New York is a place he can entrust his career is vital to the Knicks' future. Kemba Walker is a name and talent that does just that. (See Russell Westbrook's decision to sign a contract extension, circa 2017.)
Potential Trade
This is the part you're really going to dislike, especially if you're a big fan of Frank.
New York receives:
Kemba Walker
2018 Second Round Pick
Charlotte receives:
Frank Ntilikina
2018 First Round Pick
It sounds like a lot, but let's explore.
Frank doesn't have a future in New York should they buy themselves Kemba and Charlotte would be stupid to ignore the potential of he and Malik Monk in the backcourt.
Yes, Ntilikina is a defensive prospect, but to most, he'll never be more than that. In Walker, you get an already qualified defender at point with the scoring to match.
Lance Thomas has been great for the Knicks, but has yet to really play out of his role as seventh or eighth man. His time is coming and his absence will open up more minutes for Michael Beasley and Courtney Lee.
Kyle O'Quinn has been the subject of trade talk going back to last season and will undoubtedly opt out of his contract at the end of the year.
The 2018 first round pick, well it sure sucks to give away, but it's going to be necessary to acquire Walker from Charlotte. The Hornets are approaching an inevitable rebuild and will want as much young talent as possible going further.
That second round pick will ease the pain for New York, as a lot of talent will be featured in this year's draft. For both sides, this trade makes a world of sense and could accommodate the needs of both franchises.
After years of playing punch line for some of the league's worst jokes, the New York Knicks are winning basketball games again. Then again, that's no reason to get comfortable. Young Ntilikina was a great draft choice, but that doesn't mean there's no reason to trade him.
Every player in the league is subject to be traded for the right deal, from the right team. For New York, this is that trade.
Kemba Walker and Kristaps Porzingis hold the potential of altering the totem pole in the Eastern Conference and, more importantly, the future of the Knicks franchise itself.