After an encouraging 2017 season, the New York Giants should look to retain running back Orleans Darkwa in free agency.
Running back Orleans Darkwa was one of few bright spots in the New York Giants' disastrous 3-13 season, which is why general manager Dave Gettleman and company should prioritize re-signing him to be their featured halfback in 2018.
In the midst of their chaotic, disappointing season, the Giants' Achilles' heel was undoubtedly their offensive line. Whether it be the shaky execution from tackles Ereck Flowers and Bobby Hart, the injuries that struck guards Justin Pugh and D.J. Fluker, or the team's inability to consistently hold their own, the Giants' O-Line was a liability in their offense's efforts towards posing a potent bunch.
Impressively, despite those shaky conditions in front of him, Darkwa was able to put together a productive season. Getting the ball 171 times and rushing for 751 yards and five touchdowns, he was an impressive presence in the Giants' rushing attack, shedding tackles well and putting up a fight when someone tried to bring him down. Simultaneously, many can view his collective output as deceiving based on a great chunk of his total yards coming in two games.
Rushing for 117 yards in the Giants' Week 6 matchup with the Denver Broncos and a career-high 154 yards in their Week 17 affair with the rival Washington Redskins, the bulk of Darkwa's yards on the ground came in two of the team's three wins — making his overall statistics a bit misleading. At the same time, his ability to bust out for those explosive performances was still impressive and eye-popping, as was his efficient 4.4 yards per carry — which was tied for 10th in the NFL.
In what forecasts to be a busy offseason for management, the Giants have a number of situations to figure out and voids to fill, voids that include fixing the O-Line.
With Patriots' left tackle Nate Solder, Seahawks guard Luke Joeckel and Redskins' guard Shawn Lauvao set to hit the free-agent market, to name a few, the Giants have a number of players they could look to sign to help shore up their line. Two of their own guards Pugh, Fluker) are impending free agents too.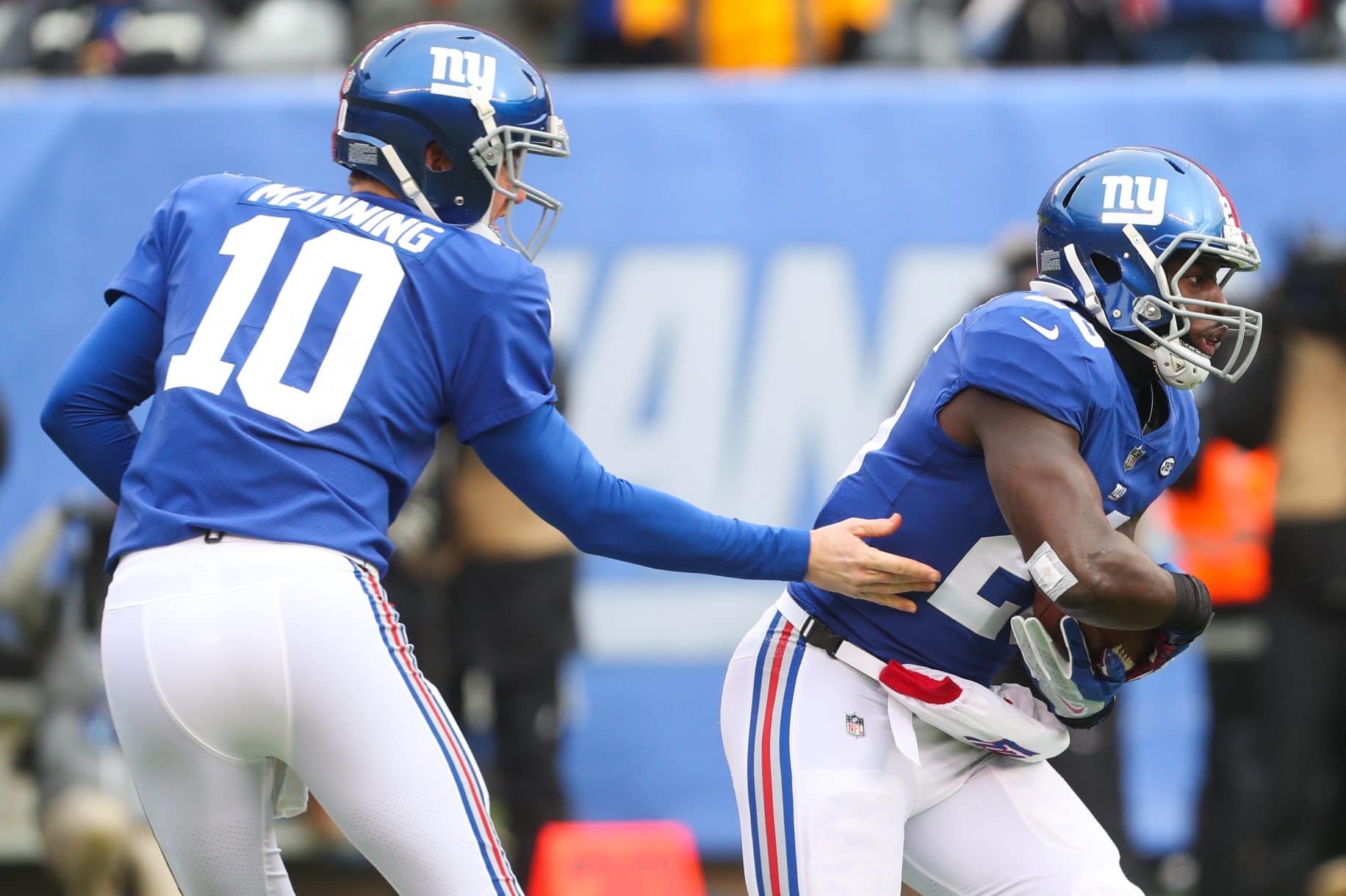 If and when the Giants can get help up front in free agency and/or the NFL Draft, they can then begin to establish a reliable, respectable ground game. With a new and improved line in front of Darkwa, there's no reason why he couldn't improve on his 2017 season.
Of course, if such pieces are put in place in free agency, some will argue that the Giants should look to select Penn State running back Saquon Barkley — who ran for 18 touchdowns and averaged 5.9 yards per carry in his Junior year — at number two overall. If the Giants can sign help up front in free agency, chances are they will look to either add onto that size or draft their quarterback of the future to either replace or sit behind Manning for a year (Josh Rosen, Sam Darnold, Baker Mayfield, etc.), instead of selecting a premier running back.
Darkwa ran well in 2017 and is worthy of a new deal. Whether it be a one-year or multi-year pact, retaining the Tulane product is the appropriate course of action for the Giants and would potentially provide them with their first 1,000-yard rusher since Ahmad Bradshaw rushed for 1,015 yards back in 2012 — assuming they fortify their O-Line.