It didn't take long for newly minted general manager Dave Gettleman to shake things up with the New York Giants.
O
n Saturday, the new shot-caller for the New York Giants
dismissed
vice president of player evaluation Marc Ross and waived offensive tackle Bobby Hart.
So far he's living up to what he said at his press conference: "My plan is to come in here every day and kick ass. I'm going to keep doing it until they either take my key card or the Lord calls me home."
Now Gettleman must make more tough decisions in the offseason to restore the Giants credibility after coming off the worst season in franchise history.
Here are his top offseason priorities.
1. Hire a no-nonsense head coach
Gettleman said that he would give interim head coach Steve Spagnuolo an interview after the season. But considering the Giants are 0-3 with him as the coach and have the 32nd ranked defense in the NFL, the chances of removing the interim from his title aren't good.
One of the biggest problems the Giants had this season when Ben McAdoo was the coach was the lack a discipline on and off the field and not holding players accountable for their actions. Gettleman must find a disciplinarian who can motivate and run a tight ship.
2. Rebuild the offensive line
The offensive line has been the Giants Achilles heel for several seasons. This is the main reason why they're averaging just 15 points a game this season which is 31st in the NFL, ahead of only the winless Browns.
As bad as the offensive line was this season, it could potentially be worse next season if Gettleman doesn't make the line a priority. The Giants two best offensive linemen, Justin Pugh and Weston Richburg, are both free agents and coming off injury-plagued seasons.
Despite missing eight games this year due to back issues, Pugh is invaluable to the Giants because he can play right tackle and both guard positions. So re-signing Pugh needs to be high on Gettleman's list.
In addition, Gettleman needs to acquire two offensive tackles because it's time to put an end to the Ereck Flowers era at left tackle, and the Giants will need a right tackle since Pugh is best-suited playing guard.
Gettleman must draft a tackle early in the draft and look to acquire potential free agent tackles—someone like Nate Solder. With an improved offensive line in 2018, the Giants offense will be less predictable, open holes for running backs, and give whoever the Giants quarterback is time to find receivers downfield.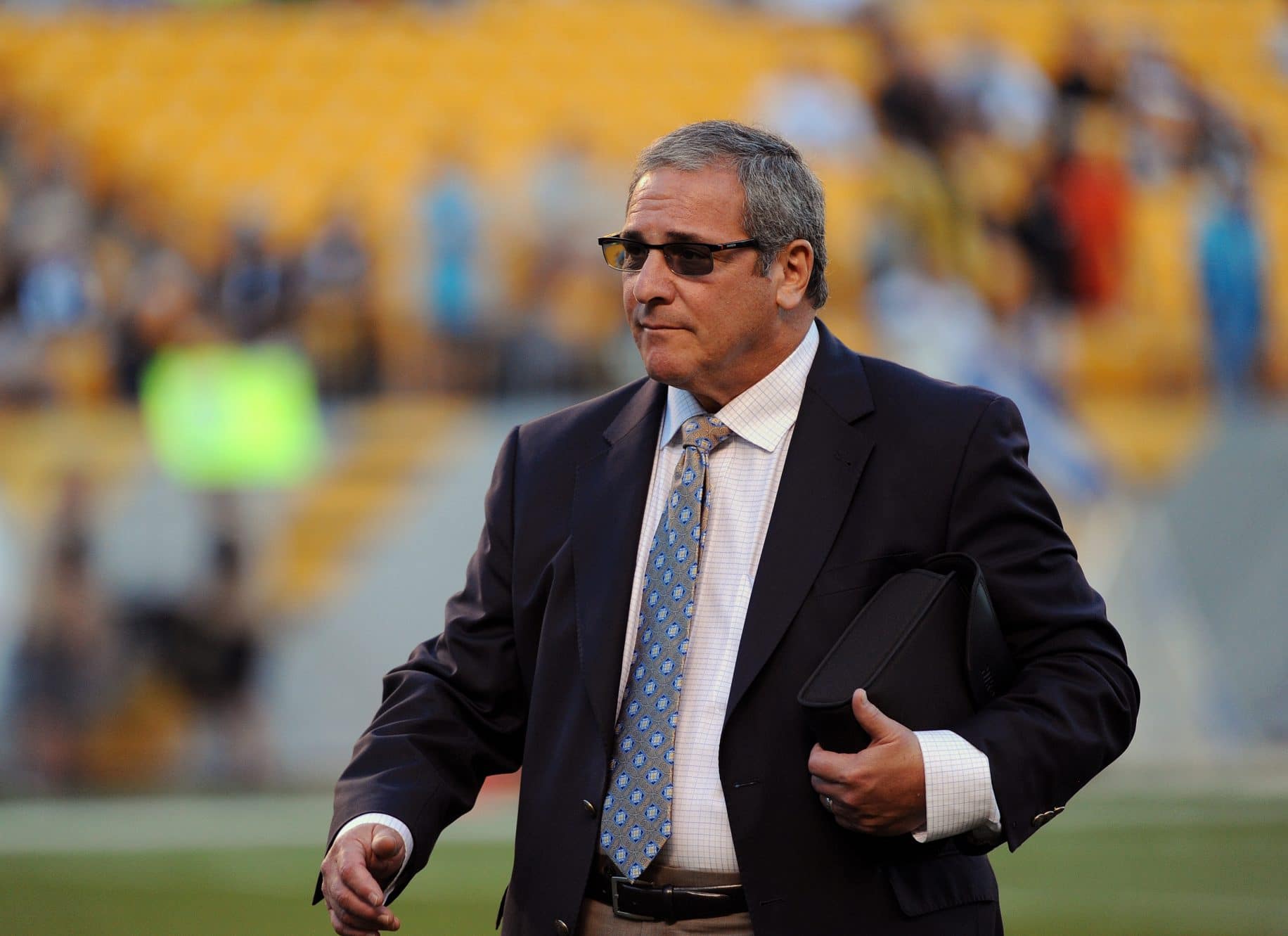 3. Decide what to do with Eli Manning
Giants co-owner John Mara said he wants Eli Manning as his quarterback in 2018, and during his press conference indicated that he would like to have Manning back next season.
But long term it might be best for Gettleman to talk with Manning to see if he's willing to waive his no-trade clause so that the Giants can get pieces that will help them for years to come.
Manning turns 37 in January, and the Giants have a long way to go before they will be serious Super Bowl contenders. So it might be best for Manning and the Giants to part ways, especially if Gettleman wants to draft a QB. This will be the most emotional decision Gettleman has to make.
4. Come to terms with Odell Beckham Jr.
Ever since Odell Beckham Jr. was lost for the season in Week 5, the Giants offense has been putrid. They've only scored 20 or points since his injury and have seldom generated any big plays.
As we know Beckham is one of the best players in the league but he's also a unique and strong-minded character who doesn't always make the best decisions.
Gettleman traditionally has done poorly when it comes to contract talks, like when he unceremoniously cut Steve Smith Sr. and rescinded the franchise tag to Josh Norman while running the Carolina Panthers.
Beckham is under contract for next season, but after seeing his football mortality after suffering a serious injury, he may hold out until he gets a new deal. Gettleman has to make sure that he and OBJ get on the same page.
5. See if anybody will trade for Eli Apple
It has been a controversial and disastrous season for second-year cornerback Eli Apple. He threatened to walk out of a film session after being criticized for his play. He's clashed with coaches and teammates and was suspended for the season finale.
On top of that Landon Collins called him a cancer, a statement that many in the organization believe to be true.
So the bridge is burned between the Giants and the 22-year-old Apple. It would be almost impossible to have Apple in the locker room next season.
It's time for Gettleman to make calls to other teams to see if somebody will take him for a mid-or-late-round pick.