While the New York Giants have to make decisions about what to do with the second overall pick in the 2018 NFL Draft and Eli Manning, they also have a slew of free agents whose future hangs in the balance.
B
ack in December, ESPN's
Adam Schefter
reported that the
New York Giants
hadn't held talks with any of their pending free agents, adding " the Giants appear to have extended unofficial invitations to their players on expiring contracts to test the market."
Could part of that be because the team has no interest in keeping any of them around? Sure, it's possible. But it seems far more likely that the Giants knew they were going to make massive changes in the front office and on the coaching staff, and wanted to allow the new brain trust to make the decisions, not Ben McAdoo and Jerry Reese.
With new general manager Dave Gettleman in place and the coaching search underway, decisions on the players that follow could be made rather quickly.
For our purposes, we are only going to focus on restricted and unrestricted free agents, not exclusive rights free agents.
Quarterbacks (1)
As ESNY's Geoff Maggliochetti wrote, it's unfair to blame Geno Smith for ending Eli Manning's consecutive games played streak. After all, it wasn't Geno who made the idiotic decision to bench Eli; to try and make the best quarterback in franchise history look like the scapegoat for a lost season. No, that blame rests on the shoulders of co-owners John Mara and Steve Tisch, two men who have proven only one thing: They really don't have a clue as to what they're doing.
Still, Smith isn't a part of the team's long-term future. With a new coaching staff coming in, there's no argument to be made about his familiarity with the system as a reason to keep him around. Geno may be a solid backup, but he'll have to do it somewhere else.
Verdict: Smith is gone.
Running Backs (2)
Believe it or not, Big Blue's ground game actually improved in some ways in 2017 from 2016.
| Season | Attempts | Yards | Yards Per Carry | Longest Run | TD | Fumbles | Lost Fumbles |
| --- | --- | --- | --- | --- | --- | --- | --- |
| 2017 | 394 | 1,549 | 3.9 | 75 | 6 | 5 | 1 |
| 2016 | 398 | 1,412 | 3.5 | 25 | 6 | 2 | 1 |
But a slight improvement in total yards and yards-per-carry weren't nearly enough to make the Giants' running attack something other teams had to gameplan against.
Darkwa was the team's leading rusher: 171 carries for 751 yards and five touchdowns. But those numbers are a bit misleading. Consider this: 36.08 percent of his yardage came in two games. He had 21 carries for 117 yards against Denver and 20 carries for 154 yards against Washington in the season finale. Take those games away, and he's left with 130 carries for 480 yards—a very pedestrian 3.7 yards-per-carry.
But he sounds like a man who is banking on those two big games paying off.
"We'll see what happens," Darkwa told the Trentonian's Greg Johnson recently "I love the fans here. Love the players. I've been here for a while and it's definitely been fun, but I'm looking forward to the future and … that's things to discuss with my agent."
Vereen had nearly as many catches (44) as he did carries (45), not a huge surprise considering his primary role with the G-Men has been as a third-down/receiving back. But the seven-year vet is entering his age-29 season, and with Wayne Gallman looking like he can handle third-down duties at a fraction of the price Vereen is going to command (he made $4.1 million in 2017), keeping him around is a luxury, not a necessity.
Verdict: Darkwa and Vereen both run elsewhere.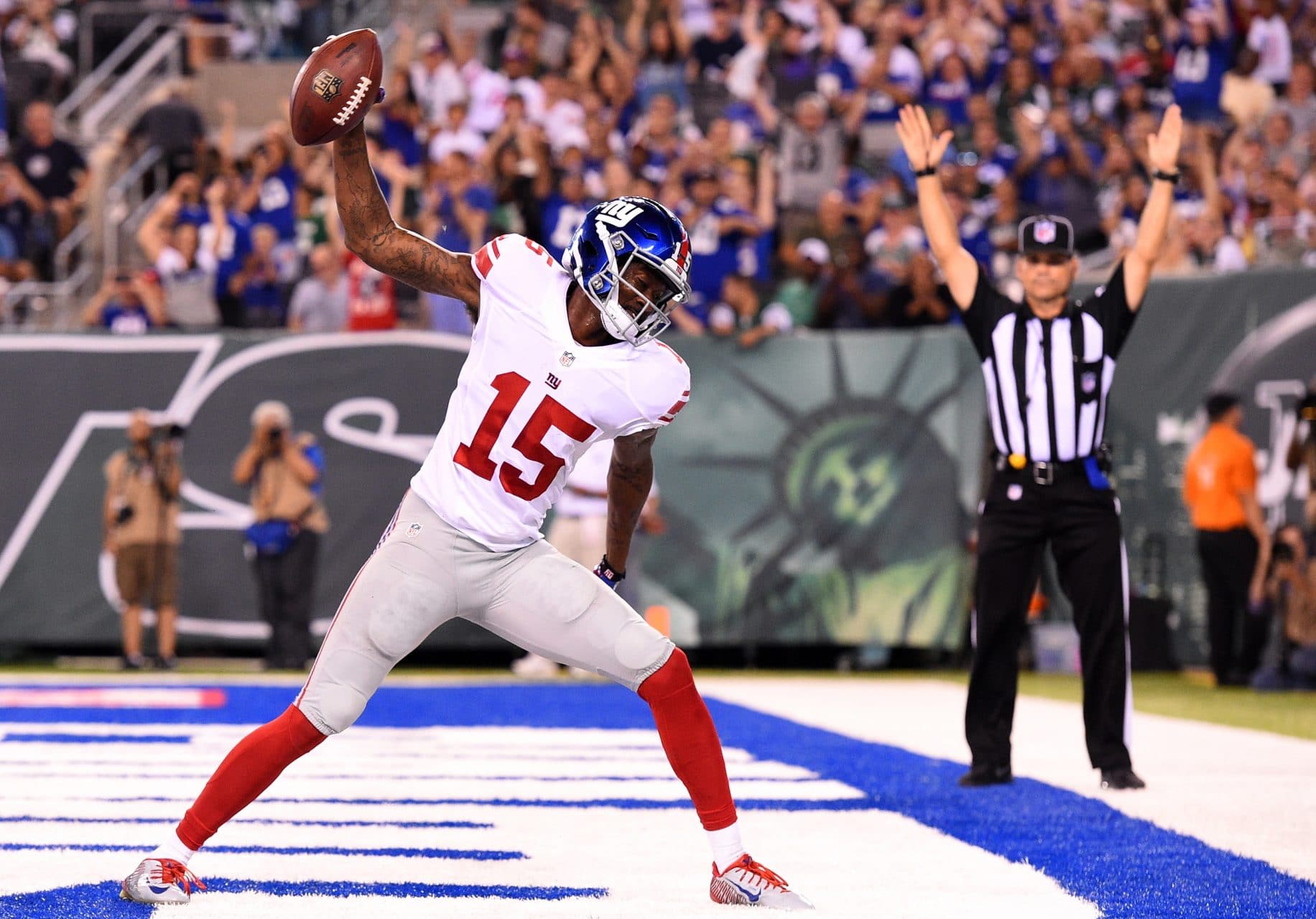 Wide Receivers (2)
King was enjoying his most productive season, with 18 receptions for 230 yards and three touchdowns, but was placed on season-ending injured reserve due to a concussion before the Week 17 game against Washington.
That said, King is what he is—a solid No. 4/No. 5 receiver. Nothing more, nothing less. But there's value in the familiarity he and Manning have with each other, and he's not going to cost much to re-sign.
Raymond was brought in for one thing—to add a spark to the return game. He failed, averaging 18 yards per kickoff return for the Giants, which would have had him tied for 81st in the NFL among all players (not just those qualified for the leaderboard). He was just as mediocre returning punts, posting a five-yard return average—the same as short-lived Giant Ed Eagan.
Verdict: King sticks around, Raymond doesn't.
Guards (3)
A former first-round pick by San Diego (now Los Angeles), Fluker proved himself to be a solid all-around lineman for the Giants and, as NorthJersey.com's Art Stapleton reported recently, has already met with Gettleman and expressed a desire to remain a Giant.
D.J. Fluker says he talked with Dave Gettleman yesterday. Got a good vibe. Fluker wants to be back with #Giants, but feels like he proved he can play on this year's prove it deal. Will be looking for more security this time around.

— Art Stapleton (@art_stapleton) January 1, 2018
Considering that the entire O-Line needs a massive overhaul, that Fluker actually wants to be a Giant and was solid if unspectacular during his short run with the team, Gettleman has plenty of reasons to keep him around.
Greco appeared in six games for Big Blue, but the longtime Cleveland Browns lineman is past his prime and entering his age-33 season in 2018. Assuming he doesn't retire, he could serve as low-cost veteran depth on the line.
What to do with Pugh will be one of Gettleman's toughest decisions. On one hand, the 27-year-old has been a selfless Giant, playing wherever the team needed him and holding his own, despite being a better guard than tackle.
On the other hand, Pugh hasn't played a full 16-game season since 2013, his rookie campaign. Over the past four seasons, Pugh has appeared in 47 of a possible 64 regular-season games. Re-signing him won't be cheap—quality offensive linemen are always in demand, especially those who are experienced and still in their primes. And when asked about his desire to return recently, he was non-committal.
"I want to win. I want to win now," Pugh told Johnson. "This is the first time I'll ever get to choose where I play and the situation that I'm in. Obviously, I've grown up in New York. I want to be in New York. But we'll see what happens."
Verdict: Fluker stays, Greco and Pugh walk.
Tackles (1)
Nick Becton
Becton was promoted from the practice squad to the active roster before Week 17, but the 27-year-old is a career journeyman who is nothing more than organizational depth. A return to the practice squad is a possibility.
Verdict: Becton bolts.
Centers (2)
What to do with Richburg, like Pugh, will be another tough decision for Gettleman to make. It wasn't that long ago that Richburg was considered one of the best centers in football. But a concussion knocked him out for the season in Week 4. That's concerning.
He's a bit undersized at 6-foot-3, 298 pounds, and while he's proven himself to be a solid all-around center and a leader, the 6-foot-2, 318-pound Jones was terrific as his replacement.
Verdict: Jones gets the bones, Richburg gets rich somewhere else.
Defensive Tackles (1)
A third-round pick out of Syracuse in 2014, Bromley has become a key piece of the Giants defensive line rotation. He's coming off another productive season that saw him finish with 21 combined tackles (17 solo), a sack and a pass defended.
Verdict: The bromance with Bromley continues.
Defensive Ends (1)
Kerry Wynn
Like Bromley, Wynn was part of the defensive line rotation. But the four-year veteran saw his snap count drop as the season went on, to the point where he was hardly on the field—other than on special teams—after the team's Week 9 loss to San Francisco.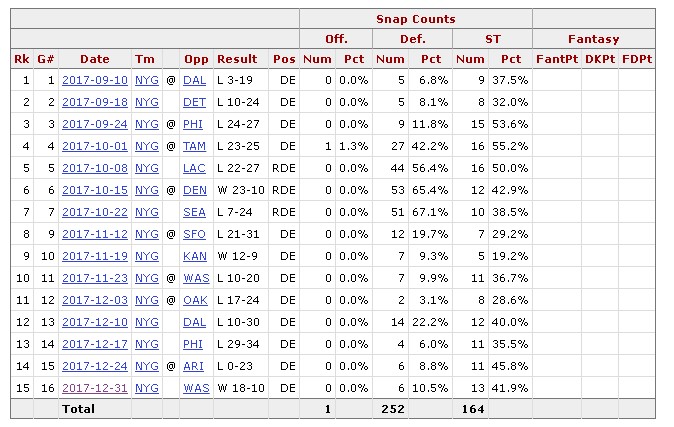 Even with a decrease in his playing time, Wynn is sure to be looking for a raise from his $1.8 million salary. While keeping him around as insurance due to the shaky injury history of Jason Pierre-Paul and Olivier Vernon makes sense, the Giants have cheaper reserves (Avery Moss, Romeo Okwara) already under contract.
Verdict: Big Blue waves goodbye to Wynn.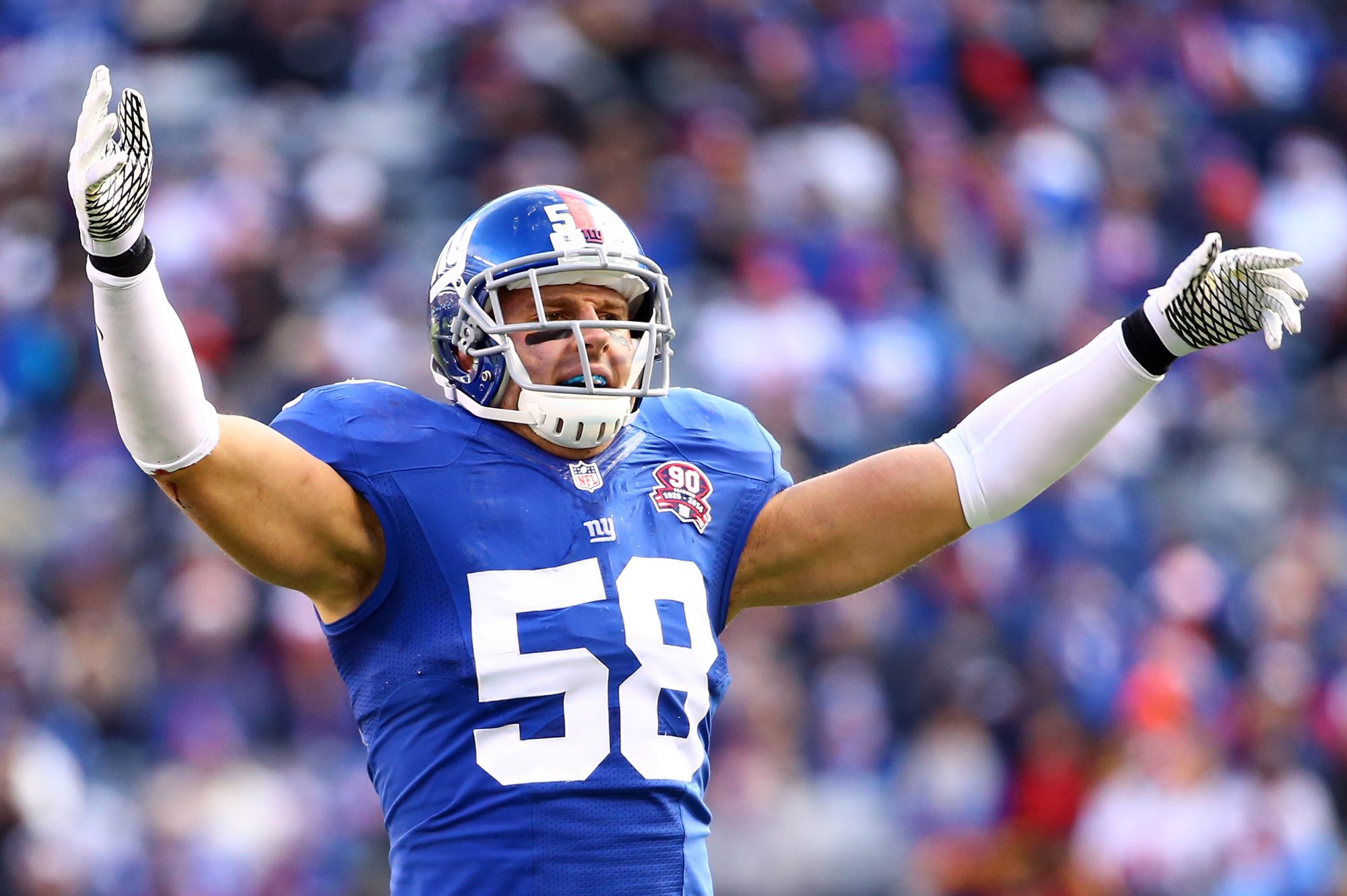 Linebackers (6)
Akeem Ayers, Jonathan Casillas, Mark Herzlich, Devon Kennard, Keenan Robinson, Deontae Skinner (RFA)
It's been a long, long time since the Giants had a legitimate stud linebacker, so there's a case to be made for Big Blue to let every one of their free-agent backers take a hike. But that's not going to happen.
Ayers was almost exclusively a special teams player for the Giants in 2017, recording a total of four defensive snaps in the six games he played. A former second-round pick out of UCLA, he's worth keeping around for his special teams play and as depth.
The same holds true for Herzlich, who was placed on season-ending injured reserve before the season even began. The Boston College product led the G-Men in special teams snaps in both 2015 and 2016.
Casillas landed on injured reserve in early December due to a stinger. While he's been a defensive captain, he's also been maddingly mediocre.
Kennard finished third on the team in sacks this year (four), behind JPP (eight) and Vernon (seven). Entering his age-27 season, he still has some upside and has been one of the few consistent linebackers the Giants have had since being drafted in 2014.
Robinson and Skinner are nothing more than expendable depth players.
Verdict: Ayers, Herzlich and Kennard remain Giants. Casillas, Robinson and Skinner depart.
Cornerbacks (2)
The Giants acquired Cockrell from the Pittsburgh Steelers in exchange for a conditional 2018 draft pick right before the season started, and it turned out to be one of Reese's better moves.
He finished the season tied with Janoris Jenkins for the team lead in interceptions (three), led the team in passes defended (11) and was tied with Eli Apple for the lead among cornerbacks in tackles (49).
With Apple's future uncertain, re-signing Cockrell could be a priority for Gettleman.
Morris, meanwhile, is a career journeyman, having played for four teams in five years. Injuries to the secondary got him a roster spot. A healthy secondary will force him out the door.
Verdict: Cockrell stays, Morris departs.