Let's get something straight: The New York Knicks are not a playoff team. Rather than placing false hope in a useless playoff run, here are three scenarios more likely than a postseason berth from the Knickerbockers.
The 2017-18 New York Knicks were supposed to be without the burden of expectations. After Carmelo Anthony handed off the keys to Kristaps Porzingis, it was reasonable to expect that this would be a transition year. Then, the worst possible thing happened; the Knicks came together early on and strung together a series of wins.
Under different circumstances, a surprise playoff run would indisputably be a revelation. But in the case of these Knicks, all it does is harm them in more ways than one. For starters, this season didn't carry any expectations. Now, the hype train has changed all of our perceptions. The brief glimpse of this team firing on all cylinders will leave us all disappointed if they fail to reach the postseason.
Conversely, the upcoming draft class features a top seven that has the potential to impact their respective clubs immediately. The Knicks were almost better off being a really bad team rather than a mediocre one. Every single win this team picks up going forward just pushes them further and further away from landing a top pick in the lottery.
After an eye-opening 17-14 start, the Knicks find themselves coming back down to earth, losing their last two and six of their last seven. The prolonged absence of Tim Hardaway Jr. has weighed heavy on this club, not to mention the recent struggles of Kristaps Porzingis. Despite our heightened expectations, it has become fairly evident that this is not a playoff team. However, many will hold on to this sentiment and keep the faith as the season presses on.
Earlier this week, I touched on a few scenarios that would be more likely than David Wright returning to the New York Mets lineup. In the same vein, here are three things more likely than a Knicks playoff appearance. Some will seem realistic while others will seem a bit out there, but at the end of the day earning a postseason berth is such a long shot that they are all within the realm of possibility.
The Knicks finally embrace the tank and a land a top-four pick
As previously noted, the 2018 NBA Draft class features seven players that have immediate and recognizable star potential. Landing any of these players would be a major win for the Knicks. With that being said, there are four that stand out well above the others. DeAndre Ayton, Mohamed Bamba, and Jaren Jackson Jr. would be a fine haul for any team, but Marvin Bagley, Trae Young, Luka Doncic, and Michael Porter Jr. stand out significantly from their contemporaries. In order, those players have drawn comparisons to Chris Bosh, Steph Curry, Toni Kukoc, and Kevin Durant.
The Knicks already have their superstar in Porzingis, a rising young point guard who can defend at the NBA level in Frank Ntilikina, a solid rebounding center to complement Porzingis in Enes Kanter, and strong role players in the form of Doug McDermott and Courtney Lee. With the addition of Bagley, Doncic, Young, or Porter, the Knicks would maybe have found the Robin to KP's Batman and have the early makings of a title-contending core.
Frank Ntilikina lands on the NBA All-Rookie team
I will be one of the first to admit that I was not in favor of drafting Ntilikina out of France. My sentiments were the same when it came time to draft Porzingis and, thankfully, I was wrong about him too. I would attribute it to regional bias, as it's easier to yearn for players you spent watching the previous year in the NCAA as opposed to relative unknowns. But one thing I've learned as we approach the midway point of the season is that Frank Ntilikina was the right pick for this team and has the chance to be a very special player one day.
Things getting chippy between LeBron and the Knicks ? pic.twitter.com/zAhQt6QSvz

— Bleacher Report (@BleacherReport) November 14, 2017
The 19-year-old native of Ixelles, Belgium has proven to be a tenacious defender and gifted passer. His 6-foot-5 frame is conducive to the modern NBA that emphasizes constant defensive switches to create mismatches. Ntilikina has proven to be more than capable of handling opponents of all shapes and sizes and comes up with an impressive amount of steals. His ball skills have the potential to terrorize the opposition one day.
Ntilikina also has shown that has a knack for finding his teammates in creative ways. In order to take the next step forward, Ntilikina needs to cut down on his turnovers and learn to attack the basket more. Both are feasible goals and should be attainable as he continues to develop at the NBA level. Still a teenager, Ntilikina has a high ceiling and the room necessary to grow. If he is able to take what he's done in the first half of the season and use it as the foundation for the second half, then there is a good chance that the Knicks' rookie could find himself on one of the NBA All-Rookie teams. That is, of course, if Jeff Hornacek ups his playing time.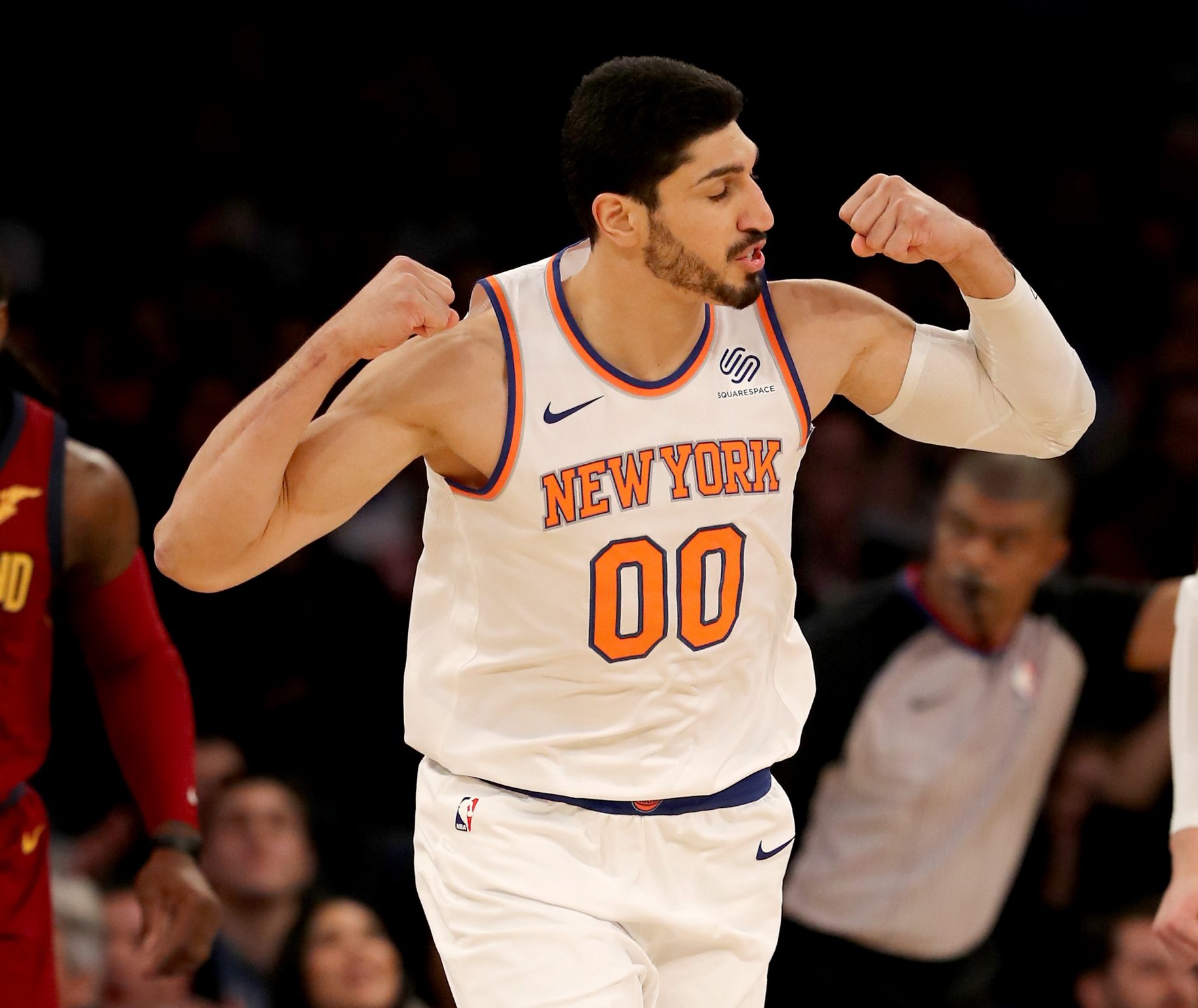 Enes Kanter takes the leap
Enes Kanter has been a revelation this season for the Knicks, but a lot of that has been overshadowed by the overseas controversy he is dealing with. A native of Turkey, Kanter finds himself in hot water with the Turkish government for his repeated criticism of Turkey's president, Recep Tayyip Erdogan. As a result, Kanter is facing a four-year prison sentence back in his homeland and has had to sever ties with his entire family.
Despite the off-the-court tribulations Kanter has had to deal with, he is having a very good year on the court. Averaging 13.4 points and 10 rebounds per game, Kanter has been the perfect complement to Porzingis. The Knicks sorely lacked an effective post player who grinds for rebounds down low and creates second-chance opportunities while KP plays around the key. Kanter has filled that role and more in 2017, with performances like that on Christmas Day, scoring 31 points and grabbing 22 boards in New York's loss to the Philadelphia 76ers.
Kanter has always been an intriguing player. After coming overseas to play for the University of Kentucky, the Turkish import was ruled ineligible before he had the chance to step out onto the court due to benefits he received as a player with his youth squad. Kanter tried to appeal, but after being denied, set his sights on the NBA, where he was drafted third overall by the Utah Jazz in 2011.
Kanter's three-and-a-half seasons in Utah can only be described as average, but it wasn't until he was shipped to Oklahoma City that we learned of the type of player he was capable of being. In 26 games with the Thunder during the 2014-15 season, Kanter averaged 18.7 points and 11 rebounds per game. Following that season, Kanter was relegated to a bench role and never reached that level again.
As a member of the Knicks, Kanter has demonstrated flashes of that greatness in small doses. On a team like the Knicks, he doesn't have to be the star every night but is capable of doing so when called upon. Given that he's only 25, it's possible that Kanter still has room to grow as a player and with the opportunity he has on this Knicks team, he has the chance to take a major leap forward.
Let's face it, all three of these scenarios would be more welcomed than a quick first-round playoff exit for the New York Knicks. The 2017-18 season is still a transition year no matter how you look at it.
In the long run, the continued development of Ntilikina and Kanter, plus the opportunity to pick at the top of the 2018 NBA Draft are not only more likely than a playoff appearance, but in the Knicks' best interest as well.