With young Frank Ntilikina rapidly progressing before our eyes, should the Knicks finally place him in the starting lineup?
Fans didn't know how to react when Phil Jackson drafted yet another European prospect with the team's lottery pick. As it often does, history repeated, and point guard Frank Ntilikina has won fans over.
A defense-first guard, the young Frenchman played his best game yet Tuesday night against the Los Angeles Lakers and the second-overall pick in the 2017 NBA Draft, Lonzo Ball.
Ntilikina recorded 13 points, five rebounds and five assists in 29 minutes of action.
Highlights from the best game of Frank Ntilikina's NBA career thus far.
13 points, 5 boards, 5 dimes and 3 made 3PT's.

Reminder: He's the second youngest player in the league.

(via @DawkinsMTA) pic.twitter.com/9bDDs5LB88

— Tommy Beer (@TommyBeer) December 13, 2017
Sure, the game went to overtime. Yet it's no coincidence that Frank's best game came on what was the most court time he's seen this year.
When this season started the Knicks weren't necessarily in win now mode and were looking to, slowly but surely, develop young talent.
But with teammate Kristaps Porzingis climbing the NBA's totem pole day by day, could it be time to play Ntilikina full-time? He's averaging 19.7 minutes per game, while starter Jarrett Jack plays an average of 26.7.
A look at what each point guard brings to the table, and making the case for Ntilikina's right of passage into the Knicks starting five.
---
---
Originally, the New York Knicks signed Jack with no intentions of keeping him. Through training camp and the preseason, he thoroughly impressed, and it continued into the regular season.
Now, he's started 23-of-24 games for New Yor and is averaging 6.4 points and six assists per game. That's the best assist average by a Knicks point guard since before the days of Carmelo Anthony. No one's taking that lightly.
Jack's play has a direct correlation to the team's success—or at least above-par—record. New York is now 14-13, which no one expected from them this year.
Some were calling for a 28-win season, and now that they're halfway there, it's hard to argue for a change in the starting lineup. Yet, there's room to sit down and entertain this idea.
Jack is constantly outmatched on the defensive end. In Tuesday's win over the Lakers, some of Ball's best shots came against Jack's limited defense.
---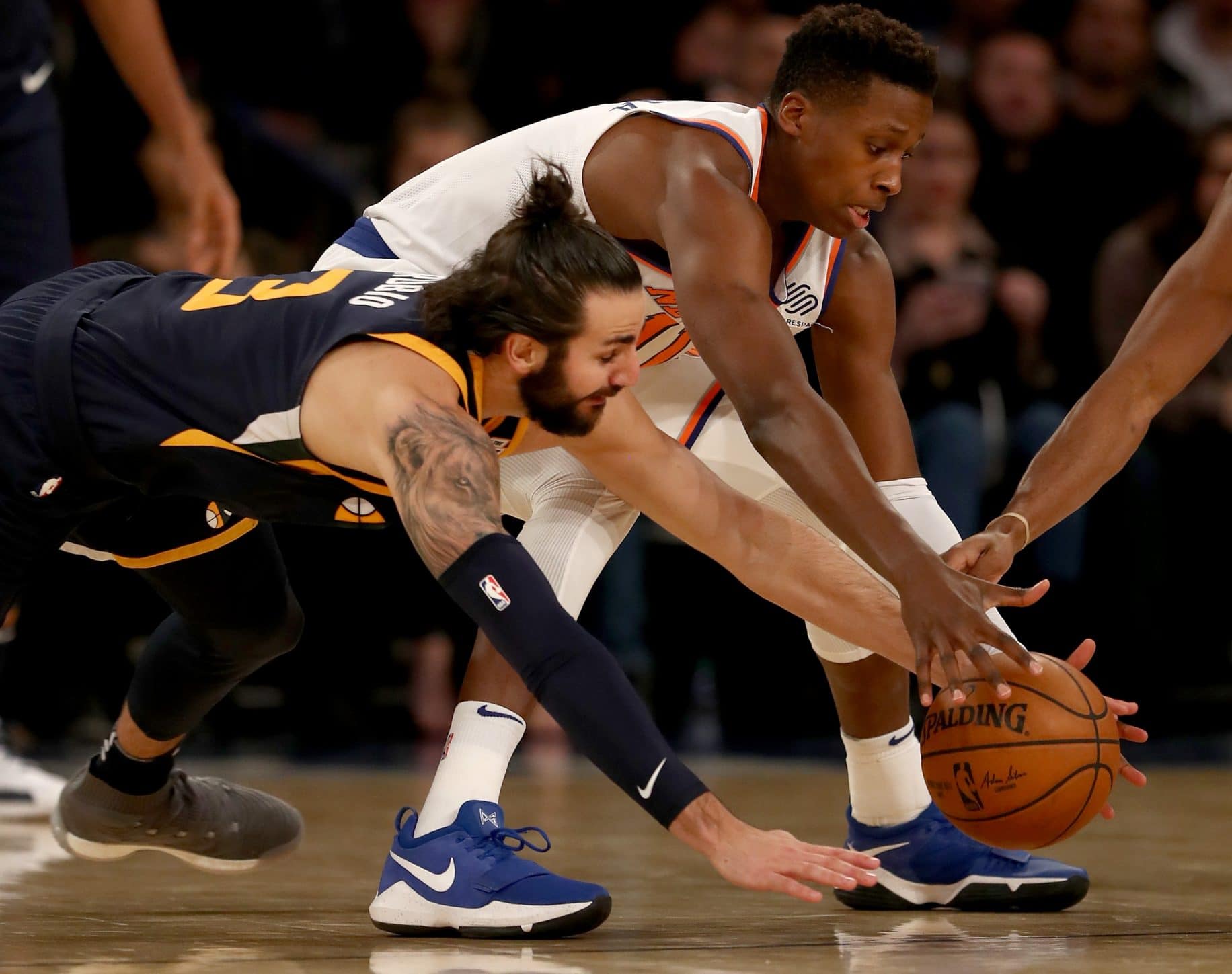 ---
In the fourth quarter and in overtime, against Ntilikina, Ball scored just two points. For a team looking to finally identify as a defensively focused squad, why is starting Ntilikina not a no-brainer?
It stems from Jack's passing and ability to get the starting five going from the floor.
Sure he's a defensive liability at times, but his ability to facilitate surpasses any needs on the other end of the floor. While Ntilikina is still learning, and therefore still finding his shot, Jack doesn't look for offensive opportunities.
If the lane is open, he'll drive for a layup; but his first priority will always creating for his teammates. That, and that alone is what makes it so hard to bench the 12-year veteran.
But at some point, Ntilikina is going to assert himself as the future at the point for this franchise. Meaning he'll need to see starting time and get the experience running the offense from tipoff.
Frank has seen an incredible climb in confidence since his first game, which is to be expected for the second-youngest player in the NBA. He's taking more shots, pushing more down the floor, and even getting flashy with his passing.
His defense is impeccable, and his court vision is way too good for a 19-year-old. When Ntilikina is on the floor with Porzingis, the Knicks just play good basketball. 
Two words fans haven't been able to utter in quite some time.
---
At the end of the day, it's up to head coach Jeff Hornacek and New York's coaching staff. But the Knicks' rookie has made enough of a case to stir some conversation on the topic.
With Jarrett Jack at the helm, this offense will feature plenty of passing, and efficient facilitating at that.
In young Frank Ntilikina, the defense will see a boost, and so will his development.