David Wright's absence has definitely been felt by everyone following the New York Mets. With a return to significant action unlikely in 2018, here are five things more likely to happen than a sustained David Wright come back.
On Aug. 24, 2015, David Wright stepped to the plate at Citizens Bank Park in what could only be described by Gary Cohen as a "nervous moment." It was the first time Wright had stepped in the batter's box since April 14th. The face of the New York Mets had seen his baseball career flash before his eyes after a devastating spinal stenosis diagnosis earlier that year.
David Wright and New York Mets baseball had been synonymous for over a decade and watching "The Captain" go down was incredibly tough for any Mets fan to stomach. But in that moment, Wright did the impossible. He managed to erase all doubt surrounding himself and provide us with a momentary glimmer of hope after he launched a solo home run into the second deck on the third pitch he saw.
Vintage Wright provided us with momentary euphoria. Coupled with a World Series run, it was easily the best time for Mets fans in the last 15 years. However, it was clear that David Wright was no longer capable of being the player he once was. Spinal stenosis had robbed him of his bat speed and ability to throw the ball, not to mention a significant reduction in power. 2016 and 2017 would only reveal more of the same, as Wright's condition had made him susceptible to what seemed like a never-ending series of additional injuries.
Never one to give up or say die, Wright is hopeful to be back out on the field this season and has no immediate plans to retire. With three years and $47 million left on the table, I couldn't imagine myself doing anything different. Nevertheless, Wright is a competitor who wants to win a World Series in a New York Mets uniform more than anything and if he can find some way back into the starting lineup, then I'm sure we would all welcome him with open arms.
With only a combined 75 games played over the last three seasons (none in 2017), Wright's return is not something I'd be willing to hang my hat on. There is a high likelihood that 2018 will feature more of the same, that being limited to no action for our franchise third baseman. With that being said, here are five things that are more likely to occur than a sustained return to action for David Wright in 2018.
Yoenis Cespedes wins the National League MVP Award
On paper, Yoenis Cespedes is an MVP candidate. He is capable of launching 35+ home runs a season and driving in 100 runs. The reason why he doesn't play his way into contention every year is because of his propensity to get injured. In 2017, Cespedes' season was marred by a series of leg injuries that cost him 81 games. Still, Cespedes has received down-ballot MVP votes three times and would have been a major contender for the award in 2015 had he not been traded between leagues.
The star left fielder has emphasized a desire to focus on flexibility and durability in his offseason regimen, adopting new training methods like yoga to ensure that the same issues don't plague him in 2018. If he can stay healthy, Cespedes can produce numbers on par with the top batters in the National League.
Amed Rosario wins the Gold Glove Award
Amed Rosario didn't have a spectacular first taste of major league action, but still gave us many reasons to be excited about his future. At the core of them is his ability to play plus defense at a premium position.
In 2017, we had to suffer through two past their prime defenders limping around at shortstop for the majority of the season. Rosario injected life into the Mets defense and proved that he can be a game-changing, run-saving player at short. It would be difficult to unseat the incumbent winner, Brandon Crawford, who has nabbed the award the past three seasons, but Rosario can defend with the best of them. He is as capable as any of the other top defensive shortstops in the National League.
The Mets unseat the Nationals as NL East Champs
The team the Mets are going to return in 2018 is generally made up of the same group of players that posted an abysmal record in 2017. The good news is that a large portion of their poor play can be attributed to an unprecedented wave of injuries that plagued this ball club.
Entering 2017, the perception of the New York Mets was drastically different and many labeled this team as a potential World Series contender. If Mickey Callaway can rejuvenate this squad, then there is definitely enough talent to make a run at the division if the front office supplements their talent with a few late offseason moves or midseason trades.
Now the Nationals are still an extremely talented ball club that is also returning generally the same group. It would be no easy task, but with the free agency of Bryce Harper and Daniel Murphy (among others) hanging over this organization now may be the best time to strike. Regardless, it's still a more likely outcome than seeing David Wright play significant time in 2018, not to mention Washington is coming off yet another first-round playoff disappointment.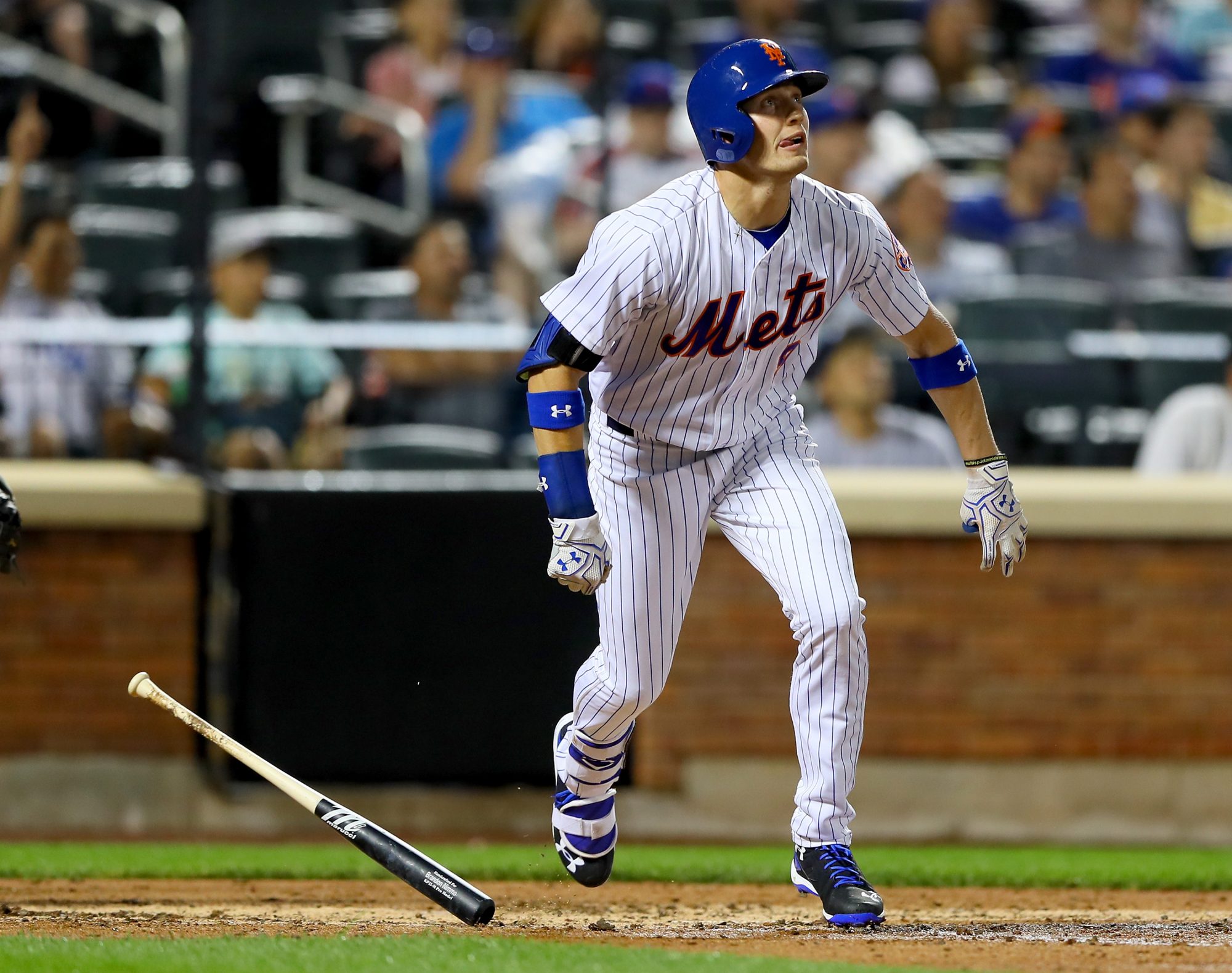 Brandon Nimmo turns out to be a really good player
High school players are always a gamble. They're even riskier when they come from a place like Wyoming, where it gets really cold and is only one of three states without high school baseball. When the Mets drafted him 13th overall in the 2011 MLB Draft, it seemed like a pretty jaw-dropping reach considering he was ranked 35th among the best prospects. What made things worse was that his minor league career was generally unremarkable, save one stint with the Las Vegas 51s in 2016 where he posted a .352 batting average.
Even though his first taste of big league action proved to be unimpressive, Nimmo made the most of the opportunity to play when the Mets were bogged down by injuries in 2017. In 215 plate appearances, Nimmo posted an on-base percentage of .379 which was good enough to rank 21st in the National League among players with at least 200 at-bats. Given the way the roster is currently constructed, Nimmo is expected to see significant playing time in 2018 and that's before you consider the indefinite absence of Michael Conforto as he rehabs his shoulder injury.
Improved plate discipline and emphasis on getting on base made Brandon Nimmo a valuable contributor in 2017. If he can find a way to replicate and improve on those numbers this coming season, he could very well turn out as a really good player. Simply put, getting on base scores runs and wins baseball games and that could make Brandon Nimmo insanely valuable to the Mets in 2018.
Matt Harvey has a Dark Knight renaissance
Matt Harvey's steep decline has been upsetting, but not exactly unexpected. Two major arm surgeries and a series of bonehead off-field issues is a recipe for regression and with free agency around the corner, Harvey has to make compelling changes if he wants to get paid this offseason.
The Dark Knight was once the kind of player that was expected to command a $200 million contract when he reached free agency. Because of the inflated value of starting pitching, he will still net a nice number regardless, but leaving that much money on the table is enough to make anybody sick. The good thing is that Harvey will be lucky enough to work with a man known for revitalizing pitching staffs in Mickey Callaway this season.
Callaway oversaw arguably the best rotation in baseball for the past five seasons and watched his ace grab two Cy Young awards during that stretch. Jacob deGrom and Noah Syndergaard have cemented themselves at the front of the rotation, which means Harvey doesn't have to do too much to benefit this staff. If he can regain any semblance of his former self, it would go a long way in helping this club get back to the playoffs or provide the Mets with a nice piece to sell off at the trade deadline, not to mention a nice payday for Harvey next winter.
Having David Wright make a complete comeback would be incredible to see in 2018. However, it's about as likely to happen as all of these things. But hey, you never know!