To the surprise of many, the New York Knicks look like a good basketball team. But would it be in their best interest to tank for a top pick?
"Honestly, I think we're just playing with that New York mentality—that New York grit."
Basketball is alive and well in New York City and Kristaps Porzingis summed it up best with his quote from Sunday night's win over the Indiana Pacers. In case you've been trapped under a rock or on a deep space voyage for the last few weeks, the New York Knicks are not only a fun and energetic basketball team to watch, but a good one as well.
After losing their first three games of the season, New York has bounced back to win six of their last seven games. There is no greater feeling than to watch a young team come together in your city and what is transpiring in Madison Square Garden is truly unique.
Kristaps Porzingis is living up to his billing as a basketball unicorn and establishing himself as the face of this franchise. Courtney Lee is not only shooting well, nailing 41 percent of his three-pointers, but distributing the ball and finding his teammates. Frank Ntilikina has been a game-changer on defense, providing crucial fourth quarter stops. Tim Hardaway Jr. is finally starting to get hot after a slow start to the season. Kyle O'Quinn is a man possessed, rebounding the ball like a mad man with a never ending fountain of aggressiveness. Enes Kanter is everything we could have asked for and more in terms of a compliment for Porzingis, occupying the low-post and grabbing the seventh most rebounds per game in the entire league.
It seems like the Knicks are firing on all cylinders and our expectations of this team are changing by the day. A month ago, very few would have pegged the Knicks for playoff run. Now, a chance at a sixth, seventh, or eighth seed is a plausible outcome.
The main question is whether this is the right direction for a franchise that is still reeling from years of bad trades and the enthusiasm draining Carmelo Anthony/Phil Jackson era.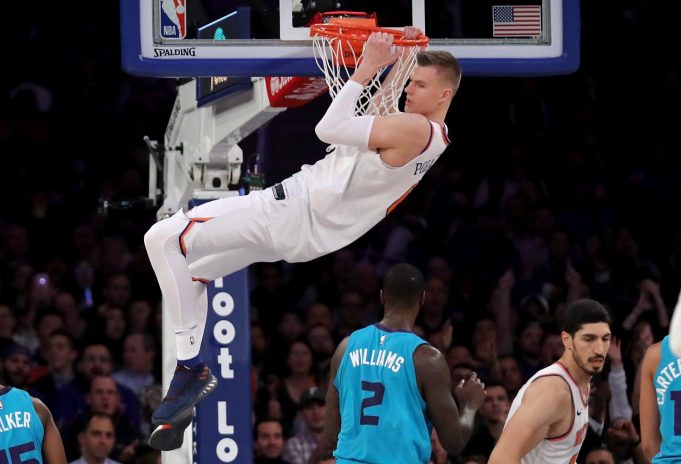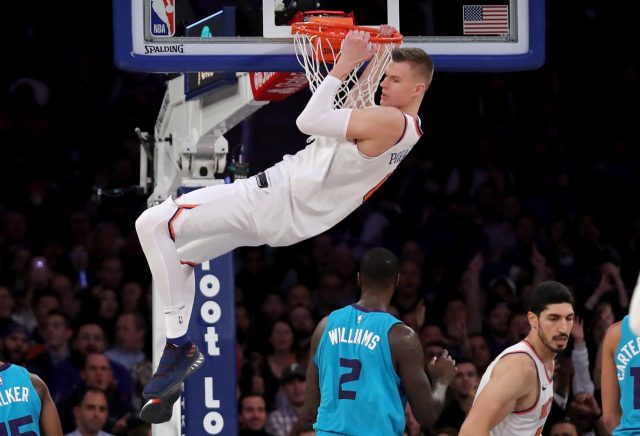 For years, we've watched the Knicks ship away their most valuable assets in notoriously bad deals. I'm honestly surprised they haven't found a way to trade more draft picks for Tracy McGrady. In the 2016 NBA Draft, we all watched helplessly as Denver held the seventh overall pick by way of the Knicks. In 2014, Orlando held the 12th overall pick which originated from New York. In 2012, Houston drafted 16th overall with the Knicks' pick. In 2010, the Utah Jazz drafted Gordon Hayward ninth overall with what should have been the Knicks' pick.
The Knicks also missed out on Paul George, selected one pick later in that same year. The list goes on and on.
From 2007-09, the Oklahoma City Thunder (formerly the Seattle SuperSonics) selected in the top-five of the NBA Draft consecutively. The acquisition and subsequent development of Kevin Durant, Russell Westbrook, and James Harden led to an appearance in the 2012 NBA Finals. In a matter of three years, a newly relocated franchise with a decimated roster rose to the top of professional basketball simply by outmaneuvering their competition in the draft.
The Golden State Warrior's path wasn't as streamlined, but rose to prominence and their fourth championship in franchise history by drafting and developing the core of Steph Curry, Klay Thompson and Draymond Green. The NBA Draft is the best path to building a championship team, free agency be damned.
So when you look at what's going on in New York City in 2017, is it really in the Knicks' best interest to be a good team? The upcoming NBA Draft is highlighted by three impact prospects that have the potential to not only contribute immediately, but eventually ascend to superstar status: Michael Porter, Marvin Bagley, and Luka Doncic. The next tier down features three more potentially star prospects in DeAndre Ayton, Mohamed Bamba, and Jaren Jackson Jr. Is a brief playoff berth ending in a potential sweep really worth sacrificing the chance to land one of these guys?
The short answer is no.
The Knicks have a budding superstar in Kristaps Porzingis. He will be an All-Star in 2017 and possibly find himself on the All-NBA team. It is imperative that the Knicks don't squander the opportunity to surround him with young, high-talent players creating a symbiotic relationship that elevates the play of the whole team. The Knicks also have a high upside prospect in Frank Ntilikina. We already know that Ntilikina can be a tenacious defender, but if his shooting, passing ability, and basketball IQ come around, then we're talking about two very strong pieces going forward.
The 2018 NBA Draft could very well offer the Knicks that third piece in a league where you generally need three stars to contend.
What the Knicks are doing now is fun and definitely a change of pace from the atrocious basketball we have had to deal with for the last decade or so. However, we need them to return to their losing ways sooner rather than later.
There is too much to gain by being a bad team in 2017 as opposed to the taste of the playoffs they may grasp at. Mired in organizational dysfunction, it is extremely rare for the Knicks to draft in the top-ten in back to back years which is all the more reason why a winning season could be a step in the wrong direction.
So many teams find themselves in the middle of the pack, treading the waters of mediocrity never achieving anything to show for it. In the Knicks case, it is undoubtably in their best interest to "embrace the suck" for at least one more year if they want maximize their potential and return Madison Square Garden to basketball glory.