Despite wanting to play in North Jersey next season, the New York Giants would be making a mistake going all-out on finding a way to get Josh Rosen.
According to ESPN's Adam Schefter, Josh Rosen, the potential number one pick in the 2018 NFL Draft, prefers to play for the New York Giants instead of the Cleveland Browns. Shocking (insert sarcasm here).
The issue for the Giants is that while Rosen may not want to play in Cleveland, the Browns have the first overall pick in the 2018 NFL Draft and could opt to select him and make it work, meaning the Giants would have to trade up in order to get Rosen. At the end of the day, while getting Rosen could grant the Giants their potential successor to Eli Manning, they would be out of their mind to trade or force their way into getting the UCLA product to East Rutherford.
---
---
The 2018 NFL Draft projects to feature a bundle of quarterbacks who can come in and establish themselves as franchise cornerstones. Outside of Rosen, USC's Sam Darnold is also legitimately in the mix to be selected number one overall. 2017 Heisman award winner Baker Mayfield, out of Oklahoma, and Oklahoma State's Mason Rudolph are also well-thought of quarterback prospects.
In his junior year, Rosen totaled 3,756 yards, while completing 62.6 percent of his passes to go along with 26 touchdowns in 11 games. He showcased his rifle of an arm and ability to run an offense at a high level. Of course, the controversy now surrounding the UCLA standout is him not playing in the team's Cotton Bowl game.
Rosen answered questions about why he chose to sit out and addressed how he believes situations, such as his, should be looked at differently, per Chris Lilly of WIBW-TV:
Today UCLA QB Josh Rosen said he would look at the NFL after the bowl game and when asked about what makes him want to play in the @Cactus_Bowl when other high profile players have skipped bowl games… he had this great answer. #UCLA #CactusBowl pic.twitter.com/fArs2leCix

— Chris Lilly (@wibwChrisLilly) December 24, 2017
In addition to his response pertaining to not playing in the Cotton Bowl, ESPN's Josh Weinfuss reported that Rosen prefers to be drafted by the "right team" at a lower pick over the "wrong team" at a higher pick — which is looked at as another indication that he doesn't want to be a Brown.
Rosen is not afraid to speak his mind. That doesn't have to be a bad thing if he is honest and upfront about situations rather than saying one thing behind closed doors and another to the media.
The Browns have become one of the biggest laughing stocks in sports. They're 0-15 and are likely to end the 2017 season winless as they head to Pittsburgh to play the Pittsburgh Steelers in Week 17. If and when they lose to the Steelers, the Browns will have lost 34-of-their-last-35 games dating back to the 2015 season which is insane and hard to fathom. And for the Browns' organization to hear and see that Rosen, a highly thought of prospect, wants nothing to do with them is probably not surprising, but also frustrating.
At the same time, the Browns could lie to Rosen — who is said to be weighing the possibility of returning to UCLA for his senior year if he has any doubt that Cleveland won't draft him as Schefter notes — and after he declares for the draft say they'll select him, essentially forcing him to play there which could lead Rosen's camp to talk to Giants' management about trading up to select him. It's also important to note that there are some very important factors playing into the Giants' offseason at quarterback in particular.
For starters, new general manager Dave Gettleman has to hire a new head coach after relieving Ben McAdoo of his duties in early December. After that, the Giants have to resolve the Manning conundrum. After benching Manning for their Week 13 matchup with the Oakland Raiders, many were given the impression that Giants' ownership had signed off on officially heading in a new direction at quarterback, given they would likely have a top three pick.
Will the Giants trade or release Manning in order to draft a quarterback to run their offense? Will Manning start one more season in a Giants' uniform? Will he be a mentor for a quarterback they draft in the Spring?
---
---
The most important presence in this Rosen drama is the fact that he's not the Giants' only option. At number two overall, the Giants will have the luxury of choosing from a number of talented quarterbacks and who's to say that they should view Rosen as the best quarterback in this class?
Darnold, in fact, posted very similar numbers to Rosen in 2017 and on a winning team nonetheless (USC went 11-2 overall, while UCLA went 6-7 overall). Throwing for more yards (3,787) with a higher completion percentage (63.7) and posting a better quarterback rating (151.0), it's certainly not asinine to consider the USC product a tier higher than Rosen. Darnold also ran for five touchdowns, moves very well in the pocket and produced despite a shaky offensive line in front of him.
Mayfield had arguably the best season out of any quarterback in the nation. Throwing for 4,340 yards, while completing 71.0 percent of his passes, totaling 41 touchdowns and posting a quarterback rating of 203.8, the Sooner put together a remarkable senior year. He also threw just five interceptions and used his legs to run for 310 yards and five touchdowns. He has a cannon, can fire in passes, is efficient, uses his legs and doesn't turn the ball over often.
Rudolph played well too. Throwing for 4,553 yards, while completing 65.0 percent of his passes, totaling 35 touchdowns and posting a quarterback rating of 170.0, he endured a captivating season. Rudolph also ran for ten touchdowns.
When looking at the top four quarterbacks in this draft class, is Rosen really hands-down the best player, or is it just that he garners the most attention because of UCLA's reputation of being one of the best schools in the nation?
Rosen, Darnold, Mayfield, and Rudolph experienced phenomenal college careers and all have the potential to take over an NFL franchise. Barring a plethora of soon-to-be draftees not declaring for the draft out of fear of being selected by the Browns, the Giants should be able to snatch one of these quarterback prospects. And with the level they've all played at over their college careers, it would be foolish for the Giants to force Rosen into their hands.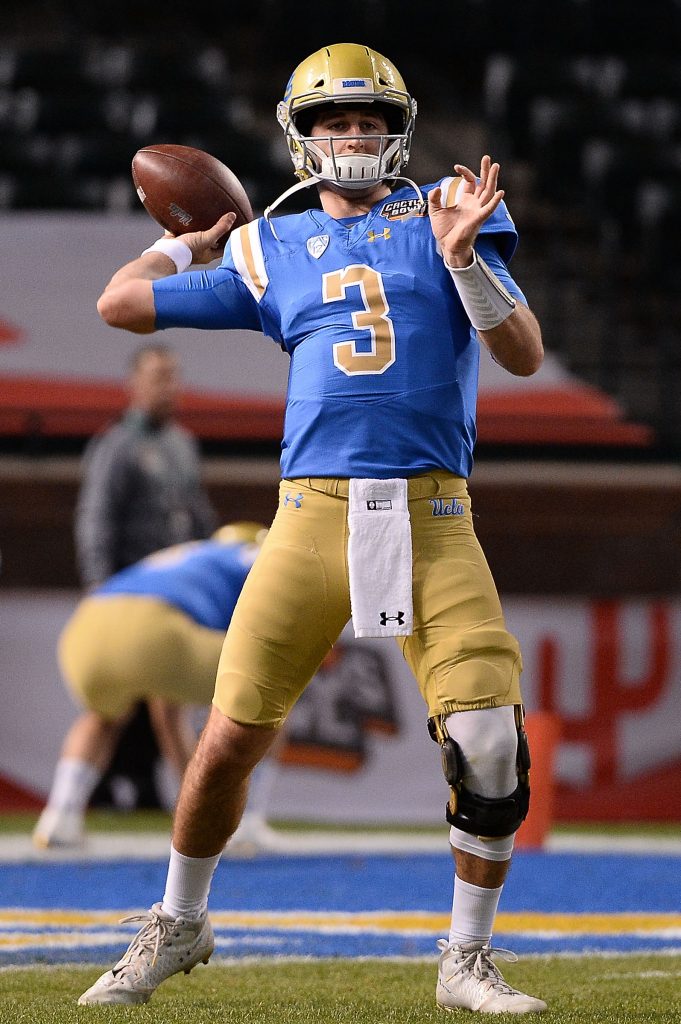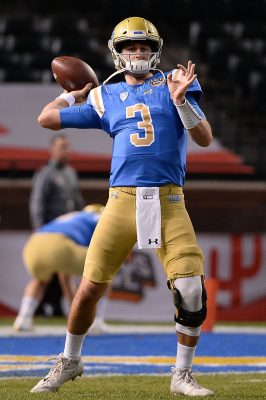 You always want to hear that someone wants to play for your team and for a prospect of Rosen's caliber to want to play for the Giants is comforting for co-owners John Mara and Steve Tisch. Simultaneously, the Browns are ahead of them in the draft.
Probably just a handful of people want anything to do with the Browns; they're a complete dumpster fire and there's no way around it. Remember when they traded the number two overall pick two years ago, passing on the chance to draft Carson Wentz? How'd that one work out? Wentz is now viewed as one of the star quarterbacks in the NFL, despite his recent ACL tear.
The Browns are surely (at least logically) going to want a quarterback and if they say they're going to take Rosen and he doesn't want to be there, management could look to move back a spot or two in the draft given how deep this class is at the position.
And with the Giants being a preferred landing spot for Rosen, the Browns could attempt to kick the tires on a potential trade. At the same time, look at what the Chicago Bears surrendered last season in order to move up from number three to two in the draft. By trading away their third overall pick, two third round picks and a fourth rounder to the San Francisco 49ers, the Bears paid a hefty price to move up just one spot to draft their guy (quarterback Mitch Trubisky). If the number one pick is on the table, last year's Draft Night blockbuster could serve as a model for what it would take to move up in the draft: a price tag that makes zero sense for the Giants to pay.
New York is going to be able to get a franchise quarterback at number two. Whether it be Darnold, Mayfield or even Rosen if he falls to them at number two, they'll have the chance to find their next Manning in the draft. It's also just as important that the Giants don't force their way into selecting someone just because they want to play for them. It's silly and would be a mistake.
Rosen may want the New York spotlight, but it's not his choice. Management doesn't have to do something that a player feels works for them, but isn't in the team's best interest. If Rosen falls to the Giants at number two and they want to take him, there's nothing wrong with that, but if he doesn't, they have other options; don't force a situation that is only in the interest of one side and not your own.