The New York Jets have found their quarterback in Josh McCown. Now it's time to lock him up to a long-term deal.
It's been 50 years since the New York Jets employed a legitimate franchise quarterback. The glory days of 'Broadway' Joe Namath strutting his stuff around have long since passed.
But a new era has dawned in 2017 with Josh McCown at the helm. He has everything you look for in a franchise quarterback: 38-years-old, a 4.62 40 yard dash (although that was 15 years ago), and he's a people person.
OK, maybe all of that doesn't inspire much confidence. But as Jets fans, beggars can't be choosers.
McCown has defied all odds this season: He was supposed to be an overpaid, glorified babysitter, but he's still starting entering Week 14. He was supposed to be old and declining, yet he's having a career year statistically: 2,880 yards passing, 67.8 completion percentage and 21 total touchdowns to eight interceptions. All of those are career highs for the journeyman.
The Jets have been through the bad ones: Ryan Fitzpatrick (43 touchdowns to 32 interceptions, 2015-16), Geno Smith (28 touchdowns to 36 interceptions, 2013-2016), and Mark Sanchez (60 touchdowns to 69 interceptions, 2009-2013). You get the gist.
When you look at the money, the Jets got a steal this season. McCown signed a one-year, $6 million deal this past offseason. The average rate for starting quarterbacks in this league is over $15 million.
With McCown set to be a free agent after this season, the Jets need to lock him up sooner rather than later. This team will be picking in the top 15 in the 2018 NFL Draft and their eyes will definitely be on the slew of quarterback prospects coming out.
The typical strategy is to draft a young quarterback, stage an August "competition," and throw the young gun out there and close your eyes and see what happens. (Insert Mark Sanchez.)
SPOILER ALERT: Quarterbacks don't have to be thrown to the wolves. There is this strategy called patience. I know the Jets haven't been the best role model for quarterback development. In fact, they're incredibly slow learners. McCown can help in this process.
With a ton of cap money supposedly available in 2018 and some talented youngsters developing, the Jets could compete as early as next year. Why not bring McCown back and hold down the fort as the starter while the Jets properly develop a quarterback of the future?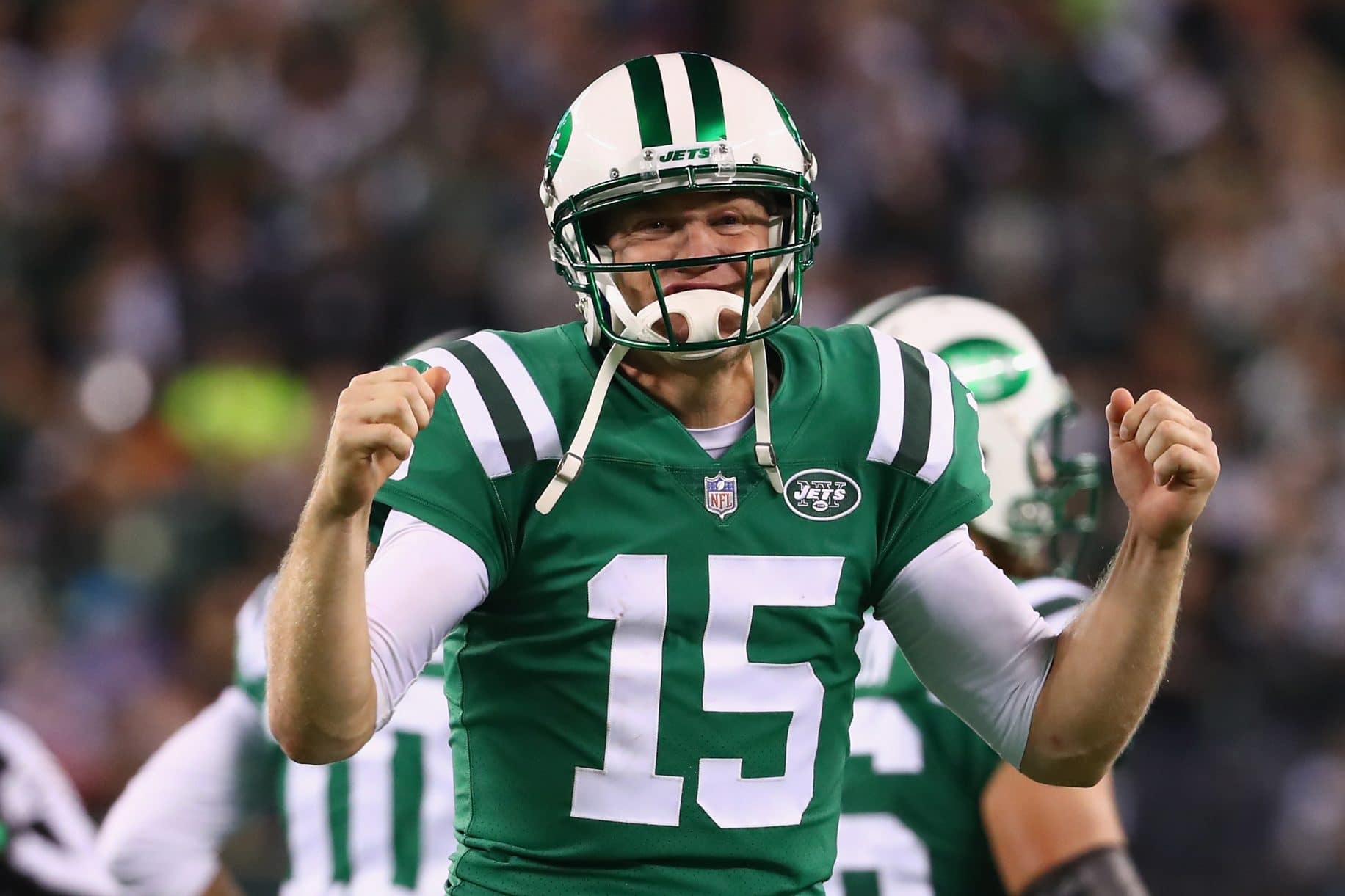 Is that such a bad thing?
When you look at the quarterbacks listed above and historically for the Jets in recent memory, not too many quarterbacks have protected the ball as well as McCown has. In fact, the Jets haven't had a quarterback throw under double-digit interceptions since 2005 (Kyle Bollinger). McCown is on pace to snap that streak.
McCown has already expressed interest in returning to the team in 2018:
"I love being in this system," McCown said to Darin Gantt of Pro Football Talk. "It would just be fun to play in a system for two years in a row. I would love to see where I could take that."
Although the only monkey wrench in this potential plan is if the Jets have a significant interest in soon-to-be free agent quarterback Kirk Cousins. From people that I've talked too, Cousins is believed to be in line for the richest contract in NFL history. While the Jets will have the money to make that happen if they desire, they'd be best advised going with the best value on the market and that's sticking with McCown for the near future.