With too many options to believe, the New York Jets haven't revealed one thought about their future quarterback. Just say no to Kirk Cousins.
Cousins? Kirk Cousins? What?!
Much like "Playoffs?! Don't talk about … playoffs? You kidding me? Playoffs? I just hope we can win a game," is how too many in New York Jets land feel about the name of Kirk Cousins.
"Cousins?!" What? Kirk … Cousins? I just hope we can sneak into the top 10 of the 2018 NFL Draft and snag a golden-armed prospect."
Yet there's so many still banging the drum for the Washington Redskins signal-caller who's continuing to play on that dreaded (but paid like a king) franchise tag. The newest to call for Kirk in Green is the Metro's Kristian Dyer.
His philosophy for the call is simple. The New York Jets are much further in the rebuilding process than anybody could have anticipated. Cousins is "borderline elite" making him the perfect match to bring the Jets to the playoffs in 2018 and beyond.
Well, there really isn't "rebuilding" in the NFL. As much as experts try to present the word in the state of today's league, it never truly works. Prognostications in terms of records and locker room talent are always far off. Just look at the all-time low prognostications for these very same 2017 Jets.
On top of that, there are way too many unforeseen obstacles and variants along the way. Forget the silly word of "rebuild." It doesn't matter the Jets were 5-11 last year and 4-7 this season. With cap space and a few solid draft picks, a Super Bowl appearance can be had in 2018. Records flip as often as Tony Romo has Jim Nantz gushing on-air via his pre-snap broadcast brilliance.
In sheer terms of a player signing (despite what's already present in the Florham Park locker room), what a terrible move it would be.
Cousins is a 'Strange' QB
First and foremost, he's a strange quarterback.
How does one define "strange?" How about his boneheaded actions on the field at times.
Two years ago in a crucial contest against the Philadelphia Eagles, Cousins decided to take a knee instead of the obvious spike. (Not so obvious to Dan Marino circa Giants Stadium in '94.)
Watch it closely. With six seconds to go in the first half and no timeouts, Kirk takes a knee. After a couple seconds, he then realizes his mistake and gives us the "for show" spike (while almost telling us right away he had made the mistake).
"There was a lot of confusion with what the play call was," Cousins said, via USA Today. "For lack of a better word, I just had a lapse in my decision-making and took a knee when I should've thrown the ball away to stop the clock. We were fortunate it didn't end up hurting us."
A lot of confusion with the play call? You're the quarterback. You're either going to run a play with a quick designed pass to the end zone or you're going to spike it. That's it. There's no other alternative.
With the running of the play clearly off the table (based on teammates' reactions), spiking it was the only choice. Yet Cousins decided to take the knee.
Sure, mistakes are made. When it thinking about it, however, the truly elite guys go a decade without ever making a boneheaded mistake like this. His interceptions at inopportune times are also a cause for concern.
To his credit, he led his team to the victory on that day and eventually the NFC East crown with a 9-7 record. If all things are even, sure, Cousins is a solid NFL quarterback. There's nobody arguing that. His two-plus years as a starter have yielded solid results (4,166 yards, 26 touchdowns and 11 interceptions in 2015 and 4,917 yards, 25 touchdowns and 12 interceptions in 2016).
The argument that destroys the Cousins backer is that all things are not even. When a GM misses on a guy that earns over $20 million a year, forget seasons, decades are ruined. Franchises don't recover from these types of mega-deals go awry.
The Money is too Outrageous for this Player
When it comes to Cousins, we're not discussing an average signing here. Drafted in the fourth round of the 2012 version of the draft, Cousins is now 29-years-old on the cusp of a ridiculous pay-day.
This is his second time around on the dreaded (but extremely rich) franchise tag.
Somebody will sign the guy. There's no question about it. But the money needed to sign Kirk will be astronomical.
Forget total worth of contract. That's not important. What's critical is the per year salary and guaranteed money that'll be shoveled off for the man.
As of right now, Joe Flacco is the NFL's highest paid QB with a cool $24.55 million per year. Palmer and then Cousins himself (purely due to the franchise tag) is third.
Joe Flacco, Baltimore, $24.55 million
Carson Palmer, Arizona, $24.125 million
Kirk Cousins, Washington, $23.943 million
Matt Ryan, Atlanta, $23.75 million
Matthew Stafford, Detroit, $22 million
Aaron Rodgers, Green Bay, $20.3 million
Cam Newton, Carolina, $20.166 million
Philip Rivers, Los Angeles Chargers, $20 million
Eli Manning, N.Y. Giants, $19.7 million
Andrew Luck, Indianapolis, $19.4 million
Drew Brees, New Orleans, $19 million
Russell Wilson, Seattle, $18.8 million
Ben Roethlisberger, Pittsburgh, $18.2 million
Sam Bradford, Minnesota, $18 million
Alex Smith, Kansas City, $16.9 million
Derek Carr, Oakland, $15.7 million
Andy Dalton, Cincinnati, $15.7 million
Tom Brady, New England, $14 million
Mike Glennon, Chicago, $14 million
Jay Cutler, Miami, $10 million
Tyrod Taylor, Buffalo, $9.7 million
Jameis Winston, Tampa Bay, $6.9 million
Marcus Mariota, Tennessee, $6.6 million
Blake Bortles, Jacksonville, $6.57 million
Josh McCown, N.Y. Jets, $6.5 million
Jared Goff, L.A. Rams, $6.4 million
Carson Wentz, Philadelphia, $6 million
Brian Hoyer, San Francisco, $5.3 million
DeShone Kizer, Cleveland, $899,711
Tom Savage, Houston, $765,146
Dak Prescott, Dallas, $635,848
Trevor Siemian, Denver, $628,196
Kirk's long-term deal with absolutely put him in the top five in the league. This means several things.
For one, whoever snags Cousins immediately makes him their official and bonafide face of the franchise. There's no way around it. He becomes the guy with no doubt surrounding it.
Secondly, the money spent for the guy will badly destroy the salary cap pie. Sure, the Jets situation looks nice and rosy with an estimated $60 or $70 million in space this coming offseason, but that doesn't mean wasted money can ever be afforded.
Cheaper, higher upside alternatives are ripe for the taking.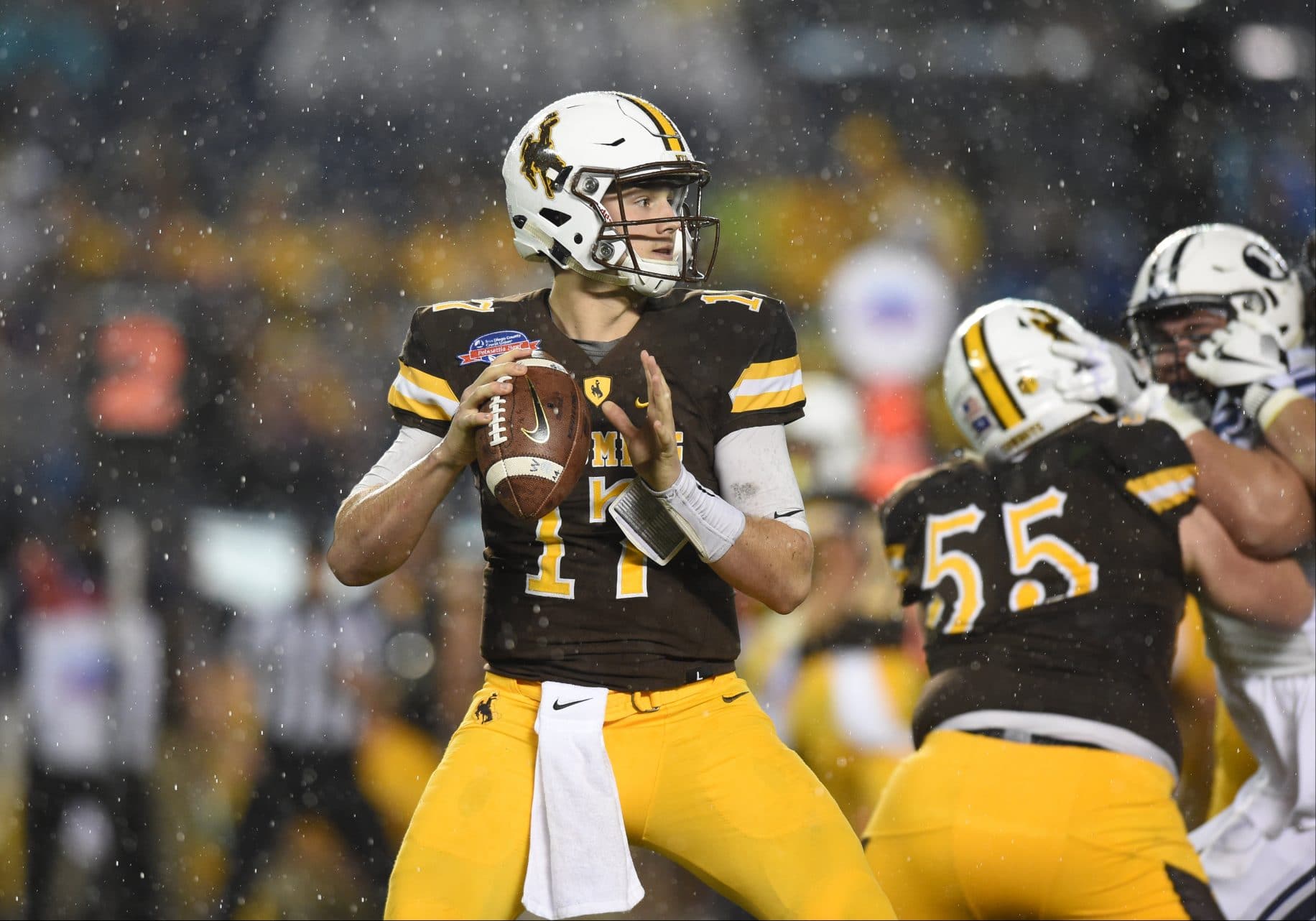 The 2018 QB Class is too Good to Pass up
Honestly, from everything you've witnessed thus far, would you be ready to give Cousins the keys and total control of the franchise when higher upside and younger quarterbacks are right there for the taking?
These aren't the old days that saw teams forced to hand big-time cash out to unproven top 10 quarterbacks. It's a new day with a new system meaning general managers drool over these young signal-callers.
They slide up in the first round due to the "value" these slots present. Instead of a $15 million per year deal, top 10 QBs are often playing on $4 or $5 million per year contracts.
At No. 10 in the NFL Draft, Mike Maccagnan can snag 21-year-old Josh Allen. The Wyoming stud with the golden arm would only make a total of around $16 million over four years with $10 million in guarantees. Compare that against a five-to-seven year deal worth over $20 million a year with over $50 million in guarantees for a "strange" almost elite quarterback and the answer becomes pretty clear to me.
There are entirely too many options. Sam Darnold, Josh Rosen — both of whom will probably be out of the reach of the 4-7 Jets. But there's Allen, Mason Rudolph, Baker Mayfield, Lamar Jackson, Clayton Thorson and Luke Falk — all of whom will be cheap high-upside options.
Then, to complement that young stud, a veteran like an Alex Smith (for example) could be the second guy not only used to tutor the kid, but in a pinch when needed. With Cousins, that's it. It'd be tough to hand out any serious money to the second or third QB.
Can't do it. We're not discussing Andrew Luck in his prime here. We're not discussing a winning quarterback, even.
We're discussing an above-average guy who's ready to cash in on the contract of a lifetime.
If you're willing to give this man a top-five quarterback contract and literally hand the keys to him for the next half-decade with no wiggle room and less of a salary cap, you're a crazier individual than me.
Nothing on tape suggests "special" when it comes to Cousins. He's "solid," and solid simply isn't good enough in this situation.
The goal isn't "playoffs" (Jim Mora). The goal is "Super Bowl." For that, the New York Jets must present a clear and concise "no" to the mere possibility of Kirk Cousins in New Jersey.