Joe Namath on offense and Joe Klecko on defense are just two of 53 that make up the New York Jets ultimate all-time team.
Top 10, 50 greatest, five best — blah, blah, blah. Why continue this boring ranking stuff if we don't have to?
Since Bleacher Report brought rankings to the forefront of sports media about 10 years ago, fans ate it up. Ranking this, ranking that, grouping these guys together … it became all the rage.
We, here at Elite Sports NY, feel like it's time for something different.
A year ago, we put together a New York Baseball Ultimate All-Time Team. What this consists of is putting together a real team with a pool available from all past New York baseball teams. The writer would have to not just list the best players but put together a real lineup, pitching staff and so on.
We've also done the same thing with the New York Rangers and New York Yankees.
This actually takes a little sports knowledge.
And that's why we're here today, to do the same thing with the New York Jets.
Obviously, you're probably bummed out about the current state of your Jets. So-called experts are calling for a winless season — two wins tops, in most places. While I don't think they have to be that bad — as eight wins could happen in this unpredictable NFL — they are in no position to contend. This much is certain.
So, why not dig up a New York Jets Ultimate All-Time Team? The following is the Jets all-time 53-man roster as realized by Elite Sports NY.
Quarterback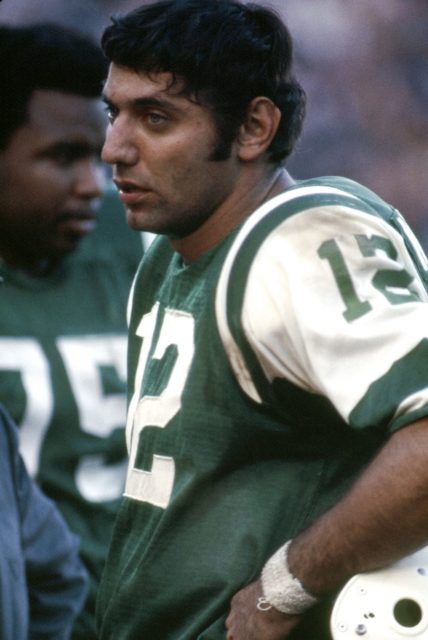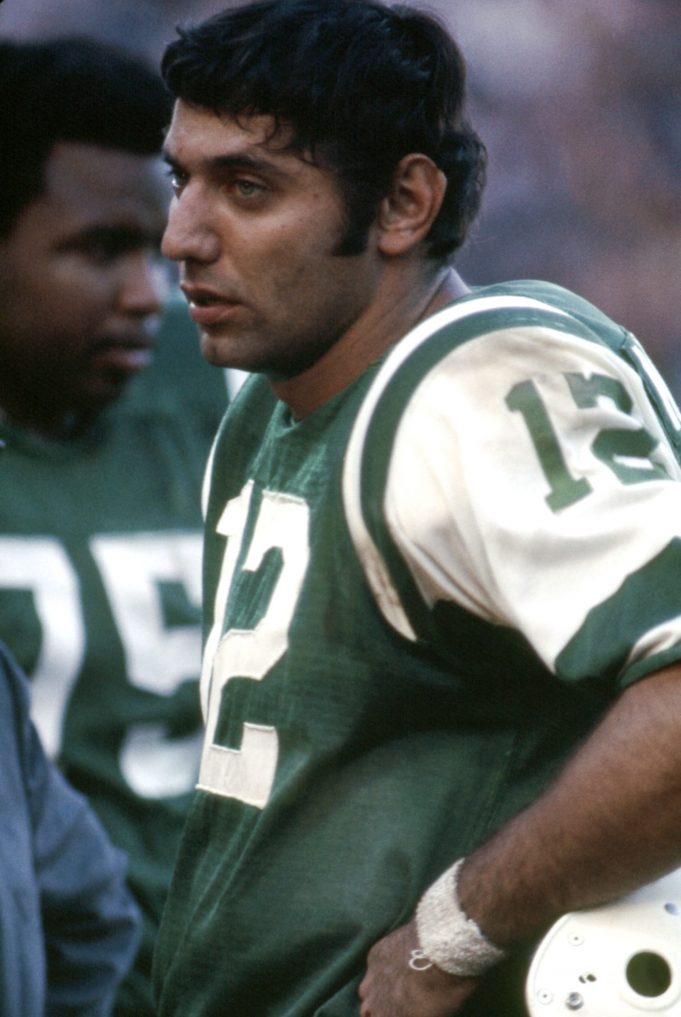 Obviously, Joe Namath is our starting quarterback. Forget the fact that he's viewed as overrated in terms of an actual football player. It simply doesn't matter.
Namath's impact stretches far more along the meaningful scale than his 173-220 touchdown to interception ratio. As the first true American Hollywood athlete who literally changed the face of football during Super Bowl III, Namath is Jets history.
Our backup and third quarterbacks are Ken O'Brien and Chad Pennington, respectively. O'Brien ranks second in team history with 24,386 yards and 124 touchdowns, both falling short of Namath's marks. Pennington, while he's outranked by Richard Todd in yards and touchdowns, receives the edge thanks to his considerably better playoffs record and statistical output.
Surprisingly, Mark Sanchez needs to be considered a snub. He's only seventh all-time in passing yards, but holds the team record with four playoff victories. Additionally, his playoff ledger of 1,155 yards and a TD-INT ratio of 9-3 in six playoff games still ranks as the best Jets QB history of all-time.
Top Snubs:
Running Back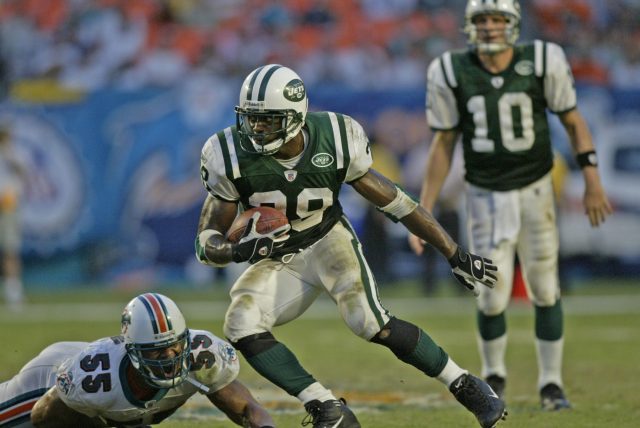 As our featured back, it has to be Curtis, as in Curtis Martin, the New York Jets all-time leading rusher with 10,302 yards and 58 rushing touchdowns. In eight seasons with the Jets — thanks to the Big Tuna scooping him out of New England — Martin was nothing less than a stud.
Freeman McNeil, with his receiving versatility, would make as the perfect compliment to Martin as the third down back. Emerson Boozer would be the third guy in the rotation helping a bunch out on special teams and taking a tough carry here and there.
The snubs of the group include Johnny Hector and Thomas Jones.
Top Snubs:
Fullback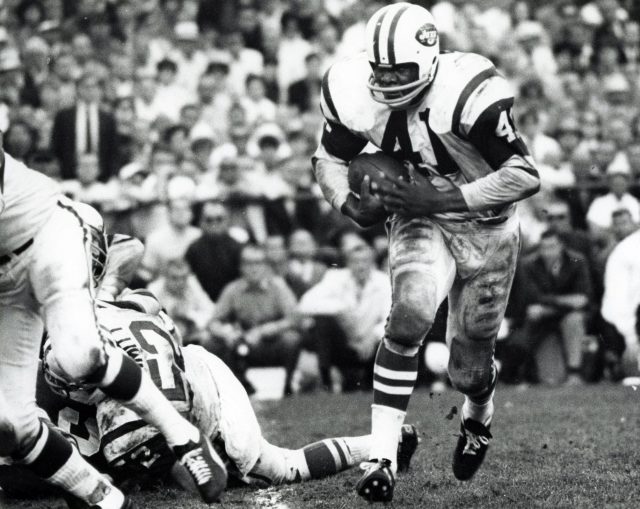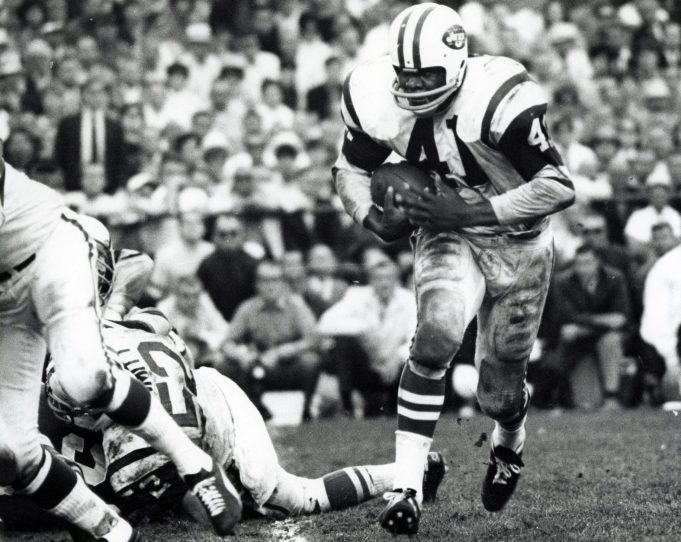 Many football fans don't realize this, but back in the day, the fullback received just as many if not more carries than the halfback. When the Jets won their only Super Bowl, Matt Snell was the complement to Emerson Boozer in the backfield. On our ultimate team, Snell gets the nod at fullback, but he's not the typical fullback of today (who simply blocks). He'll be a versatile fullback who can carry and the ball and block for Curtis Marton, our featured back.
Our backup fullback and fifth running back, who'll play a ton of special teams, is Bill Mathis, one of the original New York Titans and received his Super Bowl ring during his last year with the club.
Top Snubs:
Wide Receiver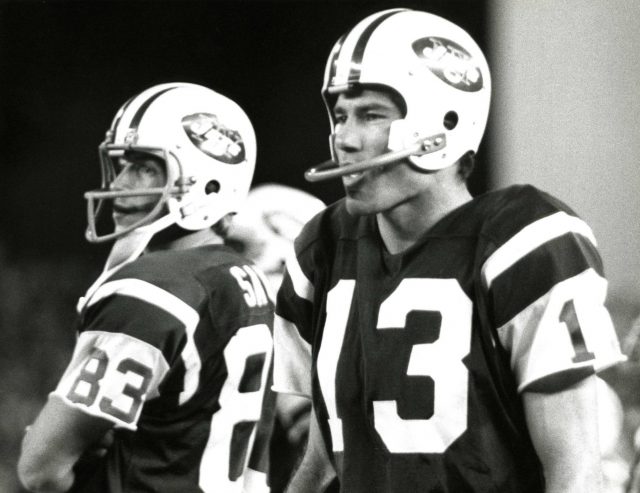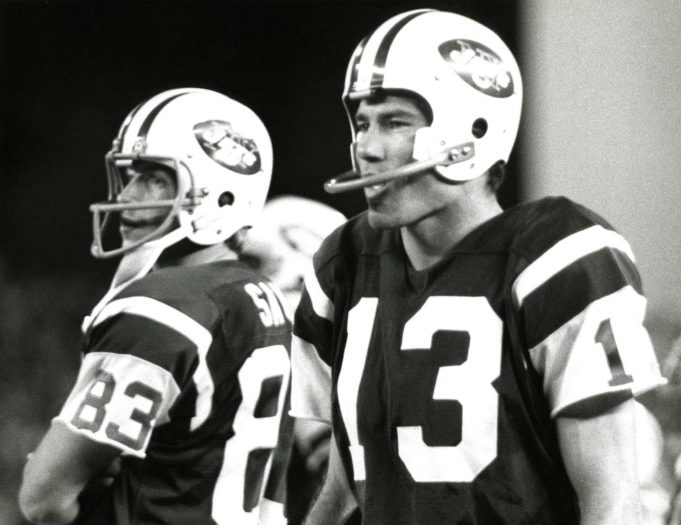 Get ready because wide receiver is one of the bright spots in New York Jets history.
As he was in real life, Don Maynard will be the top weapon for Joe Namath. He is, by far, the best Jet not named Namath and some actually place him at the top of the list. He leads the franchise with 88 total touchdowns and 11,732 receiving yards.
The Cyclops, Wesley Walker, will line up opposite Maynard. This man was the lead dog during an offensive bonanza the Jets experienced during the 1980s Ken O'Brien days. With 8,306 yards, he ranks second in team history.
Wayne Chrebet, the man who ranks second in franchise history with 580 catches, will be the perfect slot receiver for the offense. To this day, you'd be hard-pressed to find a more popular fan jersey than No. 80 at MetLife Stadium on Sundays.
Al Toon, George Sauer and Laveranues Coles round out the six.
Top Snubs:
Tight End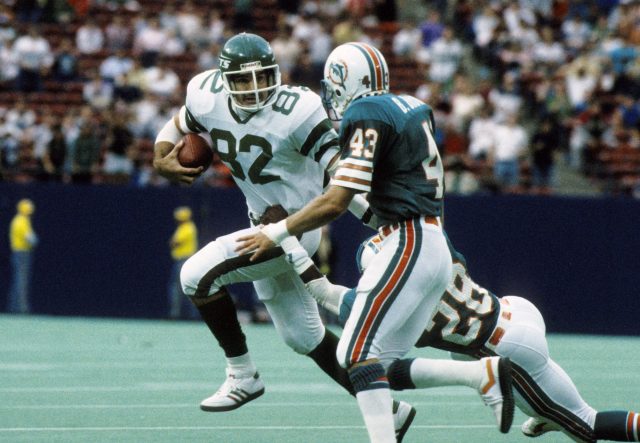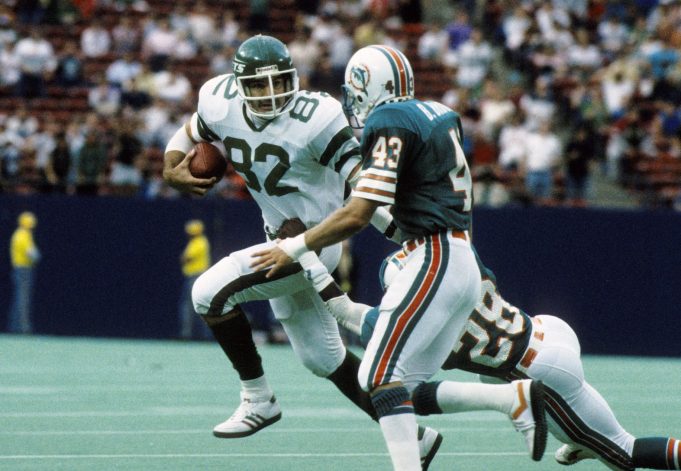 Let's face it: the position of tight end is one of the weaker spots in franchise history, but Mickey Shuler will do the trick. Playing alongside Wesley Walker and Al Toon for much of his career, he was the perfect Y to act as Kenny O'Brien's safety valve.
Rich Caster and Jerome Barkum will serve as the second and third tight ends, but I have a funny feeling, based on the personnel, that this team will be using a ton of 11 personnel (3 WR).
Top Snubs:
Tackles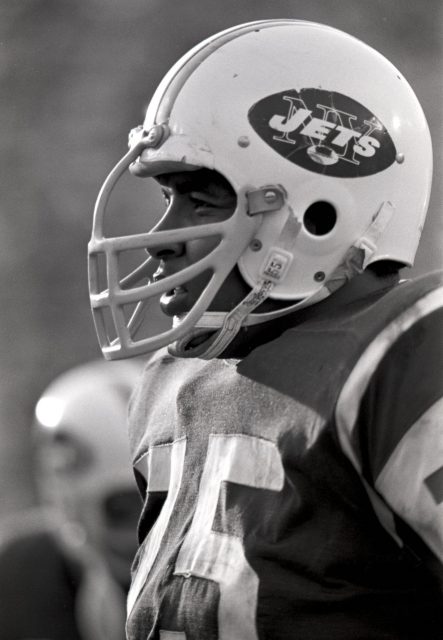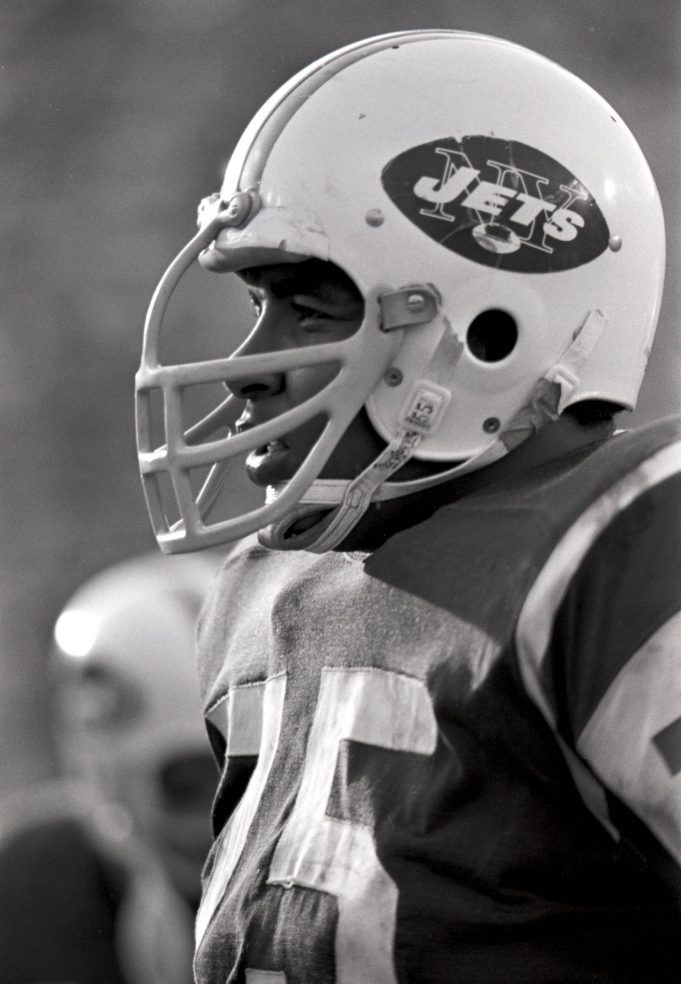 Yes, the modern New York Jets fan loves D'Brickashaw Ferguson. While he never missed a game in 10 seasons, Brick only made three Pro Bowls. Conversely, Winston Hill, the man who blocked for Joe Namath's blind side, made seven.
Marvin Powell and his unique power on the right side will serve as the perfect run-blocking right tackle. Powell was an NFL All-Pro first team member on three different occasions.
Guards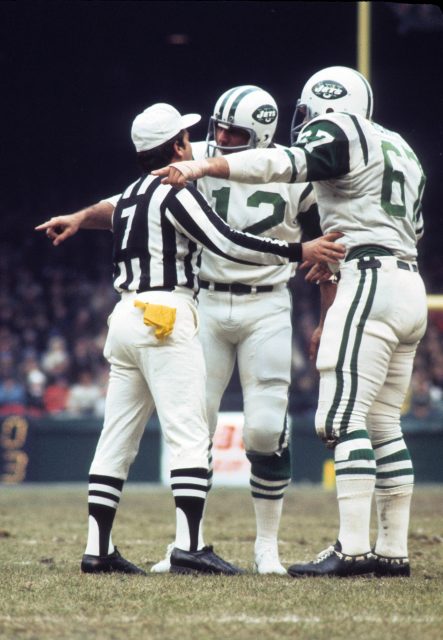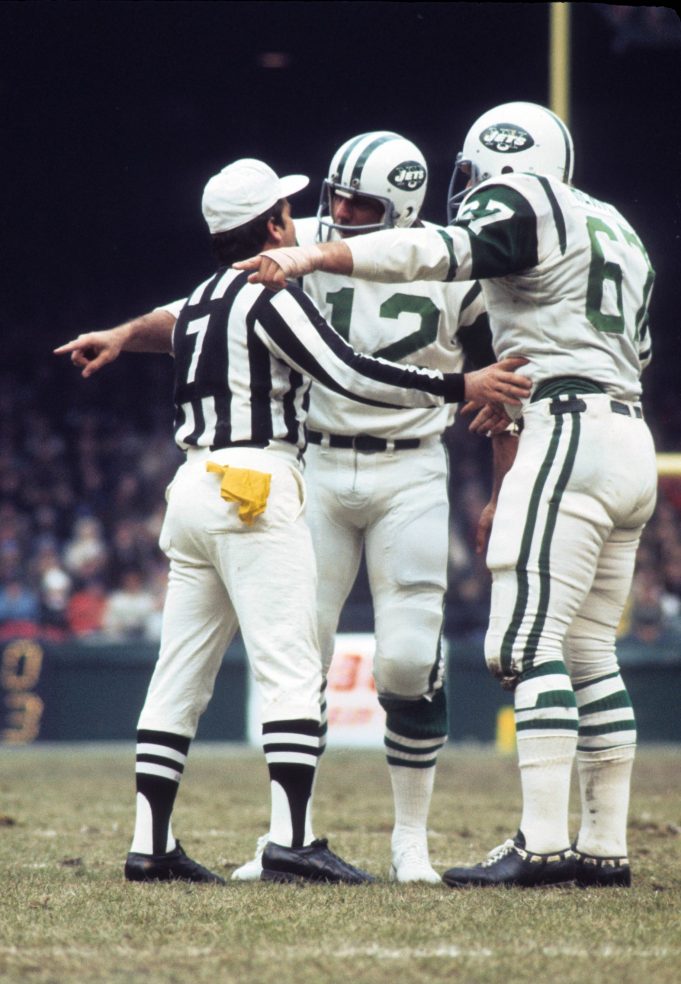 Whether you believe Randy Rasmussen or Dave Herman is the best guard in New York Jets history is irrelevant because, on this team, each will start at his natural position. Rasmussen is a guy who came to the Jets in 1967, won a title and then didn't retire until 1981. Herman also enjoyed a long career with the club (1964-73).
With the two guards and Hill, three-fifths of our ultimate team line played on the '69 Jets. Jim Sweeney played a ton of center, but he also played guard and will do as the third man.
Center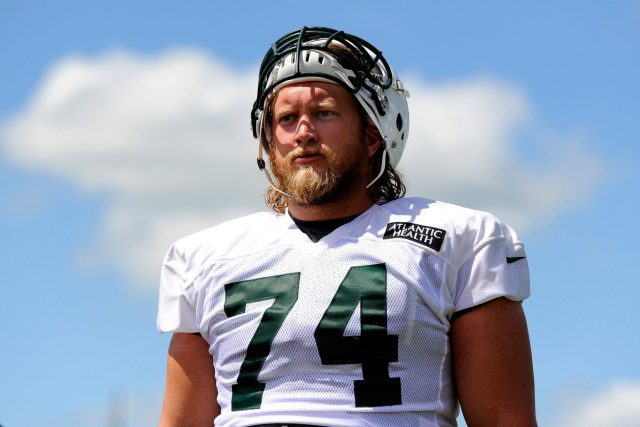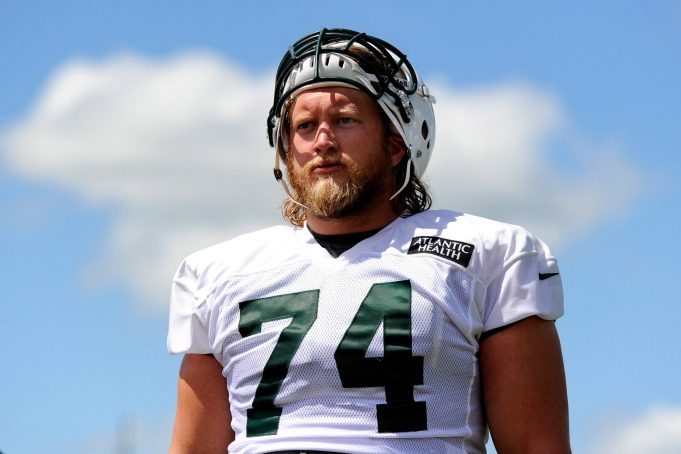 Throughout the course of Gang Green history, there are only two centers, Nick Mangold and Kevin Mawae.
Both can easily start on this team as both at one point in his career represented the best at his position in the game. We provide the nod to Mangold. His career in green and white was just longer than Mawae's. Mangold made the first team NFL All-Pro twice with seven Pro Bowl nods while Mawae was named first team NFL All-Pro twice with six Pro Bowl nods.
Not too shabby at all. Joe Namath will be plenty protected up the middle as he touches the ass of these two big guys.
While these two are always thought of, Joe Fields, who was first-team All-Pro once and a Pro Bowler twice often gets the shaft.
Top OL Snubs:
Interior Linemen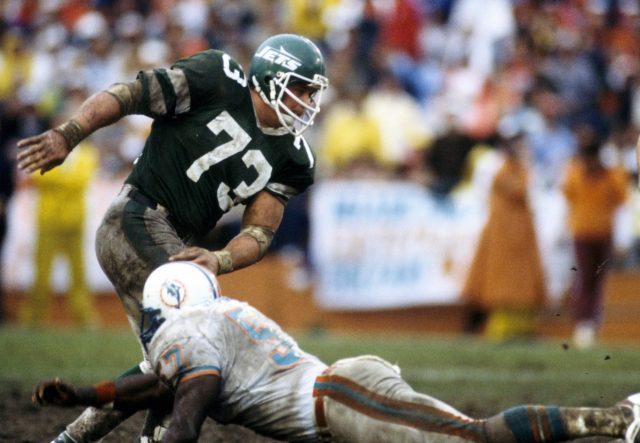 There's no question about it. Not only does Joe Klecko start at the defensive tackle spot (as we'll run the more traditional 4-3 scheme), but he'll wear one of the defensive captain patches. Klecko remains the worst snub in Pro Football Hall of Fame history. He was just that dominant at three different positions (DE, NT, DT).
Next to Klecko on the inside will be his running partner on the New York Sack Exchange, Marty Lyons. Having both Shaun Ellis and Abdul Salaam backing them up is simply a dream come true. While Ellis did traditionally play DE most of his career, we feel we can slide him inside and allow another edge rusher to make the roster. He did, of course, play on the interior when Rex Ryan came to town.
Ellis ranks second in franchise history in sacks with 72.5. Klecko ranks 13th with 24, but remember, he played just around the time the statistic was starting to be officially recorded. Many say he has close to 80.
Top Snubs:
Edge Rushers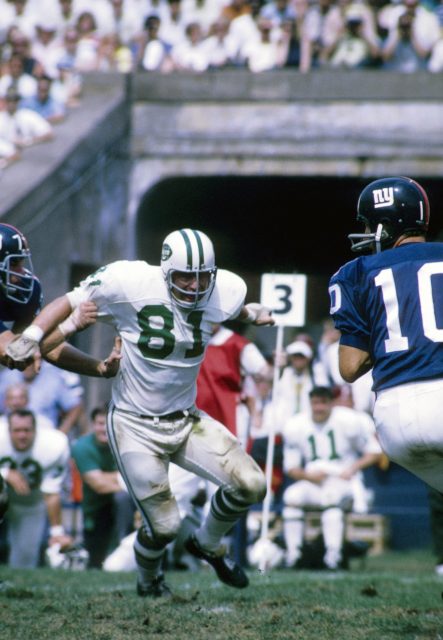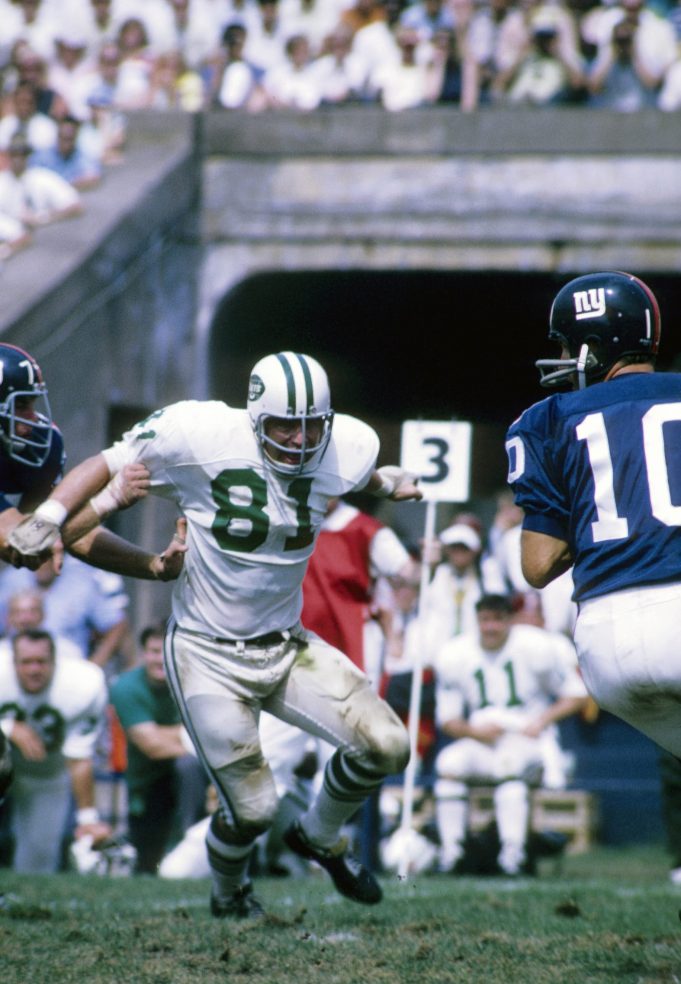 Gerry Philbin is the easiest choice when thinking about who's gonna lead the edge rushers. Although Mark Gastineau holds the team record with 74 sacks, Philbin played during an era in which sacks weren't an official stat. In any event, both guys as the bookends of the 4-3 will be scary for any offensive unit.
John Abraham, the man who still represents the Jets last pure edge rusher, is that perfect third guy who can bounce in their as the sub-package edge rusher. Dennis Byrd, though he only played four seasons, racked up 28 sacks. This barely puts him ahead of underdog Marvin Washington who carved out a great career with New York (37.5 sacks in eight seasons).
Top Snubs:
Linebackers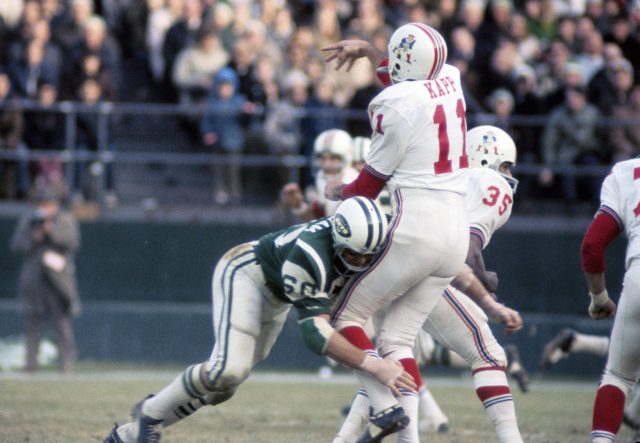 During the Jets only Super Bowl season, Al Atkinson played middle linebacker while Larry Grantham did his thing on either side of him. The duo led the most underrated and underappreciated unit in the NFL that season, the Jets defense. While Namath received all the buzz, it was the defense's effort against the high-powered Baltimore Colts that truly led the way.
With Granthan and Atkinson, Mo Lewis makes the perfect third backer, playing in his natural WILL spot. Marvin Jones and Kyle Clifton, both tackling machines (Clifton ranks No. 1 in franchise history), will be perfect to lead most special teams units. The recently cut David Harris rounds out the group.
The major snub of the group is Greg Buttle. While he certainly had the craziness technique down, he simply missed too many games to make the top six. Ralph Baker and Lance Mehl are two more snubs in this loaded historical Jets position.
Top Snubs:
Cornerbacks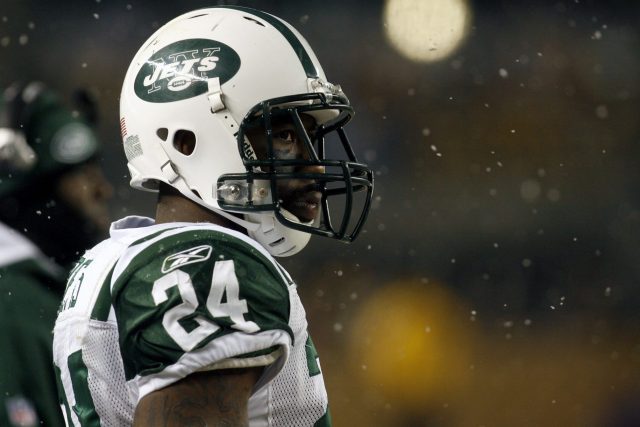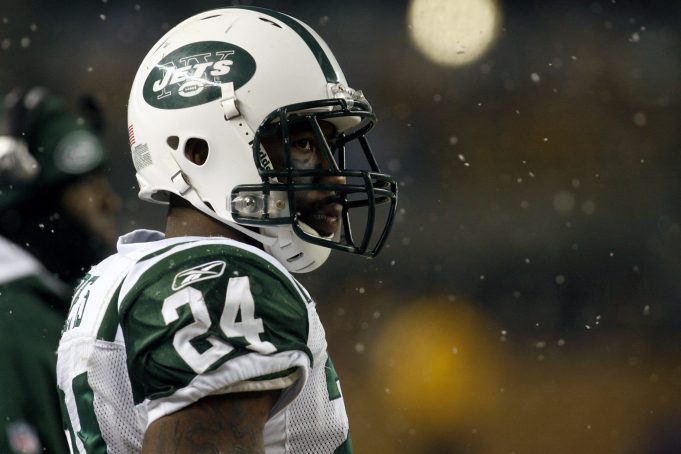 It's a no-brainer who leads the cornerbacks. It's Darrelle Revis. Not only does Revis represent the greatest CB in New York Jets history, but he represents one of the greatest cover corners in NFL history. He stands side-by-side with the talented Deion Sanders.
If the tight end position is the offense's weakest link, then the secondary as a whole is the defense's ill.
Starting opposite Revis is Aaron Glenn, a man who ranks fourth in franchise history with 24 interceptions. The tough James Hasty makes for a perfect nickel back and Johnny Sample and Bobby Jackson round out the five.
Top Snubs:
Safeties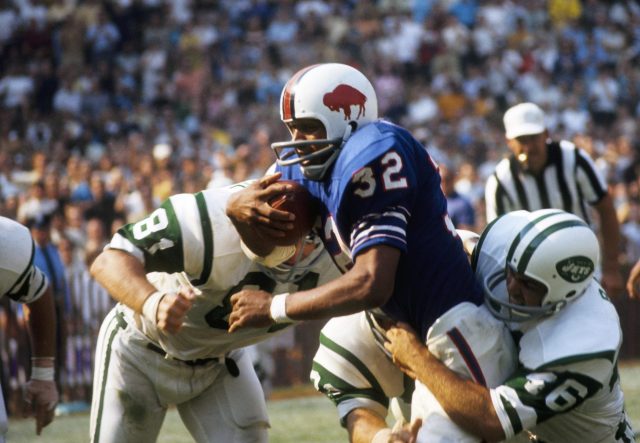 Again, this secondary will need extra effort on every Sunday from the front-seven.
At safety, Bill Baird is the easy choice to lead the group. Playing free safety for the Jets, Baird still holds the interception record with 34 thefts. Next to him, Victor Green, the hard-hitting tackling machine will compliment perfectly.
We'll look for Erick McMillan, Dainard Paulson and Brian Washington to be special teams beasts. Taking only 10 total defensive backs may be a little light, but based on the pool we were drawing from, it's the right call.
Top Snubs:
Special Teams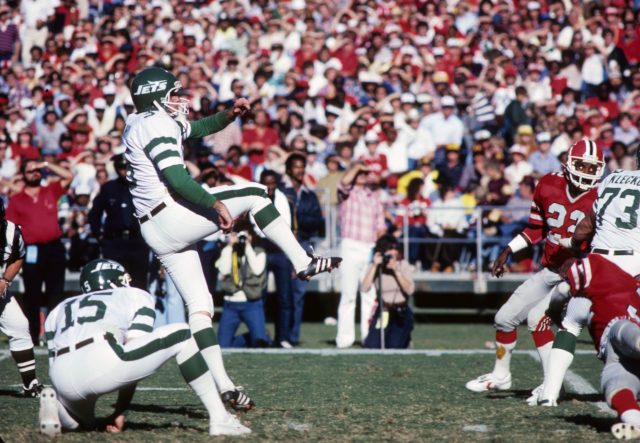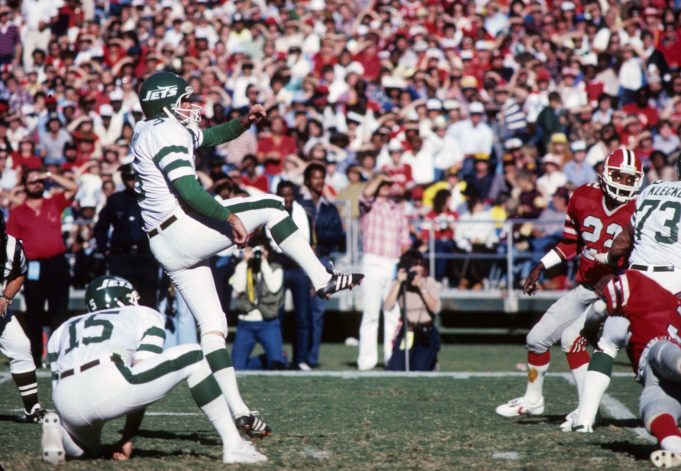 Pay Leahy kicked for nearly two decades for the Jets and holds most kicking records. Curley Johnson not only punted for the Jets and Titans, he played a little offense too.
New York has fielded plenty of remarkable kick returners, but Bruce Harper gets the call and not just because Fireman Ed wears that No. 42 on game days.
Top Snubs:
Coaches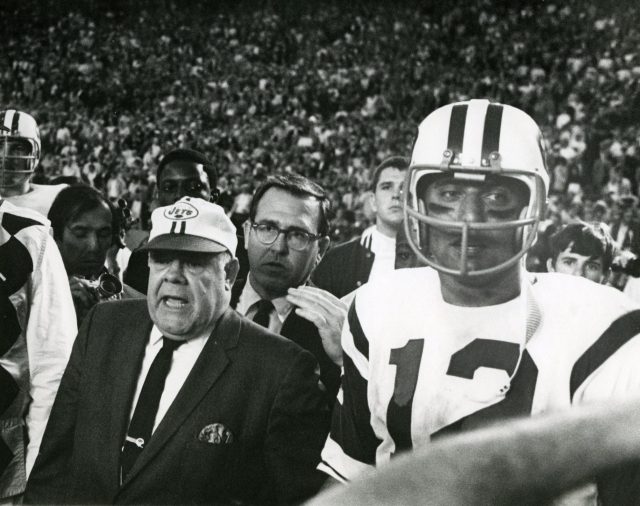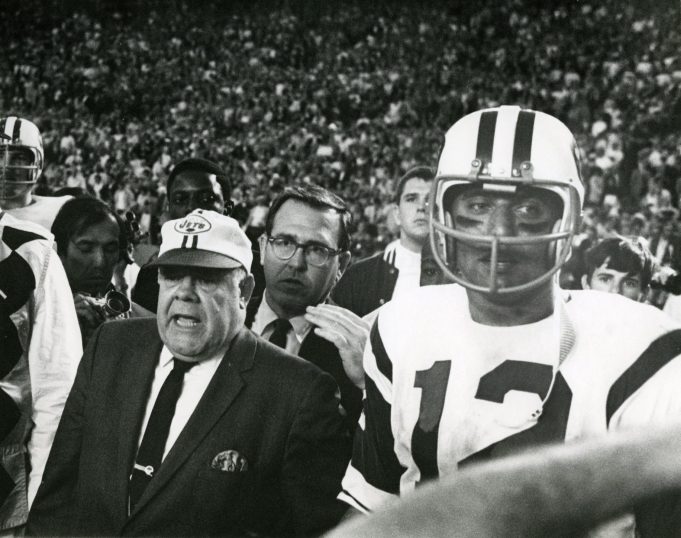 Weeb Ewbank (Head Coach)
Joe Walton (Offensive Coordinator)
Rex Ryan (Defensive Coordinator)
Mike Westhoff (Special Teams Coach)
What we have here is a dream coaching staff. Weeb Ewbank, obviously as the only head coach to win a title with the franchise, assumes head coaching duties. Joe Walton takes the offense and Rex Ryan runs his defense while the great Mike Westhoff does his guru special teams thing.
Top Snubs:
Front Office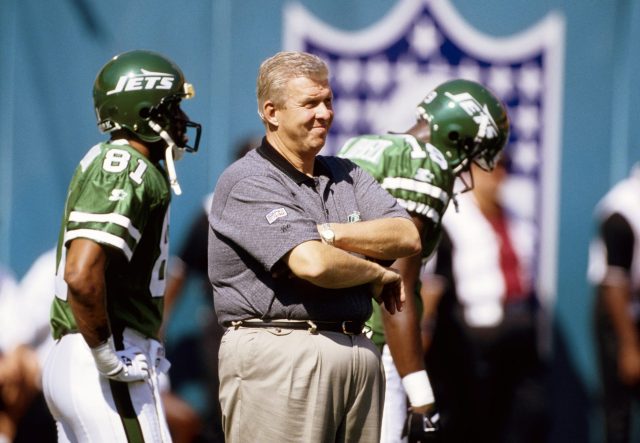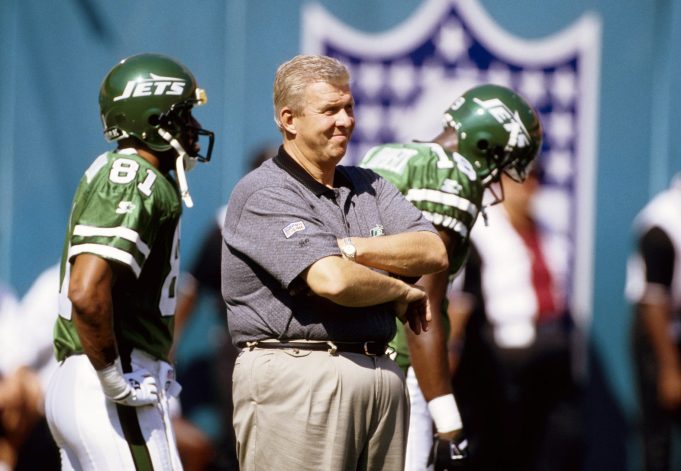 Bill Parcells (President and General Manager)
Mike Tannenbaum (Assistant GM)
Eric Mangini (Head Scout)
This is why Bill Parcells isn't on the coaching staff. He's the front office boss of our team. What he did in three years with the Jets is still effecting the team to this very day. He literally saved the franchise when Leon Hess needed saving.
Don't think Eric Mangini shouldn't be here. He should. It was his players who Rex Ryan took on two back-to-back AFC championship game runs. He and Mikey T. assembled, perhaps, the most talented squad in the league. If only they could finish it off.
Owners
Sonny Werblin
Leon Hess
Sonny Werblin is the Hollywood choice while Leon Hess is the working man. The two will co-own the squad for stability.
The very best New York Jets All-Time Ultimate 53-Man Roster you'll ever see in your life. #NYJ pic.twitter.com/5Mkr1udtnm

— Elite Sports NY (@EliteSportsNY) July 1, 2017
Overall Strategy
Offense:
When thinking about this team's identity, one thing screams louder than anything else: the offense will be chucking the pigskin.
Joe Namath has never been shy about throwing the ball. We know this. And while Curtis Martin will be an excellent featured back, he's just as great in the passing game. Free McNeil, who'll serve as the third-down back, can give him a breather at any time.
Offensively, the 11 personnel it what'll rule the roost. Sure, we like Matt Snell, but we don't like using a fullback in the old sense of the definition. We can't get with the two-back, split formation they used to run decades ago. Instead, we'll see more of Wayne Chrebet in the slot with a single-back look. 
It'll be a balanced offense as the offensive line is tremendous and completely versatile.
Defense:
Defensively is where we'll have to be careful. Defensive coordinator Rex Ryan will use Darrelle Revis similarly to how he did in real life: as a complete island. And this is great news too, because our secondary is pretty weak.
The strength of the defense is the front seven and Ryan will use it to his full advantage. Whether he brings extra heat or not, it's talent will oftentimes have to make up for a weak CB2 and an average safety tandem. While Victor Green can stick 'em as good as any safety in history, his pass coverage skills are suspect. There will be a ton of Cover 3 with Bill Baird as the deep center fielder.
We constructed the defense around the New York Sack Exchange which means a 4-3 look. If Rex wants to move to his familiar 3-4, he can easily do so. Mark Gastineau can move to the inside (interior DE) and Gerry Philbin and John Abraham can assume the outside LB spots.
Overall:
It's a balanced team on both sides. While the deep throw will be favored on offense, it'll be niether uptempo or dangerous. There is too much skill to not showcase a balanced attack on both sides.