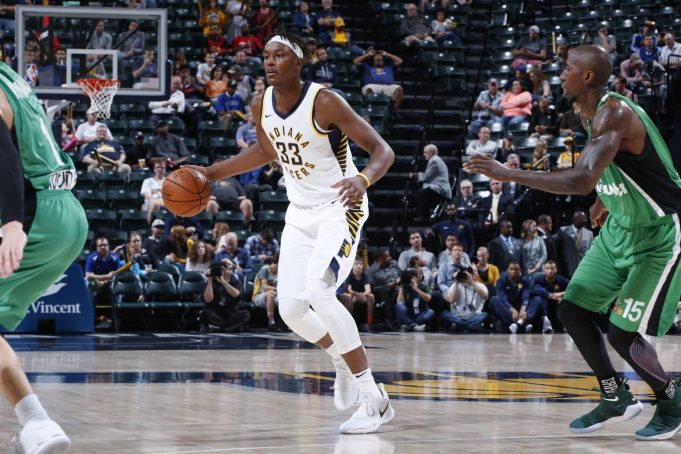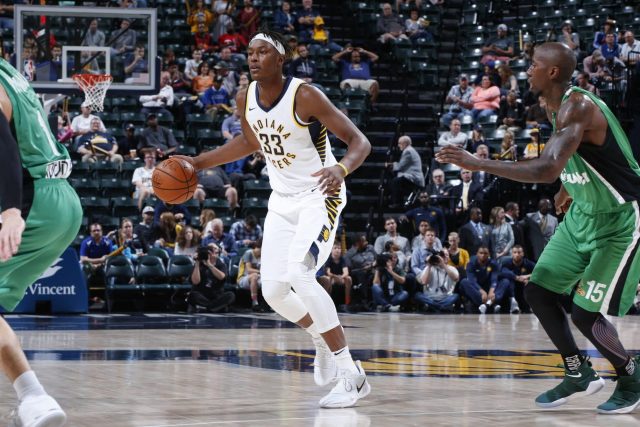 20. Myles Turner, Center, Indianapolis Pacers
Myles Turner was a popular pick for a breakout candidate this year in the NBA. The Pacers are in a re-build mode and they are building around Turner. What I like most about Turner is he isn't falling in love with the three point shot and he spends most of his time in the paint. He's got a good mid-range game and in his second season in the league he averaged two blocks a game. He has the potential to be a 20-10 guy while averaging a steal and a block a game. Turner is only 21 and this will be the year that he puts himself into the all-star caliber player discussion. He is a great pick in keeper leagues.
19. Paul George, Forward, Oklahoma City Thunder
Paul George is a top 15 talent in the NBA but now he has to share the ball with Russell Westbrook and Carmelo Anthony. His numbers may drop a little bit not enough for him to fall outside the top 25 overall. George can do everything on the basketball court and now he won't face each team's top defender on most nights. He's going to have a couple of down nights just because when Westbrook and Melo are on, he will take a back seat. George will still get 20 points a night to go along with seven boards and close to two steals a night.
18. Draymond Green, Forward, Golden State Warriors
Dryamond Green is a walking triple-double waiting to happen and that makes him an elite fantasy option. Draymond will get you around seven rebounds and assist a night to go with a steal and a block. However, he won't score much past 15 points on most night but you draft him for his all-around stats. If you are in a league that has a double-double bonus or has that is a category he will give you an advantage. Don't let his low scoring numbers make you pass him up, he is the forward swiss army knife of fantasy basketball.
Whiteside had seven 20 plus rebound games last season. He lead the league in rebounds and was only one of four players to average two or more blocks a game. Whiteside was fourth in the league in double-doubles (58) and fifth among centers in scoring with 17 points a game. He gives you solid production every night and is one of the most underrated players heading into next season. Whiteside makes a great third round pick and gives you an advantage in rebounds and blocks.
16. Chris Paul, Point Guard, Houston Rockets
Chris Paul goes to a great situation in Houston this season. As fantasy players, we couldn't have asked for a better place for CP3 to play in this year. The team plays fast and he will get more shots off and be one of the league leads in assist and steals. CP3 has had five straight seasons of 10 or more assist a game to go along with two steals. Last season was only the second time in his career that he shot over 40 percent for threes and in this new system in Houston he will be shooting more three's than he ever has in his career. He's 32 years old but don't let that stop you from drafting him, he has another two or three years of elite production.